Daily Newspaper for Reeves County, Trans Pecos, Big Bend, Far West Texas
News|Sports|Main Menu|Archives Menu|Classified|Advertising|Monahans
OPINION
May 19, 1997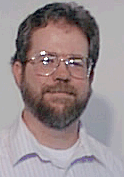 THE WAY
I SEE IT

By
Rick Smith
Terlingua students have
much to be thankful for

Skip to next item
The situation we find ourselves in often dictates what we find to
complain about.
High school students in Terlingua probably weren't complaining about
dress codes this year. They had bigger problems to worry about, and
smaller things to be thankful for.
The opening last fall of the first high school in Terlingua ended what
was called the nation's longest school bus ride, a 160-mile round trip
through the Big Bend region. Now Big Bend High School is graduating its
first senior class at 7 p.m. Wednesday, May 28. Commencement exercises
will take place on the basketball court at the Terlingua School.
Before the establishment of Big Bend High the school day began as early
as 5:30 a.m. for some students in Terlingua, 300 miles southeast of El
Paso, when they got on the school bus, and stretched school days into
12-hour marathons. Now many get to the new high school in about five
minutes.
Students in the area have had to endure the long bus ride since the
1960s if they wanted a high school diploma. Existing area schools only
went up to the eighth grade and the nearest high school was in Alpine,
80 miles north.
That all changed when volunteers from around the area came together to
form the Big Bend Education Corporation to seek funding for the sorely
needed high school.
The group's efforts pulled together more than $100,000. About $80,000
was in cash and the rest in donations of time or building materials. An
additional $42,000 is still needed to complete the main building and
about $40,000 is needed to purchase lockers, tables, chairs, desks, tile
for the bathrooms, a shaded lunch area, sidewalks, and refrigerators and
electric ranges for a home economics classroom.
"Classes have been held in temporary structures, without plumbing, and
at times without heat or air conditioning," said Jennifer Turner, Grants
Coordinator for Big Bend High. "Students here are accustomed to hardship
and have been happy to simply come to school without the hours on the
bus each morning and again each evening. They find themselves with time
for out-of-class activities like track, music and homework."
The permanent high school building is expected to be opened in late
July, Turner said.
In Terlingua high school students are happy just to have a school close
to their homes. Maybe in a few years they will grow to take it for
granted and find more trivial things to complain about. For now they are
just happy for a little extra time.
Donations are still being accepted for the completion of the high school
and should be addressed to: Big Bend Education Corporation, P.O. Box
256, Terlingua TX, 79852, or call (915) 371-2609.
Editor's Note: Rick Smith is an Enterprise writer and city editor whose
column appears each Monday.
Information on father would be appreciated

Return to top
Dear Editor:
I am writing to you in the hope you can help me research my father, Dr.
John Paul Dunn, who you may remember was very prominent in Pecos events
in the early 1960's. I believe he actually started the newspaper The
Pecos Independent, which is your paper's direct ancestor.

My father died many years ago, and unfortunately he never felt
comfortable speaking about our family's years in Pecos and the
circumstances leading up to Billie Sol Estes's conviction. I have
searched the Internet and found only anecdotal references to Mr. Estes
and my father. I live in the mountains of New Hampshire, so travel to
Texas libraries is impractical, and unfortunately I have been unable to
find any news sources which have the time period archives on-line.

Did anybody know my father, or can you refer me to someone who did? I
would greatly appreciate any help you could offer. I am trying to get
the story of what happened to satisfy my own curiosity, and to also
document the events of my fathers life for my children.

Any reference material or on-line research facilities you could point me
to would be wonderful, but what I would really like to do is talk to
someone who was there when it happened.

Thank you for your time. I hope to hear from you in the future.

John M. Dunn
P.O. Box 1279
North Conway, NH 03860
(603) 356-9470
Email: VIDWLD3@NCIA.NET
---
Associated Press text, photo, graphic, audio and/or video material shall
not be published, broadcast, rewritten for broadcast or publication or
redistributed directly or indirectly in any medium. Neither these AP
Materials nor any portion thereof may be stored in a computer except for
personal and non-commercial use. The AP will not be held liable for
any delays, inaccuracies, errors or omissions therefrom or in the
transmission or delivery of all or any part thereof or for any damages
arising from any of the foregoing.
_
---
Copyright 1997 by Pecos Enterprise
Division of Buckner News Alliance, Inc.
324 S. Cedar St., Pecos, TX 79772
Phone 915-445-5475, FAX 915-445-4321
e-mail news@bitstreet.com
Return to Home Page