Daily Newspaper for Reeves County, Trans Pecos, Big Bend, Far West Texas
Sports|Opinion|Main Menu|Archives Menu|Classified|Advertising|Monahans|
TOP STORIES
May 13, 1997
Grant administrator for county
housing development quits

Skip to next story
By MAC McKINNON
Enterprise Editor

PECOS, May 13, 1997 - A bombshell dropped in the laps of Reeves County
Commissioners during their regular first-of-the-month meeting Monday
when Carlos Colina-Vargas, a grant writer from Austin who has helped
prepare grants locally and was currently working for the county on a
community development grant, told the commissioners that, "under the
circumstances, I don't want to work here."

That statement sparked controversy - capping off a long day of heated
debates and exchanges of accusations on just about every subject
available - and prompted a question from Commissioner Bernardo Martinez
about what brought about this situation. Vargas replied that the problem
was Judge (Jimmy) Galindo. Galindo promptly fired back that he (Vargas)
was the problem.

Most of the friction during the day was between Martinez and Galindo
although Commissioner Herman Tarin got dragged into the fray several
times.

In the midst of these accusations came word that the grant application
by Madera Valley Water Supply looks like it will be approved and word on
that approval should be received this week.

What made the Madera grant for $350,000 possible was meeting a deadline
of April 25 for a 1995 $350,000 grant on community development for
improvement on housing.

This comes after a $350,000 grant for Housing Improvement which is not
part of the community development grant. The Housing program is the one
where there is much controversy as many of the homes to be improved
under that program have not been finished although almost all money
under the program has been spent.

That, too, generated controversy and was covered in an earlier part of
the meeting. (see related story)

Part of the problem leading to Vargas' resignation was that the had
obtained both grants along with a grant for septic tanks under a
colonias program and has not been paid for any of his work. He was to
have been paid $25,000 under the controversial housing program, $35,000
for the septic program and would have made about $25,000 under the
current community development grant.

However, commissioners, in discussing the grant application in early
April, decided that in order to give the Madera Valley grant a better
chance, the scoring on the community grant would be higher if the
administrative cost was kept to a minimum. So, it was decided to ask
Vargas to take a cut in his pay so that the money available could be
shared with local grant administrator Mari Maldonado. A housing
inspector Augustine Hidagldo, also was to take a cut from $1,500 to
$1,000 in his fees. It was believed that cutting these costs would
enable the county to fix up as many as 20 houses rather than 15 if the
fees were not cut.

"My fees are not arbitrary," Vargas said. He said that several people
involved in the project have dropped the ball and there are no roles of
responsibility. Vargas also said that although his pay here was less
than half the fee he would normally charge, he took the job on as a
personal challenge. He got the grant for the county for two years and
until a little more than a month ago, nothing had been done.

Vargas asked the commissioners how was he going to justify his low fees
here to other cities and counties which pay the regular 5 per cent, much
lower than what is paid to real estate agents or bond agents.

He noted that the work he does takes a lot of time and outlined some of
the expenses involved. Vargas said he tried to help out by doing work he
doesn't normally do, such as, drawing plans for two houses to be
reconstructed. However, the state said his drawings do not comply as
there are no provisions for a utility room that Vargas says he believes
is necessary. The state says the washer and dryer should be located in
the kitchen.

Vargas said he couldn't do this and didn't want to be involved in what
he called "scare tactics" used by the court. He further admonished that
there never was the possibility of losing the Madera Valley grant due to
the scoring on the community development grant as all the requirements
were in place and deductions for more than the usual administrative fees
would not have lowered the scoring a significant amount.

All these grants are now being scrutinized because of all the arguments
within this body, Vargas noted. There's a lack of understanding on the
commissioners court of what's involved in writing and carrying out
grants, Vargas said.

Hidalgo, the housing inspector originally connected with the community
development project, is confused and so is everybody else, Vargas said.
Hidalgo has been asked to do things that aren't his job and he did not
agree to a cut in his fees.

Vargas challenged Galindo to name people who would do inspection of
houses for $50 each as was mentioned in a previous meeting in discussing
the grant application. Galindo said he got that from a state official.

When asked for a status on the latest program, Maldonado said a meeting
is planned with the screening committee - Paul Hinojos, Bruce Salcido
and Ricky Herrera - later this week with a pre-construction conference
also planned soon.

Maldonado noted later that Hidalgo has agreed to the reduction in his
fee and that he will draw the plans for the two houses to be
reconstructed.

Martinez said he had very serious reservations about the program and
asked what would happen if the program was scrapped, would it affect the
Madera Valley program.

Vargas said it would be possible to stop the program although the county
might be asked to reimburse the state the $12,000 that has already been
spent. It wouldn't affect the Madera Valley grant, he said, since the
county met the April 25 deadline.

Galindo reminded Martinez that there are very needy people who are
involved and this program needs to go on. Then he brought up his
contention that Martinez always avoids irresponsibility - a point he
made on numerous occasions throughout the day - and said he believes he
heard Martinez had serious reservations about building what is now the
Reeves County Detention Center.

When asked about this contention - which Martinez denied - Felipe
Arredondo - who was a commissioner during part of that time, said
Martinez signed fewer than 10 per cent of the contracts to build the
RCDC.

After all the verbiage, Vargas' resignation was accepted and Maldonado
was given the responsibility to continue on with the project which
Martinez noted is very needed by those who need help with their housing.
This brought a hoot from Galindo who pointed out that it was only a
short time earlier that Martinez questioned whether or not the project
should be halted.

Efforts were made to contact Hildago, unsuccessfully, so the meeting was
recessed until 5:30 p.m. today to get him on-board as the inspector with
the possibility of paying him more out of money which will not be
claimed by Vargas.

Vargas' pay was left in the air. He was asked if he was going to bill
the county. He noted that no money could be used for his pay out of the
grant and money from previous grants is no longer available. He
indicated he is undecided on the issue and would write if there is money
due him.


Skip to next story
PECOS, May 13, 1997 - Pecos police are investigating a series of
break-ins overnight, involving a number of vehicles and Serranito's
Restaurant at eighth and Eddy streets.

The vehicle break-ins took place to south of the restaurant burglary,
and according to Pecos Police Chief Troy Moore, there was also an
attempted break-in at Showtime Video at Eddy and Walthall streets. But
that store has an audible alarm, which apparently deterred the suspect,
Moore said.

The as yet unidentified male suspect broke into several cars in and
around Casa Manana Apartments before sunrise. Vent windows were broken
on a couple of vehicles, including one used by a Reeves County sheriff's
deputy.

Moore said that the vehicle burglaries appear to be "crimes of
opportunity" and urges everyone to never leave valuables visible in
their vehicles.

Other cars were reportedly broken into at locations between Showtime
Video and Casa Manana Apartments.

Moore said that the burglaries didn't net the perpetrator anything of
great value, except for the fact that the stolen items were personal
property of value to the owners. "They got a stereo or two," he said.
They also took a couple of guns, but dropped them as they ran from
authorities southbound from the east side of the apartments down an
alley, behind the 2100 block of Country Club Drive, police at the scene
said.

Moore called the crimes "an orgy of destruction." He estimated that 10
to 12 cars were broken into, in addition to the burglary at Serranito's
restaurant. Moore said that the office inside the restaurant suffered a
lot of damage.

According to Moore, these crimes take place only a day after a daytime
burglary on Wyoming Street. In that incident two men, identified by
police as Javier Florez and Arturo Gallegos, were picked up because of a
vehicle description given by a witness. Stolen property was found in
the car.

Moore urges anyone who witnesses any suspicious activity to call the
police department and report it. The non-emergency phone number for the
police department is 445-4911.


Skip to next story
By MAC McKINNON
Enterprise Editor

PECOS, May 13, 1997 - Politics, arguments and controversy dogged the
first meeting of the month for Reeves County Commissioners Monday.

Very little time was spent on decisions while most of the meeting, that
spanned some 5 1/2 hours during the morning and afternoon then continued
for another hour into the evening, was spent watching and listening to
verbal sparring between County Judge Jimmy Galindo and Commissioner
Bernado Martinez.

Commissioner Herman Tarin was dragged into one discussion when Martinez
wanted him to say he had a conflict of interest and should not vote on
tabling consideration on the legal counsel contract at the Reeves County
Detention Center (RCDC) with Bill Weinacht.

The meeting started with sparks flying as Galindo passed out copies of a
column in last week's Pecos Enterprise by City Editor Rick Smith. The
column made note of lively discussions at meetings of the court. Smith's
column likened the commissioners court meetings to a pack of dogs
fighting over a bone.

Galindo mentioned the column after the invocation and said the court
needed to conduct itself in a more professional manner. This stirred up
Martinez who asked who Galindo was trying to accuse. Galindo replied
that he wasn't making accusations, merely making a point.

This isn't the business of the court, Martinez said after making a few
more comments about Galindo bringing up the demeanor of the court
members.
One of the main items on the agenda, requested in last month's meeting
by Martinez, was "discuss/action on RCDC legal counsel contract."

Former county attorney Bill Weinacht was hired to be legal counsel at
the prison after the newly sworn-in county attorney Holcombe informed
the court that he would not be legal counsel for the RCDC or the
commissioners' court.

An opinion from the district attorney's office supported his claim that
he was not required to do so.

RCDC Warden & Chief Executive Officer Rudy Franco was called on to make
a statement about legal counsel. He noted that the Bureau of Prison
statement of work called for a legal counsel.

Franco reported that Weinacht has been involved in strategic planning
committees. He has offered valuable legal advice and information on the
local culture as well as equal employment opportunity issues, the warden
noted. He passed out a list of what Weinacht has done since being
employed in that capacity.

Martinez said he saw a problem with the item and there was a need to go
into executive session so they wouldn't get sued. He wanted it delayed
until the next meeting.

"Let's do it properly," Martinez said. "He's (Weinacht) an attorney and
I respect him for that. If the discussion is held in open court, it'll
open us to a lawsuit."

A closed session on the item was not on the agenda and Enterprise
Publisher Mac McKinnon was asked if that was proper under the law.
McKinnon replied it was under a very gray area as had been explored
because of a previous commissioners' meeting but it could be done
legally.

However, Weinacht who has the right to request the hearing in open
court, said he waived the right to have the closed meeting even though
it would be legal.
Galindo pointed out that because of the political issue, expansion of
the RCDC has been paralyzed.

"We've been at a standstill for a month," Galindo said. This is hurting
what could be a $4 million impact on the community."

It was later noted that the original bids on the expansion to add some
300 prisoners came in almost twice as high as anticipated and work needs
to be done to find other bidders and rework the proposal.

"Let the sun shine on it (this legal counsel contract)," the judge said.
Martinez said he wanted to delay the item until the next meeting because
he had come across "secret" information, apparently stemming from a
conversation with another attorney. Nothing more was said about the
"secret" information.

Weinacht said he wanted to get on with the matter so that expansion of
the prison would not be held up by politics.

Martinez then brought up a legal paper from the district clerk's office
showing that Weinacht was representing Tarin on a private matter and
Martinez said it would be a conflict of interest for Tarin to vote.

Tarin, appearing more upset than he has ever been seen to be, told
Martinez "I can see your true colors now. I see what kind of person you
are."

"Could this be because you owe me $400?" Weinacht asked Martinez. Then
he added that the commissioner owes a lot of people.

Dr. W.J. Bang noted that he has been against the position from the
beginning and said that Galindo and Martinez needed to cool down. The
item was tabled.

However, at the end of the meeting some five hours later following lunch
and other discussions, Commissioner Felipe Arredondo made the motion to
bring the item off the table, which by vote it was and it was decided to
let the legal contract run its course for the rest of the year. It could
be brought up again if necessary.

Other items discussed by the commissioners court included a proposal by
Road & Bridge Administrator Russ Salcido to restructure and reclassify
employees in his department.

One foreman - Florencio Herrera - retired making $9.48 an hour and was
replaced by Sylvester Carrasco making $9 an hour leaving an extra 48
cents. A new person was hired as others on the crew were moved up at a
higher rate per hour, replacing a position making $7.83, leaving another
33 cents. The 81 cents was spread around to several for pay raises.

Martinez pointed out that Salcido had come by his house to discuss the
proposal with him but he didn't want to talk about it. The proposal was
within the current payroll budget of the road and bridge department and
received approval by the commissioners.

Next up was a discussion on the housing grant where a number of houses
have not been completed although almost all money has been spent. A
report from a Midland housing inspector was discussed with one house
still needing $10,000 in repairs although the contractor has been paid
98 per cent of what was allowed.

Galindo reported that he was still waiting on a report from the state
who sent two people to check on houses involved in the program.

Martinez reported on his trip to Austin where he found out it was up to
local officials to solve the problem and there wouldn't' be a report
coming from Austin.

"I gave you (Galindo) a letter to inquire about the program," Martinez
said.
About the report from the state, Martinez said, "It's not forthcoming.
We need to take care of it locally."

Martinez said he and Tarin looked at two of the houses involved.
Galindo asked if he (Martinez) had been talking to the contractors
involved and he said that he had but warned them that what they said
could be used against them.

Galindo accused Martinez of being misleading - a statement he repeated
throughout the meeting - and asked if the state is going to spend
resources and not produce a report?

Martinez then asked Tarin if he was misleading him and Tarin said, "No."
Tarin noted there were big concerns and big problems. He said he had
asked for a report from one contractor but never got one.

"We were told to get involved but can't find it in the minutes," he
added, noting that since the county has gone to the taping system some
things that are discussed are not reflected in the written minutes.

Galindo said that Martinez had said this was the home-owners problem and
"we" should get them to sign off on the program and be done with it.
"I didn't say that," Martinez said.

Galindo then commented to the effect that Martinez was not telling the
truth, to which Martinez replied, the "Judge called me a liar. I'm not
going to climb over there" and whip you. "I'm not going to call you a
liar. All I'm going to do is deny it."

Martinez then said they were all friends to which Galindo said he hadn't
spoken more than five words to Martinez outside of court in two months.
Martinez then shot back with a question about a conversation within the
past few weeks at the Sunday House about Martinez trying to buy a car
from the judge for his daughter because "it gets good mileage." Martinez
said he could never get a price on the car.

Commissioner Dr. W. J. Bang interceded to try to get the discussion
moving with Dr. Bang making a motion after some discussion that the
county attorney Walter Holcombe be asked to look into the matter to see
what can be done to get it resolved, whether the contractors can finish
the work or if legal action is needed.

Galindo said he doubts that the county attorney is willing to look into
anything for the court. Dr. Bang noted that Holcombe has been doing some
work for various county departments although a legal opinion has said he
is only liable for criminal prosecutions.

Yvonne Mora, owner of one of the homes involved in the program, spoke to
the court and asked when her house was going to be finished. Work was
started last June and it still isn't finished. She had to live elsewhere
for a month due to the work on the bathroom. A heater was never
installed and with summer coming on, an air conditioning system is still
not in place.

She said she took it on her own to look into manuals published by the
Department of Housing and Urban Affairs (HUD) and found out what
standards should be.

She said her house was approved for $24,465 in repairs and she spent
$3,000 out of her own pocket for which she could have built a new house.

It was noted that the original plans under the housing program as
described by the state were vague, did not meet housing standards and
work wasn't done to have repairs meet those guidelines.

The motion was approved to have Holcombe look into the matter.
After lunch, the court set its next regular meeting for Tuesday, May 27
at 5:30 p.m. due to the Memorial Day holiday, approved a six-month
extension of holidays and vacations for personnel who missed that time
off due to a training schedule, and heard reports from various
departments.

Several new employees and promotions were approved for the RCDC,
sheriff's office, road and bridge and the judge's office.


Skip to next story
By PEGGY McCRACKEN
Staff Writer

PECOS, May 13, 1997 - Up Cibolo Creek from the abandoned silver mines at
Shafter lies a restored working ranch that provides a getaway for the
rich and famous and a taste of the Old West for Europeans.

The Cibolo Creek Ranch boasts 11 guest rooms plus one master suite with
a private dining room, jaccuzzi, huge bathroom and walk-in closets. It
opens onto a glass-walled veranda looking out on a private fishing lake
with a beach and a nearby enclosed swimming pool.

Each guest room is furnished in the period for which it is named:
Colonial South, India, Cowboy, Texas.

Fireplaces in both the guest rooms and in the large room where guests
gather to chat create an inviting atmosphere. In the dining room, long
wooden tables make conversation easy over gourmet food.

Buried utility lines leave the entire ranch free of modern intrusion.
Lamps are 19th century oil and kerosene fixtures that have been
electrified.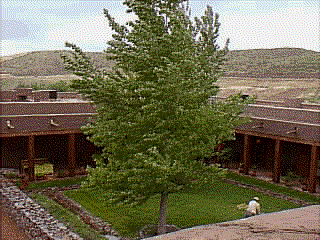 Potted plants placed along the edge of the guest-room veranda add a
touch of color to the courtyard.
Privacy of guests is important, so gates to the ranch are locked. Only
those who call ahead for an appointment or reservation are allowed into
the fenced area of the ranch where longhorn cattle graze alongside
buffalo and deer.
Besides the headquarters, El Fortin del Cibolo, two smaller forts also
serve guests. La Cienega is eight miles from headquarters. The "very
remote" La Morita cottage is popular with honeymooners. It has one
bedroom, one bath and one living room.
Guests have registered from New York, Houston, England, Belguin, Boston,
Louisiana, New Mexico - all over.
"They find out about us through magazines like Travel & Leisure or Texas
Monthly," said Elvira Sanchez, assistant manager. "All kinds have come
to write about us."
Guests may pay $250 per night for a room with a fireplace, which
includes three meals. Prices range up to $390 the cost for a single or
double in the master suite.
Horseback riding and tours are offered at an additional charge. Riders
may spot the buffalo for which the Cibolo Indians who roamed the area
were named, an elk or camel that were imported by Southwestern Holdings
of Houston, who purchased the ranch in 1990.
An airstrip on Bunton Flat accommodates guests who have their own
airplanes or arrive in charter planes.
Three-foot-thick adobe walls are placed on the original foundation of
the fort, which Milton Faver built in 1857, possibly upon the remains of
a Spanish mission settlement of the Cibolo Indians founded in 1715.
The stately structure assumed the form of a quadrangular fortress with
two round towers 20 feet in height and a massive gate fabricated of
rough-hewn beams.
El Fortin del Cibolo measures 90 feet by 160 feet with an attached,
rectangular stone corral four feet in height that extends from the
building by 140 feet.
Faver built El Fortin de la Cienega just downstream from the Cienega
spring, a few years prior to the Civil War. El Fortin de la Morita, at
the site of the beautiful Morita spring, was built shortly after. A
cottage immediately adjacent to the fort was added at the morita site by
Faver later in the 19th century, probably as a result of the premature
deterioration of the earlier structure.
La Cienega, which means "the marshy place," became the cattle
headquarters, and La Morita, "the little mulberry tree," the sheep and
goat headquarters. Both of these locations were fitted out with hundreds
of yards of stone fences and corrals, as was El Cibolo, Faver's
principal residence and agricultural center.
The Cibolo Creek Ranch is a 25,000-acre working cattle ranch with one of
the largest (400-600) purebred longhorn herds in the United States.
Situated in the Big Bend country of far West Texas, among the Chinati
Mountains on the Mexican border, the rugged terrain of rocky peaks,
sheltered canyons and mesas ranges from 4,000 to 6,000 feet in
elevation. The higher slopes are sprinkled with oak, juniper, and
Mexican walnut trees, while cottonwoods, desert willows and Arizona ash
trees abound along the canyon floors and near the many springs. The
ranch also supports a large variety of colorful mountain cactus species.
Mountain lions, javelina, coyotes, foxes, white tail and western mule
deer, eagles, ducks, owls, doves and quail are frequently seen and black
bears are beginning to be sighted again in the area. Seventy-five miles
of roadway make them accessible to guests.
Bird watching is a popular activity on the ranch, said Arthur Ahier,
manager.
Inside activities include touring the museum, where artifacts found when
the site was excavated for the restoration are displayed. They include
arrowheads, balls, shot, shells and firearms and boards from Faver's
casket when he was buried in Shafter.
Faver's body was exhumed and moved to a site near the Cibolo fort.
Photos of Faver and his family line the walls of the museum, along with
newspaper clippings and drawings of the restoration.
A gun room sports a cannon that is fired every New Years and on the
anniversary of the Open House celebration.
History is important at Cibolo Creek Ranch, but modern conveniences are
available in a wall cabinet for conferences and business meetings. A
television set, VCR and other electronic media are hidden in a wall
cabinet in the conference room.
For those who want privacy, a small chapel invites prayer and meditation.
The ranch is 20 miles from the Mexican border town of Ojinaga, whose
40,000 residents enjoy life without the trappings of tourism found in
other border towns.
Ahier and his wife have managed the inn for three months. They
previously managed private facilities in Florida and the Caribbean.
"The first large operation was the Fossil Rim Wildlife Center, a
breeding center for endangered species," Ahier said.
"My wife enrolled at the Culinary Institute of America in Hyde Park and
graduated last Friday on the dean's list," Ahier said. She was enroute
to the ranch at the time of the interview.
Half of the kitchen team attended a gourmet retreat for small hideaways
this year, he said.
"We will be offering by reservation only lunches and dinners to outside
guests," he said. "We will have a set menu, and are building a wine
list."
Europeans and Japanese comprise the largest market at this time, Ahier
said, and they learn of the ranch through postings on the World Wide Web.
Ahier said he is working on a Home Page for the ranch to increase that
aspect of the business.
"Guests from Germany and Belgium love it," Ahier said of the Old West
atmosphere.
"They wear cowboy hats, jeans and shirts; totally live the experience,"
he said.
Hundreds of artisans, construction workers, ranch hands, architects and
engineers, designers, antique dealers, government officials,
consultants, historians and others created a historical environment that
recalls the romantic decades of western frontier life along the Mexican
border.
If Milton Faver were to ride downhill from his tomb today, he would feel
at home in his restored domain.
Skip to next story
Jesse Lea Fulcher
PECOS, May 13, 1997 - Graveside services for Jesse Lea Fulcher, 85, will
be at 11 a.m. Wednesday at East Hill Cemetery in Fort Stockton, under
the direction of Pecos Funeral Home.
Fulcher died Monday, May 12, at Reeves County Hospital.
He was born on Sept. 12, 1911 in Sanderson and had been a Pecos resident
since 1965. He was a farmer and a member of the First Christian Church.
Survivors include six daughters, Mary Kurtyka of Fort Collins, Colo.,
Marcela Cecil of Boise, Ida., Patricia Storm of Brownwood, Jessie Lea
Henderson and Denver, Colo., Jane Brown of Houston, and Frances Teutsch
of Louisville, Ky.; one sister, Edith Clifford of Balmorhea; and 14
grandchildren.
Return to top
PECOS, May 13, 1997 - High Monday, 65, low this morning, 50. Total
precipitation Monday, .22 inches, for the month, .26 inches, for the
year, 2.99 inches. Lows tonight will be in the 40s and 60s, ranging from
the 40s in the mountains of West Texas to the upper 60s in extreme South
Texas. Highs will be in the 80s over most of West Texas, ranging upward
into the 90s in the Big Bend area, the 70s and 80s in North Texas and in
the 80s and 90s in South Texas.
_
---
Copyright 1997 by Pecos Enterprise
Division of Buckner News Alliance, Inc.
324 S. Cedar St., Pecos, TX 79772
Phone 915-445-5475, FAX 915-445-4321
e-mail news@bitstreet.com
Return to Top