Daily Newspaper for Reeves County, Trans Pecos, Big Bend, Far West Texas
News|Sports|Main Menu|Archives Menu|Classified|Advertising|Monahans
Opinion
Tuesday, May 13, 1997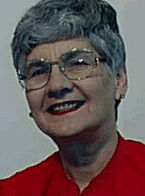 SQUARELY
PEGGED

By
Peggy McCracken
Egg money kept wife
happy on the farm

Skip to next item
Farmers are contracting out their egg production and marketing. That's
one of the most fun things a farmer's wife gets to do, and now they're
letting some stranger do it?
Farmer's wives used to get their spending money by selling eggs from
their little flock of hens, separating cream from the milk and churning
it into butter, and taking the results to town on Saturday.
Whether the town had a farmer's market or she just sold her wares to
the grocer or her neighbors, the little woman tucked the proceeds into
her jeans and went shopping. Or put it in the sugar bowl for future
emergencies. Like one of the kids needing tennis shoes.
Kids usually get the honor of gathering eggs from the nests inside the
chicken house or in the grass - wherever the hen decides to squat. Some
biddies guard their nest, hoping to "set" on the eggs and hatch them
into sweet little chirping baby chicks.
If the old rooster does his job, the eggs will be fertilized and could
become baby chicks. When she's so inclined, the farmer's wife may leave
about 15 eggs in the nest for the hen to "set" on. You've heard of a
setting hen. She's the one who clucks like crazy and pecks the heck out
of you if you get too close. Like all mothers, she protects her babies
from the time they are just a speck in the yolk until they hatch and run
around scratching in the dirt for food.
Setting keeps the eggs warm, a requisite for hatching. When the baby
chick is fully formed, it pecks a hole in the shell and emerges, all wet
and limp looking. Nobody but the cat would be interested in eating that
little feller. But just wait a few months, hook him with a long wire and
drag him out of the chicken yard. Wring his neck, let the blood drain,
then dip him in scalding water to loosen the feathers. Then cold water.
Then pluck him good, singe off the fine hair and he's ready to cut into
chicken nuggets.
More often the lady of the house buys baby chicks from a hatchery for
food. The ritual begins every spring when a batch of baby chickens
arrives through the mail. The need for warmth forces Mama to keep her
charges in the kitchen or, if she's rich, in a heated brooder. If you
haven't experienced 100 chirping chicks messing on the kitchen floor -
or hopefully newspapers - you have missed the thrill of your life.
Can you tell I spent my childhood on a farm? Sometimes I want to go
back to those good old days. Until I remember the chriping chickens.
"The wealth of the rich is their fortified city; they imagine an
unscalable wall." Proverbs 18:11, NIV.
Editor's Note: Peggy McCracken is an Enterprise writer and website manager whose column
appears each Tuesday.
Enterprise praised for local news on internet

Skip to next item
Dear Editor:
I think ya'll do a wonderful job. I started reading the "Local" news on
the net about 3 months ago. Keep up the good work.
Carla Repman
Return to top
By The Associated Press
Today is Tuesday, May 13, the 133rd day of 1997. There are 232 days left
in the year.

Today's Highlight in History:

On May 13, 1981, Pope John Paul II was shot and seriously wounded in St.
Peter's Square by Turkish assailant Mehmet Ali Agca.

On this date:

In 1607, the English colony at Jamestown, Va., was settled.

In 1846, the United States declared that a state of war already existed
against Mexico.

In 1914, boxing champion Joe Louis was born in Lafayette, Ala.

In 1917, three peasant children near Fatima, Portugal, reported seeing a
vision of the Virgin Mary.

In 1918, the first U.S. airmail stamps, featuring a picture of an
airplane, were introduced. (On some of the stamps, the airplane was
printed upside down, making them collector's items.)

In 1940, in his first speech as prime minister of Britain, Winston
Churchill told the House of Commons, ``I have nothing to offer but
blood, toil, tears and sweat.''

In 1954, President Eisenhower signed into law the St. Lawrence Seaway
Development Act.

In 1954, the musical play ``The Pajama Game'' opened on Broadway.

In 1958, Vice President Nixon's limousine was battered by rocks thrown
by anti-U.S. demonstrators in Caracas, Venezuela.

In 1985, a confrontation between Philadelphia authorities and the
radical group MOVE ended as police dropped an explosive onto the group's
headquarters; 11 people died in the resulting fire.

Ten years ago: President Reagan said his personal diary confirmed that
he'd talked with Saudi Arabia's King Fahd about Saudi help for the
Nicaraguan Contras at a time when Congress banned military aid, but
Reagan said he did not solicit secret contributions.

Five years ago: A trio of astronauts from the space shuttle Endeavour
captured a wayward Intelsat-6 communications satellite during the
first-ever three-person spacewalk. President Bush announced a $600
million loan package to help rebuild riot-scarred Los Angeles.

One year ago: Recovery workers in the Florida Everglades retrieved the
flight data recorder from ValuJet Flight 592. The Supreme Court
unanimously struck down Rhode Island's ban on ads that list or refer to
liquor prices, saying the law violated free-speech rights. A tornado
killed more than 600 people in Bangladesh.

Today's Birthdays: Actress Bea Arthur is 71. Critic Clive Barnes is 70.
Director-choreographer Herbert Ross is 70. Actor Harvey Keitel is 58.
Actor Franklin Ajaye is 48. Singer Stevie Wonder is 47. Basketball
player Dennis Rodman is 36. Actress Julianne Phillips is 35. Country
singer Lari White is 32. Singer Darius Rucker (Hootie and the Blowfish)
is 31.

Thought for Today: ``Government, in the last analysis, is organized
opinion. Where there is little or no public opinion, there is likely to
be bad government, which sooner or later becomes autocratic
government.'' - William Lyon Mackenzie King, Canadian statesman
(1874-1950).

---
Associated Press text, photo, graphic, audio and/or video material shall
not be published, broadcast, rewritten for broadcast or publication or
redistributed directly or indirectly in any medium. Neither these AP
Materials nor any portion thereof may be stored in a computer except for
personal and non-commercial use. The AP will not be held liable for
any delays, inaccuracies, errors or omissions therefrom or in the
transmission or delivery of all or any part thereof or for any damages
arising from any of the foregoing.
_
---
Copyright 1997 by Pecos Enterprise
Division of Buckner News Alliance, Inc.
324 S. Cedar St., Pecos, TX 79772
Phone 915-445-5475, FAX 915-445-4321
e-mail news@bitstreet.com
Return to Home Page