Daily Newspaper for Reeves County, Trans Pecos, Big Bend, Far West Texas
Sports|Opinion|Main Menu|Archives Menu|Classified|Advertising|Monahans|
TOP STORIES
May 2, 1997
Pecos policeman on front lines at standoff
By PEGGY McCRACKEN
Staff Writer
David "Kelly" Davis had the dubious honor of delivering "diplomatic pouches" to Republic of Texas "ambassador" Richard Mclaren over the past five days.
Davis was one of three members of the local S.W.A.T. team who was on the front lines at the Davis Mountains Resort standoff between McLaren and law enforcement officers from around the state.
Reeves County Sheriff's Deputies Clay McKinney and Jeffrey Baeza joined Davis and members of the Midland County S.W.A.T. team to form a unit that backed up Rangers and other Department of Public Safety personnel.
"They have had to suck up real bad to McLaren, and I think it is time to quit," Davis said this morning. "It is past time to be negotiating. McLaren was on the radio, telling his missile batteries not to fire at aircraft unless fired upon."
Officers were unable to locate the missile batteries, Davis said. "They must be camouflaged," he joked.
One aircraft in the area has been helpful in spotting McLaren and his 12 cohorts. The government plane is equipped with a special radar unit that can detect heat.
"They can fly over and see where everybody is," said Police Chief Troy Moore.
"They can even track footprints for awhile, because there's heat there," Davis said.
Aerial photographs of the resort helped officers determine where buildings and residences are located and their distance from McLaren's hideout, Davis said. Should an armed confrontation be necessary, law enforcement officers will use that knowledge to their advantage.
Davis said he believes the matter will be resolved very soon with or without bloodshed.
"They just want to fight somebody," he said of ROT members and militia who have trickled into the area.
"They have a lot of soldiers of fortune," said Moore. "Don't those people work for a living?"
Army surplus personnel carriers that SWAT teams used to deliver messages to a spot near McLaren's home and "embassy" were dubbed "Bubba 1" and "Bubba 2," Davis said. They were provided by Smith County.
Davis said his team took turns cat-napping in cars and eating bean burritos, sandwiches and stale bread. Cots were provided the last night, but the men didn't have enough blankets to go around, and it was cold, he said.
"I can't really complain about the conditions. I have been in places for that long without anything. It was beautiful up there.
"I left there last night because of the intelligence we had received about possible problems with the Republic of Texas here in this county," he said.
Word was out that ROT and militia members were to meet near Balmorhea and surround the law enforcements officers surrounding the compound.
"There are extra precautions on our part," Davis said. "It seems like it could happen here, because we are the next county over."
Moore said that city and county officers met Thursday night to go over safety measures.
"We instructed our officers not to stop a car unless they had plenty of backup," Moore said. "The departments are working together closer because of this. We are coordinating all the time."
Deputy U.S. Marshal Billy Johnson commended Moore's officers for their good work in arresting the seven suspects Wednesday.
"They are one of the better departments I have seen," Johnson said. "They are well trained and professional."
Moore said that Texas Ranger Captain Carl Weathers also complimented the men on the arrest.
"He said that was the best work by a PD that he had seen," he said. "I think we have the best group of officers in the state that work together. Nobody even uses the coffee room anymore. We have young officers and dedicated officers who prefer to be working than sitting in there drinking coffee."
Second federal charge filed on ROT members
By PEGGY McCRACKEN
Staff Writer
Two of seven men arrested Wednesday morning in Pecos are now in federal custody charged with possession of a firearm by a felon.
Jimmy Dee Potter, 47, of Palestine, aka James Williamson, was charged Thursday afternoon before U.S. Magistrate Judge Stuart Platt, who set a detention/preliminary hearing for 2 p.m. May 8.
Platt also detained Dudley Edward Vandergiff, 29, of Dallas, on the same charge. Vandergriff occupied an Oldsmobile in which Texas Rangers found two Nornico rifles manufactured in China.
The Chevrolet Suburban which Potter occupied was "loaded with firearms," according to the complaint filed by an agent for the Bureau of Alcohol, Tobacco and Firearms.
Listed are a .45 caliber pistol, three Norinco SKS 7.62mm rifles and one Norinco MAC-90 7.62mm rifle, one Springfield M-1 Garand, .308 caliber; and two 12-gauge shotguns.
Since the Norinco rifles were manufactured in China, they had affected interstate and foreign commerce, thus making their possession by a convicted felon a federal offense, the complaint alleges.
Robert Summitt, in whose name the Suburban was registered, told Rangers that James Williamson was traveling in his Suburban, and he brought an SKS rifle with him.
Potter was convicted in Tulsa, Okla. of burglary and sentenced to 10 years probation, said Texas Ranger Marshall Brown. He is still on probation.
Two of the seven men are being held on out-of-county warrants, and the remaining three are considered material witnesses. They are believed to have been enroute to Fort Davis to join the standoff with Republic of Texas "ambassador" Richard McLaren.
They were arrested by Pecos police with the assistance of Texas Rangers as they ate breakfast at Thad's Restaurant in the Flying J Travel Plaza on I-20.
Police arrest one of McLaren's party

Return to top
FT. DAVIS, May 2, 1997 (AP)- Police arrested one member of a group of
secessionists when he emerged today from a trailer they call the embassy
of the Republic of Texas carrying what appeared to be a package of
documents exchanged several times over the last few days between
authorities and the holed-up secessionists.

The break in the five-day standoff involved Robert Scheidt, a Republic
of Texas member who was swapped earlier this week in exchange for a
couple who had been held hostage in the "embassy," Department of Public
Safety spokesman Mike Cox said.

Cox would not say whether Scheidt surrendered or was captured by force.

Today the Texas Parks and Wildlife Department closed, for day use, Balmorhea State Park and Davis Mountains State Park indefinitely.

The TPWD also began restricting overnight visitation at the two parks. Park users making over night reservations after April 17 have had their reservations canceled.

Overnight visitors already in the parks are being allowed to remain.
Band fund raiser includes auction,
barbecue, more fun activities

Return to top
By ROSIE FLORES
Staff Writer

PECOS, May 2, 1997 - The Pecos High School Mariachi Band will kick
things off at an annual effort to raise funds for local band students.

The 19th Annual Pecos Eagle Band Auction has been set for this Saturday,
May 3 beginning at 9 a.m. at the Saragosa Hall, Sixth and Peach Streets.
Other activities will be held throughout the day in conjunction with the
auction.

The annual event will be broadcast on Channel 6 through Classic Cable.
Anyone wanting to donate items can take them to the Pecos High School
band hall or the Saragosa Hall. Items will be picked up also and
individuals can call the Saragosa Hall at 445-5225.

A barbecue plate sale will be held beginning at 11 a.m. and a cake sale
will be held throughout the day. Middle school band students will be
baking up a concoction of different items.

Barbecue plates prepared by the Reeves County Sheriff's Posse will be
available for $3.50 a plate.

Pecos Eagle Band Booster President Linda Chabarria stated that the help
of the entire community is needed to support this effort.

"We appreciate everyone who is already helping us, without the community
we would be nowhere," she said.

"We will be at the Saragosa Hall and if they want items picked up, we
will do that," said Chabarria. "We appreciate all the donations," she
said.

Volunteers will start setting up this evening in preparation for
tomorrow's big event.

The Pecos Eagle Band traveled to Dallas recently for competition where
the group stayed at the Holiday Inn Express.

"Our students were highly praised for their behavior and we wanted to
let the community know about this, about what a really great group of
kids we have," she said.

Chabarria stated that she visited the front desk where the clerk asked
her if she was traveling with the band. After she explained who she was,
the clerk proceeded to tell her how much the students were appreciated
as being the most well-behaved group of youngsters the hotel had
experienced.

"The clerk told me they had other students staying there and that they
hadn't seen any as well behaved and cordial," she said.

"We're very
proud of them, at a time when just negative things are said about our
students, this is something to be really happy about and to be noted,"
she said.

Proceeds from the auction will go towards the purchase of new uniforms
for the students, who are in dire need of some, according to Chabarria.

"If there are any funds left over, they will be used by the band
director to purchase smaller items needed by the students," she said.

Chabarria stated that the group is working diligently in procuring funds
for the annual scholarships given at the end of the school year. Funds
are also needed for band camp, held during the summer.

Auctioneers will be the band directors, officers and some band students.
Don't forget to vote

Return to top
By ROSIE FLORES
Staff Writer

Don't forget to make your voice heard by voting in the city, school and
hospital elections scheduled for tomorrow.

Elections for all three races will be held Saturday, May 3 with several
polling places available. All voting polls will be open from 7 a.m.
until 7 p.m.

Pecos residents can cast their vote at the Community Center, 508 S. Oak
St., while Orla residents will be able to vote at the Red Bluff Lake
office.

Balmorhea individuals will be able to cast their votes for city and
school elections at the fire hall.

Toyah individuals can go to the Toyah City Hall, Saragosa residents will
vote at the Multi-Purpose Center and Barstow residents can vote at the
Barstow Community Center.

Barstow residents will have only school elections, since Barstow City
council members are unopposed. Under the law that took effect last year,
if constituents are running unopposed an election is not necessary, in
order to save money.

Uncontested races in Barstow feature incumbents Olga Abila, Lucio Florez
and Salvador Villalobos who are assured of new two-year terms on the
city council.

In the election for RCH board, where only voters in Precinct 2 and
Precinct 4 will cast their ballots this year, incumbents Marcella Lovett
and Jeannette Alligood are also unopposed for new two-year terms.

In the Pecos City Council race, two challengers, Johnny Terrazas and
Carlos Campos, are challenging incumbents Dr. Elvia L. Reynolds Jr.,
Randy J. Graham and Genaro Luis Tellez Jr. They are vying for three
two-year terms on the council.

In the Pecos-Barstow-Toyah race for two three-year trustee spots
incumbents Hugh Box and Steve Armstrong are challenged by Freddy Lujan.

In the Balmorhea city council election, incumbent Janell Ward is being
joined by Richard Hoefs, Blanca Barron, Olga Mendoza and Sammy Baeza
seeking the three two-year terms.

Incumbents Kathy Haynes and Norma Jean Redwine opted not to seek new
terms on the council.

In the Balmorhea ISD election four candidates are seeking two three-year
terms.

Darrell Rhyne and Reyes Castillo are challenging incumbents Paul Matta
and James Garlick in the May 3 school board race.

In Toyah, six people are seeking three available two-year seats.

Vying for those positions are incumbents Diana Tollett, Bart Sanchez and
Rose Barnes, who are joined by challengers Jana McHorse, Howard Dennett,
and Sharon Sanchez.
Little church center of activity in Big Bend town

Return to top
By PEGGY McCRACKEN
Staff Writer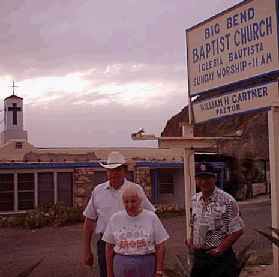 ---
BORDER MISSIONARIES - Rev. Bill Gartner, pastor; Ruth Bell, organist; and Rey Carreon, a deacon in West Park Baptist Church in Pecos, take a breather in front of the Big Bend Baptist Church in Terlingua.
---
Tourists headed south toward Big Bend National Park may take little note
of a native stone building with a small tower and a cross on top in
Terlingua, near the park entrance.
But that little church is the hub of activity for hundreds who descend
on La Frontera (the frontier) throughout the year to minister to needs
along both sides of the Rio Grande.
Bill Gartner is pastor of Big Bend Baptist Church, which hosts medical
and dental teams, evangelists and just plain folks who travel great
distances to tell people about Jesus and meet physical needs as well.
Joyce Morton and Rey Carreon of Pecos are among the "just plain folks"
who gather supplies, conduct vacation Bible schools and encourage others
to join the ministry.
They spent two days last week cleaning stoves and refrigerators in
dormitories maintained by the church for visiting teams.
Carreon, a West Park Baptist Church deacon who preaches at the Reeves
County Detention Center weekly, hopes to return with his family to
minister to families along the river.
Morton, missions coordinator for the Pecos Valley Baptist Association's
woman's missionary union, makes frequent trips to the church.
"That's Rainbow," Gartner said of Morton, who dresses in her clown
costume to attract the attention of children so she can share her love
for Jesus with them.
"I come down whenever they will let me; when I have something to bring
them," Morton said.
"She's a great lady; a great sister in the Lord," Gartner said. "She
keeps us in mind. If she sees anything listed in the 'dictionary,' she
calls me."
The dictionary is a list of supplies the church needs, such as vehicles
and tires that have a short life on the rough dirt roads along the river.
Morton said that all the people who work in the church are "terrific."
Juan and Rosa Granado are two of the locals who minister through music.
"He plays the guitar. When we go across the border, he plays and they
both sing. Everyone joins in, and it is a wonderful song service,"
Morton said.
Morton recalls a baptismal service when 16 converts were baptized at La
Borrada.
"People came from everywhere to this storage tank at a windmill," she
said.
The service about halfway up a hillside was set for 11 a.m., but delays
caused by car trouble and other problems moved the time to afternoon.
"The people put on a magnificent feed," she said. "It was wonderful,
wonderful food. And the singing was great."
Every such gathering is like a fiesta, said Gartner. "A lot of people
show up just to support them."
The percentage of conversions along the river is growing, Gartner said,
although it is hard to find pastors for the little churches established
through the ministry.
Clinics such as the optical clinic offered by a man from Childress, and
the regular dental clinic, boost that ministry, Gartner said.
"We need a barber and a podiatrist," said the pastor who spends a lot of
time on foot. "And we need a mechanic on staff."
Mechanics are in great demand in a country more suited to horseback
travel. Morton recalls traveling in a caravan to Cuatro Palmas and
stopping to help a woman whose vehicle was stalled alongside the road.
"The man and their child hitchhiked back to a town," Morton said. "She
had been on the road by herself overnight. We took her breakfast and
coffee the next morning and pulled the vehicle straight."
The man was coming back in a truck to tow the vehicle into town, she
said.
English and Spanish mingle in the river ministry. Gartner said he
preaches in English on Sunday morning, and the evening service is in
Spanish. Some members attend both services.
Ruth Bell plays the organ for both services and does a great job,
Carreon said. "She can play in Spanish," he quipped.
Bell is another of the "called" who lives in a mountain home miles from
the church over rough dirt roads. She has served the church five years
and two months.
"The Lord called her out her to do that," Gartner said. "There are four
called, Fred, Ruth, Steve and me."
Fred Pelman made the trek from New Orleans, La. 15 months ago to become
a permanent member of the staff. He had previously served the church six
months.
"The Lord brought me here," Pelman said. "I was just going into deep
Bible study and looking for a place to study and felt the Lord leading
me to the Big Bend area. Before I came, I said it would take a lot of
faith."
Pelman said he learned about the river ministry from a television
documentary called La Frontera.
"I saw these people ministering over the border," he said. "I said,
'maybe they need some help.' So I came to see if they needed help.
Fifteen minutes after I got here, a truck loaded with boxes drove up."
Unloading trucks is just one of the many jobs Pelman is called on to do.
Construction work is his forte.
"We built three houses in La Caldera for some needy families," he said.
"A lot of people helped with material and money and whatever we needed.
We have plans to build more houses in Mexico."
Pelman said the Big Bend is a great place to be.
"Since he has been here, Fred has gotten his GED and Bill has turned
Wednesday night prayer meeting over to him. He does an excellent job,"
Morton said.
Gartner will complete 13 years as church pastor this month. He is
thankful for the building that houses the sanctuary, classrooms and
dorms.
"It was all done before we got here," he said. "Our original church
building was 15 miles up the road. After I had whatever training the
Lord was going to give me up there, he called us to move, but we didn't
know where. None of us were familiar with this area."
The church sanctuary was once a Mexican restaurant and bar with a dance
hall and pool room.
"Where the Sunday school is, they had various businesses," Gartner said.
"There was a liquor store, Desert Sports, a washateria, four shower
stalls for men and a bunk room.
"The man was forced out of business by the health department. He walked
out and people ransacked the place. A Realtor friend of mine made the
deal for us and we started renting. We have just bought it."
Groups of 50 and up stay in the dorms and in homes of church members.
Carreon and Morton are the smallest group to visit so far, Gartner said.
"We minister to villages," Gartner said. "We skip over Presidio and
Ojinaga. They are too big. When we have it, we take food and clothes to
Candelaria and little populated areas across from Redford (to the west).
But we mostly go toward the east, through the park. There are three
villages that border on the park."
Trouble with the rural water system that serves Terlingua forced Morton
and Carreon to shut down their cleaning operations in mid-day, so they
went into Big Bend park to "explore."
Morton said it has been 27 years since she and her family explored Santa
Elena canyon, and the climb left her a little stiff.
"When we were going down old Maverick road, I hoped the car would hold
together," she said.
Hold together is what Baptists do best, and with hands across the river,
they plant the seed of the word of God where it will flourish The Fort
Stockton Pioneer
AREA NEWS
Return to top
The Fort Stockton Pioneer

FORT STOCKTON, May 1, 1997 - Of those who followed last weekend's
hostage situation in the Davis Mountains and the ensuing standoff
between law enforcement officers and separatist "defense forces,"
perhaps no one did so as closely as Tracy and Melinda Dean. Melinda's
parents, Joe and M.A. Rowe, were taken hostage in their Davis Mountains
Resort home by Republic of Texas members. They were injured when the
trio broke into their home, and were treated at the Big Bend Regional
Hospital in Alpine.
The Big Bend Sentinel

MARFA, May 1, 1997 - The Republic of Texas standoff stranded Marfa
teacher Jan Harkey at her Davis Mountains Resort home, and she was
absent from her classroom and students Monday. She and her husband are
staying with Marfa friends until the situation is resolved. "I feel very
violated," Harkey said. "We were literally hostages in our own home. We
couldn't go out."
The Alpine Avalanche

ALPINE, May 1, 1997 - At least five health care providers have shown
interest in possibly partnering with Big Bend regional Medical Center,
said administrator Tom Lawson. They include Chancellor Health,
Columbia/HCA Health Care, Shannon Health System, Community Health
Systems and New American Health Care.
The International, Presidio Paper

PRESIDIO, May 1, 1997 - This town will soon boast that it is a two-bank
town. Last Thursday the Fort Davis State Bank was notified by the
Banking Department of Texas that approval had been granted for the
opening of a branch bank in Presidio, said President John Fitzgerald. It
will be named the Fort Davis State Bank Presidio branch and plans to
begin operations on Oct. 1. adjacent to the new post office on O'Reilly
Street. The full-service bank will include a drive-through and an ATM.
The Sul Ross Skyline

ALPINE, May 1, 1997 - Dr. Abelardo Baeza, Sul Ross State University
English and Spanish professor, has been named the university's top
teacher. Baeza said he felt he was following in his mentors' footsteps,
citing the late Berta Clark Lassiter and Minerva Uranga, now of Del Rio,
who taught him at Centennial School, and the late Dr. Elton Miles,
long-time Sul Ross English professor.
The Sanderson Times

SANDERSON, May 1, 1997 - Terrell County Commissioners Court on Monday
approved payment of $1,000 for the Cinco de Mayo concert, to be paid to
the band Culturas. Food booths and displays will be set up at Legion
Hall for the Friday and Saturday celebration. The kickoff parade begins
at 10 a.m. Saturday, followed by a talent show, softball tournament,
mock gunfights, Mariaches and Folklorico Dancers. The street dance
begins at 9 p.m. Saturday.
The McCamey News

McCAMEY, May 1, 1997 - The little retirement community of Fort Davis and
the Republic of Texas have been headline news makers since this past
weekend, and a former McCamey couple has found themselves in the center
of the action.
Joe Rowe and his wife, M.A., were both taken hostage and spent 12
intense hours before lawmen negotiated their release. They lived in
McCamey on three separate occasions for 12 years while Joe was employed
by Shell Pipeline.
After being transferred from McCamey, the last time in 1988, they
eventually found their retirement home in 1992 at the Davis Mountain
Resort - near Republic of Texas "ambassador" Rick McLaren.
The Rowes said in an interview that law enforcement officials have been
aware of McLaren and his operation for some time and Rowe has been
instrumental in keeping them informed of McLaren's activities. Rowe said
activities by members of the ROT seemed to escalate several days prior
to their siege.
Rowe said that he and M.A. had observed people watching them through
rifle scopes on numerous occasions and that he contacted Sheriff Steve
Bailey on Saturday.
"I told him I was tired of this and that we both were deeply concerned
for our safety," Rowe said.
Bailey stopped a van seen near the Rowe residence and arrested the
driver. A number of weapons were found in the van.
Members of the Republic were sent by McLaren to take control of the
courthouse, but before this could happen, a misinterpreted radio message
caused McLaren to cancel the courthouse siege and instead sent his men
to "take Rowe out."
Three armed men approached the Rowe home and, after firing three shots
through the Rowe's front door, forced their way into the home, holding
the couple hostage for about 12 hours.
Rowe was injured by shrapnel from the third shot.
The Monahans News

MONAHANS, May 1, 1997 - Monahans High School sophomores accelerated
their scores on the Texas Assessment of Academic skills Test this year,
eclipsing the achievement of past Lobo sophomore classes by several
points in each category.
WEATHER

Return to top
PECOS, May 2, 1997 - High Thursday 95, low last night 52. Tonight,
clear. Low in the mid 40s. Northeast wind 5-15 mph. Saturday, sunny.
High around 80. Southeast wind 5-15 mph.
Return to top

Associated Press text, photo, graphic, audio and/or video material shall
not be published, broadcast, rewritten for broadcast or publication or
redistributed directly or indirectly in any medium. Neither these AP
Materials nor any portion thereof may be stored in a computer except for
personal and non-commercial use. The AP will not be held liable for
any delays, inaccuracies, errors or omissions therefrom or in the
transmission or delivery of all or any part thereof or for any damages
arising from any of the foregoing.
_
---
Copyright 1997 by Pecos Enterprise
Division of Buckner News Alliance, Inc.
324 S. Cedar St., Pecos, TX 79772
Phone 915-445-5475, FAX 915-445-4321
e-mail news@bitstreet.com
Return to Top