Daily Newspaper for Reeves County, Trans Pecos, Big Bend, Far West Texas
Sports|Opinion|Main Menu|Archives Menu|Classified|Advertising|Monahans|
TOP STORIES
April 30, 1997
Seven suspects arrested on way to standoff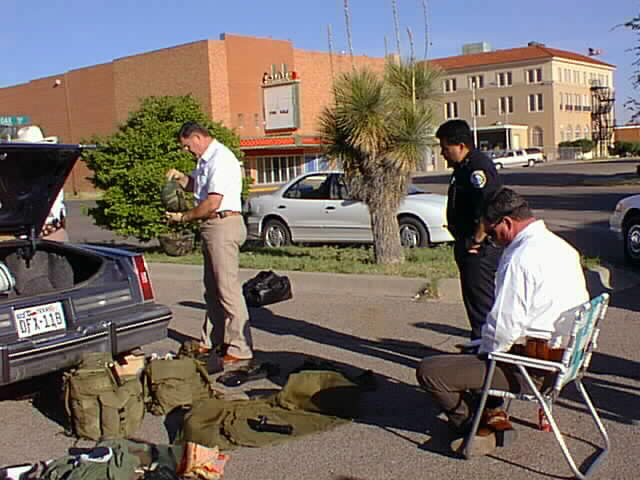 Rangers inventory vehicle
Rifles, explosives and a baggie of suspected marijuana are among the items Texas Rangers are unloading from this Oldsmobile, which was impounded Apr. 30 with the arrest of seven Republic of Texas members.
Return to top
Republic of Texas
By JON FULBRIGHT
and RICK SMITH
Staff Writers
PECOS, Arpil 30, 1997 - Texas Rangers and Pecos police arrested seven
heavily armed men at a truck stop on I-20 early this morning. The men
were allegedly on their way to support Richard McLaren and his band of
renegade Republic of Texas members involved in a standoff with law
enforcement officials in the Davis Mountains.
Department of Public Safety officials had alerted local police and
Sheriff's deputies that the group of men might be passing through the
area. Pecos patrolman Cosme Ortega spotted the two vehicles the men were
traveling in on I-20 at mile marker 43 just before 5:30 a.m. Ortega
reported that he had located the two vehicles and followed them to the
Flying J truck stop at U.S. 285 and I-20.
When backup from the Texas Rangers arrived on the scene, the Rangers and
Pecos police moved in to detain the group.
"Two of the men had been left to guard the vehicles and were asleep when
we moved in," Ortega said. "The others had gone in to get breakfast."
Yolanda Rayos, manager of Thad's, the restaurant at the truck stop, said
"Two of them walked out by themselves, and (police and Rangers) came and
got the other three."
"The one sitting in the Suburban they pulled out ... When he got out of
the car like this, I knew it was trouble," she said, raising her hands
to show how the man was taken from the vehicle.
"They were acting OK until the Rangers came in," said Thad's employee
Mary Contreras about the five in the restaurant, though other employees
said the men were quiet as waitresses passed by.
"I said `Are you going to Fort Davis?'" waitress Jo Carroll said, "He
said he was tired, and I said `bless your heart'."
She added that the men told her they were going hunting.
Pecos officer Paul Videtto said, "One of them said `I'm a born-again
Christian, and I wouldn't kill nobody unless Jesus told me too. I told
him that's not any Jesus I know of."
The seven men were traveling in a gasoline-leaking 1983 Oldsmobile
Regency and an 80s model Chevrolet Suburban. Both vehicles were heavily
loaded with weapons, ammunition, explosives, camping gear and Republic
of Texas propaganda.
Among the seven men arrested was James Leslie Williamson Jr. who had an
outstanding warrant for theft of property. None of the other six men's
names were released at press time.
Texas Rangers were spending the morning questioning the seven men and
inventorying the contents of the two vehicles.
One of the first discoveries found was approximately two pounds of what
appeared to be marijuana.

Weapons found in the Oldsmobile included two SKS 7.62 semi-automatic
assault rifles, one loaded with two 30-round clips taped together, the
other with a 30-round and a 40-round clipped together. The second rifle
had a round in the chamber. An additional drum-feed ammo clip found in
the trunk of the car brought exclamations of amazement from the Rangers.
Other items found in the car included a quart jar of blasting powder,
two military helmets with Republic of Texas Defense Police insignia, at
least one bullet-proof vest, numerous loose rounds of rifle ammunition,
Republic of Texas printed propaganda, a book on creating false
identification and 13 micro-cassette tapes labeled Republic of Texas.
Other weapons were found in the roof area of the Suburban, along with a
Confederate Army cap.
"There were shotguns, clips, camping gear and MREs (military food
rations)," Pecos Police Chief Troy Moore said. "Whether they're legal
weapons or not, I can't say right now."
Officers involved in the arrest spoke of the possibility that more
Republic of Texas supporters from as far away as California could also
be on the way to McLaren's compound.
Federal judge says he's not hiding

Return to top
By PEGGY McCRACKEN
Staff Writer

PECOS, April 30, 1997 - The federal judge who found Richard McLaren in
contempt of court and let him sit in the Ward County jail for a month is
ready for the siege at Fort Davis to end without bloodshed.

Senior Judge Lucius Desha Bunton III, speaking from the chambers in the
courthouse in Pecos that bears his name, said he knows nothing about the
standoff at the Davis Mountain Resort.

And he's not hiding from any Republic of Texas members who have made a
threat "to get a federal judge."

"I have received no direct threats on my life from Republic of Texas
people," Judge Bunton said this morning. "Somebody said they were going
to get a federal judge. But they didn't call me or write me.

"I don't have a computer, so I don't know how to get on the Internet.
And I have had no e-mail to my office."

Judge Bunton said he has had calls from news organizations all over the
country since the siege began Sunday, but he has not talked with any of
them.

"They wanted information," he said. "I didn't have anything to say. I
still don't have anything to say, except I want it peaceably resolved."

Judge Bunton knew nothing about the arrest of seven ROT members this
morning in Pecos. Agents with the Bureau of Alcohol and Tobacco arrived
at Pecos Municipal Airport about noon to interview the suspects to
determine whether federal weapons charges should be filed.

U.S. Magistrate Judge Stuart Platt is holding court here today and
Thursday, and any federal charges against the seven would likely go to
his court for an initial appearance and detention hearing.
Dallas man convicted on eight drug charges

Return to top
By PEGGY McCRACKEN
Staff Writer

PECOS, April 30, 1997 - Federal court jurors this morning found Billy
Mell Alford of Dallas guilty on eight of 10 counts of importing and
possessing with intent to distribute marijuana in 1996 and 1997. He was
acquitted on two counts.

His co-defendant, Marvin Ray Marsh Jr., was found guilty on two counts
of possession with intent to distribute marijuana and not guilty on one
count of importing marijuana.

Their co-defendants, Alex Monty Dawson III, Paul Theodore Preston Jr.
and Arthur Joseph Preston, pleaded guilty in a plea bargain agreement.

Thirty witnesses testified during the two-day trial, which began Monday.
Of those, two testified for Marsh and one for Alford. The remainder were
prosecution witnesses called by Assistant U.S. Attorney Jim Blankinship.

Alford was arrested in Study Butte on Nov. 27, 1996, after DPS narcotics
investigator Roger Kopycinski noticed his heavily-loaded van and smelled
marijuana.

A search of the van turned up more than 1,000 pounds of marijuana,
according to court records.

Alford has a long history of marijuana smuggling, and was convicted in
Judge Lucius Bunton's court on Feb. 15, 1984 of 11 counts. He was
sentenced to 30 years in prison, with eight years special parole and
five years probation, plus a $55,000 fine.

Marsh also has a criminal record, which is taken into consideration at
the time of sentencing.
Early voting increases at polls at last minute

Return to top
PECOS, April 30, 997 - The count for early voting was up during the last
day, according to early voting clerk Debbie Thomas.

The final count was 770 be personal appearance with 127 by ballots by
mail.

"It was really slow there for awhile, but the count went up," said
Thomas.

On Friday, early voting was 411 by personal appearance, with 127 by
ballots by mail.

Individuals had a chance to cast their votes early in the city, school
and hospital district elections at the Community Center.

Elections for all three races will be held Saturday, May 3 with several
polling places available.

Pecos residents can cast their vote at the Community Center, 508 S. Oak
St., while Orla resident will be able to vote at the Red Bluff Lake
office.

Toyah individuals can go to the Toyah City Hall, Saragosa residents will
vote at the Multi-Purpose Center and Barstow residents can vote at the
Barstow Community Center.

All voting polls will be open from 7 a.m. until 7 p.m.

In the Pecos City Council race, two challengers, Johnny Terrazas and
Carlos Campos, are challenging incumbents Dr. Elvia L. Reynolds Jr.,
Randy J. Graham and Genaro Luis Tellez Jr. They are vying for three
two-year terms on the council.

In the Pecos-Barstow-Toyah race for two three-year trustee spots
incumbents Hugh Box and Steve Armstrong are challenged by Freddy Lujan.

In the Balmorhea city council election, incumbent Janell Ward is being
joined by Richard Hoefs, Blanca Barron, Olga Mendoza and Sammy Baeza
seeking the three two-year terms.

Incumbents Kathy Haynes and Norma Jean Redwine opted not to seek new
terms on the council.

In the Balmorhea ISD election four candidates are seeking two three-year
terms.

Darrell Rhyne and Reyes Castillo are challenging incumbents Paul Matta
and James Garlick in the May 3 school board race.

In Toyah, four persons are seeking three available two-year seats.

Vying for those positions are incumbents Diana Tollett, Bart Sanchez and
Rose Barnes, who are joined by challengers Jana McHorse, Howard Dennett,
and Sharon Sanchez.

Uncontested races are in Barstow, where incumbents Olga Abila, Lucio
Florez and Salvador Villalobos are assured of new two-year terms on the
city council and in the election for RCH board, where only voters in
Precinct 2 and Precinct 4 will cast their ballots this year. Incumbent
Marcella Lovett and Jeannette Alligood are unopposed for new two-year
terms.
PHS Current Events Team on its way
to State UIL Academic Competition

Return to top
By ROSIE FLORES
Staff Writer

PECOS, April 30, 1997 - Three Pecos High School students will be
realizing their goals as they head for State UIL Academic competition
this weekend in Austin.

The Current Events Team composed of seniors Daniel Tarin and Mikel
Parent and sophomore Tye Graham will be in Austin competing in the state
level.

The team took first place honors in the Regional UIL Academic meet held
in San Angelo qualifying them to compete in Austin as individual and
team current event contestants.

Daniel Tarin placed first in individual competition in San Angelo, Mikel
Parent took third and Tye Graham was seventh in that competition.

"We want to congratulate all the students competing at the regional
meet," said Pecos High School UIL coordinator Barbara Scown. "We had
some really tough competition, but all these students did really well,"
she said.

The accounting team, comprised of Denise Camarena, Albert Lee and Bryan
Brownlee also did excellent.

"They were only three points away from being able to attend state
competition, that's only half a question," said Scown. "We're very proud
of all our students," she said.

The group placed second at regionals, with Denise Camerena coming in
sixth place in individual competition.

"That's really good for the accounting team," said Scown.

This will be Parent's and Tarin's third year to attend state
competition, with newcomer Graham experiencing his first year at the
capital.

"Tye is only a sophomore, so he will be our cornerstone for next year,
and possibly another trip to state," said Scown.

Last year at state competition the group did really well coming in
second, with Tarin placing fourth in individual.

"These are really good students, who have been working really hard and I
have a lot of confidence in them," said Scown.

Several schools from 5A dropped down to 4A creating more of a challenge
and were more competitive, according to Scown.

"You just never know how these students will do in state," said current
events teacher Priss McNutt. "These are terrific students, who are very
hard working," she said.

McNutt has coached the team for the last five years and has accompanied
them to state competition four of the five years.

Parent stated that this is a goal that has been realized for him,
attending state competition during his senior year.

"It's my last year of high school and I'm glad I'll be able to attend
state competition one last time," he said. "I'm hoping we'll get first
this year, last year we placed second, the first year we were there we
placed fourth, so it just seems like a natural progression that we move
up," he said.

"I always feel confident," he added.

The other two competitors however, expressed their nervousness, but
stated that they will do their best.

"This is my first year and all I feel right now is nervousness," said
Graham. "I always have next year," he said.

The team will compete on Saturday, May 3 at 8:30 a.m. A coaches meeting
will be held shortly before that at 8 a.m. at the University of Texas at
Austin.

An awards ceremony will be held at 12:30 p.m. where all winners will be
announced.
Youth art on display at museum festival

Return to top
PECOS, April 30, 1997 - More than 150 students have entered the 10th
Annual Student Art Festival at the West of the Pecos Museum.

Some of the best entries will be honored tomorrow in a public reception
and awards program to be held at 7 p.m. at the museum located at the
corner of SH 285 and First Street.

"Awards will be given in various categories," said Dorinda Venegas,
museum curator. "Students from the first grade through the twelfth in
the Pecos-Barstow-Toyah and Balmorhea school districts have entered the
festival with their art work."

Student art work will be on display at the museum through Thursday, May
8. The theme of the art festival this year was "Fourth of July in
Pecos," to be interpreted by each artist.

Billie Bickley of the Pecos Art Association will be the guest speaker.

The art festival is sponsored by the West of the Pecos Museum and the
Friends of the Museum group.

For more information call the museum at 445-5076.

As a side note:

You might want to check out the Spring/Summer 1997 edition of Southern
Living Presents Texas Vacations. On page 78 you'll find an article
entitled "Saddle Up for the Oldest Rodeo." The article gives a brief but
impressive review of the July Fourth West of the Pecos Rodeo, the events
that surround the rodeo that week and the West of the Pecos Museum. The
sub-head to the article sums it up as "Small-town friendliness joins
big-time competition in Pecos, the birthplace of rodeo." Check it out.
County hospital to recognize
National Hospital Week

Return to top
PECOS, April 30, 1997 - Numerous events are planned locally in honor of
National Hospital Week, the nation's largest Health care celebration.

National Hospital Week will focus on the partnership between health care
facilities and the community in its 1997 theme.

Reeves County Hospital is extending the celebration throughout the month
of May to coordinate with another observation in May - National High
Blood Pressure and Stroke Awareness Month.

The slogan for 1997 is "Celebrating Health, Hope and Healing: Partners
for Better Health."

"Health care is a partnership," said Nancy Ontiveros, Director of
Program Development and Community Services. "We rely on many different
partners - health care professionals, patients, government entities,
community agencies, educators and the media. Each partner plays a role
in ensuring help and information are available, dispersed and used. It
is that partnership or team approach to medicine that has made ours a
good health care system."

Several events are planned both internally and externally to celebrate
the month. Reeves County Hospital will be partnering with community
businesses by providing free blood pressure clinics and health
information during the month of May.

Partnering community businesses are: La Tienda, May 1 from 4-6 p.m.;
Bob's Thriftway, May 8 from 4-6 p.m.; Security State Bank, May 16, 5-6
p.m.; McDonald's, May 20 4-6 p.m. and First National Bank, May 30, 10
a.m. until noon.

For more information contact Nancy Ontiveros at the hospital at 447-3551.
WEATHER

Return to top
PECOS, April 30, 1997 - High Tuesday 93, low last night 72. Tonight,
partly cloudy. Low in the lower 50s. South wind 5-10 mph. Thursday,
partly cloudy. High in the upper 80s. West to southwest wind 10-20 mph
and gusty.
Return to top

Associated Press text, photo, graphic, audio and/or video material shall
not be published, broadcast, rewritten for broadcast or publication or
redistributed directly or indirectly in any medium. Neither these AP
Materials nor any portion thereof may be stored in a computer except for
personal and non-commercial use. The AP will not be held liable for
any delays, inaccuracies, errors or omissions therefrom or in the
transmission or delivery of all or any part thereof or for any damages
arising from any of the foregoing.
_
---
Copyright 1997 by Pecos Enterprise
Division of Buckner News Alliance, Inc.
324 S. Cedar St., Pecos, TX 79772
Phone 915-445-5475, FAX 915-445-4321
e-mail news@bitstreet.com
Return to Top