Daily Newspaper for Reeves County, Trans Pecos, Big Bend, Far West Texas
News|Sports|Main Menu|Archives Menu|Classified|Advertising|Monahans
OPINION
Tues., April 29, 1997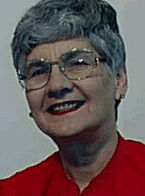 SQUARELY
PEGGED

By Peggy McCracken
Sequel to column
on spotting mistakes

Return to top
Last week I wrote about mistakes, and how we can spot the mistakes of
others but can't see our own. Well, I proved my point in a big way the
same day that column appeared in the paper. My story on Game Warden Jim
Allen got changed to make "trot" line into "trout" line, and you should
have heard me yell.
I chewed out the proof reader, complained to the publisher about
incompetent help and generally raised the roof. About two hours later,
as I drove home, it hit me that "trotline" is one word, and the mistake
was mine. See what I mean? Of course, I called Cara Alligood to
apologize. Gee whiz, if we could just see ourselves as others see us and
admit we're not perfect!
You see why this job is so frustrating and makes me want to go back to
cowboying? As you read this, I am on vacation. And if I don't make it a
permanent one, it won't be because I am itching to get back to work.
Actually, I am on a working vacation. In order to get out of town and
do some stories, photos and advertising for our Internet pages, I had to
take a week off. Of course, this column and other stuff on the editorial
page had to be done before I left, because there was no one to fill in
for me.
I got the idea for the trip from a flyer we received advertising the
annual native plant sale at the Chihuahuan Desert Visitor Center near
Marfa. I've always wanted to go there, and since it fell in my vacation
time, I decided to go. Fort Davis has lots of bed and breakfast inns, so
I thought while I was there I may as well stay in one and offer to
create them a page on the Internet. That grew into a big spread on
tourism and a trip that includes Monahans, Balmorhea State Park, Alpine,
Terlingua, Lajitas, Cibolo Creek Ranch, Marfa, Marathon, Sanderson and
Fort Stockton.
My son and family are meeting me in Sanderson for the weekend. You're
thinking, "That woman picks the strangest places to spend her vacation."
Pam Rasberry still teases me about taking my grandkids to Monahans
America for a vacation. At least there is a sand pile and big hole in
the ground (Million Barrel Museum) in Monahans, plus a bowling alley.
The newspaper publisher in Sanderson told me there's nothing to do, and
they make their own fun. So I'm taking kites, a basketball, Scrabble,
dominoes and cards. And a frisbee if I can find one laying around the
house. And a bat and ball. And tennis racquets. Wish I had a horse to
drag along.
I was wondering about exploring some countryside, and have learned that
some ex-Pecosites own land there. So we may get to do a little hiking
and may wind up being bitten by a rattlesnake.
"The way of a fool seems right to him, but a wise man listens to
advice." Proverbs 12:15, NIV.
Editor's Note: Peggy McCracken is an Enterprise writer and editor whose column appears
each Tuesday.
YOUR VIEW
Animal Warden tells her side of story

Return to top
Dear Editor:

Re: The Termination of the ACO
And now the rest of the story. First of all, the reason I was terminated
by Gil was because I asked for a Department Meeting that the Parks
Department and I agreed upon verbally, everyone thought a meeting was
necessary due to low moral, complaints and rumors of favoritism due to
the fact that someone might loose their job. There are a lot of good,
hardworking employees quitting due to poor supervision and management. I
spoke to both Gil and Neal about this and they both still agreed that
there was no need for a meeting. Due to low moral I felt obligated to
ask for a meeting, instead I got fired for speaking out. meetings are
what make a business strive and employees feel appreciated.

To the Animals and people of Pecos, Toyah, Barstow, Greenacres and
Balmorhea, I will miss seeing and talking to you, I also learned a lot
from you and hopefully you learned something from me. Take care of
yourselves and especially your pets, they are indeed precious.

Carmen Mendoza
HENRY BONILLA
Volunteering makes a difference

Return to top
This week in Philadelphia thousands of people from all walks of life
will put their thinking caps on to tackle the problems facing the youth
of our country. At the President's Summit for America's Future,
political, business, religious, community and education leaders will
highlight the importance of volunteering and service to community.

This country was built on individualism, which includes an individual's
responsibility to his or her neighbors. Part of this responsibility is
to lend a hand to a neighbor in their time of need. Volunteering is
about giving a little of yourself to empower your neighbor.

The spirit of volunteering is alive and well in the United States. Over
65 percent of Americans volunteered in some way in the past year. No one
makes them do this. These are people from churches, businesses and
schools who give what they can to their fellow citizens. This week's
summit, organized by retired Army General Colin Powell is a good
reminder of the importance of volunteering. Thankfully, many people have
already gotten the message.

Some folks in Washington have proposed that the federal government
require volunteerism or pay volunteers. That goes against the very
meaning of the word "volunteer." A volunteer shouldn't be forced and
shouldn't receive a federal pay check. True volunteerism is most
successful when the motives come from the heart.

In today's fast-paced world, it is critical that our kids have positive
role models. Everybody has something to give. Whether you are giving
blood at a Red Cross blood drive or taking a boy scout troop on a
campout, what you do makes a difference in the big picture.

Providing our kids with a stable foundation is tough work. No one person
or entity can do it along. Everybody has something to offer. So this
week, think about what we can do to help our community, especially the
kids in our community. Do what you can to make a difference in someone's
life, and who knows, you might even make a difference in yours too.

Editor's Note: Henry Bonilla represents the 23rd Congressional District in the U.S.
House of Representatives.
OTHER VIEW
Cooking book helps reduce calories

Return to top
"Down home cookin' without the down home fat" is the fast and easy, low
fat cookbook for busy people. The 208 pages are loaded with over 250
mouth-watering, homestyle recipes that are dramatically reduced in fats
and calories. More than just a cookbook, it's chock full of money-saving
tips, smart shopping strategies, homey advise, and words of wisdom. All
recipes have fats and calories documented per serving. The special
concealed spiral binding allows this hard-cover book to stay open while
cooking and was selected as one of the "Best of the Best" cookbooks by
Quail Ridge Press. It was also voted the "1996 Best Book of the Year" by
North American Bookdealers Exchange. At $14.95, it is currently only
available by calling toll-free: 1-888-436-9646 and Aunt Dawn guarantees
a full refund if not completely satisfied.

This first-time, self-published author, known fondly as "Aunt Dawn"
considers this book a gift from God. After passionately working on this
book for over three years, completion took on urgency when her
thirty-two year old husband was diagnosed with an aggressive brain
cancer the size of a baseball which left him completely paralyzed on his
entire left side while medical bills were escalating! Although she
thanks God for the success of her book (almost 100,000 books sold in 14
months) she dedicates it to her loving and courageous husband, whom
daily overcomes the grueling challenges of cancer with determination,
perservance, and commitment to life itself. His cancer has shrunk about
90%. He is now able to work part-time, enjoys jetskiing, rafting and
cycling. "We are living proof that miracles are still happening," says
"Aunt Dawn."

Her book is also available for others to use for fund-raising purposes.
"It's helped us raise the funds we need, now it's time to help others",
says Aunt Dawn. This book has been used to raise over $220,000.00 in
1996 by non-profit groups. Bulk rate copies are available to schools,
churches, non-profit groups and others who need help with medical
expenses. For detailed information about using "Dawn Home Cookin" for
fund raising purposes call or fax request to: 419-826-2700.
Return to top
---
Associated Press text, photo, graphic, audio and/or video material shall
not be published, broadcast, rewritten for broadcast or publication or
redistributed directly or indirectly in any medium. Neither these AP
Materials nor any portion thereof may be stored in a computer except for
personal and non-commercial use. The AP will not be held liable for
any delays, inaccuracies, errors or omissions therefrom or in the
transmission or delivery of all or any part thereof or for any damages
arising from any of the foregoing.
_
---
Copyright 1997 by Pecos Enterprise
Division of Buckner News Alliance, Inc.
324 S. Cedar St., Pecos, TX 79772
Phone 915-445-5475, FAX 915-445-4321
e-mail news@bitstreet.com
Return to Home Page