Daily Newspaper for Reeves County, Trans Pecos, Big Bend, Far West Texas
News|Sports|Main Menu|Archives Menu|Classified|Advertising|Monahans
OPINION
Monday, April 28, 1997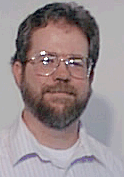 THE WAY
I SEE IT

By Rick Smith
An invitation to write
about your community

Return to top
Last week I used this space to encourage our readers to let us know
about any interesting people doing interesting things in the area. This
week I want to encourage our readers who enjoy writing to submit guest
columns for publication in the Enterprise.
A lot goes on in Pecos and Reeves County. We always seem to be running
short handed at the Enterprise and just don't have enough reporters and
hours in the day to get out and cover it all. If you feel like your
community or organization isn't getting enough coverage, this is your
chance to change that.
We are inviting you to gather information about the happenings in your
community or organization, write it up and submit it to the Enterprise
for publication.
Guidelines for guest columns are simple. Write about what people are
doing. Anyone of any age can submit guest columns, as long as they can
write complete sentences. The Enterprise reserves the right to decide if
a column is suitable for publication or not suitable.
Writing a column can be hard work so you might want to enlist a few
friends to help you out. If you want to write about what your
organization is doing, get some of the committee heads to give you
summaries of the progress they are making on their projects. Put the
summaries together in an easy to read manner and you have a column.
If you live in one of the many small towns surrounding Pecos, and you
know there are a lot of interesting goings on there that never get in
the newspaper, now's your chance. Enlist some of your community leaders
to give you information about what they are doing. There are always
projects in the works by groups like scouting troops, school functions,
church groups and many other organizations. We want to read about what
you are doing and so do the readers of the Enterprise.
You can mail guest columns to: Pecos Enterprise, Rick Smith, City
Editor, PO Box 2057, Pecos TX 79772. Or you can E-mail your column to
news@bitstreet.com. Put "Guest Column" in the Subject heading.
If you need any more information or want a little advice about writing
your column call me at the Enterprise at 445-5475 and I'll be glad to
talk to you. Please call after 2 p.m. when I have a little extra time.
Editor's Note: Rick Smith is an Enterprise writer and city editor whose column
appears each Monday.
OUR VIEWS
Children's book will make
reading more interesting

Return to top
Have you ever heard the title of a book that simply intrigued you?

Such is the case with a book that just came in the mail for our review
entitled, "When Fish Go Peopling."

The book is written by Paul Borgese with illustrations by Cathy Wang,
published by Laugh and Learn Books.

As you might suspect, this is a book for children, and consists of a
collection of poetry that while entertaining, is very educational as
well, forthwith the title poem:

They will come without warning,
On a Saturday morning,
When people are still in bed.
We will swallow the bait,
And end up on a plate,
When fish go peopling instead.

Other poem titles include "The Bubblegum Tree," "What is a Unicorn,"
"Mother Moon and Baby Star," "Raining Cats and Dogs," and .....well you
get the idea.

Educators have said about the author that do doubt, his poems will lure
children into the wonderful world of reading and inspire them to think
creatively.

Other children's book by Borgese include "Hunting for the Whipperwoo"
and "A Sunday Stroll." He is currently completing two new books, "Even
the Monkeys Fall Out of the Trees," and "The Spagetti Confetti Cookbook:
Fun in the Kitchen with Rhymes and Recipes."

His books are available along with a free catalog by calling toll free
1-800-236-6048.

Mac McKinnon
TODAY IN HISTORY

Return to top
By The Associated Press
Today is Monday, April 28, the 118th day of 1997. There are 247
days left in the year.

Today's Highlight in History:

Fifty years ago, on April 28, 1947, a six-man expedition sailed from
Peru aboard a balsa wood raft named the Kon-Tiki on a 101-day journey
across the Pacific Ocean to Polynesia.

On this date:

In 1758, the fifth president of the United States, James Monroe, was
born in Westmoreland County, Va.

In 1788, Maryland became the seventh state to ratify the U.S.
Constitution.

In 1789, there was a mutiny on the Bounty as the crew of the British
ship set Captain William Bligh and 18 sailors adrift in a launch in the
South Pacific.

In 1940, Glenn Miller and his orchestra recorded ``Pennsylvania 6-5000''
for RCA Victor.

In 1945, Italian dictator Benito Mussolini and his mistress, Clara
Petacci, were executed by partisans as they attempted to flee the
country.

In 1958, Vice President Richard Nixon and his wife, Pat, began a
goodwill tour of Latin America.

In 1967, heavyweight boxing champion Muhammad Ali refused to be inducted
into the Army, the same day Gen. William C. Westmoreland told Congress
the United States ``would prevail in Vietnam.''

In 1969, French President Charles de Gaulle resigned his office.

In 1980, President Carter accepted the resignation of Secretary of State
Cyrus Vance, who had opposed the failed rescue mission aimed at freeing
American hostages in Iran.

Ten years ago: Contra rebels in Nicaragua killed Benjamin Ernest Linder,
an American engineer working on a hydroelectric project for the
Sandinista government.

Five years ago: President Bush and Bill Clinton won the Pennsylvania
presidential primary. The Agriculture Department unveiled its
pyramid-shaped recommended-diet chart that had cost nearly $1 million to
develop.

One year ago: President Clinton gave 4½ hours of videotaped testimony as
a defense witness in the criminal trial of his former Whitewater
business partners. A man armed with a semiautomatic rifle opened fire on
tourists on the Australian island of Tasmania, killing 35 people; he was
captured by police after a 12-hour standoff.

Today's Birthdays: Syndicated columnist Rowland Evans is 76. Former
Secretary of State James A. Baker III is 67. The president of Iraq,
Saddam Hussein, is 60. Actress-singer Ann-Margret is 56. Actress Marcia
Strassman is 49. Actor Bruno Kirby is 48. Jay Leno is 47. Actress Mary
McDonnell is 44. Rock singer-musician Kim Gordon (Sonic Youth) is 44.
Rapper Too Short is 31. Rapper Big Gipp (Goodie Mob) is 24. Actress
Melissa Joan Hart (``Sabrina the Teenage Witch'') is 21.

Thought for Today: ``The world does not require so much to be informed
as reminded.'' - Hannah More, English religious writer (1745-1833).
---
Associated Press text, photo, graphic, audio and/or video material shall
not be published, broadcast, rewritten for broadcast or publication or
redistributed directly or indirectly in any medium. Neither these AP
Materials nor any portion thereof may be stored in a computer except for
personal and non-commercial use. The AP will not be held liable for
any delays, inaccuracies, errors or omissions therefrom or in the
transmission or delivery of all or any part thereof or for any damages
arising from any of the foregoing.
_
---
Copyright 1997 by Pecos Enterprise
Division of Buckner News Alliance, Inc.
324 S. Cedar St., Pecos, TX 79772
Phone 915-445-5475, FAX 915-445-4321
e-mail news@bitstreet.com
Return to Home Page