Daily Newspaper for Reeves County, Trans Pecos, Big Bend, Far West Texas
News|Sports|Main Menu|Archives Menu|Classified|Advertising|Monahans
OPINION
April 21, 1997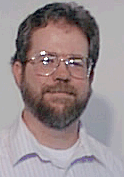 THE WAY
I SEE IT

By Rick Smith
Call in with tips
on interesting people

As city editor of the Enterprise my responsibilities include news about
the city, as the title implies. Not just news about city officials, city
politics, city board meetings and city crime, but news about the people
who make up the city.
I believe that real news is not about what boards and councils do, but
what people do. Now, some of those people may be on boards and councils
and do important things. I believe that it is more interesting to look
at what individual people do on those boards and councils than it is
write about what the council as a group does.
The reason individuals are more interesting than boards and councils is
related to the legal reason why corporations are formed. If a
corporation is sued, no one person can be held to blame. So it is with
councils and boards. When an unpopular decision is made by one of these
groups it is hard to find a member that openly supports it. When one of
these committees does something right all the members line up for the
photo opportunities.
When a reporter writes about the individual actions of board members on
particular issues it makes stories more interesting and holds the
individuals that make up these boards more responsible for their actions.
Even more interesting are the people that make up the body of the city.
Your neighbors and their kids.
There's an old saying that if you write about kids and dogs you can't
go wrong. Well, that's kind of true. It's interesting to read about what
someone you know is doing. Especially if it's outstanding or unusual.
I think that is my main job at the Enterprise, to bring to our readers
stories about what people in Pecos are doing.
However, my job is complicated by the fact that I'm new in town. I
don't know who my neighbors are, much less what they are doing.
That's where I need your help. If your neighbor, a friend or a relative
is doing something you think is interesting, chances are other people
will, too, and would like to read about it.
So if you know of an interesting story let me know about it. There are
several ways you can contact me.
You can send your story idea by mail to: Rick Smith, City Editor, Pecos
Enterprise, PO. Box 2057, Pecos, Texas 79772.
You can FAX me at 915-445-4321.
You can E-mail me at the Enterprise at news@bitstreet.com. If your
story is top secret you can E-mail me at my private E-mail address
writenow@flash.net.
Or you can pick up the phone and call me at work at 915-445-5475 or at
home at 915-447-3144.
I'm always looking for interesting story ideas about unusual people, so
send your ideas to me and if they are about interesting people doing
interesting things I'll get then in the Enterprise so others can share
in the experience.
EDITOR'S NOTE: Rick Smith is an Enterprise writer and city editor whose
column appears each Monday.
OTHER VIEWS
50 years later
poise takes the day
In so many ways, what happened Sunday in the world of golf is ... well,
revolutionary. Fifty years after Jackie Robinson broke baseball's color
barrier, a uniquely American young man by the name of Tiger Woods has
smashed not just one, but multiple barriers. ...
Fortunately, unlike so many contemporaries in other sports, Woods
appears to be a class act, combining marvelous physical skills with a
wisdom and poise beyond his years. Like tennis's Arthur Ashe, he seems
to appreciate, for example, that his athletic achievements may transcend
the game and lead to a better society. Besides that winning smile, he
also flashes a rare humility. ...
Journal Star, Peoria, Ill.
OTHER VIEWS
Grace of swing
matched by champ
The grace of Tiger Woods' incredible golf swing was matched by the
grace of his performance after his historic win of the Masters on
Sunday. The youngest Masters winner in history took pains to thank and
acknowledge the black players who had pushed through the color barrier
before he was born. ...
Woods, 21, was referring to players like Lee Elder, who was in the
gallery Sunday. Only a year before Woods was born, Elder became the
first black invited to play in the Masters. ...
(April 15) marks the 50th anniversary of the day Jackie Robinson broke
the color line in baseball. Robinson endured horrible taunts and abuse
..., but he paved the way for blacks in other sports as well - including
golf. With so few blacks in management or ownership positions today in
baseball, and with very, very few blacks in the ranks of the top
golfers, there's still more ground to be covered. ...
--Albuquerque (N.M.) Journal
OTHER VIEWS
Tiger Woods' class
overrides racism

Birdie after incredible birdie, (Tiger) Woods more than proved his
merit. But we bring up the issue of race because for Woods, whose father
is African-American and his mother is Thai, and for black golfers who
historically have been excluded from what has been described as a white
man's game, race is an issue. That is why Woods' success has an impact
that goes far beyond the golf course. ...

Throughout his young, dramatic career, Woods, 21, his father, Earl, and
his mother, Kutilda, have ... suffered their share of glares and
insulting remarks. Shortly after he turned pro, fellow golfers
complained about all the crowds and media attention Woods was drawing.
... Some went as far as to remark that Woods was only getting the
attention because he is black. Well, it took more than a mixed-race
heritage to do what Woods did this past weekend. ...

... In a day when most star athletes come across as egotistical and
ungrateful, Tiger Woods sets another record in our books - for being an
all-around great kid who didn't let racism destroy his dream.

Press-Telegram, Long Beach, Calif.
---
Associated Press text, photo, graphic, audio and/or video material shall
not be published, broadcast, rewritten for broadcast or publication or
redistributed directly or indirectly in any medium. Neither these AP
Materials nor any portion thereof may be stored in a computer except for
personal and non-commercial use. The AP will not be held liable for
any delays, inaccuracies, errors or omissions therefrom or in the
transmission or delivery of all or any part thereof or for any damages
arising from any of the foregoing.
_
---
Copyright 1997 by Pecos Enterprise
Division of Buckner News Alliance, Inc.
324 S. Cedar St., Pecos, TX 79772
Phone 915-445-5475, FAX 915-445-4321
e-mail news@bitstreet.com
Return to Home Page