Daily Newspaper for Reeves County, Trans Pecos, Big Bend, Far West Texas
Sports|Opinion|Main Menu|Archives Menu|Classified|Advertising|Monahans|
TOP STORIES
April 10, 1997
City gives Eddy St. businesses split verdict
Return to top
By PEGGY McCRACKEN
Staff Writer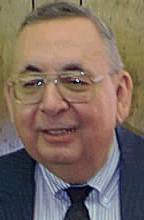 PECOS, April 10, 1997 -Kenneth L Neal, left, is the new city manager for Pecos. He attended his first city council meeting this morning.
The council assured Norley Sirott that an automatic drive-through car wash and service station can be operated at 924 S. Eddy Street under the current C-1 zoning.
The station would be located where an old Fina service station was
demolished recently, Sirott said. He is negotiating with Chevron to open a business there.
However, a bingo parlor and arcade games planned for 1000 S. Eddy St.,
now occupied by Showtime and Pizza Pro, would not be allowed under
current zoning, said Jack Brookshire, building inspector.
Sirott and other owners in the Parker Heights Addition have applied for
a change in zone from C-1 to C-2.
City Attorney Scott Johnson told Sirott that he could apply for a
special exception to the C-1 zone that would allow amusements but still
prohibit other types of businesses that a C-2 zone would allow.
In light of the council's recent denial of a zone change, Johnson said
the special exception might have a better change of approval. It would
be decided by the zoning board of adjustment and would not require
council action.
Sirott and Dr. Norman Harris own the property occupied by Pecos
Autoplex and are purchasing the Showtime Video (old Safeway building).
Johnny Jordan and W.J. Investments own tracts 1, 2, 3 and 5, which
includes La Tienda, C.R. Anthony's and Family Dollar Store.
Sirott said that when he is not busy, he is on the telephone trying to
get businesses to move here. "But I need cooperation," he said.
He said the proposed businesses would employ 10-12 people and possibly
more.
"I think we have to be very careful," said Dr. Elvia Reynolds. "We need
businesses alright, but when we start juggling zones to accommodate one,
it is very permanent."
A C-2 zone would open the block to numerous types of businesses, Dr.
Reynolds said. But the board of adjustments could approve an exception
for bingo and arcade only.
"I don't know what would prohibit you from pursuing both at the same
time," said Johnson. "You can ask for an exception and a C-2 zone for
that area."
He said an exception might have a better change of being approved.
"I see a lot of difference between alcoholic sales and an amusement
parlor," he said.
Sirott said the exception for the bingo parlor and arcade would be
enough.
"If we can get it just for that location, this is all we will push," he
said.
In other action, the council approved a contract with Carlos
Colina-Vargas and Associates to apply for and administer grants, paying
2.5 percent of the grant total for procurement and 2.5 percent for
completion.
Kenneth Neal, the new city manager, said that 5 percent is customary
for grant administration.
Johnson said that Colina-Vargas asked for a straight 5 percent, but
that the city would benefit from the split payment.
A resolution to apply for a $350,000 grant for water system improvement
passed after some discussion about what it would be used for.
Engineer Frank Spencer had recommended replacement of part of the water
transmission line from the Ward County Field, but Randy Graham wanted to
drill additional wells in Worsham Field.
In line with recommendations made by hydrologists in a recent special
meeting, the council agreed to do a little of both, committing $70,000
in matching funds for their part of the total project.
Neal, Spencer and Colina-Vargas are to work out the details of how much
to apply for to drill one well in Worsham Field and the remainder for
the pipeline.
Spencer said the application must be complete and approved by the
council on Apr. 20 in order to meet the deadline.
On second reading, the council approved guidelines for tax abatement,
as recommended by the Pecos Chamber of Commerce tax incentive committee.
Councilman Danny Rodriguez questioned the $100,000 minimum investment
that can be considered for tax abatement.
Johnson said that if the council approved a lesser amount, the other
taxing entities would have to agree to it.
Since the guidelines can be changed by a vote of three-quarters of the
council, they agreed to approve it as is in order to "get something in
place."
The council approved advertising for bids on a vehicle for the Pecos
Ambulance Service chief.
Lea County eyes funding own prison

Return to top
HOBBS, N.M. (AP), April 10, 1997 - Lea County officials are considering
building their own prison at Hobbs after two years of waiting for Gov.
Gary Johnson and the Legislature to decide on funding for a prison in
their area.

``We're going to try to put it on the fast track,'' Ken Batson, chairman
of the Lea County Commission, said Wednesday. ``They (lawmakers) haven't
done anything, and we haven't got any indication that they are going to
do anything.''

Hobbs-area officials plan to move ahead to build a 1,600-bed county jail
that could hold state inmates on a site about three miles west of the
Texas-New Mexico state line.

The Lea County Commission last week agreed to enter into negotiations
with Florida-based Wackenhut Corrections, Brown & Root construction
company of Texas and other companies to build and run the proposed
prison.

Batson said the plan would be the same as the state prison planned in
Hobbs before a lawsuit by Reps. Max Coll, D-Santa Fe, and Jerry Lee
Alwin, R-Albuquerque, blocked Johnson's proposed bond financing scheme
last year.

Johnson had chosen Wackenhut and Brown & Root to operate and build new
prisons at Hobbs and Santa Rosa before the lawsuit.

The Hobbs City Council agreed last week to deed 250 acres to the county
for the prison.

``It's a business deal for us,'' Batson said. ``It's economic
development. I don't think the product that we're trying to capture
(inmates) is going away.''

The project would be financed with $70 million to $80 million in revenue
bonds issued through the county.

Lea County Manager Dennis Holmberg said county officials hope to have a
contract to build the prison within a week, that construction can start
within a month and that the facility can be completed in 10 months.

Sen. Carroll Leavell, R-Jal, said Johnson assured Lea County officials
the state would use the facility if it is built. But he said local
officials understand there is no long-term guarantee.

``If the next administration chose not to use it, they could get
prisoners from somewhere else,'' Leavell said.

Lou Gallegos, Johnson's chief of staff, said the administration is open
to using new county jails for state inmates if counties build them.

``We'd be foolish not to,'' Gallegos said.

The state prison system has about 1,000 more inmates than beds, he said.

The 1995 Legislature designated Hobbs and Santa Rosa for new prisons,
but plans to build them stalled over a funding dispute between the
governor and lawmakers.

A plan supported by the Democratic leadership to build new prisons in
Santa Rosa, Hobbs and central New Mexico died in a last-minute
Republican filibuster at the end of the 1997 session last month.

Johnson had vowed to veto the bill if it had passed, saying it called
for too many small prisons and that he opposed a proposed 5 percent tax
on lottery tickets to pay for the prisons.

Coll said it sounds like Lea County officials want to build a prison on
speculation the state would rent it.

``I'm not sure I'd put my money up for something like that on the basis
that if they build it, you're not sure anyone will come,'' he said
Wednesday. ``The Legislature hasn't agreed to it. I think the
Legislature still needs to be in the loop.''

But Gallegos said a lack of a prison bill this year means the
administration ``doesn't have one red cent'' for cells to relieve
crowded prisons.

``So we're now in the position of being informed buyers of services,''
he said. ``We're willing to look at anyone who provides the capacity we
need.''
Earhart flight recreator heads to Africa
Earhart History
Return to top
By PETER MUELLO
Associated Press Writer

RIO DE JANEIRO, Brazil, April 10, 1997 - If the wind lets up, Linda
Finch will take off for Africa this afternoon in her quest to finish the
round-the-world flight Amelia Earhart began 60 years ago.

Stiff headwinds on Wednesday forced the San Antonio millionaire to
postpone her departure from the Brazilian coastal city of Natal, about
1,300 miles northeast of Rio de Janeiro.

``It looks pretty definite,'' Finch said by telephone from Natal on
Thursday morning. ``Of course it depends on the winds, but the trends
are very good.''

The headwinds of 15 to 20 knots on Wednesday were considered too risky
to attempt the Atlantic crossing to the West African nation of Senegal,
1,727 nautical miles away.

Finch is flying a restored Lockheed Electra 10E, a duplicate of
Earhart's twin-engine propeller plane. Although the Electra is not a
fuel guzzler, persistent headwinds could reduce the ``safety time''
before her fuel runs out.

``Every 10 knots adds an hour to flight time,'' Finch said. ``With no
wind, it should take 13 hours.''

Finch praised the performance of her plane and its engines, newly built
according to the original specifications by Pratt & Whitney Aircraft,
which have ``worked perfectly.'' She won't make any changes for the
trans-Atlantic hop - but she'll be watching her gauges a lot more
closely.

``Usually I check the engine parameters every hour. Now I'll be checking
them every half hour, just to make sure everything is set exactly
right,'' she said.

Her next stop is the Senegalase city of St. Louis, the 10th of 30
stopovers planned during a 2½-month voyage.

The 46-year-old businesswoman left Oakland, Calif., on March 17, the
same day Earhart took off in 1937. She is seeking to retrace Earhart's
1937 trip, which would have made her the first woman to circumnavigate
the globe.

Earhart and her navigator, Fred Noonan, vanished near Howland Island in
the Pacific Ocean after completing 22,000 miles of a planned 24,557-mile
journey.
Naturalization ceremonies to be held in Pecos

Return to top
By RICK SMITH
Staff Writer

PECOS, April 10, 1997 - Legal aliens living in the Pecos area who are
seeking U.S. citizenship may soon be able to participate in the
naturalization ceremony in Pecos rather than traveling to Midland or El
Paso.
Since the beginning of April, the Immigration and Naturalization Service
(INS) has been separating the applications for citizenship of legal
aliens in the Pecos area from other applications in West Texas in
preparation for conducting naturalization ceremonies in Pecos.
"We are working to hold naturalization ceremonies in Pecos, but no date
has yet been set for them," said Terri Barraza, an INS spokesperson in
the El Paso district office.
In a letter from El Paso INS Assistant District Director Robert Looney
to Midland U.S. District Court Judge Lucius Bunton, dated March 31,
1997, Looney said, "My staff and I would be happy to schedule a federal
naturalization ceremony in Pecos in which you (Bunton) would be the
presiding authority."
The letter from Looney to Bunton was in response to an earlier letter
from Bunton requesting INS cooperation in holding naturalization
ceremonies in Pecos.
Due to the limited number of people the U.S. District Court in Pecos can
accommodate, the number of candidates for the citizenship ceremony is
limited to about 70 at a time, according to communications between
Looney and Bunton. If there are more than 70 applicants at the time the
ceremony is held, consideration is being given to conducting more than
one ceremony on the same date.
Looney stated that at the time he was writing the letter there were few
eligible candidates for naturalization from Pecos and other communities
in West Texas, except for El Paso County. As a result of the lack of
candidates Looney did not expect ceremonies to be held any time this
spring.

In reply to Looney's letter Bunton said, "I am pleased that we will be
able to have naturalization ceremonies in the courthouse in Pecos."
Bunton indicated that as soon as the numbers of applicants for
citizenship justified it, a date should be set for the naturalization
ceremony in Pecos.

The El Paso INS office held a naturalization ceremony on Monday at
Chaparral Center in Midland for residents of the Midland-Odessa area and
surrounding towns.
Investigators offer reason
for seizing Estes' records

Return to top
ABILENE (AP), April 10, 1997 - State investigators allege that Billie
Sol Estes and an associate used an alcoholism treatment program as a
non-profit corporate shell to evade state taxes on a motel and
check-cashing agency they own.

Neither Estes nor Mei Y. Kwong has been charged with a crime, and
investigators are continuing their probe into the operation.

A state affidavit alleged that the two operated two for-profit
businesses from a non-profit alcoholism treatment center they owned.

Estes and Kwong owned the Alcoholism-Central Texas Services Corp., a
tax-exempt organization that operates the non-profit Freedom House
residential alcohol treatment center, said Andy Welch, a spokesman for
the state comptroller's office.

They also operated two for-profit businesses at the location, the Lone
Star Inn and Fast Cash Services, according to the affidavit submitted
for a search warrant.

Agents from the state comptroller's office, along with Abilene police
and the Texas Department of Public Safety special crimes unit, executed
the warrant at the two businesses Tuesday after a monthlong
investigation into tax-evasion allegations.

In the warrant affidavit, DPS investigator Jay Moses said an undercover
Abilene police officer registered at the Lone Star Inn on Friday, paid
$20 in cash for the room, and was not charged the state hotel-motel tax.

Moses said evidence indicated the operation was ``an artful scheme
devised to willfully evade the franchise tax.''

Estes told Abilene television station KTAB Wednesday that he isn't
concerned about the allegations. He said that if he owes taxes, he has
accountants and attorneys who can take care of it.

Estes, now in his 70s, is a one-time associate of the late President
Lyndon B. Johnson who served prison time for mortgaging phony fertilizer
tanks in the Pecos area during the 1960s and for tax evasion in the 70s.
The once-flashy West Texas farmer became a millionaire by age 30.
WEATHER

Return to top
PECOS, April 10, 1997 - High Wednesday 58, low last night 41. Rainfall trace.
April rainfall .02 inch. Year-to-date 1.57 inches. Tonight, scattered thunderstorms,
otherwise mostly cloudy. Low 45-50. South to southwest wind 10-20 mph.
Chance of rain is 40 percent. Friday, partly cloudy. High 65-70. West
wind 5-15 mph, becoming northeast 15-20 mph and gusty in the afternoon.
Return to top

Associated Press text, photo, graphic, audio and/or video material shall
not be published, broadcast, rewritten for broadcast or publication or
redistributed directly or indirectly in any medium. Neither these AP
Materials nor any portion thereof may be stored in a computer except for
personal and non-commercial use. The AP will not be held liable for
any delays, inaccuracies, errors or omissions therefrom or in the
transmission or delivery of all or any part thereof or for any damages
arising from any of the foregoing.
_
---
Copyright 1997 by Pecos Enterprise
Division of Buckner News Alliance, Inc.
324 S. Cedar St., Pecos, TX 79772
Phone 915-445-5475, FAX 915-445-4321
e-mail news@bitstreet.com
Return to Menu