Daily Newspaper for Reeves County, Trans Pecos, Big Bend, Far West Texas
News|Sports|Main Menu|Archives Menu|Classified|Advertising|Monahans
OPINION
Apr. 1, 1997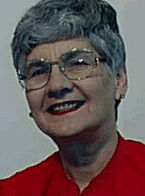 SQUARELY
PEGGED

By Peggy McCracken
Correo loses much
in the translation

Return to top
You've gotta hear this. Just like spell-check, the computer translator
leaves a lot to be desired. Last week, I received an e-mail letter from
a young man I met in Sahuayo, Mex. the same day I received by "snail
mail" software that will translate Spanish to English and vice-versa. So
I tried it. Here is what his letter sounds like when translated to
English:
" Hello sister, it greeting in the love of the Mister Jesucristo, have
been thinking about you, in the support that we receive for the
evangelizacion, by which we are them very you thanked.
" The motive of the present is to communicate my and-mail
"intecom@shy.com"
" I expect to receive its answer and subsequently to communicate us way
internet.
" Greetings to all the hermandos of the local Church of Sahuayo,
Michoacan, know provided that them we love in the Mister.
" I communicate besides talves a bad news, my mom died the day 11 of
March of the present, as you knew she was patient of cancer, but
something consoles me, she accepted Christ as her savior. thanks by her
prayers."
Now let me assure you, Raul's grammar is not at fault here. I can read
enough Spanish to know his grammar was flawless. Not only does the above
sound silly, it is not accurate. For example the last sentence should be
translated "Thanks for your prayers." Because the word "por"
in Spanish can be either for or by, the program chose "by" - the wrong
choice. And for "su," which can be you, your, he, her, etc.,
it chose "her." Wrong again.
But if you think that's funny, you should see the answer I wrote in
English and then accidently translated with the Spanish-to-English
program. It translated Rey Carreon's name to "King" Carreon. Spanish for
king is Rey. Get it? And for "one of the girls here in the
office," it translated: "one of the girls wounds in the office." That
would confuse you, wouldn't it? (wound is heri in Spanish.)
Catching my mistake, I changed the program to English-Spanish
translation and tried again. The Spanish it spit out was even worse:
"Correo de el de su y de recibi de you de di de El, por tambien de
recibi de yo "caracol de del de correo de el" results from "The
day I received your e-mail, I also received by "snail-mail"...
I went ahead and sent the translation, along with the origial English,
hoping he can make some sense out of it. He speaks some English, and his
brothers are fluent in English, so he should be able to get the message.
At least he will get a laugh out of it.
Raul is the young man whose mother spent two hours cooking a
five-course dinner for us the last Sunday we were in Mexico. She had
been in the hospital during the week, getting a blood transfusion due to
the cancer that finally ended this life and sent her to a better one.
Their pictures were in the Enterprise along with my report
on the mission trip. A lovely family.
"The memory of the righteous will be a blessing, but the name of the
wicked will rot." Proverbs 10:7, NIV.
El recuerdo del virtuoso aprobacionada, pero el nombre del inicuo
pudrida. Proverbio 10:7, VNI.
EDITOR'S NOTE: Peggy McCracken is an Enterprise writer and editor whose
column appears each Tuesday.
YOUR VIEWS
Bible version study has varied outcomes

Return to top
Dear Editor:
This letter is written in response to an article appearing in the
Pecos Enterprise March 21, 1997 wherein the author writes
about what he calls "Bible version study shows discrepancies." I
understood that the immediate version with which he was concerned was
that of the New International Version although he may have other
versions in mind also.

While it may be to the interest of those who, like myself, have been
brought up with the King James Version that we compare other versions
with it during our Bible study in order to be better able to form a more
informed and perhaps a more intelligent opinion as to what rendering is
closer to the original written word. We must remember that the King
James Bible -- so-called because King James ordered a revision be made
of the Bishop's Bible -- is a revision.

Forty-seven scholars took on this task, and in 1611 it was published.
Yet, the Bishop's Bible was itself a revision of the Great Bible of 1539
that was based on the work of Thomas Matthew (John Rogers) who based his
work on Tyndale and Coverdale.

Miles Coverdale made his version from Tyndale's translation, the Latin
text, and other versions.

William Tyndale made his version from the Greek text of Erasmus and
other biblical writings. From this we are able to see that our cherished
King James is a revision of a revision of three revisions; the third
being a revision of the second and first, the second being a revision of
the first with some translating from the Latin.

The first was a translation of several Greek revisions that were
translations from the Hebrew in the case of the OT. Since the second had
help from the Latin, it is important to note that the Latin was in turn
a translation of a translation (Latin from Greek from Hebrew). Thus the
KJV may not be the final authority.

Having said this; I would like to point out that the NIV places a
footnote marker at the end of Matt. 18:10 and places verse 11 in the
footnote at the bottom of the page. Such is also indicated by the
Revised Standard Version, the New English Bible, the Jerusalem Bible,
the New American Standard Version, the New World Translation of the
Greek Scriptures and others.

Why do they not contain the sentence of verse 11 in the text of their
translation? They do so because the sentence contained in King James at
the time when verse numbers were added consisted of the sentence, but is
not now accepted as a part of the original text.

The King James translators did not have use of the more ancient Greek
manuscripts of the New Testament. The named modern versions are based on
the manuscripts that date closer to the original Greek relative to the
New Testament. The matter of leaving the sentence out is not a
discrepancy but an adherence to the best and most ancient Greek texts of
the New Testament.

In 2 Sam 21:10 the Hebrew Text makes no reference to anyone killing
Goliath or anyone else. I have several modern versions and none of them
translate the verse that shows Elhanan killed Goliath in verse 10.
However, verse 19 does show that "Elhanan ... killed Goliath the
Gittite, the shaft of whose spear was like a weaver's beam" in the New
American Standard Bible (NASB). In a column note NASB points to
1Chronicles 20:5 where the report says "Elhanan...killed Lahmi the
brother of Goliath.... At 2Sam. 21:19 KJV says "Elhanan...slew the
brother of Goliath the Gittite the staff of whose spear was like a
weaver's beam." Here the KJV inserts the words "the brother of," which
is indicated by placing the entrance in italics. The slain giant
mentioned in the David episode was named Goliath of Gath; perhaps this
made him a Gittite (1Sam. 17:4). But why the difference in the rendering
of 2Sam. 21:19 by NASB and the KJV? The difference is to be found in the
Hebrew text from which it was translated.

The Old Testament was originally written in the ancient Hebrew language
utilized in the days of King David. The Hebrew text at 2Sam. 21:19
plainly states: "...elhanan ben-yaere oregim beth hal-lahmi et golyath
haggitti.... (This is my transliteration of the Hebrew words of the
Biblia Hebraica Stuttgartensia. The difference in this Hebrew text and
that one used in the days of the King James translators is the way the
name of Elhanan's father is written in the Biblia Hebraica de Kittel
namely, yaare, rendered Jaare in KJ. The translation is: "Elhanan son of
Yaere-oregim, a Bethlehemite, slew Goliath the Gitti...) Here the
original text says nothing about Elhanan slaying the brother of Goliath.
It says frankly, "Elhanan killed Goliath the Gitti." NASB simply
translated the Hebrew text of the Sacred Scripture at this verse. To
this the ancient Greek translation of the Sacred Hebrew text called the
Septuagint agrees. There is no discrepancy here. Even the Spanish
Version of 1609, the Santa Biblia agrees. It translates the Hebrew as:
Elhanan, hijo de Jaare-oregim de Beth-lehem, hiri Goliath Getheo.... It
was the King James translators who added to the text the words "the
brother of." They no doubt thought it necessary to transfer something
from another passage and place it within this one. Yet the fact remains
that their added words are not in the original Hebrew of the given
passage.

L. J. Montgomery, Minister
Community Church of Christ
Telephone: 915-445-5623
Return to top
---
Associated Press text, photo, graphic, audio and/or video material shall
not be published, broadcast, rewritten for broadcast or publication or
redistributed directly or indirectly in any medium. Neither these AP
Materials nor any portion thereof may be stored in a computer except for
personal and non-commercial use. The AP will not be held liable for
any delays, inaccuracies, errors or omissions therefrom or in the
transmission or delivery of all or any part thereof or for any damages
arising from any of the foregoing.
_
---
Copyright 1997 by Pecos Enterprise
Division of Buckner News Alliance, Inc.
324 S. Cedar St., Pecos, TX 79772
Phone 915-445-5475, FAX 915-445-4321
e-mail news@bitstreet.com
Return to Home Page