Daily Newspaper for Reeves County, Trans Pecos, Big Bend, Far West Texas
News|Sports|Main Menu|Archives Menu|Classified|Advertising|Monahans
OPINION
Mar. 18, 1997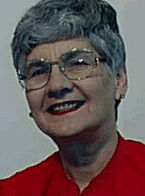 SQUARELY
PEGGED

By Peggy McCracken
Gardening weather
can be dangerous

Return to top
Saturday started out too cold to work outside, but the afternoon was
just perfect. I took that as a signal to fertilize pecan trees and grub
up a pomegranate that is in the way of a cedar tree.
One little problem: The mulberry I cut down last week was in my way. So
I grabbed a pry bar and rolled it over a couple of times. Sinking into
the soft dirt I had dug out around the pomegranate, the pry bar slipped
and I fell backward onto the tree. Want to see the purple spots on my
arm to prove it?
That didn't stop me, though. I found a firmer spot and tried again,
finally getting the tree out of my way. Grubbing up a pomegranate is not
the easiest thing I have ever done, either. One root was as big around
as my arm and as tough as a mesquite. Whack! Whack! Whack!
After digging about six inches down and slightly under the bush, I gave
it up for the day. By that time my arthritic back was hurting so bad,
about the only thing I could do was take a nap. Last week, when I
over-did like that, I was stove up all week. This time I took two
Tylenol every few hours, and have suffered little ill effects. Except
for the purple arm and a few sore muscles.
Every time I do that, I swear I will work some every day to keep in
shape. But do I? No, when the weather is cold or foggy like it was
Monday morning, I don't even want to go outside. But the flowers are so
pretty!
I now have four barrels of flowers sitting on stumps where shade trees
used to grow. Two in my front yard and two at West Park Baptist Church.
The 5-degree weather and my own neglect killed off three sets of flowers
I put out there, and the silver things were the only plants I could find
still alive. I planted tulip and narcissus bulbs along with them, and
they are coming up now. And Bryan's new crop of pansies finally got big
enough to set out. One of them is blooming already.
Next comes the vegetable garden, I guess. But gophers are tearing up my
back yard and garden area. I understand they are giving alfalfa growers
a hard time, too. They dig around underground, eating roots, and surface
every once in awhile to leave a mound of dirt and a hole that can break
a leg if someone or some animal steps in it.
When I lived at the Airbase, I made short work of gophers digging up
the yard. Hiding inside the house, I opened a window and slipped the
barrel of a .22 out through a hole in the screen. When Mr. Gopher pushed
up a snootful of dirt, I shot him right between the eyes. Burying him
was a simple matter. I just shoved him back down the hole and covered
him up with his own dirt. Since then, though, I've learned that shooting
a gun in town is illegal. Probably injecting gasoline into the hole and
igniting it would be too. Oh, well.
"He who tends a fig tree will eat its fruit, and he who looks after his
master will be honored." Proverbs 27:18, NIV.
EDITOR'S NOTE: Peggy McCracken is an Enterprise writer and editor whose
column appears each Tuesday.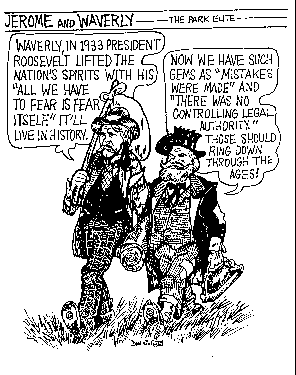 Cartoonist Don Whitley works in the Pecos Enterprise
pressroom. He draws with pen and ink as a hobby.
OTHER VIEWS
Ethics keeping up with technology

Return to top
Today's headlines about sheep cloning and other scientific
breakthroughs sound more like yesterday's science fiction titles,
calling to mind everything from Aldous Huxley's nightmarish vision of a
world populated by engineered carbon copies to that B movie staple, the
evil twin.

The brave new world envisioned by Mr. Huxley may still be a remote
possibility, but it is a possibility nonetheless, and it is reassuring
to see our nation's leaders giving bioethical questions serious
attention. ...

Our technology has come a long way, but so has our attention to ethical
considerations, and that is progress everyone can applaud.
-- The Times-Picayune, New Orleans
Return to top
---
Associated Press text, photo, graphic, audio and/or video material shall
not be published, broadcast, rewritten for broadcast or publication or
redistributed directly or indirectly in any medium. Neither these AP
Materials nor any portion thereof may be stored in a computer except for
personal and non-commercial use. The AP will not be held liable for
any delays, inaccuracies, errors or omissions therefrom or in the
transmission or delivery of all or any part thereof or for any damages
arising from any of the foregoing.
_
---
Copyright 1997 by Pecos Enterprise
Division of Buckner News Alliance, Inc.
324 S. Cedar St., Pecos, TX 79772
Phone 915-445-5475, FAX 915-445-4321
e-mail news@bitstreet.com
Return to Home Page