Daily Newspaper for Reeves County, Trans Pecos, Big Bend, Far West Texas
News|Sports|Main Menu|Archives Menu|Classified|Advertising|Monahans
OPINION
Mar. 14, 1997
OBSERVATIONS

By Mac McKinnon
Freeloaders need
sense of self respect

Return to top
Have you ever run across freeloaders in your life? I'll bet you have!
There was an interesting news special on the other night about
freeloading and how many people are involved in this "game." Lots of
people, it seems, make a good living out of being freeloaders.
John Stossel of ABC-TV had the hour-long special and it confirmed what
most of us think or at least what I think. Many of these people on
street corners asking for work in exchange for food simply won't work no
matter what. Some will work if the conditions are just right but most
are using that as a gimmick simple to get handouts of money or other
goods.
A number of "street people" were interviewed and they expressed the
belief that no one in this country needs to starve to death as there's
lots of food out there from many different organizations.
There was video of people on the street with cabinets full of food.
The same is true of welfare. Many of those who get government checks
could and should work, but they ask why should they when they can get by
without it? I guess that's a good question, except that I personally
have more self respect than to take something for nothing.
Let me quickly say that I would take welfare and food stamps if I had
to do so to support my family, but it would be a last resort. I've got
too much pride for that in feeling that I can take care of myself and my
family without any help.
And fortunately, I've always been able to do just that. That's not to
say that we've always had everything we wanted, but we sure have all we
need plus. And I feel that's the way it is with most people. Most people
however, just want more than they need to have.
We all have way too much. Clothes provides a good example. How many
pair of pants does a man or boy need? How many pairs of shoes? How many
cars and how big a house do any of us need? We all, even the people
considered poor in this country, usually have far more of everything
than we need.
As I've also noted here, most of us only need two meals a day. Children
sometimes need three or four mostly because they can't hold very much at
a time.
But have you noticed that most people recommend a restaurant on the
basis of how much food they give you and not the quality of the food?
But back to freeloaders. I know it makes us feel good to help people,
but are we destroying the feeling that people have of independence? Some
people interviewed on the television show were real proud of their
ability to con the "good folks."
After watching that show, I'm not inclined to be real generous although
I am soft hearted in many cases, especially when adults use children to
get help. I can't stand for a child to go without almost anything they
want.
But, by the same token we need to realize we're not helping people by
giving them everything and not making them earn a living and have self
respect.
Something to think about.
EDITOR'S NOTE: Mac McKinnon is editor and publisher of the Pecos
Enterprise. His column appears on Friday.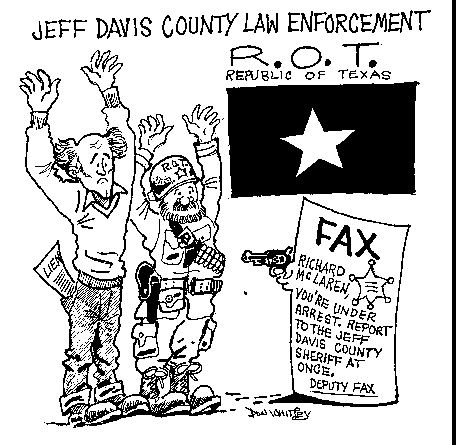 YOUR VIEWS
Teachers in dark on dress code plan

Return to top
Dear Editor:
Once again the rumor mill in Pecos, Texas, is running fast and
furiously. I refer to comments made at the recent meeting of parents of
Pecos High School students about an alleged "survey conducted by PHS
teachers."

Such a survey never existed! In fact, the issue of changes or additions
to the dress code was never discussed by the campus site-based decision
making committee! The majority of teachers at Pecos High School were not
even aware of the changes until the Friday after the school board
meeting. The committee of teachers who met with Mr. Sotelo were more
concerned with the discipline problems, including skipping classes,
rudeness and disrespect, than they were with the dress code. In fact, a
major concern of the group was the lack of enforcement of rules already
in place.

One comment made by the parent group was in reference to the "heavy
handedness" by teachers in the enforcement of the new dress code and the
separating of students who were in violation by sending them to the
auditorium. Teachers were merely following directives given by the
school board and administration. We were told to enforce the new dress
code exactly as it was worded. The teachers had plenty of questions,
too, such as the practicality of making students tuck in sweatshirts,
etc., but were told "enforce the dress code." Students were given the
options of following the dress code, going home to change clothes or
refusing to cooperate. Those who refused to cooperate were sent to OCS
in the auditorium; they were not just arbitrarily sent to the auditorium
as the parents suggested. Under the set of rules in the student
handbook, willful refusal to obey a directive is insubordination,
punishable by On Campus Suspension.

It seems that teacher bashing ha become a popular sport among parents
lately. It's always the teacher's fault. Has anyone paid any attention
to the number of qualified teachers who have left the district in the
last few years? Has anyone noticed how few college students are entering
the teaching profession? Has anyone noticed how many uncertified
teachers and teachers on emergency permits there are? Does anyone wonder
why? Does anyone care? Of course, there will always be a few "bad
apples" in the lot - that's true in any profession. But most of us are
caring individuals who are interested in the education of your children
more than anything else. This, however, is not going to be true much
longer if the trend of blaming the teacher continues. It is time to stop
pointing the finger of blame and get down to what is really important -
the education of your children. Part of that education involves you as
parents teaching your children to respect and obey authority _ the
authority of God and man; to voice opinions and objections to those
matters which they feel are unjust, but to do so in the proper manner
and through the proper channels; to respect the rights of others to
voice their opinions without fear of oppression or prejudice. If
children are taught to follow these simple guidelines, half the
educational battle will be won. Then we won't have to worry about
students using drugs, skipping classes, getting pregnant, cheating on
tests, or violating dress codes. They will be busy tending to the task
at hand - getting an education.

-- Nancy and Roger Russell
Pecos High School Teachers
YOUR VIEWS
Inclusion concept means side-by-side

Return to top
Dear Editor:
I would like to respond to the "Our View" editorial titled "Fast track
warrants praise for schools" that appeared in the March 10 issue of the
Pecos Enterprise.

This editorial states, "We have often been critical of the
inclusive class concept as we feel it holds back students
who need to be accelerated. Holding students back to the level of the
rest of the class can cause boredom and result in children not reaching
their full potential."

Unfortunately, this editorial doesn't tell me who "we" is, so i don't
know if I'm responding to two people or 500. However, as an advocate of
inclusion, I believe that your readership should know what the
"inclusion concept" is that the "we" in your editorial is so critical of.

A lot of people think of inclusion as the concept of placing children
with disabilities into the same classrooms as children without
disabilities. But effective inclusion goes much deeper than that.
Inclusion is based on the following principles. First, it emphasizes
collaboration of teachers and the sharing of their gifts and resources.
Second, it means supporting teachers who have students of all
abililities in their classroom. Third, it means all children learning
side-by-side, even if they have different educational goals, and fourth,
inclusion means teachers using innovative strategies for the varied
learning styles in their class.

Inclusion does not mean dumping any student, regardless of ability,
into a classroom without the supports and services they need to be
successful. It does not mean trading off the quality of any child's
education or ignoring each child's unique needs. And, inclusion
definitely does not mean expecting teachers to teach students of varying
abilities without the suppport they need to teach all children
effectively.

A lot of parents of children with disabilities have come to recognize
that inclusion has benefitted their children in not only receiving a
better education, but also in learning to adapt to the world around
them. However, the most important concept of inclusion is tht it enables
all students to be prepared to live and work in an
increasingly diverse and multi-abled world.

-- Lisa Lujan
Return to top
---
Associated Press text, photo, graphic, audio and/or video material shall
not be published, broadcast, rewritten for broadcast or publication or
redistributed directly or indirectly in any medium. Neither these AP
Materials nor any portion thereof may be stored in a computer except for
personal and non-commercial use. The AP will not be held liable for
any delays, inaccuracies, errors or omissions therefrom or in the
transmission or delivery of all or any part thereof or for any damages
arising from any of the foregoing.
_
---
Copyright 1997 by Pecos Enterprise
Division of Buckner News Alliance, Inc.
324 S. Cedar St., Pecos, TX 79772
Phone 915-445-5475, FAX 915-445-4321
e-mail news@bitstreet.com
Return to Home Page