Daily Newspaper for Reeves County, Trans Pecos, Big Bend, Far West Texas
News|Sports|Main Menu|Archives Menu|Classified|Advertising|Monahans
OPINION
March 11, 1997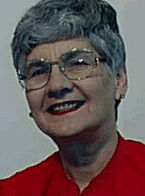 SQUARELY
PEGGED

By Peggy McCracken
Kings of the road
rest awhile in Pecos

Return to top
Ruth Stapleton hugged me just like I was an Escapee. No, not an escapee
from a mental institution, but an SKP (special kind of people) who makes
recreation vehicle living a full-time occupation. (Or is it a full-time
vacation?)
Escapees Inc. RV Club purchased Tra-Park in January. Ruth and her
husband, Jack, parked their RV here to get the business "on the road,"
and they'll stay for a few months. Escapee couples are trained to manage
the Rainbow Parks, as the RV campgrounds are called.
Along with Ron and Pat Loen, the Stapletons meet and greet travelers
when they pull into the parking lot and enter the office/store/laundry
near the airport. All four spend a lot of time in town, trying out
restaurants, locating good mechanics and getting acquainted with fun
things to do. Then, of course, they spread the word among their guests.
I hadn't thought of the RV park as an economic resource for the town,
but it sure is. Retirees have money to spend, and they require few
services. I guess they draw on the water supply and use some electricity
while they're hooked up at the park. But of course they pay for
utilities just like the rest of us do. And they drop a lot of cash at
grocery stores, filling stations, garages and restaurants.
And Wal-Mart. The Escapee magazine lists a Wal-Mart as the biggest draw
for club members. Everyone asks where the nearest Wal-Mart is located,
said Bud Carr, who is some kind of a boss in the organization.
Carr said Pecos was selected for a park because it is on I-20 and near
I-10, is about a day's drive from Rainbow Parks in three different
directions, and has room for expansion. They may remodel the old mobile
home sites into RV hookups, he said. I think there are more than 70
mobile home spaces in addition to the 40 RV hookups.
Perusing the magazine, I found three articles about trips into Mexico.
I had to laugh about descriptions of narrow roads and daring Mexican
drivers (something familiar to me). One lady said the hazards of driving
at night are too many to overcome. One hazard, she said, is the lack of
roadside parking. Cars that break down are parked on the road, and the
driver puts rocks around it to alert other drivers, she said. Then when
the car is fixed, the driver takes off without removing the rocks. What
a nasty surprise!
Retirees like to use their computers. Some use them to write articles
about their travels. But Ruth said Internet surfing is not a big thing
because most don't have a telephone hookup and Internet access. That is
just down the road, though, her husband said. Soon every RV park will
have a full range of high-tech services.
Where do they vote? I didn't think to ask that. Like the gypsies they
emulate, they seem to have no country.
"A large population is a king's glory, but without subjects a prince is
ruined." Proverbs 14:28, NIV.
EDITOR'S NOTE: Peggy McCracken is an Enterprise writer and editor whose
column appears each Tuesday.
YOUR VIEWS
Dress code solution worse than problem

Return to top
Dear Editor:
Recently, a new dress code was voted on and put into action at Pecos
High School and other areas, such as Carver. To my knowledge, this dress
code was enforced to cut down on distractons within the classroom and to
prevent the wearing of gang-related material. However, this new dress
code has caused distractions in the classroom between arguing parties.
The students have attempted protests on the policy of tucking in your
shirt, and other distractions that would not have happened if this new
dress code was not enforced. Are there not more distractions now than
before this dress code was approved?

I believe students should be at school to receive an education, not to
attend a fashion show. A student's mind is what needs to be at school,
not their shirt. If a few students are wearing excessively large or long
shirts, then punish them, not the entire school.

Parents, as well as some students, are taxpayers - people who pay
(school employees') salary. So why is it that the taxpayers are not the
ones who create the dress policy, or at least have a say in the outcome?

Please consider my issues and ask yourself, "What have I accomplished
in applying this new dress code besides a school of outraged students?"

Carver students, Reuben Mills (author)
Debra Avila, Araceli Armendariz, Christian Ramos, Jaime Levario, Juan
Aguilar, Even Mendoza, Becky Rayos, Gary Salcido, Sherrie Mosby, Lisa
Lujan, Angie Galindo, Andrew Dutchover, Amy Contreras, Angelica Orona,
Olivia Vasquez, Nancy Garcia, Liz Natividad, Chris Vasquez, Veronica
Tarin, Richard Maruffo, BJ Enmon, Gretchen Lara, Raquel Barreno, Betsy
Cardenas and Sandra Rodriguez

EDITOR'S NOTE: This was also sent to the school board.
YOUR VIEWS

Return to top
Letters on this page will be edited for libel and may be cut to fit the
allotted space. To be considered for publication, letters must be signed
and a telephone number given for confirmation. Names may be withheld at
the discretion of the editor. Comments on any subject are welcome. Mail
to P.O. Box 2057, Pecos TX 79772, FAX to 915-445-4321 or e-mail to:
news@bitstreet.com.
OTHER VIEWS
James Earl Ray trial could serve history

Return to top
The clock is ticking for James Earl Ray, the petty thief who confessed
in 1968 to killing Dr. Martin Luther King Jr. and then began petitioning
almost overnight for a trial. The 68-year-old Ray is dying of liver
disease in a Nashville prison.

A Tennessee judge has ruled in Ray's favor after hearing arguments that
advanced electron microscopes can almost certainly show whether Ray's
high-power rifle was the one that killed King at the Lorraine Motel in
Memphis. Whether the 30.-caliber rifle was the murder weapon has never
been proven. ...

Trying James Earl Ray would be a time-warp for Americans who lived
through the most painful years this country has known since the Civil
War. Yet, if a trial is feasible, it should go forward in the interests
of justice and history alike.

-- The Herald-Sun of Durham, N.C.
Return to top
---
Associated Press text, photo, graphic, audio and/or video material shall
not be published, broadcast, rewritten for broadcast or publication or
redistributed directly or indirectly in any medium. Neither these AP
Materials nor any portion thereof may be stored in a computer except for
personal and non-commercial use. The AP will not be held liable for
any delays, inaccuracies, errors or omissions therefrom or in the
transmission or delivery of all or any part thereof or for any damages
arising from any of the foregoing.
_
---
Copyright 1997 by Pecos Enterprise
Division of Buckner News Alliance, Inc.
324 S. Cedar St., Pecos, TX 79772
Phone 915-445-5475, FAX 915-445-4321
e-mail news@bitstreet.com
Return to Home Page