Daily Newspaper for Reeves County, Trans Pecos, Big Bend, Far West Texas
News|Sports|Main Menu|Archives Menu|Classified|Advertising|Monahans
OPINION
Mar. 4, 1997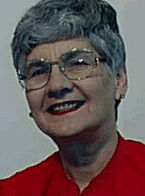 SQUARELY
PEGGED

By Peggy McCracken
Prime numbers enable
Internet encryption

Return to top
Bill Gates of Microsoft fame gives me shivers when he talks about what
is already on the Internet and what is in the future. It's just mind
boggling what can happen when billions of computers around the world can
connect up and exchange information in the blink of an eye.

Much of the information in Gates' 2-year-old book is already out of
date, but he stays so far ahead of the rest of us that some of it I'd
never heard of. He describes in detail how messages can be encrypted so
that only the person who has the key to decode each message can read it.
One of those methods is by use of prime numbers. In case you are math
impaired like I am, prime numbers are those that can be divided only by
one or by themselves: like 3 and 7.

But the prime numbers used for encryption are somewhat larger than 3
and 7 - like about a paragraph long. What you do is multiply two prime
numbers and use the result as your encryption. Even though anyone with
access to the Internet could download the message, the only person who
could decode it would be one who knows the two prime numbers you started
with. It could take a computer millions of years to figure out the two
prime numbers that produced a really big number, Gates says. That makes
it pretty safe from snoopers.

We'll have to use some kind of encryption to safely buy stuff on the
Internet with our credit cards or the neat digital debit cards that are
gaining popularity.

There's that word digital again. Gates explains it in so much detail
that I understand it just fine. But I couldn't compress it into a few
paragraphs. I'll tell it like I learned it in the one programming course
I took. Think of "digital" as numbers. Zeroes and ones, in fact. They
represent electrical switches that are either on or off. (Zero is off).
Each set of eight switches represents a character. You can tell which
character by looking at which switches are on and which are off. Doodle
with eight 0s and 1s and see how many different combinations you can
come up with. That's how many characters a computer can make - much more
than the alphabet and 0-9.

Gates says digital information is the same every time you access it,
whereas analog information only approximates the original. A wind-up
clock with hands is analog. The position of the hands approximates the
correct time. But in a quartz digital watch, the numbers showing on the
clock face are exact.

"What great insight you have displayed! Who has helped you utter these
words?" Job 26: 3,4, NIV.

EDITOR'S NOTE: Peggy McCracken is an Enterprise writer and editor whose
column appears each Tuesday.
YOUR VIEWS

Return to top
Letters on this page will be edited for libel and may be cut to fit the
allotted space. To be considered for publication, letters must be signed
and a telephone number given for confirmation. Names may be withheld at
the discretion of the editor. Comments on any subject are welcome. Mail
to P.O. Box 2057, Pecos TX 79772, FAX to 915-445-4321 or e-mail to:
news@bitstreet.com.

Letters are also published on the Enterprise web site and
may be accessed at http://www.pecos.net/news. No charge is made for
access to the web site.
YOUR VIEWS
Chamber has no right to dictate member acts

Return to top
Dear Editor:
I am compelled to respond to the letter submitted by Mrs. Irma
Benavidez (Pecos Enterprise, Friday - February 21, 1997), regarding the
publications of the "Republic of Texas" and La Tienda Thriftway.

As a Chamber of Commerce, we are dedicated to the promotion of our
local retailers, and we encourage the community to do so as well. We
stand firm by our committment to keeping our dollars in our community.
However, we are not, and never have been, in a position to dictate to
our local businesses how they should operate their business, what items
they should stock, what prices they should set, what policies they
should adopt... and what periodicals they should sell.

The "Republic of Texas" is, in a nutshell, an extremist,
anti-governmental faction. The Pecos Chamber of Commerce does not, in
any sense of the word or deed, support this type of group, nor do we
condone their actions or beliefs. We must respect their right, under the
laws of the government they ignore, to freedom of speech. It is as
fundemental a right, as the right Mrs. Benavidez exercised with her
protest. We do not, however, have to respect what the Republic chooses
to do with that freedom. By that same token, La Tienda Thriftway has the
right to sell whatever publications they so choose, and the Pecos
Chamber of Commerce does not have the right to dictate otherwise.

We encourage our businesses and our members to address the needs and
concerns of the community they serve, but for the Pecos Chamber of
Commerce to try to force those businesses to adhere to what we may
believe to be true and correct, would make us no better than the folks
in the "Republic".

Paul Hinojos
President
Pecos Chamber of Commerce
Return to top
---
Associated Press text, photo, graphic, audio and/or video material shall
not be published, broadcast, rewritten for broadcast or publication or
redistributed directly or indirectly in any medium. Neither these AP
Materials nor any portion thereof may be stored in a computer except for
personal and non-commercial use. The AP will not be held liable for
any delays, inaccuracies, errors or omissions therefrom or in the
transmission or delivery of all or any part thereof or for any damages
arising from any of the foregoing.
_
---
Copyright 1997 by Pecos Enterprise
Division of Buckner News Alliance, Inc.
324 S. Cedar St., Pecos, TX 79772
Phone 915-445-5475, FAX 915-445-4321
e-mail news@bitstreet.com
Return to Home Page