Daily Newspaper for Reeves County, Trans Pecos, Big Bend, Far West Texas
News|Sports|Main Menu|Archives Menu|Classified|Advertising|Monahans
OPINION
Feb. 25, 1997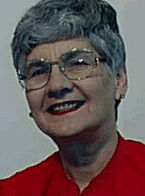 SQUARELY
PEGGED
By Peggy McCracken
Love is great healer
for brains or hearts
Return to top
Broken brains or wounded hearts? That sound like a good title for a
novel. As a matter of fact, it is the title of a book I reviewed
recently and am reading again to see if I can understand myself and
others better.
The author insists that today's psychiatrists are off base when they
prescribe medication for mental illness. It's not the brain, but the
emotions that control behavior, he says. And people who were hurt as
children buried their pain so deep they have a hard time coping with
reality as adults.
Another publication, one that I'm a little skeptical of because it is
funded by the Church of Scientology International, accuses psychiatry of
destroying morals.
Here is one quote from the article titled "Uprooting the foundations of
society:" Psychiatry has consistently invented more and more
mental illnesses during the last decades, and the pharmaceutical
companies have then invented the chemical "cures." Worse, the effects of
these drugs create yet more categories of mental illness."
We've all heard of people who simply could not function in society
becoming docile and useful citizens after taking medication to correct a
"chemical imbalance" in their brains.
But the author of "broken brains" says that's not really a cure. Those
pills relax people so much, they really don't care what happens, he says.
My experience with tranquilizers is minimal, so I'm not in a position
to judge who is right. But I do recall that the pills my doctor
prescribed years ago when I was having a rough time did calm me down. In
fact, I was so calm I pretty much left my work undone and stayed in bed.
It probably was fortunate that I refused to accept more than a week's
supply of the bright red-and-yellow capsules. You might never have had
the great privilege of reading my entertaining and enlightening columns
if I got hooked on them.
I do have some experience with emotional healing. Every one of us
carries around - maybe buried in our subconscious - scars from the past.
They hamper our dealings with others, short-circuit our creativity, make
us afraid to try something new.
Love is the healer. And God is Love. He uses varied methods of applying
that love to our hearts, including music. Music has been one of the
great healers for me. It took me a long time to have the courage to
learn to play the piano and to sing, because of criticism in my youth. I
don't do either well, and probably never will. But just the doing
soothes the soul.
Work is another area that gives a person self-confidence. Thank God I
earned my first dollar at age 7 and have never stopped working for long.
So long as we have something worthwhile to occupy our brains, they
shouldn't get too broken.
"I have suffered much; renew my life, O Lord, according to your word."
Psalm 119:107, NIV.
EDITOR'S NOTE: Peggy McCracken is an Enterprise writer and editor whose
column appears each Tuesday.
CRITIC'S CORNER
Fort Stockton makes best restaurant list

Return to top
Are you always wondering where to eat when you are on the road? Are you
like a lot of people who look for all the trucks, figuring truck drivers
know the good places?
Well, now you won't have to do that any more, thanks to a new book that
lists the so-called best restaurants in America.
The book is entitled "Where the Locals Eat" compiled by researchers at
Magellan Press.
The book lists nearly 10,000 restaurants in all 50 states in more than
1,000 cities.
It does not have restaurants for Pecos, Monahans and many other West
Texas cities but it does list Ft. Stockton, Big Spring, Midland, Odessa
and El Paso.
A press release from Magelland Press says their researchers spent more
than two years gathering information on nearly 10,000 popular
restaurants in more than 1,000 American cities.
Magellan's researchers gathered information on 75 different categories
of restaurants - restaurants known for everything from their barbecue or
vegetarian menu or wine list to their "child-friendly" atmosphere.
Designed to fit in a glovebox or briefcase, "Where the Locals Eat"
could be indispenseable to both business and vacation travelers. It's
priced at $19.95 and will soon be available at bookstores. If you can't
find the book, call 800-247-6553 to order by credit card. Total price is
$19.95 plus $2 shipping and handling.
It does appear to be worth the price if you travel a great deal. It
would seem impossible to include every town in America, and it would be
obvious that some good places are left off, but it's a good basic guide
to places most travelers are not familiar with.
--MAC McKINNON
ZIG ZIGLAR
Check priorities and put in order
Return to top
Many people often say that such and such a person should "get their
priorities in order." In 1924, Bill Havens was one of America's best
rowers, and most people thought he would win three medals - probably
gold - at the Olympic games in Paris. However, a few months before the
Olympics, Havens realized that his wife was going to deliver their
first-born child during his trip to Paris. In those days, it took two
weeks to travel across the Atlantic, so he would be gone a total of six
weeks. Bill decided he could not leave his wife during this important
time and forfeited his spot to another. He felt bad about deserting his
teammates and often wondered about the medals he might have won.
In 1952, Bill Havens got a telegram from his son, Frank, who had just
won a gold medal in the 10,000 meter canoeing final at the Olympics in
Helskini, Finland. The telegram read, "Dear Dad: Thanks for waiting
around for me to get born. I'm coming home with the gold medal you
should have won. Your loving son, Frank." Bill Havens knew then he had
made the right choice.
One of the ironies of life is that many times, parents work overtime or
even take second jobs in order to provide their families with more of
the "good things" in life. However, study after study has revealed that
when given the choice, children for whom Mom and/or Dad are working so
hard would prefer more of their parents' time. In other words, the most
precious gift parents can give is themselves.
Your presence says more than a thousand gifts ever can, so, parents,
get your priorities in order, and I will see you - and the kids - at the
top!
***
"When you know what your values are, making decisions becomes easier."
- Glen Van Ekeren
---

EDITOR'S NOTE: Zig Ziglar is a motivational speaker whose column is
copyrighted and distributed by Creators Syndicate Inc.
Return to top
---
Associated Press text, photo, graphic, audio and/or video material shall
not be published, broadcast, rewritten for broadcast or publication or
redistributed directly or indirectly in any medium. Neither these AP
Materials nor any portion thereof may be stored in a computer except for
personal and non-commercial use. The AP will not be held liable for
any delays, inaccuracies, errors or omissions therefrom or in the
transmission or delivery of all or any part thereof or for any damages
arising from any of the foregoing.
Copyright 1997 by Pecos Enterprise
Division of Buckner News Alliance, Inc.
324 S. Cedar St., Pecos, TX 79772
Phone 915-445-5475, FAX 915-445-4321
e-mail news@bitstreet.com
Return to Home Page