Daily Newspaper for Reeves County, Trans Pecos, Big Bend, Far West Texas
News|Sports|Main Menu|Archives Menu|Classified|Advertising|Monahans
OPINION
Jan. 21, 1997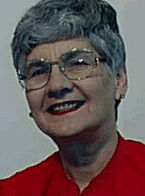 SQUARELY
PEGGED
By Peggy McCracken
Photo on Internet excites steer showman
Return to top
"I'm gonna be on the World Wide Web!"
That's what Will Haws told his buddies at the weigh-in Thursday for the
junior livestock show held over the weekend. I took Will's picture with
my digital camera while he was drying his Hereford steer and told him it
was for the web.
After he got so excited about his mug being viewed from around the
world, I crossed my fingers, hoping the photo would be a good one. Sure
enough it was, and is was displayed over the weekend on the
Enterprise Home Page for anyone in the world with Internet
access to see. We'll save it in the archives, where his grandkids
showing animals in 2037 can see it too.
Will won the reserve grand champion steer banner and buckle with
another steer. He and his brother, Clay, have been consistent winners in
these shows, and I know their parents are proud of them. Families work
together to buy the show animals, and you can see moms and dads helping
groom them before they go into the show ring. They all deserve
recognition.
I can understand Will's excitement. It's exciting enough to make the
front page of the local paper. Or even Page 2. But knowing it could be
viewed by a soldier in Bosnia (ex-Balmorhea Bear), a Monahans ex in
Austin and nameless people in Houston, Dallas, Los Angeles, Canada,
Alaska, Arizona, Seattle and elsewhere is a real buzz.
We get a daily printout of Internet addresses where visitors to our
website "reside." Monikers like "proxy" at AOL.com, lefties, oryx,
azstarnet and nwrain decorate the stats sheet. Some calls come from
state offices, others from universities, businesses (pacbell, tandy,
boeing, texaco).
The stats sheet lists the number of "hits" by the time of day. From
Monday through Thursday last week, five hits were recorded at midnight
and 25 at 3 a.m. "Prime time" for our pages was 8 and 9 a.m. and 8 p.m.,
when 70-75 hits each were recorded.
We normally can't tell which user accessed the site at a particular
time, so 3 a.m. at our site may be 3 p.m. where the call originated.
It's interesting to analyze, though, and try to guess what kind of
audience we have. Someone at "Northernlights.com" recorded 416 hits
Monday morning, starting at midnight. The weekly stats start at
midnight, so we don't know what time he started nor how many were
recorded before the witching hour.
Isn't it exciting to be living in a time when the guy on the other side
of the globe is just as close as the girl next door? But we have to be
even more careful how we act, knowing we're being watched.
"Where there is no revelation, the people cast off restraint." Proverbs
29:18, NIV.
EDITOR'S NOTE: Peggy McCracken is an Enterprise writer and editor whose
column appears each Tuesday.
OTHER VIEWS
Bush tax program gives rich a break

Return to top
Just how much inequality can a democracy take?
That rather profound philosophical question may be just the one Texans
should ask as they evaluate the package of state tax proposals being
forwarded by Gov. George W. Bush.
The governor has outlined for legislative consideration a tax package
that calls for about $4.1 million in tax increases and $4.6 million in
tax cuts ... The 60 percent of Texans with incomes less than $50,000
would pay more, while Texans in the highest tax brackets would pay less.
...
So far, Texans have reacted rather protectively and placidly to the
regressivity of their state tax policy. But surely some serious
questions should be raised: If not ``How much inequality can a democracy
take?'' at least ``How much inequality should a democracy encourage?''
-- Austin American-Statesman
OTHER VIEWS
TEA flunks audit of its operations
Return to top
Who's watching the watchdog?
With the findings of the state auditor, public school educators may
wish to ask the Texas Education Agency that question.
A state auditor's report indicates the Texas Education Agency, which
checks the performance of the state's public schools and school
districts, has flunked when it comes to keeping an eye on its own
operations.
The review cites a number of weaknesses, including a lack of internal
controls over pay, leave and contracts that has caused ethical lapses,
the Austin American-Statesman reports. Additionally, the auditor notes
the agency's internal auditing function was ineffective.
A spokeswoman for the agency told the American-Statesman many of the
problems already have been addressed or are being addressed.
That may be, but consider also other findings that suggest TEA's focus
of measuring its performance is too narrow.
The auditor said the agency, while mostly measuring student performance
yardsticks, lacks methods to measure how well it serves school
districts, campuses and regional education centers.
That role is critical.
The watchdog needs to measure its own effectiveness. Improving
communications with schools would be helpful in its regulatory role.
-- San Antonio Express-News
Return to top
---
Associated Press text, photo, graphic, audio and/or video material shall
not be published, broadcast, rewritten for broadcast or publication or
redistributed directly or indirectly in any medium. Neither these AP
Materials nor any portion thereof may be stored in a computer except for
personal and non-commercial use. The AP will not be held liable for
any delays, inaccuracies, errors or omissions therefrom or in the
transmission or delivery of all or any part thereof or for any damages
arising from any of the foregoing.
_
---
Copyright 1997 by Pecos Enterprise
Division of Buckner News Alliance, Inc.
324 S. Cedar St., Pecos, TX 79772
Phone 915-445-5475, FAX 915-445-4321
e-mail news@bitstreet.com
Return to Home Page