Daily Newspaper for Reeves County, Trans Pecos, Big Bend, Far West Texas
Sports|Opinion|Main Menu|Archives Menu|Classified|Advertising|Monahans|
TOP STORIES
Friday, January 17, 1997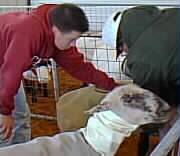 Junior Livestock Show
Clay McKinney, left, covers his lamb to protect it from the cold while awaiting weigh-in at the Reeves-Loving counties Junior Livestock Show and Sale Thursday. His uncle, Jimmy Martinez, helps adjust the covering. Families work together in the annual show held in the Reeves County Civic Center.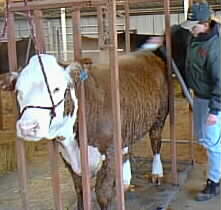 Will Haws dries his steer that has just come from the wash rack. He took reserve champion honors in the steer show, which was judged by David Kight, county extension agent from Garden City. Nineteen steers are entered, along with goats, lambs, and swine. Jerry Bearden, ag teacher from Mason, judged lambs, and Robbie Phillips of Leveland is swine judge. Rickey Exum is show superintendent. 4-H and FFA advisors are Bailey Wheeless, C.W. Roberts, Bob Bagley and Rick Bracy.
TNRCC sets Hudspeth waste site hearing

Return to top
PECOS, January 17, 1997 - Officials from Texas and New Mexico were in
far western Andrews County on Thursday to dedicate a hazardous waste
storage facility that may eventually house low-level radioactive waste,
and a state agency has set a hearing date next week for the Texas' own
radioactive waste site in southern Hudspeth County.
Sierra Blanca's proposed nuclear waste dump is on the Texas Natural
Resources Conservation Commission agenda for a public meeting Wednesday.
They will decide whether citizens and governments fighting the opening
of the state's proposed dump have the legal right to continue the fight.
Should the three-man commission vote "no," judges in the case would be
forced to reexamine their earlier decision giving participatory status
to the county governments of El Paso, Culberson and Presidio, and the
city governments of El Paso and Juarez, as well as to citizen
participants in Marfa and Alpine and the estate of artist Donald Judd.
In a controversial move, the Texas Low-Level Radioactive Waste Disposal
Authority went over the heads of the judges by requesting that
"certified questions" be heard by the TNRCC, and against the advice of
attorneys, the commissioners agreed to hear them.
"This is an extraordinary remedy," said Presidio County Attorney Teresa
Todd. "Appeals at this stage are not allowed by the rules, and this
basically amounts to a disguised appeal."
A ruling against the governments and citizens could severely restrict
public participation in the decision-making process on the development
of a project of great concern to the region, attorneys say.
"Each time the public has been allowed to speak, the response has been
overwhelming by citizens who oppose this dump," said Gary Oliver, a
hearings participant from Marfa.
"The state, which purports to represent the people of Texas is trying to
cover up the fact that this case is actually The State vs. The People,
and I am afraid that the ominous noise we hear coming from behind all
those rapidly-closing government doors is the sound of skids being
greased," he said.
On Oct. 31, 1996, following six months of deadlines, hearings and legal
arguments, the two administrative law judges awarded standing to 21
governments, groups and individuals. Now the hearing schedule,
established in December, has been put on hold pending the outcome of
Wednesday's meeting.
The meeting is set for 2 p.m. Jan. 22 in Room 201S, Building E, 12118
Interstate 35, Austin.
The site is one of three within 120 miles of Pecos where low level
radioactive waste storage is planned in the near future. The U.S.
Department of Energy held hearing Monday in Carlsbad on the Waste
Isolation Pilot Plant, where officials hope to begin storing waste in
caverns 2,150 feet below ground by 1998.
Meanwhile a privately-owned facility near Eunice, N.M., held ribbon
cutting ceremonies on Thursday, with the area's elected officials,
including State Rep. Gary Walker, on hand.
Walker, (R-Plains), who represents Reeves County in the Texas
Legislature, praised the teamwork used to make the Andrews County
hazardous waste facility a reality.
"This shows how community leaders and private industry can work together
to make a real difference," he said, at the opening of the Waste Control
Specialists waste site, located on State Highway 176 in Andrews County,
on the New Mexico state line, six miles east of Eunice and 30 miles west
of Andrews.
WCS president and CEO, Kenneth Bingham told the crowd the next step will
be to provide the U.S. Department of Energy with a commercial option for
its low-level radioactive waste disposal needs, according to a Waste
Control Specialists LLC (WCS) press release.
"From the outset," Bingham said, "the project has been strongly
supported by the Andrews County community. The site boasts an ideal
location with superior geology."
Permits to accept hazardous and toxic waste were obtained by WCS in
1994, as defined by the Resource Conservation and Recovery Act and
construction started in 1996.
The Andrews County site is organized as a "campus" of complementary
facilities, including a hazardous waste facility and an advanced
research and development center focusing on waste treatment and
reduction, points out the excerpt.
Representatives Larry Combest (R-TX) and Joseph Skeen (R-NM) were among
the opening attendants.
After WCS' plant construction was underway, a second private firm,
Utah-based Envirocare, announced plans to build a radioactive waste
storage facility in Andrews County. However, both WCS and Andrews County
officials have raised objections to the plan, and on Jan. 8 the Natural
Resources Defense Council filed petitions with the Nuclear Regulatory
Commission to revoke the company's waste disposal licenses.
The permit revocation request was based on an reported $600,000 payoff
company president Khosrow Semnani made to a Utah regulator.
New postmaster has past local experience
Return to top
By ROSIE FLORES
Staff Writer
PECOS, January 17, 1997 - A new face can be seen at the Pecos Post
Office these days with the appointment of a full-time postmaster for the
local facility.
Ramona Sterling came to Pecos on Dec. 16 to assume her new duties.
"It was made official on Nov. 23, but I didn't get to Pecos until
December," said Sterling.
She comes to Pecos after serving as postmaster in Canutillo, a town just
five miles northwest of El Paso.
Sterling has actually been interim-postmaster for the Pecos facility
twice before, the first time in 1992 for about four months and again in
1993 for another three or four months.
Prior to working in Canutillo, Sterling was employed with the postal
services in Tucson, Ariz.
"I really do like Pecos, but I'll like it more once I completely move
down here and find a home," said Sterling.
Finding a home and settling down in Pecos is one of the things she will
be working on in February. "After I find a home here, I'll be more
comfortable," she said.
"I plan some changes here at the post office, but not right away," said
Sterling. "I need to sit back and observe and then the changes will be
made gradually."
Sterling also stated that renovations to the third floor of the building
will be made sometime in the future, before it is leased out. The second
and third floors have beeN unoccupied since December, 1995, when federal
court offices moved to their new building two blocks to the east.
"It still needs some work done and we need to make all those renovations
before we can lease it out," said Sterling.
Reeves County has expressed an interest in leasing out the third floor
to utilize as office space.
"We've talked to them before, but nothing definite has been decided, and
of course we'll have to fix what's wrong before we lease it out to
anybody," she said of the 62-year-old structure.
Sterling hasn't always been in the postal services. "I've just been
working for the postal service for 16 years," said Sterling, adding, "I
wish it was longer."
Prior to working for the federal government, Sterling was a school
teacher.
She received her undergraduate degree from Western New Mexico College in
Silver City, N.M. She later went to Tucson where she obtained a degree
in public administration from the University of Arizona.
"I taught business and Spanish at a middle school in New Mexico and
after getting my business and public administration degree, taught
business courses at a community college," she said.
Sterling has a daughter who is a junior at New Mexico State University
and an older son who still resides in Canutillo.
OBITUARY
Return to top
Helen Compton
Helen Compton, 60, of Murfreesboro, Ark., died Wednesday, Jan. 8 at her
residence.
Services were held on Friday, Jan. 10 in the Murfreesboro First Baptist
Church with the Revs. David McCord, Von Weaver and Troy Carroll
officiating. Burial was at the Ozan Cemetery near Murfreesboro.
She was born April 24, 1936 at Buck Range, served on several committees
and was a former Pecos resident.
Survivors include her husband, Don Compton; two sons, Danny Compton and
David Compton; two daughters, Donna Ramsey and Dianna Staten; one
brother, Lee Webb, and nine grandchildren.
WEATHER
Return to top
PECOS, Jan. 17, 1997 - High Thursday 47, low last night 27. Tonight,
decreasing clouds. Low 15-20. Light wind. Saturday, sunny and warmer.
High 50-55. Southwest wind 5-15 mph.
Return to top
Associated Press text, photo, graphic, audio and/or video material shall
not be published, broadcast, rewritten for broadcast or publication or
redistributed directly or indirectly in any medium. Neither these AP
Materials nor any portion thereof may be stored in a computer except for
personal and non-commercial use. The AP will not be held liable for
any delays, inaccuracies, errors or omissions therefrom or in the
transmission or delivery of all or any part thereof or for any damages
arising from any of the foregoing.
_
---
Copyright 1997 by Pecos Enterprise
Division of Buckner News Alliance, Inc.
324 S. Cedar St., Pecos, TX 79772
Phone 915-445-5475, FAX 915-445-4321
e-mail news@bitstreet.com
Return to Menu