Daily Newspaper for Reeves County, Trans Pecos, Big Bend, Far West Texas
News|Sports|Main Menu|Archives Menu|Classified|Advertising|Monahans
OPINION
Jan. 14, 1997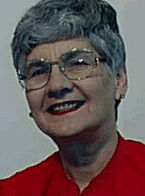 SQUARELY
PEGGED
By Peggy McCracken
Pigeons are either blessing or curse
Return to top
It's pigeon time again. Maybe I could pull a "Dear Abby" and rerun one
of my pigeon columns. But I hate it when she does that.
Monday's snow accumulation on the courthouse roof made the poor birds'
perch uncomfortable - and probably so slick they couldn't stay put. I
saw dozens of them circling looking for a landing place. They crowded
onto whatever they could find that wasn't covered with snow. One group
lined up along the front of the sheriff's office on a little ledge,
where the inmates could look out the tiny windows and wish they were out
in the cold, too.
Pigeons are a blessing or a curse, depending on your point of view.
Karen White enjoyed watching them on the balcony outside her office
window in the old federal courthouse (Post Office).
But Norman Hill and Lester Shaw don't think the post office is the best
roosting place for pigeons, and they want somebody to get rid of them. I
imagine the custodian would like them to move someplace else, too, since
she has to clean up after them.
Do you enjoy wading through that mess to get your mail? I don't, and
I'm really not all that finicky. I've slogged through a foot of cow dung
in a wet lot to milk the cows. And landed in it when I got thrown off a
frisky calf. Cowlots and post offices are two different things, though.
Every time I see that stuff on the steps, I expect a wet blob to land on
my head before I can get inside the door.
Armando Gil tells me the glue that gives birds a hot foot when they
perch on it is expensive, and the city doesn't use it. It sure worked at
the post office for awhile when it was applied to the balconies outside
the windows.
I don't know what it is about pigeons that makes them want to hang
around people. Maybe they know predators won't bother them in a crowd.
It works too well. They just multiply and multiply.
But where are the babies? All I ever see are adult pigeons. Surely they
have babies somewhere. In fact, the babies have to come from eggs.
Suppose you could find the nests and abort the babies before they peck
their way out of the shell. Even those who don't want to murder helpless
pigeons wouldn't object to that. In this modern age, we don't object to
human babies being aborted, so why not pigeons?
I've stopped preaching and started meddling, now. Better sign off.
"Words from a wise man's mouth are gracious, but a fool is consumed by
his own lips." Eccl. 10:12, NIV.
EDITOR'S NOTE: Peggy McCracken is an Enterprise writer and editor whose
column appears each Tuesday.
HENRY BONILLA
Uncle Sam wants YOU to pay taxes

Return to top
Beware. Your brand new 1996 Federal Income Tax forms will be hitting
your mailbox any day now. Just the thought of starting the process of
filing and paying your taxes can give you an instant headache.
When it requires a volume's worth of instructions just to fill out the
forms, it's clear that our tax system is just too big and too
complicated. It's time to change it for the better for everyone.
Congress needs to overhaul the current tax code so that hard-working
American families do not have to waste their valuable time and money
each year filling out forms.
Most Americans agree that they pay too much in taxes and that our tax
system needs a fix. But some folks in Washington seem perfectly happy
with the status quo and are fighting any change in the current system.
It's the same old song and dance - they don't want things to change
because that would strip them of their power and our money.
Several plans are out there and we need to take a careful look at all
of them. One plan talked about a lot these days calls for a consumption
tax. Proponents of this plan like it because it's simple. A consumption
tax, such as a national sales tax, would eliminate the current system,
and free Americans from having the government whittle away at their
monthly paycheck and then handing over a large chunk of their salaries
to Uncle Sam each April.
Another plan calls for a flat tax. The flat tax would tax each family's
income at the same rate, after a substantital family deduction is taken.
There are still a lot of questions about each plan, but we should at
least take a look.
There are other options on how to overhaul the whole tax system. One
way to begin the process of tax reform would be to start smaller. For
instance, a $500 per child tax credit and capital gains tax cut would be
a big help to many hard-working families and small businesses in Texas.
A new system could also bring much needed relief to family farms,
ranches and small businesses by doing away with the federal inheritance
tax.
A complete turn-around of the tax code isn't going to happen overnight.
The last Congress made important progress on the tax front. This
Congress will continue by taking a long, hard look at each plan to
determine what's best for America. Whether it's a flat tax or outright
elimination of the IRS, this Congress is jumping head-first into the
problem of developing a solution to the tax crisis. It's going to take a
while, but, in the end, a simpler, more common-sense tax system will be
worth the wait.
EDITOR'S NOTE: Henry Bonilla represents the 23rd Congressional District
in the U.S. House of Representatives.
OTHER VIEWS
Congress should know who throws punches

Return to top
There's a good reason attempts by Congress to cut the federal budget
the past two years have drawn shrieks and howls: More than half the
witnesses testifying before House and Senate committees receive federal
funds themselves.
An eye-opening analysis by the Heritage Foundation found that in 1995,
35 percent of those giving congressional testimony were federal
employees. Of the rest a third received government grants. These groups
form the vanguard of the big-government lobby.
... Everyone is entitled to express views on issues. But members of
Congress should know exactly who is trying to persuade them. Rep. John
Doolittle, R-Calif., has proposed truth-in-testimony legislation that
would require witnesses to say whether they receive federal grants or
other sources of government funding.
This would be a small step in changing the way Washington works. Budget
cutters still will have to weather assaults from big-government
lobbyists, but at least they'll know who's throwing the punches.
-- The Daily Oklahoman, Oklahoma City
Return to top
---
Associated Press text, photo, graphic, audio and/or video material shall
not be published, broadcast, rewritten for broadcast or publication or
redistributed directly or indirectly in any medium. Neither these AP
Materials nor any portion thereof may be stored in a computer except for
personal and non-commercial use. The AP will not be held liable for
any delays, inaccuracies, errors or omissions therefrom or in the
transmission or delivery of all or any part thereof or for any damages
arising from any of the foregoing.
_
---
Copyright 1997 by Pecos Enterprise
Division of Buckner News Alliance, Inc.
324 S. Cedar St., Pecos, TX 79772
Phone 915-445-5475, FAX 915-445-4321
e-mail news@bitstreet.com
Return to Home Page