Daily Newspaper for Reeves County, Trans Pecos, Big Bend, Far West Texas
News|Sports|Main Menu|Archives Menu|Classified|Advertising|Monahans
OPINION
Jan. 9, 1997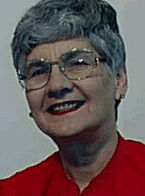 SQUARELY
PEGGED
By Peggy McCracken
Looking to future
on silver anniversary
Return to top
Richard Nixon was President, Paul Tapp was Reeves-Loving County agent,
and Carl McGee was seeking a city council seat when I went to work for
the Enterprise 25 years ago this month.
Russia was a part of the communistic Soviet Union, Savings and Loans
reported mortgage loan delinquencies rose slightly in 1971 (remember
communism and savings and loans?) and South Vietnam approched
self-sufficiency in rice output for the first time in a decade.
Automotive Proving Grounds advertised for drivers, Hughes Insurance
Agency offered bargains in houses. Pete Armbruster posed by the gas
pumps at his two-year-old Chevron station at Seventh and Eddy that
closed last week; SWIG Cottonoil Mill, Venus Television Lab, Worsham
Dusting Service Inc. and Brown Pipe & Supply Co. were among advertisers
supporting the basketball team.
Christian youth opened a coffee house named "The Kings Inn" on Toliver
Street, Pecos Police Department opened its new offices and jail on Oak
Street, and Balmorhea kids showed their lambs.
Well, at least that hasn't changed. Balmorhea kids are getting their
animals in shape for this weekend's stock show.
I've seen lots of lambs in the 25 years since that January in 1972. And
city councilmen. And car wrecks. And snow storms. And lawyers arguing
court cases.
From black-and-white pictures taken with a simple box camera, I have
graduated to ditital color images transferred directly to a computer;
and from manual typerwriters to computers that send stories and photos
around the world in seconds.
But I haven't moved two feet from the spot where my desk was located on
that first day 25 years ago.
I will be eligible for Social Security on my birthday Jan. 31, and if
it wouldn't make so many people happy, I just might retire. But then
again I may celebrate my golden anniversary right here at this desk in
2022.
I earned my first dollar at age 7, dragging a ducking cotton sack up
and down the rows in a cotton patch to gather 100 pounds of fluffy white
cotton in one day. From the cotton patch I went into a cafe, where I
"hopped tables" for two years before moving to Pecos. Then I got into
office work and never left.
Looking over my resume, I will have to admit reporting is not the worst
job in the world. I get yelled at a lot, but then, I got yelled at as a
cashier for CIT, where I collected car payments and sent out late
notices to those who didn't pay.
"When God gives any man wealth and possessions, and enables him to
enjoy them, to accept his lot and be happy in his work - this is a gift
of God." Eccl. 5:19, NIV.
EDITOR'S NOTE: Peggy McCracken is an Enterprise writer and editor whose
column appears each Tuesday.
OTHER VIEWS
Pot pills may work
if given a chance

Return to top
The question of using such illegal drugs as marijuana for medicinal use
has grown into a governmental checkers match between states' rights and
federal authority. The Clinton administration issued a directive Monday
that essentially jumps state laws allowing the drugs' use.
Voters in Arizona and California recently approved the use of some
illegal drugs for medicinal purposes. The laws allow cancer and AIDS
patients, for example, to use marijuana, which is said to relieve the
nausea and weight loss associated with the two diseases and their
conventional treatments. The patients needed doctors' prescriptions to
take the drugs.
The problem will be getting them. Growing and distributing marijuana
and other illicit drugs remain federal crimes. Clinton made the drugs'
acquisition even harder by announcing that any doctor who prescribes
such substances could lose the authority to write any prescriptions at
all, or be prosecuted as a criminal.
It's general knowledge that physicians prescribe much more powerful
drugs than marijuana every day. For example, opiates are among the most
potent and dangerous substances. Yet doctors routinely prescribe
codeine, an opiate; heroin and morphine are commonly used in hospitals
as well.
Proponents say the same should be afforded more benign drugs as
tetrahydrocannabinol, the active ingredient in marijuana. What these
people fail to mention is that prescription medications containing THC
already exist. President George Bush, a hard-liner against illicit
drugs, was kidded a few years ago when he was prescribed eye drops
containing THC to fight the onset of glaucoma.
Another drug with THC, dronabinol, was developed to fight the nausea
that cancer patients experience when receiving chemotherapy, or to help
AIDS sufferers from rapidly losing weight. But many doctors choose to
prescribe other medications.
The government's line is that THC hasn't been proven to work. That
assertion flies in the face of hundreds of patients and doctors who
swear by the results. Administration officials also express fears that
approval of medicinal marijuana will send the wrong message - that being
that it can be helpful. Health and Human Services Secretary Donna
Shalala said state votes allowing prescription of some illicit drugs
``sent very confusing messages to teen-agers.''
Such a statement seems odd coming from one of the primary advocates of
sex education in schools. It would seem that frank discussion about the
medicinal possibilities about marijuana and other drugs would better
inform people about the changes they cause in the body and whether
benefits might outweigh any risks. If Shalala and others maintain that
more knowledge of sex encourages responsible practice, why don't they
agree that more knowledge about drugs would encourage responsible use?
People on both sides of this debate need to acknowledge the points made
by the opposition. THC is available in forms other than marijuana joints
- a fact that medicinal marijuana advocates don't mention. The fact that
such drugs have been made - and approved for use - belies the
administration's contention that such drugs have no medicinal value.
If the legal drugs are too difficult or costly to acquire and people
are turning to marijuana for practical reasons, then another serious
problem exists and needs to be addressed.
But level heads need to take charge of this issue so that the full
benefits - if any - of some underutilized substances can be realized.
If, on the other hand, those benefits are better brought about by other,
safer means, then that must be acknowledged. As it stands now, however,
both camps are merely toying with the hopes, and health, of countless
sick people who are looking for a remedy to their ailments.
-- The Monitor (McAllen)
GUEST COMMENTARY
Dornan may be right about vote fraud
Return to top
Maybe Bob Dornan is not such a sore loser after all. Maybe the
nine-term Republican congressman from Orange County was not turned out
of office fair and square. Maybe voter fraud was so rampant in the 46th
Congressional District that Democrat Loretta Sanchez should not be
allowed to claim victory.
We come to these conclusions in the wake of a report, published in the
Los Angeles Times, revealing that Mexican citizens residing in Orange
County voted in the Nov. 5 election with the aid of a Latino-rights
organization, Santa Ana-based Hermandad Mesicana Nacional.
The Times interviewed 64 people who voted in the recent election and 19
admitted that they cast their ballots before completing the
naturalization process. And 16 of the 19 still have not attended a
swearing-in ceremony, some seven weeks after the election, which means
that they still are not U.S. citizens.
Meanwhile, Dornan has filed a complaint with the House of
Representatives contesting the results of his election, which he lost by
a scant 984 votes. Dornan asserts that as many as 3,500 ballots were
fraudulently cast in favor of his opponent Sanchez, which tilted the
election in her favor.
When Dornan first raised these allegations following his defeat, it
appeared to be the ranting of an embittered loser. And when the Orange
County registrar completed a recount of ballots - which Dornan was
forced to pay for out of his own pocket - the election result was
adjusted by only five votes in the Republican's favor.
But the Times article provides hard evidence that at least 19 votes for
Sanchez were fraudulently cast by noncitizens. Yet, Orange County
registrar Rosalyn Lever failed to disqualify those ballots. That raises
questions about the veracity of the entire recount.
Indeed, evidence of vote fraud in Dornan's congressional race is so
abundantly apparent that the Orange County district attorney's office
has launched a criminal investigation.
One question that begs to be answered is whether Hermandad Mexicana
encouraged noncitizen Mexicans to illegally register and vote in the
November election.
Hermandad Mexicana's executive director, Nativo Lopez, insists that the
Latino rights organization scrupulously observed state and federal
election laws.
But that's not what the noncitizen voters said when interviewed by
the Times. They were registered to vote by Hermandad
Mexicana staff immediately after they passed proficiency tests or after
successfully completing an interview with an immigration official.
The process is not complete until an immigrant is sworn and takes an
oath of allegiance to the United States. Then, and only then, does one
become a U.S. citizen, eligible to register and vote.
The Orange County district attorney ought to find out of the 1,357
people registered by Hermandad Mexicana this year were legal citizens of
this country - also, if the Latino-rights group's zeal to unseat Rep.
Dornan in favor of his Latina opponent Sanchez motivated them to
knowingly register noncitizens. If the noncitizens were encouraged by
Hermandad Mexicana to register for and vote in last month's election,
the organization's officers have committed a serious felony and should
be punished to the fullest extent of the law.
As to Dornan, he now has a good case for throwing out the results of
his congressional race. For no matter how boorishly he behaved in the
wake of his apparent defeat, he deserves to have his race decided fair
and square, by voters legally registered in his district.
-- Copley News Service
OTHER VIEWS
Other world exists
in minds of many
Return to top
Angels we have heard on high
Sweetly singing o'er the plain
In an age in which science and technology have seemingly overtaken
spirituality, when wonders that would have been considered "miracles"
one or two millennia ago are easily achieved by mere mortals - like
soaring above the clouds, or plumbing the ocean's depths - it is hard to
explain the current national craze over angels.
This is not simply a seasonal occurrence. With Christmas trees topped
with seraphim and holiday cards adorned with cherubim, angelmania has
become a year 'round phenomenon. Angels are in the bookstores, in the
art galleries, in the movie theaters. Angels are in.
Of course, the heavenly creatures have long been featured in our
popular culture. Indeed, some of the most beloved American movie
classics boast angelic themes, like "The Bishop's Wife," "Here Comes Mr.
Jordan," and, of course, the Frank Capra holiday gem, "It's a Wonderful
Life" (where we learn that every time a bell rings, an angel gets his
wings).
But those were fairy tales about angels. And however charming, most
folk didn't really believe that a heavenly creature would intercede in
the marriage between a bishop and his bride, or assist a prizefighter in
finding another body to inhabit (after the angel prematurely removes him
from his own body during a plane crash that he would have survived).
But something has changed. In fact, one recent opinion poll showed that
an astounding 78 percent of Americans believe that angels exist. And
many believe they are present among us, in some form or another.
This poll result does not prove the existence of angels. But it does
show that, even as modern science and technology have pushed the
boundaries of human knowledge, understanding and discovery, many folk
remain persuaded that otherworldly forces exert a greater influence over
human affairs.
---
Associated Press text, photo, graphic, audio and/or video material shall
not be published, broadcast, rewritten for broadcast or publication or
redistributed directly or indirectly in any medium. Neither these AP
Materials nor any portion thereof may be stored in a computer except for
personal and non-commercial use. The AP will not be held liable for
any delays, inaccuracies, errors or omissions therefrom or in the
transmission or delivery of all or any part thereof or for any damages
arising from any of the foregoing.
_
---
Copyright 1997 by Pecos Enterprise
Division of Buckner News Alliance, Inc.
324 S. Cedar St., Pecos, TX 79772
Phone 915-445-5475, FAX 915-445-4321
e-mail news@bitstreet.com
Return to Home Page