Daily Newspaper for Reeves County, Trans Pecos, Big Bend, Far West Texas
News|Sports|Main Menu|Archives Menu|Classified|Advertising|Monahans
OPINION
Jan. 7, 1997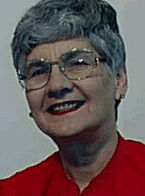 SQUARELY
PEGGED
By Peggy McCracken
Wipe the disk clean
to erase mistakes
Return to top
Just as I was thinking of taking a college course in marketing to give
my career a little spice, a friend asked my advice about taking a
college course in computers.
A friend who is about 10 years older than I am, I might add. Us Golden
Oldies are not supposed to be interested in this high-tech stuff. But
guess what I told her.
"No, I don't think you would benefit from a college course in
computers." Not that I am opposed to classroom instruction. But these
days computers are so complicated, none of us mortals is going to be
able to understand how they work. And they change so fast, any college
course is going to be out of date before the teacher walks in the door.
Here is the advice I gave her: "Just go buy a computer and follow the
directions."
These days, most computers come with software loaded and easy
instructions for hooking up the monitor, mouse and printer. Modems and
all the other stuff you will need to access the Internet are inside the
computer housing, so you don't even have to see them.
You may have to insert a CD to operate some programs, but anybody
that's ever played a 45 rpm record shouldn't have any trouble with that.
The main thing you need to remember is that computers are simple
machines. All they really know is on-off, on-off, on-off. It took humans
to arrange those on-off electronic signals to perform a bevy of neat
stuff, and humans can very well operate them.
One of the handiest buttons on a computer is named "reset." Yep, when
you goof it up so bad the mouse pointer won't budge and you feel
trapped, just punch "reset." Everything in memory will be erased and you
can start fresh. You may lose the data you just entered, but what the
heck? You can always put it back the same way you entered it the first
time. If you don't like re-doing stuff, you can avoid a lot of problems
by saving your data often. Then it will be stored on the hard disk where
you can retrieve it after "reset."
Some people I know are leery of hooking up to the Internet because of
all the wild tales about downloading viruses that wipe out stuff on your
computer. That's where backups come in. Everything of importance on your
hard disk should have a copy somehwere. On a floppy disk, a tape backup
or something. Then if your hard disk crashes, you just reformat it to
erase everything and start fresh.
In fact, computer gurus recommend erasing your hard disk and starting
fresh once or twice a year. I like that. I - and others I won't name -
load so much stuff on there that I don't want and then I have a hard
time getting rid of it. Formatting the hard disk does it all in one fell
swoop.
Just like Jesus erases the sin from our lives when we trust him to and
gives us a clean heart to start over. I love new beginnings, don't you?
"For the wages of sin is death, but the gift of God is eternal life
through Christ Jesus our Lord." Romans 6:23, NIV.
EDITOR'S NOTE: Peggy McCracken is an Enterprise writer and editor whose
column appears each Tuesday.
OTHER VIEWS
Give chemical probe
to independent agency

Return to top
Early this year, the White House panel investigating the cause of
illnesses among veterans of the Persian Gulf War will be answering to a
congressional committee about why it fired a respected chemical-warfare
expert.
Jonathan B. Tucker was abruptly dismissed last year after insisting,
against his superiors' orders, on pursuing evidence beyond that provided
only by government agencies. ...
Like any credible investigator seeking the truth, Tucker sought answers
to the matter under question, so he went to sources outside official
channels, including gulf war veterans and government whistle-blowers.
For his troubles, the panel's executive director, Robyn Y. Nishimi,
called him in, told him to clean out his office within an hour and
refused to inform him of the reason for his firing.
Perhaps the congressional inquiry can produce the answer why, but the
questionable circumstances, coupled with a long pattern of Pentagon
duplicity or incompetence regarding the war-related illnesses, argues
for placing the medical research and policy recommendations with an
independent agency - perhaps the National Institutes of Health.
-- Fort Worth (Texas) Star-Telegram
OTHER VIEWS
Police wife beater
should lose weapon
Return to top
An effort to make Washington look tough on crime may costs hundreds of
police officers their jobs. ...
The story began when politicians wanted to appear to be doing something
about domestic violence. Washington bravely posed against domestic
violence - as if anyone actually endorses wife beating.
The Senate voted 97-2 to add domestic violence convictions to the list
of crimes that prevent a person from obtaining a gun legally. ...
Rep. Robert L. Barr Jr., R-Ga., who opposes gun control, tried to slow
the measure down. What really irked him was that government employees
were exempted from the law.
Barr decided to fight the exemption. Why should government officials be
exempted from government rules?
Congress had little choice but to strike the exemption, lest citizens
accuse Congress of favoritism.
Now that the bill is law, some police officers find themselves being
disarmed. Past convictions for domestic violence are catching up with
them, and a police officer without a gun is just another civilian.
Congress no doubt will be pressured to exempt police from this
provision. Few politicians want to be seen as taking police officers off
the street.
But that would be the wrong move entirely. No such exemption should be
given. ...
Public employees must be held to the same standard applicable to
everyone else. We can't have two sets of laws, one for law enforcement
officers officers and another for the rest of us. ...
HENRY BONILLA
New year, Congress,
new resolutions
Return to top
The holidays have quickly come and gone, and now it's time to head back
to Washington for the start of the 105th Congress. Just as many of you
have done, the new Congress should make its own list of New Year's
resolutions:
1. Listen to the people - Too often, many members of Congress get
caught up with events inside the "beltway" in Washington and forget the
people at home. Keeping your views in mind has always been, and will
continue to be, a priority for me. Please help me keep this resolution
by sharing your views with me.
2. Stick to the business at hand - Sticking to our conservative
principles and remembering what we were sent here to do, this Congress
should try to work together to accomplish a common-sense agenda. It's
time to remember that, while we shouldn't lose sight of what we believe,
it's more helpful to work together to get things done. Let's move on and
get to work.
3. Keep our belts tight - For too long, Congress spent and spent your
tax dollars without any concrete idea of where the money was going or
who it was really helping. The last Congress made real progress in
reducing spending. By cutting over 290 wasteful programs, we saved over
$53 billion of your tax dollars. Also, we passed the first real balanced
budget plan and reduced the budget deficit to its lowest level in 14
years. These were important first steps, but we must continue to work to
live within our means just like you do.
4. Live in the real world - For the first time in history, the last
Congress had to live under the same laws Congress imposes on the rest of
America. It was definitely a learning experience and not a pleasant one
for some. Finally, Congress got to feel the real impact of its actions.
Maybe now, before considering riciculous, unnecessary regulations on
Americans, some members of 105th Congress will think twice.
These are just a few of the new year and new Congress resolutions that
I plan to share with my colleagues and plan to follow myself. Hopefully,
a remarkable and productive 1997 will be in store if we can stick to our
guns.
EDITOR'S NOTE: Henry Bonilla represents the 23rd Congressional District
in the U.S. House of Representatives.
---
Associated Press text, photo, graphic, audio and/or video material shall
not be published, broadcast, rewritten for broadcast or publication or
redistributed directly or indirectly in any medium. Neither these AP
Materials nor any portion thereof may be stored in a computer except for
personal and non-commercial use. The AP will not be held liable for
any delays, inaccuracies, errors or omissions therefrom or in the
transmission or delivery of all or any part thereof or for any damages
arising from any of the foregoing.
_
---
Copyright 1997 by Pecos Enterprise
Division of Buckner News Alliance, Inc.
324 S. Cedar St., Pecos, TX 79772
Phone 915-445-5475, FAX 915-445-4321
e-mail news@bitstreet.com
Return to Home Page