Archives Menu|||Home Page|||Go to 1997|||

COLUMNS 3
1995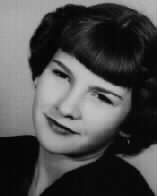 SQUARELY
PEGGED
By Peggy McCracken
Aim barbs at enemy
who seeks to destroy
Return to top
Senior pictures are supposed to be glamorous, and the one above comes
as close to glamour as I ever got. Many of you who have seen my school
pictures on this column said they are pretty. It's hard for me to be ob¬
jective, so I'll take your word for it. But I didn't feel pretty,
because the image I carry of myself stems from the "Hargatta's Horrible
Hag" moniker my older brother, Walter, hung on me when I was 5. It's
just in recent weeks that I have come to realize he probably didn't mean
that. It's more likely that he loved his little sister and saw the same
pretty face you have seen. Knowing how bashful he was, I can imagine how
he would tease me by saying the oppposite of what he meant, as I have
done so many times.
Most of the people I make such remarks to know I don't mean it, or at
least I think they know. But maybe they don't. And those who don't know
me at all have no recourse but to believe what they hear. It's a prob¬
lem I have tried to overcome. I'm trying harder now, because I realize a
lot of people have been hurt by my ascerbic remarks of late, teasing or
not.
It has been said that it takes two people to hurt you: an enemy to
slander you and a friend to tell you bout it. Well, I am not your enemy,
and I question the value of a "friend" who carries tales, true or false.
What we all need to learn from this is that our real enemy is the Devil
(evil spelled with a capital D). My Bible clearly warns that Satan goes about seeking whom he may de¬ vour. I think he has a death grip on this town, and the sooner we get on our knees and talk to our real friend, Jesus, the sooner we can have some peace and harmony.
I have been encouraging prayer groups to add local officials to their
lists for special prayer. You don't know what it's like to be in the
spotlight until you get there yourself. It's not comfortable, let me
tell you. Anyone who takes a place of leadership in this county is going
to be crucified. It doesn't matter what color his skin, what language he
speaks or what his political persuasion. If he stands for what's right,
those who choose the wrong will shoot him down. If he fails to stand for
what's right, he will hang himself sooner or later. And if he is a she,
double all that.
Reporters see and hear things from every segment of the population,
from every viewpoint. Sometimes we know more about what's going on in
town than the people involved know. And we try to print the part that
everyone needs to know to operate a democratic society. We get the
kind of government we demand.
"It is not good to punish an innocent man, or to flog officials for
their integrity." Proverbs 17:26 NIV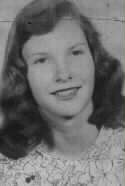 SQUARELY
PEGGED
By
Peggy McCracken
Three B's mark year
as high school junior
Return to top
Basketball, biology and boys were the Big 3 in my junior year at Flomot
High School in 1949-50. I ma¬ jored in basketball, minored in boys and
endured biology.
Before the fall term started, I began dating Leon, my husband of 44
years. I was 14, he 22. I had hardly been off the farm; he had been
around the world with the Navy during World War II, attended two
colleges and was working as a bookkeeper for the Gulf jobber in Quitaque.
His vintage Studebaker had putt-putted its last, and he had sold his
motorcycle, so we double-dated with friends or motored to Quitaque and
Turkey in his Dad's Chevrolet coupe. But not for long, because he bought
a beautiful new dark green Oldsmobile convertible. Can't you just see
my long hair flying as we made the drag, climbed the Caprock, crossed
the Quitaque River bed in ruts carved deep in the sand, and showed it
off in Turkey and Matador? That's heady for a country girl who shucks
her school dress for patched khakis and knee pads after school to drag a
ducking sack between two rows, stuffing it with prickly burrs filled
with fluffy, white cotton.
Little wonder that we were soon making plans to wed when I graduated
the following year. He was proud that I was captain of the basketball
team, and he went to my games, although he hates basketball. He even
took a day off work to drive me and two classmates to a baseball game
when we were denied transport on the school bus with the boys.
As juniors, we planned, produced and hosted the junior-senior banquet.
It was my idea to film the senior play, Aaron Slick from Punkin'
Crick and show it during the banquet in a theater setting.
Without proper lights, the filming was a flop, but we got them to stage
some of the scenes outside for another try, without letting our secret
screening plans out of the bag. They got a little suspicious, but I
think we had them fooled, and they enjoyed our banquet surprise.
Our own junior play was a hit, so we did the sequel our senior year.
You'll have to forgive me if I can't recall the name of the play. I
can't even remember the name of my character, a teenage girl, nor what
she did. But I do remember rehearsals on the big old stage at the front
of the auditorium that doubled as a home room and study hall for all the
high school. Many nights we told jokes and cut up backstage while await¬
ing our cues. What fun we had!
Is it possible those were the best days of my life?
"Remember your creator in the days of your youth, before the days of
trouble come and the years approach when you say, `I find no pleasure in
them.'" Eccles. 12:1 NIV
EDITOR'S NOTE: Peggy McCracken is an Enterprise writer and editor whose column appears each Tuesday.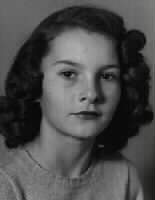 SQUARELY
PEGGED

By
Peggy McCracken
Ballgames highlight
year as sophomore

Return to top
Sophomores kinda get lost in the shuffle. They're past that initiation
stage of a freshman, but not yet erudite enough for the junior-senior
circuit. My sophomore year at Flomot High School stands out for several reasons, though.
One, it was my turn to be cheerleader for the Flomot Longhorn pep
squad. We elected one cheerleader from each class at the beginning of
the year and passed the honor around so everyone could have a chance.
Cheerleaders wore a white version of the maroon corduroy pep squad
uniform.
Being cheerleader may have helped attract the attention of the
football captain, or it may have been a little flirting that I tried for
the first time during lunch break one day. At any rate, Paul asked me to
go to the Friday game with him early in the season, and we dated steadily until Christmas. It was the custom for the girl dating the captain to be named football sweetheart, but that was not to be. I did go to the football banquet with Paul, though. And my big brother, Walter, bought me a beautiful, blue party dress to wear. I was only 13 and totally out of place, but I sure felt important at the head table.
Two, I moved up from the "B" girls basketball team to the "A" squad and
played nearly every minute of every game. Life couldn't have been any
sweeter. The "big girls" on the "A" team wanted all of us to have our
ears pierced, so I went along, like a little puppy dog. We loaded up in
Punk's car one day and went to somebody's cousin's house for the operation. She put clothespins on our earlobes to deaden them, then held a wooden spool to the back of the lobe and stuck a sewing needle through it, drawing the thread through and knotting it to form a thread earring. We had to keep the thread soaked in Campho Phenique to thwart infection. It took a long time to heal, and one of mine still gets sore occasionally. I have rued that day of initiation many times, but would not have dared be the only holdout.
Lowly sophomores did get the privilege of serving at the junior-senior
banquet. We girls dressed in matching white cotton frocks, and the boys
wore their white dress shirts and newest Levi's. My older sister, Mary
Elizabeth, was a lofty senior that year. She and I went together, as we
did to every function when we didn't have a date. We were inseparable
until she graduated and deserted me.
I've felt kind of sophomoric the last few weeks as I've tried to gather
police news and other odds and ends in addition to my normal duties. It
seems we have to run a correction every day, and some days have to
correct the correction. It will be good to get another reporter and
get out of overdrive.
"And we know that in all things God works for the good of those who
love him..." Romans 8:28 NIV
EDITOR'S NOTE: Peggy McCracken is an Enterprise writer and editor whose column appears each Tuesday.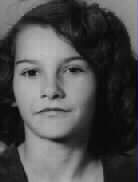 SQUARELY
PEGGED

By
Peggy McCracken
Storms of this life
pass by in the end

Return to top
The year was 1948. Coasting toward the end of my freshman year at
Flomot ISD, I had affected a crooked grin that I considered cool.
I don't remember a whole lot about being a freshman, other than my
love for basketball and my complete lack of musical ability. The
basketball love bug bit me the last week of my eighth-grade year, when
we played a "choose-up" game in the gym at noon. I didn't have any
tennis shoes, so I played barefoot - and in my school dress. Boys and
girls played together, but I don't recall being run over by the big
boys. In fact, they fed me the ball often enough that I made eight
points. I was hooked for life.
Flomot had about 20 girls in high school at the time, so we fielded two
girls basketball teams, dubbed "A" and "B." I was honored to be elected
captain of the "B" team as a frosh and even subbed on the "A" team in
one game. What a thrill! Just for icing on the cake, we traveled to
games on the same bus with the boys. I fell in love after one trip, as
my brother chauffeured some older boys home in our four-door 1933 Buick
Roadmaster. Mark, a heavy-bearded guy about five years my senior,
grabbed me and planted my first kiss on the mouth just before hopping
out at his house way out in the country. Yuk! Then Duane snuggled up to
me, and we "courted" on the way back to town. He was the center of my
world for the next two years, although I did date others.
Duane could sing like a lark and often entertained me with guitar and country-western songs. I didn't join him, because I had become convinced I couldn't sing. In fact, I was the only girl in high school that year who refused to sing in the all-girl-plus-one-boy choir. I knew I couldn't sing, and I wasn't going to make a fool out of
myself trying!
I held onto the notion that I couldn't sing until about two years ago.
Noting that other women with low voices like mine were singing tenor in
church choirs and ensembles, I decided to give it a try. Tenor turned
out to be my range, and I have enjoyed participating ever since. In
fact, I even learned that I can sing solo by lowering the melody a full
octave to fit my voice. Sunday night, I sang "`Til the Storm Passes By"
in the joint songfest that West Park Calvary and North Temple Baptist
churches hold occasionally.
The words of that song became real to me during the past few weeks. One
midnight when I woke up and couldn't get back to sleep, I got up and
opened my Bible to 1 Peter, in which he encourages Christians in
trouble to stand firm and trust God to see us through.
"Be self-controlled and alert. Your enemy the devil prowls around like
a roaring lion looking for someone to devour. Resist him, standing firm
in the faith...And the God of all grace...will himself restore you and
make you strong, firm and steadfast." 1 Peter 4:8-10 NIV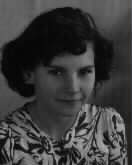 SQUARELY
PEGGED
By
Peggy McCracken
Fruit of the Spirit
is love, joy, peace
Back when we ran photographs on our columns, someone was always teasing
me about using my high school picture. Now that I have hit the big Six-O
and changed my hairdo, it is time to change the picture.
I was in the eighth grade when this one was taken. If it was in the
fall or winter, I was 11. That's the year I accepted Jesus Christ as my
savior and was "born again," "saved," "regenerated," becoming what we
term a "Christian."
Back in those days, I thought a Christian was sinless. I just assumed
that once you made that decision to accept the death of Jesus on the
cross as the penalty for your own sin, you didn't have any more trouble
with it.
My parents taught me that stealing is wrong, and I knew not to murder
anybody. But I didn't know that hating a person is the same as murder.
Taking that into account, I have broken all of the 10 commandments. And
I continue to sin, despite being a Christian.
So what good did it do for me to take that step back at age 11? Don't I
have to keep the 10 commandments to be admitted into Heaven when I die?
No, I don't. When Jesus forgave my sin at age 11 and "removed them as
far as the east is from the west," that included sins past, present and
future. It's all been paid for by His blood.
I'm not suggesting that I deliberately sin because I know I am home
free. "You, my brothers, were called to be free. But do not use your
freedom to indulge the sinful nature; rather, serve one another in love. The entire law is summed up in a single command: `Love your neighbor as yourself.' If you keep on biting and devouring each other, watch out or you will be destroyed by each other." Gal. 5:13-15.
"The fruit of the Spirit is love, joy, peace, patience, kindness,
goodness, faithfulness, gentleness and self-control. Against such things
there is no law." Gal. 5:22
As long as we are in this body, the Spirit and our sinful nature will
be at war with each other, and sometimes the sinful nature wins a
battle. But that doesn't mean we have lost the war.
Because Christian people were praying for me the past two weeks, I felt
the presence of God's Spirit in full measure. I've been calm in the
midst of the storm and have had the strength, stamina and mental alert¬
ness to complete an array of assignments in an extremely busy
schedule. Off the job, I attended a study on Galatians that triggered
this column and found it to be just what I needed. God's grace is
sufficient!!!
"Put on the full armor of God, so that when the day of evil comes, you
may be able to stand your ground, and after you have done everything, to
stand." Eph. 6:13 NIV
EDITOR'S NOTE: Peggy McCracken is an Enterprise writer and editor whose column appears each Tuesday.
SQUARELY
PEGGED

By
Peggy McCracken
Recording or bullet,
it's still assassination

Return to top
John F. Kennedy died from an assassin's bullet in Dallas on November
22, 1963. The following Sunday, my pastor used that terrible tragedy to
introduce his sermon in the morning worship service. As I recall, he
said that, tragic as it was, the assassination of our President was no
worse than the character assassination that took place that same week in
the church.
I wanted to crawl under the pew, because, although no names were
called, I was the target of those assassins. My one close friend had
told me days earlier that my tactless words and impulsive actions while
building up the nursery from a hand full of listless attenders to 30
children under 3, with 10 workers, had made so many people angry that
they were up in arms. When my pastor, new on the field and blissfully
unaware of the problems, returned from a meeting out-of-town, they
descended on him with a fury.
It embarrassed me to be the subject of his sermon, and I told him so,
but he said it had to be preached. I guess Mac McKinnon felt the same
way about the editorial he wrote Tuesday. I do appreciate the backing he
has always given me and the rest of the staff, but I'm sorry he felt it
necessary to defend me.
And I plead with those of you who have called to give me your support
and encouragement not to get sucked into this mess. It has nothing to do
with race, as some would have you believe. Most of my support has come
from Hispanics. I'm not the first one targeted by this individual - who
I was told has taped conversations with others and tried to get them
fired. Actually, I take it as a compliment that he thinks I am so good
at my job that I can discern the truth and am not afraid to print it.
It has been suggested that I should apologize for remarks that he taped
and is playing for God knows who all. I'd like to. I've learned in my
old age to admit my mistakes, ask forgiveness and pray for God's power
to control my tongue. But what am I to apologize for here? For being
stupid enough to let an avowed enemy bait me into saying something he
knows very well I don't mean so he can use it against me and the
Pecos Enterprise? O.K., I'm stupid. I'm sorry I'm stupid.
And I'm sorry that people are being hurt by my stupidity.
But I'm going to tell you exactly what I told my lone friend over 31
years ago. "They'll just have to get used to me. I ain't goin' nowhere."
"My son, if sinners entice you, do not give in to them. If they say,
`Come along with us; let's lie in wait for someone's blood, let's waylay
some harmless soul; let's swallow them alive...throw in your lot with
us, and we will share a common purse,'..do not set foot on their paths;
for their feet rush into sin, they are swift to shed blood...they waylay
only themselves!"
EDITOR'S NOTE: Peggy McCracken is an Enterprise writer and editor whose column appears each Tuesday.
SQUARELY
PEGGED

By
Peggy McCracken
Colorful character
makes last roundup

Return to top
I had already picked up my purse and was reaching for the camera to
take pictures of my cousins (the new monkeys) at Maxey Park Zoo Friday
afternoon when I got the word that Raul Florez had died. The presses
were just revving up to run Friday's paper, so I quickly told our
managing editor, Jon Fulbright, to stop the presses and started calling
funeral homes and hospitals to get official confirmation.
The death of one who impacted this town, county and the state of Texas
so greatly is front-page news, and a reporter's first job is to get the
facts and get them in print. There is no time for tears at a time like
that, but they are flowing as I write this tribute to a longtime friend.
Raul first came to our no-bedroom apartment at the Airbase with his
card-playing cronies when we were skinny young rebels, childless and
carefree.
Our friendship continued as he worked part-time as a city cop, and I
read about him in the paper while he was a sheriff's deputy at
Balmorhea. One of his most famous cases as a deputy was a murder
committed by Ignacio Cuevas. Cuevas escaped from jail and fled to
Mexico, with Raul hot on his trail. Now it's illegal for an American
citizen to go into Mexico and bring back a fugitive, so for the record
he picked up Cuevas at the Rio Grande. But I have since thoroughly
enjoyed his tale of that horseback chase and capture in the mountains
of Mexico - without bloodshed.
Raul was one of the first people I encountered when I started making
the courthouse beat where he was a deputy under Sheriff A.B. Nail. He
was never out of the news for long, and I've written about him when he
was up and when he was down. He never refused to talk to me, no matter
how difficult the questions were for him. We hurt together the day he
was indicted on federal income tax charges after a long investigation.
He graciously let me interview him while the grand jury was still in
session so I could make the noon news at the radio station and scoop the
world.
Without such cooperation, this job would not be possible. Thank God for
the Raul Florez's of this world, who make life colorful and "copeful."
Raul was good at spinning tales, and you never knew how much to
believe. The one that is most quoted, and seemingly most ridiculous,
is that he was born under a mesquite bush. Although I'm told his family
was quite civilized, the question of his birthdate did puzzle me some.
He was my age when we met, but a few years ago he had to produce a birth
certificate for some reason and suddenly got a year younger.
I thought tears would blur my organ music at his funeral, but I did
fine until the Santa Rosa choir started to sing Un Dia la
Ves with love in their hearts and voices. I watched the faces of
mourners as they filed by the casket, and never have I seen a more
diverse group all in one room. That's what it will be like when we all
get to Heaven, where Raul and his law enforcement buddies, Melton
Rasberry and Joe Coleman, are chewin' and spittin' and tellin' tall
tales.
"He raises the poor from the dust and lifts the needy from the ash
heap; he seats them with princes..."
EDITOR'S NOTE: Peggy McCracken is an Enterprise writer and editor whose column appears each Tuesday.
SQUARELY
PEGGED

By Peggy McCracken
System of trust
fails on occasion

Return to top
People who know me best laugh when I say I am naive. But what else
would you call it when I hand out money to people who promise something
that never arrives? I've done that several times, and I am beginning
to suspect some others may have been burned by one of those same people.
Here's the background. A man I had been introduced to as a Baptist
preacher - and who had taught a Bible study at my church - came to town
last May selling city directories and advertising for same. I ran onto
him at the courthouse, where he was waiting to see Mike Harrison, and I
bought a business director for about $108, as I recall. He also came to
the Enterprise and sold our business manager an ad and a
directory. Here it is nine months later, and still no directory. I could
have had a baby by now.
Well, I hunted up my receipt so I could check with the company to see
when they planned to deliver my directory. Guess what? There was no
telephone number or street address on the receipt. So I called Lubbock information and was told that publishing company is not listed in
the telephone directory. Oh-oh. Then I found a card the salesman had
given me, listing a telephone number in Lubbock. I tried that number,
but the person who answered said she had never heard of the publishing
company nor the salesman. So I called Lubbock information again, this
time for the number of the salesman. No luck. Oh, Oh, Oh.
Next, I called the Better Business Bureau, but they had no information on the company. If I would write a letter detailing all the information I had, they would check on it. So I sent it and am awaiting a reply. I do not expect good news.
So I kissed that $108 goodbye. And if you gave that same salesman some
money or an order for advertising or directories, I'd like to hear from
you.
This country runs on trust. Look at our stores. Everything (nearly
everything) is sitting right out in plain view, accessible to anyone who
walks in. We walk through the store, pick up what we want, then queue up
at the cash register to pay for it. And we may pay with paper money that
our government stands behind, a check that our bank will honor, or a piece of plastic with numbers on it.
Most of the time the merchant gets his money. And in turn, he orders
merchandise from the manufacturer or wholesale distributor, promising to
pay them sooner or later. The manufacturer may have borrowed money from
a bank or investors to build his plant and buy raw materials to make the
goods. And the bank borrowed the money from you and me in the form of
deposits. What goes around comes around.
"The prudent see danger and take refuge, but the simple keep going and
suffer for it." Proverbs 27:12 NIV.
EDITOR'S NOTE: Peggy McCracken is an Enterprise writer and editor whose column appears each Tuesday.
SQUARELY
PEGGED

By Peggy McCracken
City council beat
is one of the best

Return to top
Dr. Ed Schmidt was mayor when I started covering Pecos City Council
meetings 23 years ago this month. Last week I was put back on that beat,
where Dot Stafford is now mayor. In the interim, we've had six mayors -
one of them twice.
I don't know if you can tell it from the stories, but city council is
the most pleasant beat any of us has. That group gets along together
well, and they work well with the city manager and department heads,
with a few notable exceptions through the years.
During Thursday's meeting, Mayor Stafford and councilmen joked and
poked fun at each other and the staff, all the while tending to business
in a professional manner. And they didn't waste any time. As I recall,
the meeting lasted about an hour, which is short for any government
entity.
Gerald Tellez kept his counsel to himself. Saul Roquemore made a
couple of motions, but otherwise had little to say. Danny Rodriguez
talked about a new basketball court in Maxey Park. Dr. Elvia Reynolds
questioned the wisdom of joining a coalition to fight a telephone
company rate increase without knowing how much it would cost. And Randy
Graham had some input on water and sewer rates. Nobody argued. Nobody
postured. Nobody threatened. City staff had research figures ready to
answer questions. Steve McCormick bragged on his $15 laser printers.
Armando Gil said the heavy, outdated printers would cost more in
landfill fees to throw away than Steve paid for them.
Scott Johnson offered his usual well-thought-out legal opinions. Doug
Cox had on hand information about vehicle prices, and Octavio Garcia was
ready with answers about water and sewer rates. Troy Moore and Jack
Brookshire sat on the back seat and held their tongues.
My it was nice. I didn't get much time for introspection, but I did
notice the pictures of former mayors lining the front of the council
chambers. "Doc" Rhodes preceded Dr. Schmidt. "Doc" was one of my
early-day bosses (for two short months) at the electric company.
Bill Pigman worked at the electric company at that time, too. He
followed Dr. Schmidt as mayor, and then went to the courthouse as county
judge. We clashed mightily, but parted as friends. The next mayor, Bob
Bickley, is one of the first people I met upon moving here in 1953,
because my husband worked for him at the cottonoil mill. He was a good
mayor and remains a good friend. Then Bill Hubbs. Ah, Bill. Frank
Sanchez squeezed in one term between Bill's two, then Marilea Parsons
and Andrew Hernandez served one term each.
"A gentle answer turns away wrath, but a harsh word stirs up anger."
Proverbs 15:1 NIV.
EDITOR'S NOTE: Peggy McCracken is an Enterprise writer and editor whose column appears each Tuesday.
Copyright 1996 Pecos Enterprise
324 S. Cedar, Box 2057, Pecos TX 79772
Phone 915-445-5475, FAX 915-445-4321
e-mail news@bitstreet.com