Archives Menu|||Home Page|||Go to 1997|||

COLUMNS 2
1995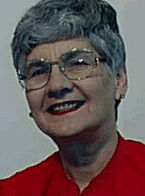 SQUARELY
PEGGED
By Peggy McCracken
Party fun ices cake
for reporter on the run
Return to top
I always wondered what goes on at cocktail parties, and now I know. I
attended my first one Friday night at Dick and Charlotte Slack's lovely
home. No, I didn't sip champagne, and I didn't pig out on caviar. My one
glass of club soda lasted the entire evening as I nibbled on fruit.
So why did a teetotaling Baptist go to a cocktail party? One, because I
like Dick and Charlotte, and two, because I wanted to meet the president
of UTPB, where I may complete my mass communications degree someday. It
never hurts to know the people at the top. And third, I needed an excuse
to wear my new red party dress.
Dr. Charles Sorber and his wife are nice folks, and I also met someone
familiar to us all, Mike Barker. A longtime anchor for Big 2 news, Mike
is public information officer for UTPB. His cute and friendly wife was
with him, and I enjoyed chatting with her about news and her Saturday
morning children's show on Channel 9.
Another familiar name I spotted on a name tag was Ernest Epley. He was
a farmer here in the glory days, selling out and moving to California
just before the big bust in the 70s. He is married now to the former
Dorothy Dorr, and they live down the street from the Slacks. He told me
about his daughter who works for Gov. George Bush in Austin. If I
remember correctly, she is the same daughter who worked for President
George Bush in Washington, D.C. Ernest said he met the President during
his tenure and found him to be down-to-earth like us Pecos folks.
I knew most everyone else there and circulated around to chat a few
minutes with as many as I could get to. Even hugged Bill Weinacht's
neck. Several asked about that situation and how I am faring these days.
I am fine, thanks. Maybe a little melancholy at times because of the
fallout. But I bear no ill will toward Bill for his political
maneuvering. It's all part of the job. In a town this small, it would be
impossible to avoid anyone, so it's best to just keep smiling and
trucking along.
My work as a reporter makes me welcome just about any place I care to
go. Well, maybe I'm not too welcome at some of them. Farm-type stuff,
livestock shows and weather reporting require jeans and boots. Federal
court requires business dress. Social functions require dresses and high
heels. Some days they all happen at once. Like a preacher I once knew, I
wear out my clothes changing them between functions. It's all fun, but
maybe I shouldn't enjoy it too much.
"He who loves pleasure will become poor; whoever loves wine and oil
will never be rich." Proberbs 21:17 NIV.
EDITOR'S NOTE: Peggy McCracken is an Enterprise writer and editor whose
column appears each Tuesday.
SQUARELY
PEGGED

By Peggy McCracken
Going back to roots
keeps heart in tune

Return to top
Is there really such a place as Flomot? Barbara Armstrong asked me that
question last week, and I suspect a lot of other people wonder the same
thing. Few people have even heard of it, much less traveled through
there.
You wouldn't accidently drive through Flomot. It's not on any beaten
path, and you have to hunt to find it. My sister, Gail, wrote a few
weeks back that a tornado had been reported on the ground headed for
Flomot, but she didn't know if it hit or not. Not that it would have
mattered much.
The only businesses left are a gin and an insurance agency that doubles
as a post office.
But Flomot is very much alive. Each week, the Valley News
has more Flomot personals than do Quitaque and Turkey. The "Do Gooders"
club reports every facet of their last meeting, right down to the color
of the napkins and the flavor of the punch. John Smith went to Lubbock
Monday to visit Joe Jones in the hospital. Weather observer Jane Jacks
says it rained .70 inch over the weekend. Farmers say they need more
rain. (Names have been changed to protect the innocent.)
I look forward to reading that little paper every Saturday, and I turn
to the Flomot news first.
It's good to keep in touch with your roots. Even when the news is bad,
like it was last week when I read the obituary for my high school chum,
Joan Turner Bradford. I tried to visit Joan when I was in Amarillo in
April, but I couldn't remember her last name and couldn't find anyone
who did. "I'll call her brother in Lubbock and try again next time," I
thought. I should have tried harder.
Joan was our champion joke teller. She could regale us for hours with
one joke after another. Some pretty colorful. She taught me to smoke;
took me to my first nightclub, then harbored me for the night when it
got too late to go home; entertained me with lively piano music;
introduced me to mayonnaise; and double-dated with me and my future
husband. Joan's dad died when she was young, and she took a job as a
waitress when she and her mother moved to Tulia before graduation. I
would stop in to visit with her whenever we went through. She stopped in
Pecos to see me when she was working in Midland. She still loved to
dance, and I suspect that helped wear out her hips. She was in a wheel
chair the last I heard of her. I'll bet she's put on her golden slippers
and is dancing all over God's Heaven.
"Let them praise his name with dancing and make music to him with
tambourine and harp." Psalm 149:3 NIV.
EDITOR'S NOTE: Peggy McCracken is an Enterprise writer and editor whose
column appears each Tuesday.
SQUARELY
PEGGED

By Peggy McCracken
Little `disaster'
gives best training

Return to top
I'm still trying to figure out how I got talked into being the public
information officer in Reeves County's disaster preparedness plan. The
thought of going to the site of a disaster leaves me cold. That's the
last place a reporter needs to be, getting in everybody's way.
I wrote that opening sentence two weeks ago after my first training
session. Since then, I got some hands-on experience at a real disaster
site, so now I'm a seasoned professional.
As I "got my feet wet" last Wednesday at the non-too-disastrous R&R
fire by giving three television news crews the grand tour and
summarizing what happened for their cameras, the question burned in my
mind: "What am I doing here?"
But I know it's important for someone who understands a reporter's
needs and is concerned about the community to be on hand to help. Each
official on the emergency management team has his own area to take care
of and doesn't have time to keep track of what everyone else is doing.
None of us wants to hamper rescue efforts, yet the world wants to know
every detail of what is going on. Where did the tornado (or chemical
spill, etc) hit? How many were killed and/or injured? How extensive is
the damage? Where are survivors being taken? Where can the homeless go
for shelter and meals? Is help available for cleanup?
Figuring I'd never be called on to give out information except in a big
disaster like a tornado that blows away half the town, I had it all
planned to stay in the emergency operations center at City Hall and let
my assistants handle the news conferences and on-site tours. I lined up
two ex-law officers to do that, because they've been to plenty disasters
and know how to handle themselves.
I still think that's a good idea, but I'm glad I got some on-site
experience myself so I'll know how to write my "standard operating
procedure" that is part of the emergency plan.
One assistant can man the media staging area, providing telephones,
computers, fax machines and copiers for reporters, while the other is at
the command post to give them a tour.
So I stay high and dry at the EOC, keeping an ear open for everything
that's going on, receiving information from the command post and
relaying it by computer to my guy at the media staging area. I get the
job done, but still don't get in anybody's way. Now isn't that clever?
At least it looks good on paper. I hope we never have to test it out.
"Sustain me according to your promise...do not let my hopes be dashed."
Psalm 119:116, NIV.
EDITOR'S NOTE: Peggy McCracken is an Enterprise writer and editor whose
column appears each Tuesday.
SQUARELY
PEGGED

By Peggy McCracken
Drag up a mesquite
and have a festival

Return to top
You gotta give the people of tiny Toyah credit! They took the Mesquite
by the thorns and made themselves a festival that could be the envy of
Dallas.
Coming up this weekend, the festival features a trail ride from
Balmorhea on Saturday, a mini-rodeo at Gary Ingram's place, a barbecued
steer to be cooked all night with mesquite wood, a skit, bingo and
vendors selling everything from fossils and rocks to mesquite bean meal.
The first-ever pictorial postmark for an event in Toyah will be offered
by the Post Office - "Texas Mesquite Festival Pictorial Postmark."
Postmaster Paula Sanchez said that Texas sesquicentennil stamp will also
be on sale.
Aiming high, Toyah Mayor Charlotte Waight invited George Bush (he
declined). I've been invited as a sort of consolation "notable," and to
sing an a capella solo at the 10 a.m. Sunday worship service in the park
- or somewhere. I don't think I could fill in for George Bush, and I
sure as heck can't sing like Kate Smith. But I may go, just for the fun
of it. I've never eaten mesquite bean jelly.
I did eat a few dried mesquite beans when I was younger. They make a
pretty tasty dessert if you're real hungry.
Berta Begay tells me that Charlotte Waight and Clara Bolling (two live
wires if ever I saw one) thunk up the festival back in 1991 s a means of
keeping the town going.
"In every vacant lot where once was the noise of a busy little town,
and in all four directions leading from Toyah - even in some yards - all
they could see was mesquite brush," Berta said. "Thus was born the idea
for a mesquite festival."
Berta's brother, Fred Sanchez, had started building the "Old West" town
now known as Mesquite Thorn, and "we combined the two for a go at it,"
she said.
Despite naysayers who claim the festival will flop, the town has made a
small profit each year, paying for a "baby" dummy for the EMT training
courses, an air conditioner for the senior citizens building, paid fees
to start a historical society and donated $500 to the Community Council
to use as needed.
"Better a dry crust with peace and quiet than a house full of feasting,
with strife." Proverbs 17:1, NIV.
EDITOR'S NOTE: Peggy McCracken is an Enterprise writer and editor whose
column appears each Tuesday.
SQUARELY
PEGGED

By Peggy McCracken
Turn in this paper
for another print job

Return to top
The newspaper you are reading may be printed on the same paper you read
last month. That's because paper recycling has taken off in a big way,
and nearly 50 percent of newsprint is made from scrap paper.
What a difference a few years makes! Recycling got bogged down just two
years ago because the supply of recycled goods outpaced the demand. We
had a recycling plant here that was going great guns until the market
fell to zip.
Recycling programs were so popular that school children, churches,
civic organizations and housewives everywhere were collecting paper,
cans and glass for the recycling bin. But few people were demanding
products made with those pieces of scrap.
It took foreign entrepreneurs to figure out they could make trash into
treasure for a profit. Then, some state governments - such as Texas -
require a portion of their budgets be spent on recycled products.
You can see the slogan "Buy Recycled" on market fairs and symposiums
hosted by the General Land Office, who also distributes free videos to
schools.
Commissioner Garry Mauro credits private industry for creating new jobs
and reducing the waste stream.
One is Champion International, who opened a de-inking plant near
Houston in 1993 to turn old newspapers and magazines into reusable
newsprint. Champion set up its own collection program with collection
bins in strategic places, including schools. Now the plant is running at
near capacity and saves 600,000 cubic yards of landfill space a year.
A great deal of money can be made in paper recycling, said Champion
spokesman Seth Jursman. Street prices for old newspapers are in the
$60-$80 per ton range, up from $30 per ton two years ago. Dealers are
reselling to processors for $90-$125 per ton.
Newspapers are pledging to use at least 40 percent recycled content in
their publications, and the estimated newspaper recycling rate in Texas
has risen to almost 50 per cent.
Another big seller is a lumber product made with recycled plastic and
cedar sawdust. Advanced Environment Recycling Technologies in Junction
takes 30-35 truckloads of plastic bags a month and mixes it with cedar
sawdust to make a durable material that can be made into windows, door
frames and decking material.
I'm real excited about our new recycling plant in Pecos. It'll take
awhile for them to get set up and start collecting, but it wouldn't hurt
for us to start today saving paper, plastics and aluminum cans. Chunk
this newspaper in the corner to get a pile going.
"My fruit is better than fine gold; what I yield surpasses choice
silver." Proverbs 8:20 NIV.
EDITOR'S NOTE: Peggy McCracken is an Enterprise writer and editor whose
column appears each Tuesday.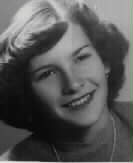 SQUARELY
PEGGED

By Peggy McCracken
Books beat basketball
in hard game of life
This is my real senior picture. I cried over the first batch, and the
photographer offered to come back for another sitting for Frances Jones
and me. Frances was our class valedictorian and a proper lady. She
insisted I wear the top to her grey two-piece sweater dress and pearls
instead of the bright green turtle-neck sweater I chose for the photo.
I've always regretted that I was too cowed to tell her I liked my
turtleneck better. Pearls and prim are not my style.
Senior year was a fun time, despite my lack of social skills. I played
basketball, of course. The smoking habit I picked up from my best
friend, Joan, had cut my wind and slowed me down, so I wasn't as good as
I wanted to be. We played some tough teams. Matador was always hard to
beat, and they put a tall, stick-tite guard on me that year that I just
couldn't shake. I liked to shoot from the outside and managed to make a
few from the top of the circle and some quick one-hand shots in a race
down the right side of the court, but I was really frustrated.
Years later, I learned that the other teams in the district were afraid
of us Flomot girls because we had a reputation for being mean and tough.
Us??? We thought they played dirty. We usually won our own tournament,
but I never made that coveted "All Tournament Team." My school did give
me an award that year as best all-around girl athlete, which came as no
surprise. I loved sports so much that the boys who chose up teams for
"just for fun" co-ed sports picked me ahead of some of the boys. The
only time they let girls play real baseball, I was sent to left field
where, I am sure, they thought I would be safe from any action. They
didn't know that my sports nut brother Walter had organized baseball
tournaments for us during the hot summers and I won my share of
one-on-one matches. The first batter up hit a fly to short left field
and I caught it, to the surprise of everyone but me. They were so
impressed, they let me bat first when we got the side out. The mound was
a lot farther away than our home diamond, and my buddy, Charles, threw
fast balls 90 miles and hour. So I struck out on the first three pitches.
Walter also set up a track in our front yard, complete with a sand pit
for high jump, broad jump and pole vaulting. We used a sucker rod from
the windmill for a pole. It didn't bend like the fiberglass poles do.
I also liked to run hurdles, high jump, broad jump and chin. Since I
was skinny, I could out-chin all the boys my age and some older ones. A
lot of good that does me now. I might have profited more from cracking a
few books and finishing first in academics instead of second. Nobody
ever asked to see my athletic medal when I applied for a job.
"Whoever gives heed to instruction prospers, and blessed is he who
trusts in the Lord." Proverbs 16:20, NIV.

SQUARELY
PEGGED
By Peggy McCracken
Reporting day's events
a matter of judgment
Return to top
If you look closely, you can see tinges of grey at the temples and
crown of hair in my cub reporter photo above. It was January 14, 1972
when I threaded teletype paper into an Underwood manual typewriter and
wrote my first story for the Enterprise. I never dreamed I'd
be sitting at the same desk 23 years later.
I only meant to stay long enough to get a little writing experience and
move on to greater challenges. That's a laugh. There is no greater
challenge than scrounging up the news and printing it over the
objections of the pitiful and the powerful. One of my first front-page
stories was about the pitiful: a 6-year-old burn victim who was also a
friend that I sat with in the hospital during the early morning hours of
that Monday.
Then I had to report for jury duty. I told my publisher, O'Ferrall
Pauly, that I probably wouldn't be picked, because I had just recently
served on a jury. But I was one of the lucky 12. Roddy Harrison was
district attorney, I remember. He was just as tough on criminals then as
he is tough on prosecutors now. I managed to retain enough facts about
the cases that I could write about them when I got back to the office.
And one of the witnesses, Police Patrolman Robert Diaz, became my first
"Is This Your Neighbor?" feature on law enforcement officers.
When O'Ferrall hired me, he told me to sit at the desk and use the
telephone in the morning to gather as much local news as possible for
the front page. That first week, I wrote a feature every day about a
different organization in the United Way. It was nerve wracking trying
to interview people over the telphone with a teletype machine clacking
just a few feet away, typesetting machines clacking in the composition
department and a press running in the back room.
I learned after that first week that life on a newspaper is not only
hectic, it is unpredictable. Our managing editor left and sports editor
Mike Ostreicher moved up to the desk, leaving me alone on the news beat.
Having all the offense reports, complete with witness statements, radio
log and accident reports set out in front of me at the police department
was intimidating. I hadn't the faintest idea what was news and what
wasn't; what we could safely print and what we couldn't. I learned the
hard way and am still learning.
As I took our "New Kid on the Block," Mari Maldonado, to the police
department and sheriff's office on her first day, I pointed out some
things to watch for. But as for what's news and what's not, I said,
"You'll just have to use your own judgment." That's really what
reporting is all about.
"The integrity of the upright guides them, but the unfaithful are
destroyed by their duplicity." Proverbs 11:3, NIV.
EDITOR'S NOTE: Peggy McCracken is an Enterprise writer and editor whose
column appears each Tuesday.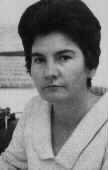 SQUARELY
PEGGED

By Peggy McCracken
Editorial desk puts
smile on back burner

If I look super serious in today's photo, it is with good reason.
O'Ferrall Pauly snapped this pose on my first day as managing editor of
the Enterprise in 1973. That was a job I didn't want, didn't
like and got out of as soon as I could - twice. I'd been a cub reporter
only eight months when O'Ferrall hinted he might promote me to the desk,
which had suddenly become vacant. "No," I said. "I have no ambition to
be a managing editor. I came here to get some writing experience."
But because my being here in the first place resulted from prayer and a
conviction that God was leading, I felt I could not arbitrarily decide I
would refuse a promotion. Turns out, as it always does, that God knew
what he was doing. I learned more about good and bad writing by editing
other people's copy than I would have as a writer. But did I ever goof!
The first time O'Ferrall left town and I put out the paper by myself, a
story about colored condoms donated to African men to slow population
growth wound up above the fold on the front page - a spot reserved for
really important news. O'Ferrall got the word before he got home, and he
was apoplectic. I explained that it wasn't intentional; it was just my
incompetence in dummying a page and making copy fit that caused that
embarrassing story placement.
I guess that experience and others like it have helped me be
understanding with anyone starting a new job, whether it be in private
enterprise or in a public office. Every year at election time we get new
people in various offices: city council, school board, hospital board,
housing authority board, county administration and judicial offices. And
every year we see a new crop of mistakes; some even worse than colored
condoms on the front page of the newspaper.
It's our job to point out those mistakes, but I prefer to do it
privately first to encourage better government - not to hinder it. Often
those talks do result in improved performance. Sometimes they don't, and
we have to write a few stories to let the public know what's going on.
Nobody is ever happy about being written up if it's not good news. And
it gets harder and harder for me to do it.
Maybe if that managing editor spot comes open again, I will put my name
in the pot. Editing other people's stories and writing headlines might
not be so bad after all.
"Remember your word to your servant, for you have given me hope. My
comfort in my suffering is this: Your promise renews my life." Proverbs
116:49 NIV
EDITOR'S NOTE: Peggy McCracken is an Enterprise writer and editor whose
column appears each Tuesday.
SQUARELY
PEGGED

By Peggy McCracken
Early detection gives
new life to old mom

Return to top
It's been more than 20 years since my sister's husband divorced her and
left her to raise five children on a teacher's salary. I've seen him
twice in those 20 years - at my parents' funerals. So when he called one
Monday night two months ago, I knew it wasn't just to chat. Sister had
colon cancer, he said, and was due for surgery on Wednesday in Amarillo.
It wasn't life threatening, but she was pretty upset, and her daughters
were with her as she prepared for surgery.
He told me that he had just talked with one of their daughters, and
Sister was not in any mood to talk, so I called my Heavenly Father to
ask for His help in the crisis. As I continued throughout the week to
lift her up in prayer, I knew she would be fine. On Saturday, I called
her daughter for an update. Surgeons were able to remove all the cancer
without damaging the bowel and she wouldn't even have to have
chemotherapy nor radiation. "Thank you, Lord." Friends and family had
visited so often that Sister was tired and needing rest, so I waited
until Tuesday to call her in the hospital. We gabbed for nearly an hour,
my phone bill tells me. She was in good spirits and would go home the
next day. Her youngest son, a coach in Plainview, was playing Mr. Mom
and would stay with her a few days.
Sister wrote last week, sending photos of herself in her gift pajamas
before going into the hospital and in her living room after recovery.
She walks two miles a day, plays tennis and swims with her red-headed
grandson. It was a strenuous game of tennis that caused the cancer to
start bleeding and alert her to its presence before it spread. When she
got the diagnosis, Sister pulled out her medical encyclopedia and
researched colon cancer. She found that it is the second-leading cancer
killer. But if caught early, it is among the easiest cancers to beat -
with a 92 percent cure rate.
The problem is, doctors aren't doing colon examinations routinely. I
don't know why that is. Up until I had a hysterectomy, I had a pap smear
every year as a precaution. Maybe now I should consider other areas. I
did visit the Texas Department of Health booth at the Reeves County
Hospital health fair a few years back when they offered free
examinations that detect blood in the stool. But doctors have a lighted
tool that does a more thorough examination. Maybe I will visit one of
our excellent local doctors someday soon.
Better safe than sorry.
"Above all else, guard your heart, for it is the wellspring of life."
Proverbs 4:23 NIV.
EDITOR'S NOTE: Peggy McCracken is an Enterprise writer and editor whose
column appears each Tuesday.
SQUARELY
PEGGED

By Peggy McCracken
Break from workplace
renews spirit & body

Return to top
Blowing dust, pollen and even some rain greeted me on a trip "back
home" last week to bury my mother-in-law and renew friendships.
You met Lockwood McCracken through my column last Thanksgiving when she
baked us a chocolate pie. Her 87 years were telling on her then, and she
finally gave it up after burying her youngest brother three weeks ago.
On my way to Quitaque for the Monday afternoon funeral, I stopped in
Slaton for the night with my longtime friend, Doris Hudnall. How nice to
catch up on family news, play the violin with 92-year-old Raymond Sanner
and attend church.
Quitaque has changed little, despite its spreading fame as the gateway
to Caprock Canyon State Park and the first rail-to-trail park in Texas.
The caprock is still breathtakingly beautiful, even in the rain.
After the funeral, I headed up the caprock toward Silverton and Tulia on
my way to Amarillo to visit my sister who recently had cancer surgery.
She is recovering nicely, and we walked around the Amarillo High School
track or in a mall every morning and evening. Stopped in some shops at
the mall, where I found a just-right party dress (now where will I
party?), Easter togs and fall pretties on half-of-half racks. I sat on
my glasses, which were on their last legs anyway, so I got new ones
while there.
On the way home, I stopped in Tulia to visit my school buddy, Charles
Tanner. His doctor discovered a spot on his lungs just after I last saw
him at the Flomot homecoming two years ago. They nearly killed him with
chemotherapy and radiation, but got the cancer. He is gaining back some
of the 55 pounds he lost and looks great. I am so glad I stopped.
My last stop was in Midland, where I dropped in on Brenda Virgin at her
oil company office. She was our photographer and darkroom tech during
one of my stints as managing editor. Still in the photog business part
time, she is taking a photography course at UTPB while working on a
degree in mass communications. Her black-and-white photos of a well
completion are neat!
Arriving home late Friday, I managed to drag out of bed in time for the
health fair Saturday. There I learned I am 10 pounds overweight. That's
O.K. I was going to trim down anyway to fit into the high-fashion togs I
bought.
Back issues of the Enterprise and Standard-Times prove
life went on without me. It's great to know we're not indispensible. But
why didn't someone open my mail?
"Shout with joy to the Lord, all the earth, burst into jubilant song
with music..." Psalm 98:4 NIV.
EDITOR'S NOTE: Peggy McCracken is an Enterprise writer and editor whose
column appears each Tuesday.
SQUARELY
PEGGED

By Peggy McCracken
Tiptoe through tulips
along Texas highways

Return to top
Driving Texas highways last week, I saw sand curling up into the sky
and drifting across the road; CRP fields burned to a black nub; dry
grass and weeds along the barrow ditches; but few wildflowers.
Rain and snow that normally give the ground a good soaking during the
winter and spring have been scarce in West Texas this year. But if you
are planning a trip south and east, you might run onto some bluebonnets
along the way.
If you do, pick a bouquet for me. But be careful. Although there's no
law against picking our state flower, landowners are wary of
trespassers. Do your picking along the highway right-of-way to avoid
possible charges of criminal trespass on private property.
There are laws against damaging or destroying rights-of-way and
government property, so it's ok to pick a few flowers, but don't dig up
clumps of them and don't drive over them, the Department of Public
Safety warns. Mother Nature and in some cases your fellow Texans have
scattered wildflower seeds along highway medians and ditches so everyone
can enjoy the spring flowers.
There are laws against impeding traffic, so be careful about slowing
down to enjoy the view. Pick areas with light traffic conditions for
stopping.
If you can't find a paved parking area, park off the roadway, off the
improved shoulder, parallel to the road in the direction of traffic, on
the same side of the road that the flowers are on. Don't walk or run
across lanes of traffic to get to the flowers.
Obey signs that prohibit parking on particular stretch of roadway.
And remember that in addition to a ticket, snakes and fire ants could
also put more blue in your day than you bargained for.
I stopped at one of the many roadside parks Texas provides as I topped
the caprock between Quitaque and Silverton. Stepping to the barbed-wire
fence, I took color photos of the caprock and Quitaque Valley, which is
always breathtaking. Rattlesnakes abound in those hills, so I always
watch my step.
"(The LORD) covers the sky with clouds; he supplies the earth with rain
and makes grass grow on the hills." Psalm 147:8 NIV
EDITOR'S NOTE: Peggy McCracken is an Enterprise writer and editor whose
column appears each Tuesday.
SQUARELY
PEGGED

By Peggy McCracken
Dying made difficult
in technological world

Return to top
Can there be anything harder than watching a loved one die?
Fortunately, both my parents died peacefully in their sleep and I didn't
have to see them languish in pain. But I was visiting with a friend when
she suffered the stroke that resulted in her lingering death. Because I
had accepted the responsibility for her business affairs, I followed the
ambulance to the hospital and got her admitted. I gave the nurses her
living will, which stipulated they were not to use artificial means of
keeping her alive. But when she lapsed into a coma, they told me they
had to feed her through a tube because it is illegal to starve a person.
I have mixed emotions about that, but the Choice in Dying
people have cleared up some of my questions. For one thing, it is not
painful to go without food, to die from malnutrition or dehydration,
they said. Dying people often feel little or no hunger or thirst, and
tube feeding can do harm rather than good. Robert Sullivan, M.D., of
Duke University said in a 1993 article that a person who has stopped all
food and fluid intake is unlikely to experience pain and warns that
administration of small amounts of food or even the dextrose found in
many IV solutions can rekindle a sense of hunger.
Whether Texas law requires tube feeding I do not know. But the U.S.
Supreme Court and leading medical organizations all agree that tube
feeding constitutes medical treatment that patients can accept or
refuse, just as they can decide on ventilators, surgery or antibiotics.
Maybe there are times when tube feeding is necessary, such as cases of
severe burns or an obstructing tumor that keeps a patient from
swallowing. But what gain is there for a person who has no chance of
surviving and living a useful life? In my book, it would be better to
let nature take its course.
My friend suffered terribly during her final days, gasping for breath
and undergoing several lung aspirations that I'm told are quite painful.
I'll always wonder if the tube feedings prolonged the inevitable and
increased her pain.
I have ordered a book offered for review by the Choice in
Dying organization and will share more with you when it arrives.
"There is a time for everything, and a season for every activity under
heaven: a time to be born and a time to die..." Proverbs 3:1-2 NIV
EDITOR'S NOTE: Peggy McCracken is an Enterprise writer and editor whose
column appears each Tuesday.
Return to top
Copyright 1996 Pecos Enterprise
324 S. Cedar, Box 2057, Pecos TX 79772
Phone 915-445-5475, FAX 915-445-4321
e-mail news@bitstreet.com