Archives Menu|||Home Page|||Go to 1997|||

COLUMNS 1
1995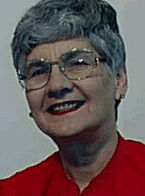 SQUARELY
PEGGED
By Peggy McCracken
Church notes 50 years
with Sunday programs
Return to top
I gave the Toyah Mesquite Festival some publicity last week, and I
would be remiss if I slighted my own church this week. We'll be 50 years
old Thursday, and we're celebrating Sunday.
"We" is West Park Baptist Church at Sixth and Eddy Streets where I have
been a member for 36 years. While on my three-week vacation just ended,
I wrote, printed and bound the history of that 50 years. That was almost
a full-time job for over a week, but it was a worthwhile project. No, I
didn't wait until the last minute to start. I've been working for over a
year to bind bulletins and get historical materials in order so I could
do the research. And I actually started writing about six months ago.
There's nothing like a deadline to get you seriously busy.
West Park was organized July 27, 1945 in the Pecos Theater with 63
charter members. To date 2,771 people have either been baptized or
joined by transfer from another congregation. We only have about 150
resident members, but looking at the names of all those 2,771 people
makes me realize that we haven't been standing still.
I remember many of the faces that go with the names, and I hope some of
them will attend the special services Sunday. One of our "preacher
boys," Jim Daniels, will deliver the morning sermon. Jim was just a kid
when he came to Pecos, and it's hard for me to think of him as a mature
business man and preacher. He is pastor at Barstow. Then Jimmy and Lana
Watson will sing. Lana is the daughter of Mack and Billie McCormick,
longtime members now pastoring at North Temple.
Although they're filling important spots in the worship service, Jim,
Jimmy and Lana would be the first to tell you they're just plain folks,
neither better nor worse than the average Joe. The only difference in a
Christian and a pagan is that the Christian has had his sins forgiven
and the pagan hasn't. I like to tell people that a church is not a hotel
for saints; it's a hospital for sinners.
We're going to spread out a big lunch in fellowship hall at noon, then
re-group in the auditorium for an afternoon program at 1:30. We'll share
stories about the "good old days" at West Park, sing a few songs and
just enjoy being together. Even if you're one of those pagans, come join
us. Jesus ate with sinners and it didn't hurt him.
"...there is rejoicing in the presence of the angels of God over one
sinner who repents." Luke 15:10 NIV
EDITOR'S NOTE: Peggy McCracken is an Enterprise writer and editor whose
column appears each Tuesday.
SQUARELY
PEGGED

By Peggy McCracken
Cantaloupe is treat
at home or on the road

Return to top
Getting ready to visit my son, David, and family while I was on a
three-week vacation, I loaded up my car with those golden, sweet Pecos
cantaloupes. Iced down so I wouldn't have to smell them on the five-hour
drive to Del Rio.
So what do I see when I go in the supermarket where my granddaughter
works in Del Rio? Carton after carton of Pecos cantaloupes off the same
dock where I bought mine. And they were selling at retail for less than
I paid right here at home!
Pecos cantaloupes are so famous that grocers can use them as "loss
leaders" to entice people into the store. A loss leader is a product
that retails for less than it costs wholesale, in case you aren't in on
the tricks advertisers use. Once you're in the store, of course, you buy
a whole bunch of other stuff, so the owner more than recoups what he
lost on the product that enticed you there.
I'm tickled to be from a town that has a product so good that everyone
recognizes it and wants it. My daughter even drove here from St. Louis
Mo. to get some cantaloupes. Well, she did have a 20-year class reunion
to attend, but I think it was the cantaloupes that sold her. She
indulged in them while here, then I sent her a gift pack the week after
she left.
"Indulge" is not quite a strong enough word for what I do with Pecos
cantaloupes. "Pig out" is more like it. I just crave them, and when
they're around I can't stop eating them. Mari brought some to the office
last week after writing a story about Roger Jones-and-partners farm and
packing sheds. She was nice enough to cut them up, and I was nice enough
to take them off her hands. And then suffered from over eating.
The next day, I walked up to Reza's Produce and bought two more
juicy-ripe melons for an afternoon snack. Everybody else had either just
eaten lunch or had work to do, so I had them all to myself. Oh, what
ecstasy!!! I did choke myself off after eating just one and took the
other home for a bedtime snack.
I hope someone sells cut-up cantaloupe, cantaloupe ice cream and other
goodies at the cantaloupe festival next weekend. I promise to bring a
pocket full of money and pig out some more. You have until August 9 to
rent a booth from the Pecos Chamber of Commerce. So get crackin'.
"He who tends a fig tree will eat its fruit, and he who looks after his
master will be honored." Proverbs 27:18 NIV.
EDITOR'S NOTE: Peggy McCracken is an Enterprise writer and editor whose
column appears each Tuesday.
SQUARELY
PEGGED

By Peggy McCracken
What's in a name?
Just call it hay barn

Return to top
I don't think he meant it as a compliment, but I took it as one when
Judge Royal Furgeson said my stories about the federal court are slanted
to Show my concern for Pecos.
What should I be concerned about - New York City? Maybe I wish
sometimes that I was anywhere else but here. But as long as my news beat
is Pecos, I am going to write what concerns Pecos people.
No, federal court is not really a Pecos entity. It serves 10 counties
in West Texas, so it belongs to them, too. And court officers, suppport
personnel and law enforcement officers who try cases here may come from
anywhere in the United States and its possessions.
I look forward to this winter when we will have a brand new building
just across the street. Despite Judge Furgeson's optimistic outlook,
though, I don't expect much to happen there. Most of the activity in the
past has been the daily magistrate court where misdemeanor cases are
tried and felony violators have their bond set, a lawyer appointed if
needed and hearings to determine whether to release them on bail or hold
them for trial.
Now it looks like we will be without the services of a magistrate here,
since very few arrests are made close to Pecos. Most federal cases arise
along the border where illegal aliens slip in or drug dealers smuggle
contraband. El Paso and Alpine magistrates will be handling those cases,
on Furgeson's orders. Maybe after the initial appearance, detention
hearing and preliminary examination, the case will be indicted and the
defendant brought to Pecos for trial.
I say "maybe" because I've heard these promises before. Our "full-time"
magistrate, Louis Guirola Jr., told me over and over that he would give
the Pecos court the same level of service it had in the past with a
part-time magistrate. Well, it didn't happen - with the end result of no
cases at all being filed here. Judge Furgeson says Guirola is not at
fault, and maybe he's not. Certainly not totally. But the case decline
started shortly after he took office Jan. 1, 1993 and dwindled to
absolutely zero. There has to be some connection.
As a matter of fact, the Alpine magistrate, Katherine Baker, predicted
that before the full-time magistrate position was created. She said the
full-time magistrate would be based in Midland; she would get all the
cases that had been coming to Pecos, and Pecos would be without a
magistrate. And over Judge Lucius Bunton's almost-dead body, that's what
happened.
Judge Bunton may be a little embarrassed now that we are trying to get
the new courthouse named for him. How does the Lucius Desha Bunton III
Hay Barn sound?
"A good name is more desirable than great riches; to be esteemed is
better than silver or gold." Proverbs 22:1.
EDITOR'S NOTE: Peggy McCracken is an Enterprise writer and editor whose
column appears each Tuesday.
SQUARELY
PEGGED

By Peggy McCracken
Brain cells lose power
but not by cell phone

Return to top
Whew! It's such a relief to learn that cellular phones don't cause
cancer. Or at least, nobody has scared up any credible scientific
evidence that they do, so a federal judge has thrown out the first civil
suit claiming damages for that.
David Reynard filed the lawsuit in January 1993, saying his wife had
contracted brain cancer from a cellular telephone. Susan Reynard died in
1992 and Reynard sued a manufacturer and a carrier. The ruling was
praised by the cellular phone industry, whose research has found no link
between cancer and exposure to cellular frequencies.
I don't use it a whole lot, but I feel like something is missing when I
forget to recharge my cellular phone battery and have to do without it
for a day. I was afraid to use it much for awhile after I learned about
the suit, and blamed it for my absent mindedness.
My short-term memory has gotten so bad I repeat myself over and over in
a conversation because I don't know what I've just said.
I opened my mail today to find a report on brain research. It doesn't
have anything to say about brain cancer, but it talks a lot about memory
loss. In normal aging, mild social stress can increase memory deficit,
it says. O.K., I've certainly been stressed. Loss of sleep also affects
memory. O.K., I've lost some sleep.
The study of genes and memory leads researchers to believe that the
creation of memory takes place when brain cell connections become
stronger at the instant they receive to-be-remembered information. Maybe
that's part of my problem. None of the information I get is
to-be-remembered. If it's something I'm going to need for a story, I
write it down as I hear it. Nearly everything else goes right on through
and out the other ear, apparently without even scratching the brain's
surface to leave a trace of memory.
But some things stick with us whether we want them to or not. Those are
the events that make a strong impression on us. You remember where you
were when you heard about the Oklahoma City bombing, don't you? I was
sitting right here at my terminal, writing up local news. When Jon
mentioned the bombing, I kept right on working. If it didn't happen in
Pecos, it's not on my beat. But I should have printed out the wire
stories to take with me to federal court that morning, because, of
course, they wanted all the details they could get.
I just forgot.
"There is no remembrance of men of old, and even those who are yet to
come will not be remembered by those who follow." Eccl. 1:11 NIV
EDITOR'S NOTE: Peggy McCracken is an Enterprise writer and editor whose
column appears each Tuesday.
SQUARELY
PEGGED

By Peggy McCracken
Feathers are flying
over guinea stunt

Return to top
I knew when I read in the Quitaque paper that they plan to drop guineas
out of an airplane at the National Trails Day celebration Saturday that
someone was going to squawk, and feathers would fly.
Randy Stark, grandson of my daddy's banker when I was growing up, is
organizer of the event that aims to strap a $100 bill to the legs of
three guineas, then drop them from an airplane flying 500 feet over
downtown Quitaque. Whoever catches the guinea gets the cash.
But the Amarillo-Panhandle Humane Society says that might be cruel to
the birds, the Associated Press reports. Does that sound familiar? They
tried that on television's WKRP, remember? Only it was turkeys they
dropped, and they can't fly. At least guineas can fly. And I'm wondering
if they might fly too far for the crowds to catch them - and their $100
bills.
Randy has Some misgivings about the people getting hurt while running
to chase them down, too. But he's not worried about the birds. They
already dropped two from a plane to make sure they wouldn't be hurt.

Saturday is the traditional day for fun in downtown Quitaque. Back when
I was waitressing at Daddy Gene's cafe, all the farmers and ranchers
came to town on Saturday to sell their eggs and do the weekly shopping.
Merchants got together one year and held a drawing every Saturday to
hand out silver dollars. The action took place right in the middle of
the street at the main intersection. Only intersection. It even had a
blinking light. I still have one of the silver dollars my father-in-law
won in those drawings. He was always winning something.
Quitaque was a bustling little city in those days. You couldn't find a
parking place all up and down the two-block street. It's coming alive
again since the state opened Caprock Canyons State Park in the hilly
country to the northwest of town and the trail up the caprock on the old
railroad bed. Thousands gathered the past two years for the trails day
celebration, which has been rated one of the top trail parties in the
nation. That's such beautiful country, I'd go to the party myself if I
liked crowds. They meet down at the old depot for speeches and potluck
spread on tables under the trees. Sounds like a lot of fun.
But I wouldn't want to be one of those guineas. Or Randy Stark either,
when the humane society gets ahold of him.
"Wisdom calls aloud in the street, she raises her voice in the public
squares; at the head of the noisy streets she cries out, in the gateways
of the city she makes her speech; how long will you simple ones love
your simple ways?" Proverbs 1:20-22.
EDITOR'S NOTE: Peggy McCracken is an Enterprise writer and editor whose
column appears each Tuesday.
SQUARELY
PEGGED

By Peggy McCracken
Common sense guards
gardener from misery

Return to top
Now the health police have gone and taken all the fun out of gardening.
"Wear a wide-brimmed hat as protection from the sun," they said. Heck,
feeling that sun on my face is one of the biggest pleasures of the
outdoors.
And they want me to wear light-colored and well-fitting clothes because
bright colors attract insects and loose clothes let them get to your
skin. I like my bright-colored clothes. And the looser the better in
this desert climate.
Closed-toe shoes with rubber soles prevent injuries from lawn
mowers and protect from insects. O.K., I buy that. But I think it
might be a little more specific. My Nikes have closed toes and rubber
soles. Would they keep a mower blade from slicing my big toe off? I
think not.
Then, if I want to handle chemicals, I have to wear goggles, gloves,
full-length pants and a long-sleeved shirt. By the time I get done up in
all that, I won't be able to walk, much less bend over to pull weeds.
And I know better than to spray into the wind, thank you.
I can accept the advice to leave off the perfume and scented hair spray
that attracts stinging insects, because they sure don't attract me.
Applying sunscreen is a bother, though, and the greasy stuff attracts
dirt faster than perfume attracts mosquitoes.
Before fixing equipment, turn off the motor. That's good
advice, which I haven't always heeded. And often I don't give the motor
time to cool off before I pour in more gas. If you see a puff of smoke
coming from South Park Street, it could be me refueling the lawnmower
while it's hot. I don't, however, smoke around my lawnmower or tractor.
Or car or anything else.
Probably the piece of advice I ignore the most is to avoid back
injuries by using tools with handles long enough to work without bending
over and by using a wheelbarrow to move oversized packages of fertilizer
or sod.
Just because I ignore this advice doesn't mean it's no good. I've
ignored good advice all my life, and I'm paying for it. So don't do as I
do, do as they say.
"I have considered my ways, and have turned my steps to your
statutes...I will hasten and not delay to obey your commands." Psalm 119:
EDITOR'S NOTE: Peggy McCracken is an Enterprise writer and editor whose
column appears each Tuesday.
SQUARELY
PEGGED

By Peggy McCracken
Courthouse stealing
takes modern turn

Return to top
Steel and concrete reaching for the sky across the street from the
Enterprise promises a new federal court building to be
occupied before the year is out.
At the same time, our federal court business has dwindled to nothing.
And it's not because criminals have retired. Customs and Border Patrol
agents are still catching them; they're just being turned over to state
courts where they get a handslap - or low bail and a wave goodbye.
Under District Judge Lucius Bunton, the Pecos court was busy, busy.
When he took senior status and semi-retired, Pecos once again became a
stepchild. In his 16 years on the Pecos bench, Judge Bunton badgered the
powers that be to spruce up the courtroom and federal offices, staff the
clerk's office, probation and pretrial, got an interpreter stationed
here, a full-time prosecutor and a full-time magistrate.
Those last two were the hardest uphill battles my favorite judge
fought, and they may have been the downfall of the Pecos Division. The
prosecutor, Linda Zeman, had her problems, and lack of a secretary
didn't help. After she resigned, the three prosecutors and two
secretaries in Midland haven't shown much interest in serving the Pecos
court.
Our $120,000-per-year magistrate comes here only when he has to.
Despite the fact his job is supposed to be full-time in Pecos, with some
duties in Midland as needed, he lives in Midland.
He had his Midland chambers remodeled, hired a law clerk and secretary
and ensconced himself there. Every chance he gets, he hears Pecos cases
in Midland, even when it means public defenders have to buy an expensive
plane ticket or drive all the way from El Paso.
DEA agents understandably refuse to drive to Midland from El Paso for
initial appearances before the magistrate, and they're reluctant even to
come to Pecos. With El Paso pushing to keep both our new district judges
there to handle their overcrowded docket, we are in danger of losing
Hudspeth County checkpoint cases to them. Chief Judge Harry Lee Hudspeth
and District Judge Royal Furgeson went so far as to petition the Fifth
Circuit to move the position from Midland to El Paso. They lost 10-5,
but they may win next time. If so, we could have a fancy hay barn across
the street, because we won't need it for court.
When I last saw Judge Bunton, he was so tired and discouraged, he could
have written this proverb: "I have done what is righteous and just; do
not leave me to my oppressors."
EDITOR'S NOTE: Peggy McCracken is an Enterprise writer and editor whose
column appears each Tuesday.
SQUARELY
PEGGED

By Peggy McCracken
Spinach pill fills bill
for healthful dinners

Return to top
Have you tried the new veggie pills that have hit the market? If
spinach makes you squirm or your cringe at the crunch in carrots, then
these pills are for you.
Even the federal government admits now that healthful eating includes
five to seven servings of fruits and vegetables every day, but a lot of
you out there aren't heeding the message. For me, I love raw fruits and
vegetables and have no problem at all getting my vitimins. Taking a pill
in their place is the last thing I would want to do.
But I do understand some people are hung up on meat and potatoes. In
fact, I can pig out on bread with the best of them. So here's what you
do if you are in the meat-and-potatoes group. Leiner Health Products has
shaken up the nutrition industry with Your Life Phyto-nutrients, which
are created from high-bred vegetables rich in phyto-chemicals.
Now, in case you don't know a phyto-chemical from bacteria, let me
explain. Phyto-chemicals occur naturally in fruits and vegetables. They
are the "new frontier in cancer prevention research," says
Newsweek .Supposedly phyto-chemicals take tumors and defuse
them, turning off the proliferative process of cancer.
Phyto, as we all know, is the Greek word for plant. Different plants
have different types of phyto-chemicals, I take it. Broccoli has
sulforaphane, which helps block the formation of cancerous tumors in
rats, a study by Johns Hopkins University shows. Lutein in spinach and
collard greens reduce the risk of blindness in the elderly.
Leiner fixed up three types of pills: spinach, broccoli and mixed
vegetables. If you can't find them in your store, call the
phyto-chemical information line at 1-800-41PHYTO weekdays 9-5 EST.
They don't say if the particular chemicals found in spinach and
broccoli can be obtained from other types of fruits and vegetables. But
to be on the safe side, I eat a little bit of all different kinds. Not
only does that ensure I will get some of each chemical, it keeps my
palate from getting bored.
Now, excuse me, I smell my vegetable soup cooking, and I'm hungry. Bon
apetit.
"The Lord does not let the righteous go hungry but he thwarts the
craving of the wicked." Proverb 10:3 NIV.
EDITOR'S NOTE: Peggy McCracken is an Enterprise writer and editor whose
column appears each Tuesday.
Return to top
Copyright 1996 Pecos Enterprise
324 S. Cedar, Box 2057, Pecos TX 79772
Phone 915-445-5475, FAX 915-445-4321
e-mail news@bitstreet.com