|
Daily Newspaper and Travel Guide
for Pecos Country of West Texas
Opinion
Tuesday, May 25, 2004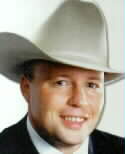 Sage Views
By Smokey Briggs
<!=====paste copy here==========================>
No income tax today,
no income tax tomorrow
Well, apparently, public education as we know it will end pretty soon because of fiscal neglect by our great state.
That is certainly the message we are getting from Austin.
Increasingly the shrill voice of the Austinocrats calls for more money for education and just as often they name a new and untapped well to plunder - an income tax. Personally I would be less embarrassed to sit in a church pew with a hung over boatswain's mate with Tourette's syndrome than next to someone foolish enough to suggest an income tax in Texas for any purpose - and especially as a funding method for public education.
First, taxpayers ought to treat state programs like investments. You put your money in and then you examine the result. If you lose money year after year with Smokey's House of Cool Investments, it is time to look for a new investment counselor. Public education has been a terrible investment for the taxpayers of Texas.
Since the 50s we have dumped increasing loads of cash in and gotten progressively poorer educated children in return.
We do not need to put more money into this hole. Instead we need a new hole.
Second, only a person absolutely devoid of common sense could think that a new tax will fix the problem.
In Lala land where the Austinocrats live a new tax is imposed, the money is used to enhance education and all the world's problems are solved.
In Reality land where taxpayers live a new tax is imposed and for less than a year the money actually goes for what the politicians promised us it would go for.
Then there will be a budget shortfall and Representative So-n-So will manage to carve a little out of your income tax for this, and then a little for that.
At the same time the legislature will be raiding the tax moneys that used to fund education.
In the end we will end up with low teacher salaries, overpaid administrators, graduates who cannot read, Astroturf and another tax.
We don't need the tax and we already have the rest.
Third and last, even if the legislature let a little extra money trickle down to school districts it would go for anything and everything but teacher salaries.
Here is the root of the problem. We keep upping school budgets but teacher salaries don't go up.
There is one way, and one way only, to fix what is wrong with our educational system.
The good thing is that it is an easy fix. The bad thing is that no politician since Teddy Roosevelt has the moxy to suggest it.
All we need to do is pay teachers like we really give a happy hoot if they do something other than show up sober. Then we need to give those teachers the ability to flunk students with no repercussions from parents, administrators, or the politically correct police.
Some students would fail. The rest would learn - a lot more than they are learning today.
Maybe then we could take a few steps away from the professional babysitting service we have been turning public education into for fifty years and take a few steps toward a worthwhile goal - graduating young men and women with a useful knowledge of history, language, art, math and science.
Without taking these two simple steps King Midas himself could not help public education.
An income tax certainly will not.
Your View
Relay for Life was a big success
Dear Editor,
I would like to thank the people of Pecos for making this year's Relay for Life a huge success. We held our Relay at a new site and everyone was a bit apprehensive to begin with, but all the feedback has been very positive. If you did not attend the Relay, you missed out on lots of fun, games and prizes. I would like to invite everyone out to participate in next year's Relay. The people of Pecos have always been extremely generous when it comes to the American Cancer Society and this year was no exception. We were a little short of our goal but with the economy in Pecos the way it is, I feel that we did very well.
Without the people and businesses, this year's Relay for Life would not have been the success it was. I would like to thank them for all they gave and did.
Through their efforts we had a wonderful Relay and look for to working with them next year.
Sincerely,
Teresa Winkles 2004
Relay for Life Chairperson
What happened to the once proud
Texas Department of Transportation
Several "Rest Areas" have been closed across Texas Highways stating that people could stop in town for rest areas and that would increase town trade. This was reported as such by K.MID TV, and one Midland, Texas Highway Department employee; this causes drivers to cross over another road and it increases accidents and they have occurred. Some businesses have put up signs, no truckers allowed. Where are our Safety minded leaders?
Could it be they had rather bow to special interest groups and beautify the city areas; which is good but only after safe road conditions are excellent.
On the 120 the US Hwy 285 crossover is high on the overpass are which has caused some accidents. One might ask did the deadly design happen so that a land owner could sell four More business sites (no business were there until after Construction of 120).
It is estimated it cost about $89,000, to convert a "Picnic areas" to a "Rest Area" that's a low cost sighting one accident can cost millions of dollars and we all pay either way. What could the Texas Department of Transportation leaders be thinking?
Consider the road damage from trucks. could this be poor construction and Highway Department inspectors not being on the job when road fill was poorly compacted?
Some of us could think that trucks cause road damage but remember 120 and others were justified fifty years ago for heavy military use across our country. It just seems that Texas is ashamed of the fuel tax for road use because it is unlawful to post fuel tax at fuel stations.
For trucks using diesel fuel the State and Federal tax is $0.44 per gallon while gasoline tax is $0.38 per gallon. Cars pay about $0.03 per mile on all taxes and diesel transports pay about $0.127 on all taxes. Truck life cost was based on one million miles while driving 200,000 miles per year total for one year is $25,501. Car tax using a four year life at 50,000 miles per year, tax would be $1,611. per year.
Truckers have the best driving record per mile but they need to improve along with those of us that drive cars. We all could help by being curtious to each other and consider reporting out law drivers of cars and trucks.
I hope all this helps our attitude between car and truck drivers and increases space between trucks.
Taxes used was fuel, License, purchase tax, tires, oil and etc.
All taxes were prorated on the per year basis trucks at 200,000 miles and cars 50,000 miles.
CLARENCE OSTER <!==========end copy==================>
---
---
Pecos Enterprise
York M. "Smokey" Briggs, Publisher
Division of Buckner News Alliance, Inc.
324 S. Cedar St., Pecos, TX 79772
Phone 432-445-5475, FAX 432-445-4321
e-mail news@pecos.net
Associated Press text, photo, graphic, audio and/or video material shall not be published, broadcast, rewritten for broadcast or publication or redistributed directly or indirectly in any medium.
We support Newspapers in Education
Copyright 2003-04 by Pecos Enterprise
---