|
Daily Newspaper and Travel Guide
for Pecos Country of West Texas
Opinion
Tuesday, May 11, 2004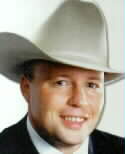 Sage Views
By Smokey Briggs
<!=====paste copy here==========================>
Housework would be
different if men stayed home
I am going to be in the doghouse for a long time when She-who-must-be-obeyed reads this.
I know the consequences, and yet I write. I was in the doghouse the other day anyway. It takes me weeks to make the journey from doghouse-dweller to full-blown house privileges. That means I have spent most of my married life somewhere in between the kennel and the back door. Why was I in trouble?
Well, apparently, after 12 or 16 hours of rock-solid labor at the salt mine that is the newspaper business I came home. I kissed my darling children, attempted to kiss my wife, found a cold beverage made of quality hops and such, and flopped down in a chair out back.
I was beat.
Apparently, what I was supposed to do was come in, kiss my children, bow humbly to SWMBO and immediately begin washing dishes or mopping or something.
Apparently, a full day of watching a three-year-old and running a six-year-old to school and back had wiped out her reserves. After this was meticulously explained to me I drained the last of my beverage, smiled and said, "Come on baby. How hard can it be to watch to darling little girls and bake a cake and fry a few pork chops? Grab me a brewski will ya?"
Okay, apparently that was not the right answer.
Sometimes, however, I do not read the situation correctly. When SWMBO hustled into the house I figured she was hurrying to fetch the beer as a sign of appreciation for the long hours of toil I had put in. Again, I was wrong.
Days later, as I worked my way from doghouse to back porch, I was informed that SWMBO's day consisted of a bit more than washing a few breakfast dishes and getting some pork chops out to thaw.
"Why?" I asked innocently. Again, probably the wrong question. The list of drudgery was long. Very, very long.
Listening to it made me tired.
I will not bore you with the details but folks, let me tell you one thing - the life of a stay at home parent would not be drudgery if men did the staying at home.
If you notice, men do very few things that are not fun. SWMBO impolitely attributed this fact to the inherent laziness of the male members of the species.
She is wrong.
Men are performance oriented. Men know that when you enjoy your work it is no longer work and hence you will be more productive. We are also champions when it comes to setting priorities.
Men are also problem solvers. It's just part of our nature.
Seeing a problem, I decided to fix it.
So, I set about establishing priorities for SWMBO and then creating a better work environment for her to accomplish these priorities. To do so I simply put myself in her shoes for a day (mentally of course).
The list was short. Top priorities turned out to be food, drink, improved marital relations and then the house and kid stuff.
When I had a plan, I made my presentation.
To accomplish the top priorities on a daily basis I suggested we always get out a package of pork chops to thaw in the morning and check the beer cooler at the same time.
Second, in an effort to improve marital relations I made a few wardrobe and makeup suggestions - kind of a daily uniform. I even had some rough sketches.
The result was a sensible cross between the always-stylish French Maid outfit and a belly dancer's costume.
You know, stylish but sensible. Okay, top priorities out of the way, it was time to deal with the other stay-at-home-stuff that seemed to be ruining SWMBO's day.
The solution was simple. When confronted with an onerous task, men use their intellect and create/buy a tool. It is why mankind is now at the top of the food chain.
What she needed was a nice selection of tools, ropes, nets, power-things and such - along with a simplified approach to chores.
My number one suggestion was that we rip out the carpet and hard wood floors and replace with concrete complete with a drain in the middle.
Goodbye vacuum and wax, hello fire hose. With just a little common sense and the application of a few mechanical advances, cleaning house, washing dishes, bath time and just about everything else could be accomplished in less than half an hour.
Leaving plenty of time for the frying of pork chops and maybe checking her lipstick and other top priorities.
By my figures she would have 6.5 hours totally to herself so long as we installed the giant out-door, padded playroom with overhead netting to solve the childcare/time issue.
Unfortunately, I did not get to finish my presentation. I was cut short.
Actually, I think I was almost cut.
No matter, it cannot be said that I did not try or that I do not hold up my end of the bargain that is marriage.
The horse was led to water. The rest is up to the horse. In the mean time I still do not see why I am supposed to work like a rented mule all day to come home to a heartless foreman with a punch list.
Well, I'll sign off now. The battery is running low in the computer and the extension cord does not reach all the way out here to the kennel.
Education "incentives" experiment would reward
few, leave most students and teachers behind
By State Representative Pete P. Gallego
The challenge of providing a fair and reliable source of funding to support excellence in our public schools is too important to be left to partisan politics or special interests. Governor Rick Perry's so-called "incentive" plan fax teacher pay does not meet the challenge.
Governor Perry's "incentives" effectively punish the majority of teachers and students by offering only enough funds to reach 40% of teachers, leaving 60% of them behind. No other money is allocated for salaries, though Texas teacher pay is $5,035 below the national average and dead last among the 15 most populous states.
"Incentive" funds would be distributed to teachers based on campus achievement on standardized tests, even though test performance cannot be attributed to any one teacher Test scores are good accountability measures for the system, but they may say more about our kids than about our teachers. Scores can vary due to factors other than teaching ability - such as a child's home environment. Governor Bush, whose administration started the current accountability system, didn't want to base all education decisions on test scores. In truth, he was right. Test scores should measure progress - not mete out punishment.
Perhaps most troubling is that Texas tried "incentive pay" in the 1980's. The system failed miserably. The prior effort, known as the "Teacher Career Ladder," also attempted to distribute insufficient funds among teachers, just like the current proposal. Because the career ladder had only enough funding to reward a limited number of teachers, many good teachers who "earned" career ladder money did not receive it
This process pitted teachers against administrators and teachers against teachers, providing a powerful lesson why incentive pay should only be discussed after all teachers are adequately paid and health insurance is fully funded. Teachers rightly hated career ladders and the political fallout was felt by the Governor and legislators in the 1986 elections. If it didn't work before, why do we expect it to work now? As a matter of principle and common sense, education funding should not be tied to a system that leaves 60% of our students and teachers behind. The "incentive" concept works in a competitive business environment where a person who gets an edge competes to keep that edge for his or her own profit. But in a school, the knowledge and skills that provide that edge must he shared. A great teacher should create other great teachers, so all our children can benefit. That takes cooperation - not killer competition.
As we work to develop a better school finance system while providing property tax relief, we must listen to teachers, principals, parents and school administrators - we can't afford to give a blank check to partisan 'think tanks" with an agenda other than our kids, if the Legislature listens to the folks it is supposed to listen to, we'll find ample evidence that "incentive" or "merit" schemes do not work.
For two decades, Democrats and Republicans have listened to those who know how education works. In a bipartisan effort, legislators raised state standards, provided accountability, and enacted programs that place qualified teachers in a positive learning environment. This precedent could be changed by the "incentive" proposal supported by the Governor and some legislative leaders.
Sure, there is talk of bipartisanship, but actions of the state leadership speak of something else. Governor Perry went to the Bahamas to discuss education with right-wing activist Grover Norquist and millionaire private school voucher proponents. The, Governor was willing to take a big political risk in order to make the trip with Mr. Norquist. Clearly, Mr. Norquast has the Governor's ear.
On May, 26 2003, this same Mr. Norquist told the Denver Post: "'We are trying to change the tones in the state capitals - and turn them toward bitter nastiness and partisanship. Bipartisanship is another name for date rape." an May 25, 2001, he told National Public Radio: "I don't want to abolish government- I simply want to reduce it to the size where I can drag it into the bathroom and drown it in the bathtub."
Texans expect legislators to find a fair way to support our schools and continue the bipartisan progress we have made in public education. Let's build on our successes, concentrate on things that work, and leave behind things that don't. Our kids lose - and we all lose - if we drown our educational progress in the bathtub.
State Representative Pete P. Gallego is a Democrat from Alpine, Texas, represents House District 74, and is Chairman of the Mexican American Legislative. Caucus.
3rd grade class thanks community for participating
Dear Editor:
In third grade, we learn lots of new things. We learn our regular lessons like math and reading and sometimes we learn really special lessons. Last Friday, Ms. Scheier's class at Austin Elementary learned a very special lesson.
We had adopted a number of soldiers this year and corresponded with all of them. Then on April 17, one of our soldiers, Adrian Herrera, was hurt in an accident while he was in Iraq. In our classroom, we talked about what we should do to help Adrian and his family and one of the things we decided that we wanted to do was to have a parade for him when he came home. When we found out that Adrian was coming home, we contacted the radio station, the police station, the fire station, the newspaper and many businesses in town asking for help. Every single person we contacted agreed to help us. Soon the entire town was decorated with yellow ribbons and red, white, and blue. When Adrian came into town, he got a welcome he will never forget!
The special lesson that we learned is that Pecos, Texas is a great place to grow up! We learned about how nice people in small towns are and we learned that even though we are just kids, even we can make a difference! Thank you, Pecos, for being such a special place for kids, soldiers and teachers.
A special thank you to Rosalinda Alvarado, we couldn't have done it without you! Thanks to all of the bow makers, businesses, our local VFW and MacArthur Pineda, The Sheriff's department, the Pecos Police Department, KIUN, Pecos Enterprise, parents of student's in our class. You all are the BEST!
Ms. SCHEIER'S 3RD GRADE CLASS Alyssa Calba, Edel DeLa Garza, Catarina Hinojos, Jessica Ortiz, Carlos Rayos, Rodney Carrasco, Marissa Elizondo, Omar Munoz, Juan Prieto, Chris Carrillo, Clara Escontrias, Krysta Orona, Marissa Prieto, Tyler Davis, Joshua Galindo, Veronica Orona and Anabel Ramirez. <!==========end copy==================>
---
---
Pecos Enterprise
York M. "Smokey" Briggs, Publisher
Division of Buckner News Alliance, Inc.
324 S. Cedar St., Pecos, TX 79772
Phone 432-445-5475, FAX 432-445-4321
e-mail news@pecos.net
Associated Press text, photo, graphic, audio and/or video material shall not be published, broadcast, rewritten for broadcast or publication or redistributed directly or indirectly in any medium.
We support Newspapers in Education
Copyright 2003-04 by Pecos Enterprise
---