|
Daily Newspaper and Travel Guide
for Pecos Country of West Texas
Opinion
Tuesday, April 27, 2004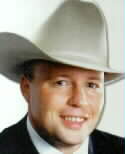 Sage Views
By Smokey Briggs
<!=====paste copy here==========================>
Taxes -
civilization's virus
Taxes are evil. All taxes, for all things - evil.
Now perhaps taxes are a necessary evil summoned into existence from the pit as a by-product of civilization.
But that does not lesson the essence of a tax. Why evil?
Because they are insidious.
Because, like a virus, taxes are self-propagating. Once called from the pit they cannot be sent back to blazes without tremendous human sacrifice. The ceremony usually requires no small amount of blood.
A virus tricks a normal cell into producing more viruses instead of doing its job. In the end, the host cell is destroyed.
Taxes are similar. Every tax has a noble reason behind it - some benefit to civilization that sounds great - and hey, if it only costs a penny a day, how can you argue with it?
You would have to be a real scoundrel to argue against all the wonderful things taxes support, right?
Well, count me a scoundrel.
We have too many taxes today and at the end of every legislative session our state and federal legislatures impose a few more.
A penny here, a nickel there, a percentage point on that. Taken individually each tax may not seem too evil, but taken as a whole they are a sickness.
According to the Tax Foundation Americans worked until April 11 this year to pay their taxes. The Tax Foundation is a group that has been around since 1937 that dedicates itself to monitoring government spending and policy.
Each year the Foundation calculates Tax Freedom Day - the day we have earned enough to pay all of our taxes for the year.
The sad part is that April 11 was the earliest Tax Freedom Day in 37 years.
That means every dime I earned for the first 3 1/2 months of 2004 went to some bureaucrat. So, if you and your spouse manage to make $40,000 this year, the government is going to take more than $10,000 off the top.
By my feeble math calculations you are making about 68 pennies on the dollar.
The Tax Foundation does some interesting calculations including a breakdown of how many days we work to cover the major spending categories in our lives.
Most of us are going to work 65 days to pay our federal taxes in 2004. In comparison John and Mary Doe will work 66 days to pay for their home and utility bills.
State and local taxes will eat up another 36 days of their life this year.
For what?
It seems we are in a never-ending cycle. Each year we pay more tax and each year we are presented with a new slate of problems that demand more taxes.
Is there an end?
Will the taxman ever be satisfied?
How much is enough?
When have I given enough pennies to all the possible good causes in the world that I get to keep the rest of my earnings for myself and my family?
If the past 100 years is any indication the answer is never.
Of course, if the past 200 or so years is any indication then there actually will be such a day when tax payers decide that they have paid enough.
If memory serves correctly we celebrate the beginning of the last such movement on July 4th.
One last thought: "A fine is a tax you pay for doing bad. A tax is a fine you pay for doing well."
Toyah residents thank all for help, donations
The tide has receded. The rutty streets and broken levees remain, the evidence of adversity in days gone by.
But Praise God! What sometimes looks like a curse, turns out to be a Blessing. That's why it's a written: "Blessed are they that have not seen, and yet have believed."
Oh, it looked frightening, unaccustomed as we are to such sights, and in the next couple of days as we took our first looks at the gaps and holes in the levees, it was even more sobering. As we surveyed the signs of just how high the water has risen; the tons of dirt removed; the drowned animals; and then looked back towards our little town----not one house should have been left standing. But they are. They all are! For God is a worker of miracles. Praise Him.
That night as the Tollett's worked to find a traveler in trouble somewhere down the road; most everyone else now resting on the answered prayers for our neighbors elsewhere in Reeves County, began to retire for the night. We did not know that though our neighbors had escaped the area's tornadoes just hours before that danger would soon knock on our own doors. But those still awake, and those stinning at the odd sounds coming from outside, gave the "wake-up" call. Someone called 911; others called their neighbors, family and friends with the stern warning, "Don't open the door! Just look outside." "No Salgas! Nomas mira pa fuera!"
We were amazed at how quickly the Balmorhea and Pecos Fire Departments answered the calls. Other groups of people in ambulances, with bullhorns and front-end loaders came too. Unbelievable how quickly the rescue was coordinated. Many, many thanks to all the people who left the comfort and safety of their homes, and braved the night and the rushing waters to help the flooded and frightened of Toyah.
Mud? Oh yes, lots of mud is some folk's homes. Lots of work to be done everywhere. There's bunches of things we'd like to recount: rain dripped scenes, cries and sirens; prayers, hugs and tears; but most of all, the feelings of gratitude and the desire to give THANKS.
First, Thanks to God for life, extended life, and Eternal Life through Jesus Christ and the redemption through His Blood. Then Thanks for all those God had in place to wake folks up; to rescue and to provide for; to pray for and to encourage all of us.
From over at Saragosa, Yolanda and her family gave what they could. It surprised me. "We know what it feels like," they said. "We'd like to help." It went for washing and rewashing of blankets, and towels and clothes from a couple of Toyah's families at the washaterias in Pecos. An older farmer came by and said, "I'd like to help the City of Toyah." I told him of how most of the water treatment supplies had been ruined, and he was generous. Along came a sing young lady who said her donation was to help with the Toyah back-hoe since she couldn't buy us a new one. There's many I haven't had the privilege of seeing first hand. Many Thanks to all of you.
Then from Houston and Terlingua, from Coyanosa, Pecos, Balmorhea, Midland, and I don't know where all; came volunteers and the Red Cross. The Lion's Club people brought blessings in the way of kind greetings and food and material goods vouchers for every household in Toyah. Thank you so much! Our local city officials, members of the county police and emergency management personnel were also helping coordinate the relief efforts. Then the media: The Pecos Enterprise and Channel 9 NEWS, who did so much more than give the news to the world. Thank you. Thank you. Much help came to us also from the Church of Christ Disaster Relief people, whose carefully packed boxes brought joy in just knowing that somewhere most of us have never been; had been big and little hands helping prepare the boxes. The evidence was in the neatly rubber banded groups of toothbrushes; in how the glass pimento jars were placed inside the paper cup stacks to keep them from breaking; in how sets of two new wash cloths had been sealed in baggies and so on.
Somewhere in the midst of all this, came A.L.E.R.T. My mom soon aptly remained the group of 20 and leader, The Blue Boys. They were a group of neat, young, clean-cut, mannerly and hardworking men. The Blue Boys removed drowned carpets, furniture, and flooring; picked up muddy trash and sang songs like "Trust and Obey" and "I'll Fly Away" to the grateful residents. Yes, this is West Texas and we should have that combination in young men at every turn, but the Blue Boys were from Washington State; from Arkansas; Mississippi, Colorado, Indiana, Illinois, Big Sandy, Texas and probably a few other places I forgot. May God Bless all their works in helping those in need.
Yes, all these people and more did not see the crossties, horse feeders, dogs and propane tanks floating down the boulevard at two in the morning of 04-04-04. Most were not there taking little old ladies out of their porches in the shovels of front end-loaders, as they clutched the rescuers and the cold, wet edges of metal in their shaking hands. Indeed, "Blessed are they that have not seen, and yet have believed." It applies to Christ.
And it applies to all who did not have to see, to flood Toyah with help-from toothbrushes to Gospel Songs. It is our prayer that all who donated their help time and energy know we are very grateful. And it is also our prayer that the levees and roads and homes too damaged to reoccupy will also be repaired. No, we are not asking without working ourselves. Much, much work from calling and writing our representatives, to rolling up our sleeves and digging out and helping others to do the same, has been done and continues by our city officials. God Bless them. Some of the least able bodies people have done incredible amounts of work throughout the town, and even in the cemeteries. Thanks be to all, from us and the many here with the same sentiments.
Your Neighbor,
Mrs. Steve Y. Begay <!==========end copy==================>
---
---
Pecos Enterprise
York M. "Smokey" Briggs, Publisher
Division of Buckner News Alliance, Inc.
324 S. Cedar St., Pecos, TX 79772
Phone 432-445-5475, FAX 432-445-4321
e-mail news@pecos.net
Associated Press text, photo, graphic, audio and/or video material shall not be published, broadcast, rewritten for broadcast or publication or redistributed directly or indirectly in any medium.
We support Newspapers in Education
Copyright 2003-04 by Pecos Enterprise
---