|
Daily Newspaper and Travel Guide
for Pecos Country of West Texas
Opinion
Tuesday, April 13, 2004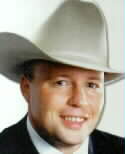 Sage Views
By Smokey Briggs
<!=====paste copy here==========================>
A call to arms - lets end the
scourge of couch potato syndrome
All right, if you are one of the busybodies that have spent the past 10 or 20 years torturing those who appreciate tobacco, I want you on my new bandwagon.
I like my tobacco. I like it fire cured with a touch of molasses and whatever other secret ingredients that goes into it.
It tastes good. I enjoy it. I know there is a risk. I accept it. Now leave me alone.
I also like it firmly rolled into a nice 8-inch tube of premium leaf and set on fire.
It tastes good. I enjoy it. I know there is a risk. Now leave me alone.
Of course, for most of my 38 years the busybodies have refused to leave me alone.
They want to protect me and my smoking, chewing, dipping brethren from all the injuries of tobacco.
In doing so they have managed to make tobacco use more socially unacceptable than pot and cocaine.
For juveniles, the real consequences of being busted with a joint in many cities are less than being busted with a can of snuff.
But, the real issue here is not tobacco, or any of the busybodies-of-the-world's other favorite issues like seatbelts, motorcycle helmets, bicycle helmets, air bags you cannot cut off, riding in the back of pickup trucks. The real issue is one of logic and precedent. While in my heart I know that the busybodies of the world simply revel in controlling other people's lives, they proclaim that they simply act in the public good and that rather than trying to protect me from me, for the most part they are simply trying to protect society from me and the ravages that tobacco and getting ejected through a windshield at 75mph impose on our healthcare system.
Okay.
Today, I accept their explanation for sticking their nose into my personal life at face value.
As a matter of fact I embrace it.
However, there is a new problem we need to address and since the busybodies of the world are certainly not hypocrites I am sure they will join me on this one.
The problem is obesity - Couch Potato Syndrome, or CPS, as I like to call it.
According to our government, which seems to be filled with busybodies, CPS will soon surpass smoking as the top preventable cause of death.
I suspect the fed's numbers are skewed and that they are not truly counting ALL the folks that die because of poor diet and lack of exercise.
Even by the government's numbers hamburgers and fries will soon surpass coffin nails as the number one cause of preventable deaths.
Cool. So, I am forming a group called concerned citizens combating couch potatosim or CCCP. (Please note that the similarity between our group's initials and the initials of the totalitarian Soviet Union as it is spelled in Cyrillic is completely intentional - in Cyrillic USSR is spelled CCCP).
While not a fitness fanatic, I work at a physical fitness program. I lift a few weights, run, and bike several times a week. I also watch what I eat.
Now like I said, I am not a fanatic, but that is okay. Having watched the busybodies for more than 20 years I have learned a few things about being one.
The Number One rule about being a busybody is that the proposed fix can never be an inconvenience to the busybody.
Case in point - seat belts are great but mandating the wearing of crash helmets for vehicle occupants is not. Hey, if it is good enough for the guys at the Marlboro 500, or whatever it is called today, it ought to be good medicine for the rest of us.
So, I propose a regimen of exercise and diet that is close to what I already do.
CCCP will begin lobbying our government to pass a bevy of new laws, take actions and create regulations to help protect the victims of CPS from their own desires and urges. Sin taxes on couch potato favorites like cheeseburgers and cokes, tax-funded government campaigns to educate CPS victims, mandatory yearly weigh-ins and stress tests for all citizens, attorney general initiated lawsuits against purveyors of evil fatty foods.
The ideas are endless. Here locally we could take a page out of Dallas book of helpful laws. In Dallas the mayor and city council have managed to pass an ordinance forbidding smoking just about everywhere - no matter the property is privately owned and no public business is conducted there.
Okay. Well, maybe we should outlaw activities that make us fat locally. Maybe Dallas and other progressive cities will follow our lead. We could outlaw the serving of foods that contain more than a certain percentage of fat within city limits. We certainly should forbid government employees from snacking on the job or eating more than needed to maintain optimum body weight.
Man, when this is over we are going to be one healthy, slim society. We will live longer and be more productive. The benefits are endless.
Surely, it will be worth a small sacrifice in personal choice.
If you like seatbelt laws and tobacco lawsuits you should love it.
The first CCCP meeting is scheduled for next Wednesday. We'll have a nice lunch of wilted lettuce and water.
For all busybodies that do not attend there will be a meeting of H-Anon next door.
(That stands for hypocrites anonymous).
Our View
PBT ISD needs to keep the gifted and talented program
Last week the school board considered killing off the gifted and talented program. To its credit, it did not.
Whatever the benefits of the program, if the school district can afford artificial turf and telephones in every classroom it can darned well afford a program that gives bright kids a shot at not being bored out of their skulls by the pace of lowest common denominator education.
As well, Pecos needs all the help it can get if it is ever to attract a meaningful industry to the area. When a business looks at an area it will look at the schools. If the schools do not offer the opportunities that their workers and managers desire for their kids, the business will not relocate. The gifted and talented program certainly sounds like something economic development could brag about.
Astro-turf might not be as great an assurance to the district's commitment to academic excellence.
Critic's Corner
Heroes put on record events of World War II
Travis Lattner realized his B-25 was in trouble when the Japanese caught the bomber in their searchlights.
"I knew we needed to get out of there. So, I started diving and turning. Then, all of a sudden, I was hit with a severe case of vertigo, and I didn't have any idea what position the plane was in," he said.
Rescued by an alert co-pilot, Lattner lived to tell about that World War II battle in the Southwest Pacific and other highlights of his military service.
Lattner and others who answered the call to defend America after Japan bombed Pearl Harbor on Dec. 7, 1941 gave interviews to the oral history committee of the University of North Texas in Denton.
Those tapes are on file in the University library. A print edition named "Heroes: Oral History Interviews with World War II Veterans," Third Edition, excerpts the oral histories and lists topics covered by each veteran.
Should you be in Denton, you might want to stop by the library and ask for Oral History interview 1421 to hear what Lattner has to say about his experiences as a Marine Corps bomber pilot, rest leave in Australia, his education at NTSTC, civilian pilot training, the Navy Aviation Cadet Program, and his post-war farming career.
--Peggy McCracken <!==========end copy==================>
---
---
Pecos Enterprise
York M. "Smokey" Briggs, Publisher
Division of Buckner News Alliance, Inc.
324 S. Cedar St., Pecos, TX 79772
Phone 432-445-5475, FAX 432-445-4321
e-mail news@pecos.net
Associated Press text, photo, graphic, audio and/or video material shall not be published, broadcast, rewritten for broadcast or publication or redistributed directly or indirectly in any medium.
We support Newspapers in Education
Copyright 2003-04 by Pecos Enterprise
---