|
Daily Newspaper and Travel Guide
for Pecos Country of West Texas
Opinion
Tuesday, March 30, 2004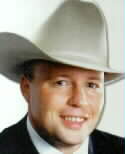 Sage Views
By Smokey Briggs
<!=====paste copy here==========================>
Do we really need a "payday notice" ?
Some days writing a column is an exercise in futility. There simply is nothing in my brain worth writing down. (And some of you will say there never is, but that is not the point).
Today, our good state and federal governments came to my rescue.
As I was turning over topics in my brain-housing unit I flipped through the mail.
One piece was official looking envelope with four separate perforations designed to make opening the package easy if you happen to be a 13-fingered orangutan with a degree in physics.
Inside was the listing of all the mandatory postings a business has to have taped to the walls and such if you are in business and employ anybody other than yourself.
If you have ever contemplated starting a business, this document would convince you that you should not.
Everyone knows the postings I am talking about - they are the ones in English and Spanish posted in conspicuous places that no one ever reads unless they are forced by fate to sit for more than four hours in the same chair that is so uncomfortable that it is impossible to go to sleep.
After four hours even the mumbo-jumbo of nine-point print about the law begin to look interesting.
If you have an hour or two longer to wait you can discover unknown facts like the state and federal minimum wage and what day payday falls on.
Now the document that crossed my desk was from a private company that specializes in providing all of these legal requirements in one package for the low, low price of … Amazing. Here is a company with the sole objective of keeping you out of Dutch with the feds and the state by giving you the posters the law requires you to post.
How many postings can there possibly be? According to Posters Inc., there are 18 such notices that you have to have up, and not having these notices taped to a wall in the break room can lead to fines that run into the thousands and ten thousands.
Unfortunately, Poster's Inc., does not lie. It is true.
Separately, each of these notices of rights, protections and procedures certainly seems like a good idea.
But the idea that if you own a little mom and pop business that the government expects mom and pop to keep up with this barrage of bureaucracy is ridiculous.
Mom and Pop employ a huge amount of America. Many of the jobs that led to my current employment were small businesses. Some were really small.
Mom and Pop are busy. They have a business to run with bank notes and payroll to meet.
When you are sweating Friday's payroll, whether or not you have posted the latest Payday Notice as required by the Feds seems a bit silly.
And truthfully, if I ever have someone in my employ that cannot figure out when payday is all by themselves, he will need to read up on unemployment law pretty quick. Now, I could end this rant here but then I would be accused of whining but never being part of the solution.
So, here is a rational decision.
Currently there are 18 "things" that have to be posted.
The list will grow. That is the one certainty of bureaucracy.
So, we need a law. That law will simply state that when the list hits 20, all such laws requiring postings are mandatorily repealed. A sunset law of sorts. Any that are really worthwhile can be reinstated through the normal channels.
In the meantime Mom and Pop can get a good night's sleep for a change and concentrate on making a profit.
Well, except for the guys at Poster's Inc. <!==========end copy==================>
---
---
Pecos Enterprise
York M. "Smokey" Briggs, Publisher
Division of Buckner News Alliance, Inc.
324 S. Cedar St., Pecos, TX 79772
Phone 432-445-5475, FAX 432-445-4321
e-mail news@pecos.net
Associated Press text, photo, graphic, audio and/or video material shall not be published, broadcast, rewritten for broadcast or publication or redistributed directly or indirectly in any medium.
We support Newspapers in Education
Copyright 2003-04 by Pecos Enterprise
---