|
Daily Newspaper and Travel Guide
for Pecos Country of West Texas
Opinion
Tuesday, February 17, 2004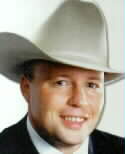 Sage Views
By Smokey Briggs
<!=====paste copy here==========================>
It's all about
perspective
Perspective is an interesting thing. We have all heard the old saw that a Democrat is a Republican who has not been mugged yet.
True or not the point is well made - perspective really does affect our beliefs.
A few months back my brother moved to West Texas. Brenden had recently earned his bachelor's degree in biology/genetic molecular something or another but had nearly a year to burn before he could attend graduate school.
I was in a jam. Lori and I had recently bought The Monahans News and I am the publisher in Pecos. To make matters worse my second reporter in Pecos decided to go back to school. I needed help.
He had some time.
It has worked out as well.
It has also been humorous on occasion.
You see, Brenden has never lived with children. Actually, he has never even lived near children.
We had an extra room at the Barstow house and Brenden has never gotten to spend a lot of time around his nieces so it seemed natural for him to move in.
Actually, mom and I had visions of long, luxurious weekends drinking from the neck of the bottle and sleeping for hours on hours uninterrupted while the kiddos spent some quality time with their uncle.
That turned out to be a pipe dream.
Did I mention that Brenden's degree has something to do with biology and little critters you cannot see?
Not long after moving in he noted that She-who-must-be-obeyed is quite serious about cleaning house.
I should buy stock in Clorox.
SWMBO did time in several hospital settings and was well on her way to becoming a nurse when I bounced into her life and screwed things up.
She does not like germs.
Actually, she is at war. Having children only intensified the conflict.
If you are a germ you live a hunted and miserable existence at our house.
Early on in his stay Brenden pointed out that actually germs were a natural part of our life and that Americans as a rule overdo the disinfectant routine to the point that our immune systems do not get exposed to enough germs to maintain a healthy response when the bad guys show up in force.
Did I mention that Ruby started Kindergarten about the same time her uncle came to visit? Ruby is our oldest. Since starting kinder we have applied to changer her name to Typhoid Mary a.k.a. the Plague.
I do not know what they do at Kindergarten but I suspect our government uses that classroom as a germ warfare breeding ground.
For six months my body has struggled to survive under a constant assault by microbes of a strength and ferocity I have never imagined.
Between Ruby (6), Carson (3) and the grownups, not many nights have passed that did not involve the delightful bodily responses to microbial infections.
Let us just say that our floor, furniture and walls are no strangers to bodily fluids and secretions.
I wish I had a quarter for each time a three-year-old's sneeze has ended supper for all of the adults at the table.
Blech.
After six months of this assault I cannot say anything has really changed.
Kindergarten should still be a quarantine zone.
Boogers and other fun stuff are still forcefully expelled by my offspring at inopportune moments.
The one thing that has changed is Brenden's attitude about SWMBO's germ warfare.
Six months after explaining that we should not over-disinfect our home, he has become SWMBO's number one ally in her war on the unseen.
Last week I came home to find him industriously searching the Internet.
"Whatcha doing?" I asked.
"Trying to find out if it will kill your children if I dip them in Clorox before they come into the house," he said, his voice harshly distorted by the effects of a few Kinder-germs.
It is all a matter of perspective.
Tellez got it right regarding the rule against
city employees holding elected office
No matter the real reasons the city council had in eliminating the provision of the city charter that forbade city employees from holding elected office, last week's decision looks bad.

The facts:

Last month Armondo Granado dropped out of the race for Precinct 1 County Commissioner after being informed that the city handbook forbids city employees from holding elected office.

The council did not appear to have a problem with that.

But then, it was pointed out that Paul Deishler is also a member of the Pecos Police Department and already holds office on the Pecos-Barstow-Toyah ISD school board.

There was no question that his position was in direct conflict with the same provision that forced Granado out of the commissioner's race.

The only question was whether the council would stick by its defacto ruling of January and uphold the provision or if it would strike it down.

The council struck it down.

A few more facts:

The issue is not Paul Deishler's record on the school board.

The issue is not whether the rule prohibiting city employees from holding elected office made any sense.

The issue is one of fairness and perception.

What it looks like is that the council had no problem with the provision so long as it did not affect someone they had a relationship with.

It was not until a member of the family, so to speak, was found to have the same conflict that action was taken.

In light of the effect on Mr. Granado, the correct response would have been to require Mr. Deishler to step down from the school board.

Then, if the council still thought the provision was unfair, it could have done away with it and there would have been no perception of favoritism at any level.

While it might be unfortunate for the school board to loose Mr. Deishler's services, it would have survived.

Councilman Tellez pointed this perception out during last week's council meeting.

He also pointed out that three of his fellow councilmen are employees of the school district and in essence work for Deishler.

Tellez said that the relationship constituted a conflict of interest.

It certainly did in this case. All three councilmen who work for the school district - Sanchez, Rodriguez and Valenzuela - should have abstained from voting for or against the rule.

<!==========end copy==================>
---
---
Pecos Enterprise
York M. "Smokey" Briggs, Publisher
Division of Buckner News Alliance, Inc.
324 S. Cedar St., Pecos, TX 79772
Phone 432-445-5475, FAX 432-445-4321
e-mail news@pecos.net
Associated Press text, photo, graphic, audio and/or video material shall not be published, broadcast, rewritten for broadcast or publication or redistributed directly or indirectly in any medium.
We support Newspapers in Education
Copyright 2003-04 by Pecos Enterprise
---