|
Daily Newspaper and Travel Guide
for Pecos Country of West Texas
Opinion
Tuesday, January 13, 2004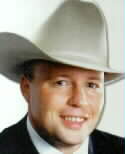 Sage Views
By Smokey Briggs
<!=====paste copy here==========================>
I love Texas
If there was a recipe for idiot stew instead of listing all of the ingredients the manufacturer could simply write, "California" on the side in big letters.
Of course, in California, that would violate no telling how many laws and regulations protecting everything from the sensibilities of idiots to my right to know if the ingredients of my can of idiot stew were organically grown.
California is what happens when liberals get free rein.
Texas is what happens when there may be more liberals than conservatives, but the conservatives have guns.
Over the weekend the national news was somewhat aflutter over the latest mountain lion attacks in California. Two bicyclists were attacked in two separate instances. One is dead. The other is in the hospital.
The second victim was saved by her companions who threw rocks at the big cat until it decided to leave.
Numerous experts have appeared on television and in print commenting on the attacks.
Amazingly enough, none bothered to comment that a proper firearm for that environment might have made a difference.
Like our soup can label being properly armed in California would have probably violated a laundry list of laws and regulations.
I would chose hand-to-hand combat with a bear (or lion) rather than going head-to-head with the liberal bureaucracy and judicial system of California.
The sad thing is that there would probably be a far greater outcry if a person actually defended himself and killed a lion than there has been with the tables turned.
It is an attitude.
Which is why I like Texas.
While liberals have a strong presence in this great state, they have not yet drowned out all inkling of common sense.
Most folks strolling through lion country in Texas may not be properly armed, but I do not think it would shock most of Texas if a properly armed hiker or biker put a decisive end to a lion attack in the way only Winchester and Colt can.
It is an attitude.
I certainly hope if I am ever attacked by a lion that my companions can come up with a more effective means of deterring the lion than chucking rocks at it.
My ancestors did better than that 10,000 years ago.
EDITOR'S NOTE: Smokey Briggs is the editor and publisher of the Pecos Enterprise whose column appears on Tuesdays. He can be e-mailed at:smokey@pecos.net
Our View
Stock shows take a lot of work and are worth the effort
Everyone involved with the Balmorhea and Reeves County stock shows deserves a pat on the back. Balmorhea held its stock show over the weekend and Reeves County will hold its own this coming weekend at the Convention Center.

There is a lot of work and sacrifice that goes into events like these - from the kids and families to the judges and buyers.

These days we often hear that kids get into trouble when they do not have anything to do. Well, kids involved with raising stock, even on a small scale, have plenty to do.

So do their families. Every animal shown represents a huge investment of time and money by the young people showing the animal and their families.

That is time that the youngsters could have spent playing video games, getting into trouble, or just goofing off.

It is also time that Dads could have spent relaxing in easy chairs watching a game and Moms could have spent at the beauty parlor.

It is also money that any family could use to pay bills, buy a nicer car, buy a bigger television - the list is endless.

Congratulations to the competitors and their families for their efforts, and to everyone else involved in putting on these shows that give these kids an arena to showcase their hard work in.

<!==========end copy==================>
---
---
Pecos Enterprise
York M. "Smokey" Briggs, Publisher
Division of Buckner News Alliance, Inc.
324 S. Cedar St., Pecos, TX 79772
Phone 432-445-5475, FAX 432-445-4321
e-mail news@pecos.net
Associated Press text, photo, graphic, audio and/or video material shall not be published, broadcast, rewritten for broadcast or publication or redistributed directly or indirectly in any medium.
We support Newspapers in Education
Copyright 2003-04 by Pecos Enterprise
---