|
Daily Newspaper and Travel Guide
for Pecos Country of West Texas
Opinion
Tuesday, January 6, 2004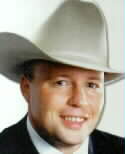 Sage Views
By Smokey Briggs
<!=====paste copy here==========================>
My belated New
Year's resolution
This is the time of year when good columnists write witty columns about New Year's resolutions and such.
Up until a few days ago, I could not think of a single witty comment to make about the New Year, New Year's resolutions and such.
Lucky for me fate reached out with her usual helping hand and when all was said and done, my New Year's resolution was written in stone on the craggy surface of my brain.
This year's resolution?
Keep my stupid mouth shut.
Now, I should not have to make such a resolution. I have been married for several years more than a decade now, and I should know how to keep my mouth shut.
Obviously, I do not.
It all started when I picked up the Corvette.
I wish I could report that the newspaper business is top notch and the vette was my Christmas present to me this year, but alas, it is simply a favor for a friend who bought the car at auction.
He lives in Australia and I am simply holding it for him until he can get the Australian paperwork straight.
Now, I am not really a Corvette kind of guy. My tastes run more to older truck-like vehicles - vehicles with manly gear ratios that whine and groan in first gear and that have extra levers and switches in the cab for things like power-take-offs and low-range transfer gears.
Trucks, as She-who-must-be-obeyed not so kindly characterizes them, that look like ammo boxes on wheels.
To me, though, they are things of rare beauty.
My favorites are older land rovers that are the epitome of "function over style" design.
This is how I started down the path to my New Year's resolution to keep my trap shut.
You see I kind of enjoyed driving the vette. It was a lark. It was a walk on the wild side with a different kind of vehicle.
The vette is a bit seductive. She is fast and sleek and adorned with every modern convenience from a heater to power steering and then some.
Did I mention it was fairly quick?
It corners nicely as well.
It is also a convertible.
The speedometer goes to 200.
Yeah, it was a fun change for a day or so.
After a day of wheeling the vette around I came home from a solid 12 hours in the salt mines to no small bit of ribbing from SWMBO about my "new love."
I thought it was a playful conversation (my first mistake) and I made a joking and ill-thought retort to her verbal jab over my new love.
What I said was this: "Too bad women are not more like cars. My land rover does not get upset just because I spend a day or two driving around in some curvy little sports car."
That is what I said. All I meant was that my land rover was the only one who should rightfully be jealous of my sports car fling, and it was not, so my wife certainly should not be either.
It just was not logical. Anyway, we were talking about inanimate objects right?
This is what SWMBO heard: "You are an old, boxy, smelly, land rover of a wife and I wish I could run around with some curvy sports car of a coed for a few days without you getting all pushed out of shape."
My honest explanation that I liked old land rovers better than sexy Corvettes did not seem to help.
Nor did my desperate attempt to explain that I was not comparing her to any of the cars involved in the conversation.
"You are like a curvy, sexy, sports car, dependable, land rover with a pto winch," I finally blurted out, realizing that the initial battle was lost and my only hope was to escape the field of battle to fight another day.
It was too late.
The battle was over and I was a member of the walking dead.
As SWMBO went about executing the prisoners she had taken in our verbal skirmish I made my New Year's resolution.
Keep my stupid mouth shut.
Later, I stepped out and decided to console myself with a short trip to the store for milk or something.
I got in the Corvette and turned the key.
Nothing happened. No amount of coaxing could talk the car into cranking.
The next morning the fickle beast cranked on the first turn of the key.
Maybe SWMBO was right in a strange sort of way. Maybe the darned thing is a female.
EDITOR'S NOTE: Smokey Briggs is the editor and publisher of the Pecos Enterprise whose column appears on Tuesdays. He can be e-mailed at: smokey@pecos.net
Our View
Our next city manager needs to be a businessman as well
Pecos is looking for a new city manager. Last week the city council whittled the list of applicants down to ten. This week the council will be interviewing the remaining 10 and will probably hire our next city manager.

It is an important decision. A city manager can have a lot to do with the success or failure of a city and Pecos is on the ropes.

Obviously there are many factors the council must consider as they interview candidates and review resumes.

We would encourage our council to do one thing in particular as it goes about the selection process.

Please consider carefully the value of real-world experience outside the world of government. In other words, business experience.

Our next city manager needs to be someone that not only can grasp the complexities of running a city, but who also understands how the business world works and the effects of city policies and taxes on the local economy.

The new city manager should be a man or woman who not only can run the city but who has also experienced the implementation of policies and taxes from the other side of the table.

A person with business experience.

<!==========end copy==================>
---
---
Pecos Enterprise
York M. "Smokey" Briggs, Publisher
Division of Buckner News Alliance, Inc.
324 S. Cedar St., Pecos, TX 79772
Phone 432-445-5475, FAX 432-445-4321
e-mail news@pecos.net
Associated Press text, photo, graphic, audio and/or video material shall not be published, broadcast, rewritten for broadcast or publication or redistributed directly or indirectly in any medium.
We support Newspapers in Education
Copyright 2003-04 by Pecos Enterprise
---