|
Daily Newspaper and Travel Guide
for Pecos Country of West Texas
Opinion
Tuesday, November 18, 2003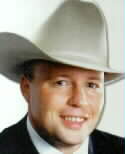 Sage Views
By Smokey Briggs
<!=====paste copy here==========================>
An easy solution to the
prison monitor controversy
Last week we editorialized on this page that the Commissioners' Court decision to appoint local attorney Bill Weinacht to be the new prison monitor for $61,000 a year stunk.
The prison monitor's job is part of the contract between Reeves County and Wackenhut Corrections Corp. that turns management of Reeves County Detention Center (RCDC) over to Wackenhut.
In short we said that the Court had failed to present a single rational reason why this expenditure was necessary, especially when Reeves County is contemplating layoffs because it is broke.
Not long after that edition rolled off the press I got a call from Mr. Weinacht.
Mr. Weinacht informed me that we got it wrong.
First, he told me that the new position only pays $50,000 annually, the same as he currently draws as special counsel for the county regarding RCDC.
We got our information from the Commissioners' Court meeting where the only figure mentioned was $61,000.
If we got it wrong we apologize.
Next Mr. Weinacht set about telling me why the Court's decision really did make sense.
Mr. Weinacht related to me that the prison monitor position was not some good-old-boy attempt by County Judge Jimmy Galindo and his court to take care of a friend but rather was required by state law.
He was even so kind as to fax a copy of the relevant statute to me.
Now, what the statute really says is that if the County signs a deal like this with a private company then the contract must provide for onsite monitoring by the sheriff.
I do not know why Sheriff Andy Gomez does not want to do this job himself but I am willing to accept his judgment that the county is better served by appointing someone else to do the job with Sheriff Gomez watching over his shoulder.
Mr. Weinacht also made a very convincing argument supporting his appointment to the position.
When the conversation was over, I was convinced that he truly was a good candidate for the job and that in essence, he will be providing more services for the county than he gets paid for.
Mr. Weinacht also said that the money was not important to him, which was why he was going to donate his paycheck back to the county until RCDC III was filled and cash was flowing again.
That is a fine gesture of good faith.
In short, we have to have a prison monitor if the sheriff will not or cannot do the job himself, and Bill Weinacht is a good man for the job.
However, something about this deal still does not feel right.
First, the deal is tainted.
No matter how rational the reasoning, there will be a continuing conspiracy theory floating around that this is either an attempt to take care of a friend or perhaps to keep the RCDC business in the family, so to speak.
Second, it is not fair to Mr. Weinacht.
As Mr. Weinacht told me, this appointment carries more responsibility than reward.
Bill Weinacht should not have to carry this entire burden by himself. That is not right - not when there are others who could and should do their share to make sure that Reeves County weathers this storm.
There is an easy solution that would solve both problems.
As a solution, I suggest that the sheriff appoint several prison monitors instead of one.
If the law allows for the sheriff to appoint one monitor in his stead, surely he can appoint two or three.
That way the work can be shared and Reeves County will have the services of several talented people watching over her interests at RCDC and not just one.
Now, it seems to me that this prison monitor's position requires three fairly distinct areas of knowledge: 1) law, 2) finance, and 3) administration and management.
There is little doubt that Bill Weinacht knows the law.
So, I would suggest that the other two monitors be men who have a special knowledge of finance and the administration of a business.
We have several community minded bankers in our town, and I know for a fact that one or more of them would gladly serve in this capacity without any salary at all.
We also have many successful businessmen who live in Pecos with long records of community service and I doubt they would shirk this duty either.
If everything Mr. Weinacht told me is true, this is a perfect solution.
It would put this deal beyond reproach, provide three heads to watch after our interests rather than just one, and relieve Mr. Weinacht of two-thirds of this burden.
It is the right thing to do.
EDITOR'S NOTE: Smokey Briggs is the editor and publisher of the Pecos Enterprise. He can be e-mailed at: smokey@pecos.net
Our View
Let's hear it for the School Board
Last week our school board did themselves proud concerning the proposal to spend about $1.4 million dollars to put artificial turf on the football, baseball and softball fields.
After listening to both sides the board decided to table the issue and look at other possible uses for the money.
Artificial turf looks like a great idea at first glance.
Over time it might even pay for itself with savings on water and manpower needed to maintain grass fields.
But, there are a lot of negatives.
Fist, should a town with as few jobs as we have spend the same money for fake grass that otherwise would have employed a man or woman for ten years?
Second, even if the turf paid for itself over time, the district would be obligating itself to either replace the turf when it wears out or expend the funds to replace it with grass fields.
Either way, it is money that may not be available ten years from now.
Most importantly, the district has many more pressing needs than $1.4 million worth of new grass.
There were some good suggestions at the school board meeting such as spending the money on books, upgrading classrooms and labs, or building a gym for the kids at Austin Elementary.
All are good ideas. All would further the educational experience offered by our schools far more than artificial turf.
Your View
Citizen concerned Tarin will turn his back on them
To the citizens of Reeves County / Herman Tarin:
If you think Mr. Weinacht's salary alone will not help someone keep their job at the RCDC, then why don't you give up your salary.
Citizens, don't you think its kind of funny that Mr. Tarin, who was one of Mr. Weinacht's long time loyal friend, suddenly turns against him right when election time is right around the corner. It seems like he just wants us to think he is concerned about our community to try to get our vote. He is one of the persons responsible for making the decision to build RCDC III knowing that they had no contract with B.O.P.
Mr. Tarin, be man enough to take responsibility of your action before pointing your fingers to others and turning your back on your long time friend. If you turn your back on your long time friend, it makes people wonder if you will turn your back on your community as well.
MARIA RODRIGUEZ
General Delivey
Balmorhea, Texas
Love one another
Dear Editor:
"If God so loved us, we ought also to love one another." (I Jn. 4:11)

Jesus is coming for the holidays. Dinner will be served on Thanksgiving and Christmas: turkey, dressing and gravy, mashed potatoes, green beans, sweet potatoes, cranberry sauce, rolls and desserts.

Jesus is bringing many guests with him. Matt. 22:9-10: "Go ye therefore into the highways and as many as ye shall find, bid to the marriage."

So these servants (which we are supposed to be) went out into the highways and gathered together as many as they found, both bad and good, and the wedding was furnished with guests.

His guests will be coming from the highways and where there are needs. We will need plenty food, so all will be fed. There will be some who will need shelter and clothing. Who will be willing to come and help and be a servant for the Lord?

Matt. 25:35-36: "For I was hungered and ye gave me meat. I was thirsty and ye gave me drink. I was a stranger, and ye took me in, naked and ye clothed me, I was sick and ye visited me, I was in prison and ye came unto me."

Come, bring what you can. Come and help Mark from the Christian Home to make this a blessed day for the Lord. Come with your love, your kindness, patience, forgiveness. Mark is a young man who God has sent our way. He wants to help people. He didn't come saying he was perfect; he has made mistakes, and like us all, will probably make more. If we cannot walk the road with one soul, why should God send us more?

Who will come and encourage Mark, pray for him instead of talking about him to others? Come and talk to him. Jesus is watching us all. He wants to answer our prayer.

Matt. 25:45: "Then shall he answer them saying, verily I say unto you, inasmuch as ye did it not to one of the least of these, ye did it not to me.

Let us be obedient to God's word (the Bible).

VELMA BRADLEY

<!==========end copy==================>
---
---
Pecos Enterprise
York M. "Smokey" Briggs, Publisher
Division of Buckner News Alliance, Inc.
324 S. Cedar St., Pecos, TX 79772
Phone 432-445-5475, FAX 432-445-4321
e-mail news@pecos.net
Associated Press text, photo, graphic, audio and/or video material shall not be published, broadcast, rewritten for broadcast or publication or redistributed directly or indirectly in any medium.
We support Newspapers in Education
Copyright 2003 by Pecos Enterprise
---