|
Daily Newspaper and Travel Guide
for Pecos Country of West Texas
Opinion
Tuesday, October 28, 2003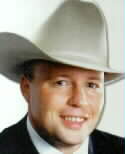 Sage Views
By Smokey Briggs
<!=====paste copy here==========================>
You are going to take
my money for what?
Well, here comes another one folks. Your federal government is here to help and with only a few billion of your tax dollars some poor soul will be saved the agony of buying new pants.
According to last Thursday's Wall Street Journal the FDA has forced the restaurant industry to begin talks on displaying nutritional information for foods served at restaurants.
Why?
To save you from yourself.
The move is only part of the FDA's current plan to help keep Americans from getting fat. Other brilliant plans include making calorie counts on already-labeled food bigger and "a broader program that would guide consumers on how to fit various foods into a healthy diet," whatever that means.
"We do not have a clear, unifying message as to what the answer is on obesity," said Lester Crawford, who is a deputy FDA commissioner.
They don't?
Was that a joke Mr. Crawford?
This is 2003 Mr. Crawford. I doubt there are two-dozen Bushman left in Africa who do not know why people get fat.
But, just for the record - people get fat when they eat too much and exercise too little.
Period.
It happens to me every day.
Yes, there are some folks in the world with medical conditions that make them gain weight.
But, for most of us, fat is what pops out of the eat-don't-exercise equation.
Only a bureaucrat who is the product of years of liberal indoctrination could come up with a statement that completely ignores reality and refuses to acknowledge that there is any element of personal responsibility in whether or not I eat so much that I get fat.
And the solution to this problem of living the good life? Force restaurants to tell you how many calories your Number 4 Smiley Meal with the double goober cheese burger, potato sack of fries and gallon of cola, actually contains.
I wonder how much that wee bit of knowledge will cost me?
(I already know where they plan to get the money).
Let's see, first we have to pay Mr. Crawford's salary and no telling how many other borderline idiots on the FDA's payroll.
Then we have to pay for the talks and lobbying and schmoozing that the restaurants will do and the cost of my smiley meal with double peanut butter will go up to cover the cost of all that schmoozing.
Then we will have enforcement. It will probably require a whole new branch of the FDA to check up on the evil restaurant industry - or maybe they can hand it off to the BATF since their primary function is tax enforcement and fat calorie enforcement would fall neatly in with their other duties.
Either way you can bet there will be a few thousand new line items in some bureaucrat's budget.
Restaurants will need to print new menus and posters and goodness only knows what else to comply. The paperwork with owning and running an eatery will go up another notch - as though complying with EPA, Workforce Commission, Worker's Compensation, OSHA, FMLA, Department of Labor, and the other 4,365 regulations and rules and laws already in place is not enough.
Before it is over the price of my Smiley Meal with double cheese and double peanut butter will double and I will not smile nearly so much as I wipe the fat-filled and delicious processed cheese from my chin.
But, at least I will know that there are enough calories in my smiley meal to feed a small third world nation for two days.
I might even be smart enough to figure out that if I eat a Smiley Meal every day and my total exercise for the week is comprised of waddling from the car into the Smiley Burger Barn I will gain weight and have to buy new trousers.
On the other hand, Mr. Crawford and his fellow bureaucratic minions might actually succeed in trimming a few pounds of Americans with this plan.
By the time the IRS gets through collecting the extra taxes and Smiley Burger raises the price enough to cover its costs, I probably will not be able to afford a Smiley Meal all that often.
EDITOR'S NOTE: Smokey Briggs is the editor and publisher of the Pecos Enterprise whose column appears on Tuesdays. He can be e-mailed at: smokey@pecos.net
Our View
What matters in high school sports?
You cannot make everybody happy.
In the face of a less than perfect season the gripes and moans about our high school football program are making the rounds.
The crux of the matter is the team record.
Just once it would be nice to hear a fan or parent gripe about something more important than wins and losses.
It would be nice to hear a fan gripe that the coach does not hold the kids to a high enough standard.
It would be nice to hear a parent brag that the kids we put on the field on Friday night are making solid grades and have a future beyond high school athletics.
It would be good to hear a brag that our kids work harder and play harder than their opponents - even if hard work and heart do not always win out over talent and ability.
It would be nice to hear parents brag that our coaching staff runs the classiest high school football team around - win, lose or draw.
Football is a great sport, and high school athletics can make a great contribution to a person's development. But, wins and losses have little to do with the impact on a kid.
The great coaches understand what is truly important.
Vince Lombardy, Bear Bryant and Tom Landry knew that what mattered most was how you played the game.
They understood that if they coached their players to give their all, and held them to a high standard of conduct, then when they walked off the field they and their teammates would walk away winners - no matter the numbers on the score board.
We should make the same demand of our coaches and worry less about touchdowns and field goals.
Your View
Not enough parents, students involved in band
Dear Editor:
It was just about two years ago the last time I wrote an editorial. At that time, I was concerned about the number of students with poor grades in the Eagle Band. Since then I have realized that many of our kids have problems and issues to deal with that I never did at their age. If a student is getting something positive out of my class who am I to run them off because of a poor grade in another class.

In the ensuing two years many people have told me that I'm doing a "good job." The administration of PBT-ISD, other band directors and people who watch us at games have all stopped me to thank me for doing a good job. However, I do not feel I am doing a good job. Here's why.

When I applied here and was deciding whether to come to Pecos we had a meet the director night. There were 40 people at the band hall that night. The number of students involved in the band program was outstanding. The evidence of administration and community support convinced me Pecos was the place for me. By the end of that first year one of my seniors stood before the band and said they thought I was a gift from God to them. How humbling!

Now, I have 147 high school students enrolled in the high school band. Thirty-five of them were ineligible at the end of the first six weeks. Many of these wanted very much to march with the band but could not. That left me 112 eligible students and the halftime show needed 95 students to fill every spot. That means I had 17 alternates. As it turns out we had a hard time filling out the show. Three weeks before marching contest we could not rehearse at a Monday night rehearsal because so many students did not attend. The Friday before marching contest I had students tardy to class. At the pep rally Friday I had at least 10 band students in the stands at halftime that night. Many of the others were at the game but not bothering to participate with the band. This hurts their grade. However, they are happy with a grade of 80 or 85 instead of 95 or 100. Students and parents will use excuses to not attend band functions that would never work on a coach.

I will not accept a halfway job from myself. I am not doing a good job if band parents and students no not support the program. There are almost 400 students involved in the band program. That's 800 parents. The band boosters has 4 people at meetings and cannot get helpers at it's activities. Students are happy with a second division rating at marching contest. I am not. These students are capable of much more if they will just believe in themselves and work hard for their teachers. This is the third year I have tried to get their potential out of them and I am not succeeding. I want to either succeed or fail. Just being average is not enough. If I am not doing a good job the community needs to replace me. Pecos would not put up with failure from a football coach. They should not expect any less from the band coach.

MERLE E. LENFEST
PHS Mighty Eagle Band Director

<!==========end copy==================>
---
---
Pecos Enterprise
York M. "Smokey" Briggs, Publisher
Division of Buckner News Alliance, Inc.
324 S. Cedar St., Pecos, TX 79772
Phone 432-445-5475, FAX 432-445-4321
e-mail news@pecos.net
Associated Press text, photo, graphic, audio and/or video material shall not be published, broadcast, rewritten for broadcast or publication or redistributed directly or indirectly in any medium.
We support Newspapers in Education
Copyright 2003 by Pecos Enterprise
---