|
Daily Newspaper and Travel Guide
for Pecos Country of West Texas
Opinion
Tuesday, August 26, 2003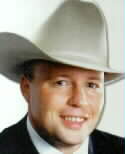 Sage Views
By Smokey Briggs
<!=====paste copy here==========================>
Counselors at
kindergarten?
School started last week.
"Big deal," all you veteran moms and dads say?
It was a big deal at the Briggs house.
Our eldest started kindergarten this year.
Ruby Leigh was excited but handled the day with her usual aplomb. I understand that some schools in touchy feely places like California actually have counselors to help kids cope with the stress of the first day of school.
This is a service that young Ruby did not appear to need.
Carson Mae, at 2.5 years of age, was not really sure what to make of the whole deal. She knew something big was up but just what that thing was probably escaped her.
Nonetheless, Ruby's excitement, or maybe her parents' panic, was contagious and by Monday morning Carson was 100 percent focused on getting Ruby to school.
Now, I do not think Carson fathoms what school is, what you do there, or how you do it.
But, she is a child of mine and darn sure fathoms lunch.
School or no school, she figured lunch had to be part of the picture and she pretty much appointed herself the keeper of the lunch. Carson oversaw the preparation and then carried the lunch sack around with her most of the morning.
It is possible that Carson is related to me. Our priorities are certainly similar.
So, the girls had it all under control.
Not so, mom and dad.
Well, She-who-must-be-obeyed may have been fine. She certainly appeared calm and collected.
I have no idea what my appearance was but emotionally I was a mess.
I remember my own first day of school. Well sort of. I did not attend kindergarten. SWMBO says that kindergarten is not so much about learning stuff as it is learning social skills.
When she learned I skipped kindergarten she said that it explained a lot.
But I did have a first day of school.
It was rather traumatic.
I got on the bus that day complete with cowboy hat (yep wore one at the age of six) my two best cap guns in tied-down holsters and a plaid satchel full of pencils and paper.
To my way of thinking I was prepared for anything school could throw at me.
I guess I was too - when the second grader snatched my offhand gun from its holster and would not give it back I pistol whipped him with the other one and that solved that except for that little session with my teacher and the principal neither of whom seemed to care a bit about who was in the right.
I learned a lot about this old world that day.
Ruby has those same lessons to learn. I know that. Carson will have to learn them too.
I do not think there is any easy way to learn them either. Hard Knocks University is the only place such things are taught and the first day of school is the beginning of your education.
So, with all the horrors of 13 years of pre-college education rushing through my head, (yes, that is 13 and I did not attend kindergarten), and a lump in my throat, I walked out the door to kiss my girls goodbye.
Ruby looked like an infantryman in full combat kit as she struggled into the suburban. She had a backpack on that was twice her size, her lunch in her new lunch sack, and an extra sack of tissues and glue and stuff in the other hand that her teachers requested.
I secretly suspect that kindergarten teachers supplement their salary quite handily dealing on the black market in tissues and glue.
Actually, after walking through the kindergarten one morning I think they probably sniff the glue just to get through the day. I would.
"See you tonight dad," Ruby said as though this were any other day.
"Bye," Carson yelled happily, lunch sack clutched tightly to her.
And then they were gone and I was standing in the driveway with the canine members of the family.
With a sinking heart I knew that the best part of my life was over.
Never again would I sail through a day knowing that all of my children were safe and sound - well protected from the ugliness of the world by fences, and dogs and mom.
From here on out, one or more of them would be exploring this world all by themselves for part of each day with mostly their peers for company.
And my part in this grand adventure?
I get to worry. All day long and most of the night, seven days a week, fifty two weeks a year from now until I die.
Great.
Maybe kindergarten ought to have counselors for parents.
EDITOR'S NOTE: Smokey Briggs is the editor and publisher of the Pecos Enterprise whose column appears on Tuesdays. He can be e-mailed at: smokey@pecos.net
Our View
Pecos should not let the county shift part
of its burden to the citizens of Pecos
Should the city let the county water bill slide?

Maybe.

Yesterday the topic came up at commissioners' court. The county has more bills than it has money right now - all due in the near future. One is the first bond payment due on RCDC III for about $950,000. The other is a $420,000 payment due the city for water.

Yesterday the commissioners voted to try to get the city to cut them a little slack on the water bill so they could make the bond payment.

The topic will probably be high on the city council's agenda Thursday.

According to County Judge Jimmy Galindo the city does not need the money to make the payment on the improvements to the new water field until November.

The city council will answer that question Thursday.

If letting the county have a little extra time to pay the bill does not put the city in a bind, and the city feels that the county really will have the money to pay the bill a few months from now, then there isn't a problem.

But, if the county cannot show the city it will have $420,000 in cash by November, or if letting the county slide has the potential of shifting this burden to the tax payers of Pecos, then the city needs to hold out one hand for the check with the other hand on the water valve - and be ready to shut off the water if the bill is not paid on time.
Your View
Polzin thanks community for their help
To the Editor:Mark Polzin from the Christian Home would like to thank the people of the Pecos area for their donations in the way of clothes, money, and household objects for the store and homes.

"I would like to remind the people of Pecos and the surrounding areas that by shopping and donating to the Christian Home, that they are helping to support the Christian Home," said Polzin.

Once Again Thank You
And May GOD Truly Bless
You and Yours,
MARK POLZIN
Director of the Christian Home

<!==========end copy==================>
---
---
Pecos Enterprise
York M. "Smokey" Briggs, Publisher
Division of Buckner News Alliance, Inc.
324 S. Cedar St., Pecos, TX 79772
Phone 432-445-5475, FAX 432-445-4321
e-mail news@pecos.net
Associated Press text, photo, graphic, audio and/or video material shall not be published, broadcast, rewritten for broadcast or publication or redistributed directly or indirectly in any medium.
We support Newspapers in Education
Copyright 2003 by Pecos Enterprise
---