|
Daily Newspaper and Travel Guide
for Pecos Country of West Texas
Opinion
Tuesday, August 19, 2003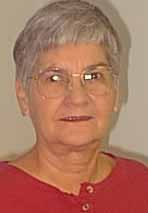 Squarely Pegged
By Peggy McCracken
<!=====paste copy here==========================>
Morning email ritual deserves
nothing but a click to trash
If it were not for my poetic sister, Gail, "family boss Mary," big brother Walter and little brother Dink, my morning email ritual would be in vain.
Gail sends news of all the family, plus an almost daily sermon in verse. The other 150 or so messages on my screen deserve nothing but a mouse click that sends them directly to the trash unopened.
But I wonder what would happen if I did open those messages and take advantage of all the enticing offers. For one thing, I would be bigger in places I don't even have, slim and trim, healthy, drugged and worry free.
Not to mention debt free, or at least have a new, low-interest mortgage. I would be able to stop smoking, clear my face of acne, find a Christian single to date, live past 100 and be forever young.
For my young body I could purchase frilly things from Frederick's of Hollywood, win a new car, truck or SUV, take a vacation in Las Vegas, gamble online when I get home, then work out on my home gym.
The enlargement pill will help me satisfy women, and to do that, I may need to visit the site that promises I will no longer be insecure and shy.
I can work at home while earning a college degree online, order my Holy Water from Lourdes so I don't have to attend church, hook up with old school friends, and write to a penpal in Oklahoma.
Entertainment is available right on my keyboard, as I download music and videos, burning them to a CD or DVD. To further save money, I can order Budget Living magazine, stop creditor calls and get a free credit report. Then get a new credit card to start it all over again.
My satellite system will pipe in all the TV I could ever watch, and more. If TV depresses me, I can order pills to cure depression and bipolar disorder.
Groceries will even cost less, purchased online. Bargains galore are out there just waiting for me to tap into them. I can get a free cell phone, free video games and the world's smallest digital camera.
I can attend a culinary school, eat myself thin, get a gift basket for buying Vegetarian Times, order steaks and fresh coffee.
If all that doesn't satisfy my urges, I can advertise to 28.1 million people, buy the Iraqi card deck to play solitaire, buy stock in a gold mine and learn how to avoid paying taxes on the dividends.
The people who sent me all this good news probably have beautiful feet, as described in Gail's poem du jour.
"How beautiful are the feet of those who bring the earth good news..."
But I believe the following advice is more applicable:
"Depart, depart, go out from there! Touch thou no unclean thing!
Come out from it, be pure in thought and deed..." From Isaiah 52
EDITOR'S NOTE: Peggy McCracken is Enterprise business manager and webmaster. Contact her at peg2@pecos.net
Our View
Why hasn't Judge Galindo
filled the extension agent positions?
Reeves County lost its family and consumer science agent a year ago and lost its extension service agent in December.
In last week's county commissioners' meeting County Judge Jimmy Galindo said, "We're considering moving forward to open the positions."
Well, well, well - it is about time.
Galindo said that the reason for the extended delay was a hiring freeze at the state level.
While that sounds good it is not the whole truth.
The hiring freeze did not begin until January and was lifted in May. Furthermore, according to the Texas Cooperative Extension Service both positions could have been filled before the January hiring freeze if Galindo had simply authorized it.
(The Extension Service is the state agency that oversees the extension program).
Even if filling the positions in January had not been possible, what excuse is there for not authorizing the Extension Service to fill these positions once the hiring freeze ended in May?
This is the middle of August.
According to the Extension Service all that was required was the County Judge's signature on a letter that has been sent to his office multiple times.
Extension agents can be extraordinarily beneficial to the citizens of a county. The state of Texas pays two-thirds of the agents' salary.
So why has the Judge drug his feet for nine months on this issue?
It is a good question.
Either he is too lazy to sign a form and put it in the mail, or there is another motive.
We suspect the reason for the delay has less to do with laziness than something else.
What is that something else?
We cannot even guess.
But the citizens of Reeves County deserve to know.
Your View
Local citizen appreciates Mr. Tarin's effort
EDITOR'S NOTE: This letter was accidently left out of last week's opinion page.
***
Letter to the editor:
The recent Town Hall meeting was successful. Its success was the number of citizens who came together for the benefit of our economy. The meeting was handed in a respectful manner and the citizens of Reeves County had the chance to express their opinions. As I sat and looked over the crowd, I thought how progressive our city could be if every problem was met with this much concern.

I, for one, do not attend city council, county, chamber of commerce or school board meetings. I always take the responsibility of voting, but then leave the elected officials to handle all of the problems. I find I am ignorant in how our city and county money is handled. I hear continual speculation about the mishandling of funds. I hear complaints about our city manager, Carlos Yerna, yet I have never taken the time to try and meet this man. I do say "try" because I have been told he isn't receptive to answering questions. I have been told Jimmy Galindo doesn't return phone calls and doesn't like to be questioned about how the county is being run. I have been told, but the responsibility of finding out this information lies in my hands.

It is up to me to attend meetings and become more informed. I can't complain about what I don't know. I am challenging myself to become a more informed citizen.

I now have statement for Jimmy Galindo. What happened to you? What happened to the young man that promised to be a man for the people? You and the commissioners who chose not to attend the town hall meeting lost so much. People don't remember all of the good things done, but they do remember the wrongs.

Mr. Herman Tarin handled himself in an exemplary manner. He didn't have all the answers, but he tried. Thank you, sir, for giving it a shot.

REITA PREWIT

<!==========end copy==================>
---
---
Pecos Enterprise
York M. "Smokey" Briggs, Publisher
Division of Buckner News Alliance, Inc.
324 S. Cedar St., Pecos, TX 79772
Phone 915-445-5475, FAX 915-445-4321
e-mail news@pecos.net
Associated Press text, photo, graphic, audio and/or video material shall not be published, broadcast, rewritten for broadcast or publication or redistributed directly or indirectly in any medium.
We support Newspapers in Education
Copyright 2003 by Pecos Enterprise
---