|
Daily Newspaper and Travel Guide
for Pecos Country of West Texas
Opinion
Tuesday, August 12, 2003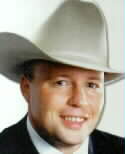 Sage Views
By Smokey Briggs
<!=====paste copy here==========================>
Will speak
for preserves
I am not keen on public speaking. Well, I wasn't. My attitude is changing these days.
As a matter of fact Saturday night may have been an epiphany of sorts for me. (Epiphany, I have recently learned, is a fun way to say something happened to you that may have changed your life).
My life has been epiphaniful. That word is not in the dictionary. I just coined it to describe a life full of epiphanies.
The first epiphany that I remember regarded me simply answering "no" when my parents told me to do something. I was quite young and I got one epiphany of a whipping.
Other epiphinetic (I made that one up too) moments include the first 300-pound offensive lineman I ever faced and my first meeting with a Marine drill instructor named Sgt. Hammer.
Anyway, Saturday night may just rank right up there with Bubba the 23-year-old, 300-pound, offensive tackle and Sgt. Hammer.
I was invited to speak at the 4-H banquet in Monahans. Such an invite is good for the ego because, lets face it, not everybody gets the call.
But, public speaking and I do not go together like grits and gravy. Most of my life I have avoided it. On the few occasions I could not I have discovered that I have two different personalities when I am in front of a crowd - stuttering moron and big time ham.
She-who-must-be-obeyed, (SWMBO) to whom I am married, says she finds the stuttering moron personality less offensive.
Squirm as I might, I could not graciously refuse.
The night arrived.
I arrived early along with SWMBO and both of our tricycle motors in tow.
Now I would like to take a moment and make one point - putting the guy that is going to do the speaking at the head table is a dubious honor at best. I think I know how most alien abductees feel while big-eyed guys with baldheads examine them.
Putting him up there with mom and the kiddos is just mean.
Now Ruby is pushing six and is actually quite the young lady - a set of crayons and some paper and she can be quiet as a church mouse for hours. Carson Mae, on the other hand, is still way shy of three and after 30 minutes with the crayons she is finished and the crayons look like the losers from a dogfight.
While Miss Carson really was nicely behaved for a two-year-old who happens to be related to me, by the end of the night the audience knew how to eat beans without implements and were pretty sure that I am way better at getting the clothes back on Barbie than any grown man ought to be.
If you want to honor the speaker put him in the back where naked Barbie's can dance on the table all night long.
Anyway, my big moment finally arrived just after Barbie removed her blouse.
I spoke. Nobody seemed to notice the miniature underclothing clenched in one of my hands. People politely clapped.
Sweating like a fat mule in August I sat down.
And then it happened. My epiphany.
The nice young lady who was the master of ceremonies handed me a sack and said this was to say thank you.
SWMBO plucked the package out of my hands, supposedly for my own good since, according to her, our dog Jake does a better job of concealing his emotions than I do.
That unfair statement, for the record, hails back to an early Christmas in our relationship during which I unwrapped a pair of lime-green slacks from guess who? Enough said about that.
Well, out of the corner of my eye I watched as SWMBO daintily unwrapped the goodies.
What does she pull out?
Peach preserves.
Homemade peach preserves.
I was dumbfounded.
I never guessed.
I had always wondered why some people never seemed to mind getting fingered for speaking engagements.
Now I know. It's the payoff.
There are few things I won't do for such a jar of liquid gold. Speaking in public does not even come close to the top of that chart.
If I had only known.
And so, I was epiphanized. I understood.
So, let me make this plain. I am available. I will speak at your gathering. You name the topic; I'll bring the mouth.
All you need is a jar of peach preserves.
EDITOR'S NOTE: Smokey Briggs is the editor and publisher of the Pecos Enterprise whose column appears on Tuesdays. He can be e-mailed at: smokey@pecos.net
Your View
Average Americans low on priority list
Dear Editor:
What's the deal with the Texas Democratic Representatives and Senators breaking quorum over Republican efforts to redraw U.S. Congressional districts? We know our Representative Pete Gallego and Senator Frank Madla as intelligent men who try to do right. Does it make sense that Gallego would go to Oklahoma and Madla to New Mexico for trivial reasons? They would not risk it were the issue not important.
A majority of Texans, across party lines, oppose redistricting:
* Texas WAS redistricted following the 2000 census, approved by the U.S. Supreme Court and the Texas Attorney General, and not due again until after 2010.
* Current districts FAVOR Republicans. Of 32 districts, 20 have a 53% Republican majority. Republicans want a map that is "fair" to them and said "fair" means 19 to 20 Republican-majority districts. They already HAVE their fairness.
* In five Republican districts, independent-minded Texans elected Democratic Congressmen. As a result, Texas' delegation is 17 Democrats and 15 Republicans, BY VOTERS' CHOICE.
* Maps proposed by the Republicans defeat the voters' will and split communities into multiple districts. They dilute the voting strength of minorities and rural residents by linking rural areas to suburbs. (We know how that feels; our own congressional district elections are decided in suburban San Antonio.)
* Some of the targeted Democratic Congressmen are senior members of Congress. Regardless of party affiliation, they give Texas clout through their membership on congressional committees.
* Republicans have a majority of the U.S. House and Senate, the Presidency, the Texas Senate and House and all statewide offices. They are using that power to, in priority order, further increase their power, leave no rich man behind and take this state and country in a hard, hard right direction.. Way, way down on the priority list are the needs of average Americans.
MARY BELL LOCKHART
Alpine, Texas
Reader seeks simple answers to questions
Dear Editor:
I have searched the Internet for simple biographies for the recently hired lobbyist, Randy DeLay and for the "Washington attorney," Joe Summerhiel. So far, my search has been unsuccessful.
I have only found that Randolph DeLay was a 1968 graduate of Calallen High School, a lawyer from Houston, and that he is "CEO and President of Public/Private Strategies Consult, Inc." I cannot find a website for that company. I just want to read a simple biography to see exactly what accomplishments Randy DeLay has made in his career, to warrant paying him $10,000 a month for a minimum of 12 months. (The only information that I have found seems to indicate that he declared bankruptcy in 1992 with four failed companies, but has received substantial incomes since 1995, as a Lobbyist.)
The Washington attorney, Joe Summerhiel is said to work for the law firm of Barnes and Thornburg. However, their very informative website (www.btlaw.com) does not list him among their 350 attorneys. I just want to read a simple biography to see exactly what accomplishments he has made to warrant being hired at $250/hour.
I am not interested in seeking information for Randy DeLay's brother, Tom DeLay, as his biography is readily accessible at http://tomdelay.house.gov/).
I read in last night's Pecos Enterprise that Judge Galindo selected Randy DeLay from "meeting people through Congressman Solomon Ortiz's office" and "after consultations with other Washington, D.C. politicians." Did Congressman Ortiz (D-27th District-Corpus Christi and Brownsville-Harlingen area, (www.house.gov/ortiz) actually recommend hiring Randy DeLay?
I am very concerned that there was very little or no public discussions prior to Reeves County hiring these two men. Did our Commissioner's Court ever advertise or take applications for these positions? Did they require a written resume or check with former employers, or do any actual research on background information? Do we have a written contract stating official guidelines of what we expect them to do for Reeves County?
Thanks,
FARISS MURPHY
A response to Bill Weinacht's open letter
Dear Editor:
I would like to thank every person that attended Monday night's citizens meeting at the Civic Center. I believe we have come together as a community. Although we learned nothing new from Herman Tarin and I still disagree with the actions of the commissioner's court, I appreciate him taking the time to appear before the citizens of Reeves County and take the heat for this coward we call a County Judge. I believe that Mr. Galindo understands now that we citizens and taxpayers have had enough of him and his actions as County Judge.
Last week Mr. Bill Weinacht ran an ad in this paper responding to my questions of the previous week. Mr. Weinacht, you discuss the Attorney General's approval to build RCDC II and the fact that the BOP would not provide a contract or commitment before construction and the AG knew of this. You state that if Reeves County had to have a contract or commitment, RCDC I and II would never been built.
My response is that in the July 2, 2003 Pecos Enterprise issue on page 4A it states the following, "Reeves County was notified in writing by contracting staff that there was commitment from BOP regarding use of RCDC II in letter dated 6/15/2001. Simple High School Economics would tell you that if you cannot make a profit to pay for a business, you never start it! This never should have been built. It takes people with business background to understand and connect these problems. We have none of this in our County Judge or Commissioners Court.
In your second paragraph you stated that you expressed your opposition to Mr. Galindo in building RCDC III. Perhaps you should have expressed your opposition to the citizens and taxpayers of Reeves County. At the time Anchor closed, Reeves County knew it would take 2 years to complete this project. Mr. Galindo and the Commissioners Court knew these laid off workers could not wait and be able to feed their families. Mr. Galindo should have known losing this many potential employees would have an effect on RCDC III when completed. You also mentioned in this paragraph about the war with Iraq. My response is the Twin Towers that were destroyed on 9/11/2001 and the war with Iraq were not issues on 6/15/2001 when the BOP made the statement I mentioned in paragraph 4.
In your third paragraph you mention Reeves County is not dead yet. You state we have made every payment. My information tells me that after September 1, 2003 Reeves County will not be able to make any payments. You mention Mr. Galindo and the Homeland Security. I would not believe anything Mr. Galindo now has to say. I would have to call these people myself before I would believe anything. As for the Football game, most of the citizens and taxpayers changed sides before the first quarter. We knew shortly after Mr. Galindo was elected that Reeves County had a problem. We did not have to wait until half time. One more thing about football. If you have a losing team you change players and fire the coach. You start again by finding players with ability and intelligence. These are the ones that know to how play the game.
As far as old elections, old scores, and new campaigns, all I can say is look at Reeves County now versus 1984, when I moved back here from Dallas. This has nothing to do with elections, scores, or politics, this is survival and we are not looking real good at this time. We have to put the intelligent business people back in power. It's the only way this county is going to survive.
In your last paragraph you state you contacted the District Attorney for clearance before you bought stock in this company that provides telephone service for the RCDC prisons. I agree that it is not illegal for you to own stock in this company. But there is an ethics problem. You are paid to represent the prison as an attorney and you also make a profit off a telephone system? In the bigger cities this would not be allowed. But, I will let the citizens and taxpayers decide how they feel on this. I have already expressed my opinion.
ROBERT L. HANKS
Local citizen voices his opinions
Dear Editor:
I would like to voice my opinions to all concerned citizens of Reeves County. I attended the Town Hall meeting, which was held at the Civic Center on Monday 8-4-03 concerning the R.C.D.C. problems. Thanks in large part to Linda Gholson. There were a lot of people in attendance and let me tell you, it was a big awakening.

Several questions were asked by the audience and answered by commissioner Tarin and the Mayor Dot Stafford, whom I really feel care about Reeves County. All the other commissioners and the county Judge and County Attorney and Bill Weinacht failed to show up.

My first question on my mind was, does anyone here know if the President of the USA sent a response from the letter that Mr. Jimmy Galindo sent to him, asking for assistance? The answer was no. My second question. Do you, Mr. Tarin feel that all your decisions have helped the community? And have you made mistakes? And what are you going to do to correct them? The answers were: part 1, yes; part 2, Mr. Tarin admitted to making mistakes; part 3, we are working on a contract with the state of Arizona. Mr Bobby Dean answered a question pertaining to a recall. He stated that these could not be done in Texas. So, what I would like to say to all Reeves County citizens is, that our hands are pretty much tied and the tax-paying citizens of Reeves County, may all have to pay out of their pocket in the form of higher taxes. Due to all the mistakes our elected officials have made, unless a miracle happens.

But I'm not not worried too much because Mr. Tarin stated, "That there will be new elections held one day and you can cast your vote for who you want to!"

I know that "I" will not be voting for Jimmy Galindo if he runs again for County Judge.

STEVE C. PINEDA

<!==========end copy==================>
---
---
Pecos Enterprise
York M. "Smokey" Briggs, Publisher
Division of Buckner News Alliance, Inc.
324 S. Cedar St., Pecos, TX 79772
Phone 432-445-5475, FAX 432-445-4321
e-mail news@pecos.net
Associated Press text, photo, graphic, audio and/or video material shall not be published, broadcast, rewritten for broadcast or publication or redistributed directly or indirectly in any medium.
We support Newspapers in Education
Copyright 2003 by Pecos Enterprise
---