|
Daily Newspaper and Travel Guide
for Pecos Country of West Texas
Opinion
Tuesday, August 5, 2003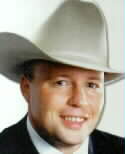 Sage Views
By Smokey Briggs
<!=====paste copy here==========================>
Setting the
record straight
Well the rumor mill has been churning the past few months concerning the combined fates of the Pecos Enterprise, The Monahans News and myself.
The best rumor was the one that had me moving the Pecos Enterprise to Barstow. I had never thought of that before, but if things with the county do not start looking up....
I know that getting the facts out only adds grist to the rumor mill in the long run but at least for a time we will all know what is going on.
As of last week my darling bride and I are the proud new owners of The Monahans News and one whale of a bank note.
The Monahans News was owned by Phil Buckner - the same man who has owned and nurtured the Pecos Enterprise for the past four decades.
Phil offered to sell Laura and I the Monahans paper in such a way that even a poor newspaper publisher could buy it.
But Phil had one condition - that I stay on in Pecos for so long as he desired.
It took me a bit to roll that over in my mind when he first made us the offer.
Finally I said, "Phil, let me get this straight. You want to sell me a perfectly good newspaper in Monahans but only if I'm willing to keep drawing a salary in Pecos?"
Mr. Buckner nodded "yes."
"Well, Phil, you drive a hard bargain but okay," I said. Then I got out of there as quick as I could for fear Phil would realize what a lopsided bargain he had just made.
From what I can tell I really am going to get to have my cake and eat the whole thing as well.
So, while Lori and I and the bank now own The Monahans News we are not going anywhere in the foreseeable future. I will continue to publish the Enterprise and we plan to continue to make our home at our country house in Barstow.
Also, the Pecos Enterprise is not for sale and by hook or by crook we are still going to print five days a week.
So, those are the facts.
By next week I will not be surprised to hear that according to rumor I am actually going to combine operations of the two newspapers so as to better serve the greater Pecos-Barstow-Wicket-Monahans metropolis.
I guess it is a thought. But first we will have to come up with a better set of initials. DFW has a ring to it. PBWM just sounds like a bad radio station in the middle of nowhere.
EDITOR'S NOTE: Smokey Briggs is the editor and publisher of the Pecos Enterprise whose column appears on Tuesdays. He can be e-mailed at: smokey@pecos.net
Our View
County Judge Jimmy Galindo is ready for Broadway
Well, if they ever do a remake of "The Best Little Whorehouse in Texas" County Judge Jimmy Galindo is a shoo-in for part of the sneaky politician.
You remember him?
He wore a white hat and his most memorable lines went something like - "Oooh, I like to dance a little sidestep, now you see me now you don't."
Of course he was referring to his ability to dodge responsibility for his actions.
Yesterday Judge Galindo danced a masterful sidestep in his efforts to avoid answering to the people who elected him in regards to the ongoing financial crisis at Reeves County Detention Center.
It was a masterful and disgusting example of a pure politician practicing his trade with zero regard for the sanctity of his office. Bill Clinton would be proud.
At last week's regular commissioners' meeting Galindo and the county commissioners agreed to attend a town hall meeting that was first suggested by the county's own Washington, D.C. attorney.
The town hall meeting was scheduled for Monday (yesterday) at 6:00 p.m.
So, on Monday morning, Judge Galindo called an "Emergency" meeting for guess when?
Monday at 6:00 p.m. - the exact same time as the town hall meeting.
What was the agenda for this "Emergency" meeting?
The exact same topics as last week's so-called emergency meeting - none of which sounded like an emergency last week, much less five days later.
Certainly no topic seemed such an emergency that the people's right to advance notice of a public meeting should be sacrificed.
So, just why were these topics brought forward at two meetings of questionable legality rather than as agenda items at meetings where citizens had the minimum 72 hours notice required by law?
The reasons are simple. Last week, Judge Galindo simply did not want to bother with a bunch of pesky citizens asking questions about his prison and his trip to Washington, D.C. where he got his hat handed to him. How do you avoid those pesky citizens? You call a meeting with two hours notice, so no one knows to show up until it is too late.
Yesterday the reason was much the same. How do you avoid going to a town hall meeting where a bunch of citizens are going to ask you questions about how you are handling their county business?
Simple, call a meeting of your own and create the perfect excuse. And, if anyone does bother to show up, you have control of the meeting and can use procedure and protocol to your own advantage to avoid any questions you do not feel like answering.
While Galindo's sidestepping is not excusable the truly sad part is what this sidestepping illustrates - his absolute contempt for the people of Reeves County.
A sidestepping politician is worth a bit of humor in a movie but in real life it is nothing more than a shame. Reeves County deserves better.
Your View
Herrera clears questions addressed in paper
Dear Mr. Hanks:

I usually do not respond to letters in the newspaper but, since you took the liberty of mentioning my name in last Friday's newspaper, I will this time. First of all, Mr. Hanks you and the people who gave you information about me do not know me well enough to know whether I am qualified or not for the position of Emergency Management Coordinator. Obviously, the County Judge and Mayors of Pecos, Toyah and Balmorhea believed that I had enough qualifications to be considered for the job. Mr. Hanks I did not ask for this job and if you knew me at all you would know that I would not have accepted this job if I did not think I was capable of doing it.

As for my qualifications:

1. State Certified Emergency Medical Technician (EMT) 1992 to 1996.

2. State Certified Jailer through Reeves County Sheriff's Department.

3. Worked at Sulfur mine for 12 years, northwest of Pecos until it was closed in 1998. During that time I was a member of the Fire Brigade Team at the mine for 10 years. I also served on the Emergency Response Team at the mine for seven years.

4. Served on Pecos City Council for three terms.

Now whether these qualifications meet your standards or not, now you know what they are. In closing, There is no doubt in my mind as to the people in our community that could do this job.

Sincerely,
RICKY HERRERA

<!==========end copy==================>
---
---
Pecos Enterprise
York M. "Smokey" Briggs, Publisher
Division of Buckner News Alliance, Inc.
324 S. Cedar St., Pecos, TX 79772
Phone 432-445-5475, FAX 432-445-4321
e-mail news@pecos.net
Associated Press text, photo, graphic, audio and/or video material shall not be published, broadcast, rewritten for broadcast or publication or redistributed directly or indirectly in any medium.
We support Newspapers in Education
Copyright 2003 by Pecos Enterprise
---