|
Daily Newspaper and Travel Guide
for Pecos Country of West Texas
Opinion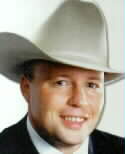 Sage
Views
By Smokey Briggs
<!=====paste copy here==========================>
Tuesday, December 3, 2002
First we fire all the administrators
AKA Smokey's quick fix for schools
I don't get it.
Why does it seem to cost more every year to educate a child?
Inflation is not the answer. School funding is tied to property taxes. Property taxes are tied to property values. Property values are tied to inflation.
So, funding from local property taxes should maintain a ratio that keeps up with inflation.
So what is it?
Why is it that every year more money is poured into our statewide education system (and nationwide for that matter) and every year the cry goes out for more money?
It certainly does not seem that children are getting a better education than they did 20 years, or 40 years, or 60 years ago. Perhaps more are actually being given a diploma, but the diploma is nearly valueless today after 50 years of ill-thought education polices that encourage social promotion based on everything from Freud to race _ everything but the ability read, write and do a bit of arithmetic.
We could probably spend years and years pondering the rising costs and get nowhere _ so why not just fix the problem?
Here are two recipes:
Recipe Number One:
End all federal involvement, from funding to mandates. Cut it off clean.
End all state involvement, from funding to mandates. Cut it off clean too.
Allow communities to tax themselves to build the schools they want. Some will be better than others. Just like today. But the cost will be a heck of a lot cheaper than today, even for the best schools.
Recipe Number Two:
Want to fix education and leave the government involved? End all forms of job discrimination protection. Fired means fired and we don't care if you think it was because you were a girl, or a boy, or in between, or anything else. The world is full of hard knocks. Get over it and move on.
Now fire every administrator that currently holds a job. Now fire every teacher that has a degree in education rather than in a subject worth teaching. Now fire every coach whose real job is coaching rather than teaching. Sell every stinking bus that does not look like a yellow dog. Forbid the building of athletic facilities beyond grass fields and wooden bleachers. End the concept of teacher certification.
Now fire the rest of the teachers.
Okay, that leaves us with some buildings and books.
Now, set teachers' salaries so that the minimum for a new teacher is $40,000 in 2002 dollars. We can do that because we have eliminated the entire coaching staff and all the administrators. Set the scale so that after 30 years as a teacher you can retire and live as well as those retiring from corporate America. The qualification for teaching will be competence in your subject. Math teacher? Hmmmm, how is your math? Got a degree in mathematics?
Now, advertise the pay scale and pick the cream of the crop. There will be some cream at these wages.
Set the top administrators salary so that it is no more than 10 percent above the maximum that a teacher can make.
Fill administrative positions with any money left over after you've hired enough teachers. Main requirement _ minimum of ten years teaching a real subject _ health and other "coach jobs" do not count.
When you run out of money you have enough administrators. Remember, there is not much to administer since you ditched the athletic program and gave the classroom back to the folks who are supposed to run it _ teachers.
Now reinstall athletics.
For an extra $XXX a month, who wants to be the head football coach after you are done teaching your real classes?
Congrats coach; now pick your staff from the other volunteers.
Curriculum for high school? Four years of math, English, history, foreign language, and science.
Can't hack that? Gee you are not in school any more. You are now available to industry.
And that end result should be okay.
There is no perfect fix. Some children will always make it to their 18th birthday without knowing how to read.
No system can fix that. Parents can. But systems cannot. All a system can do is provide opportunity. It is up to kids and parents to take advantage of it.
EDITOR'S NOTE: Smokey Briggs is the editor and publisher of the Pecos Enterprise whose column appears on Tuesdays. He can be e-mailed at: smokey@pecos.net
Our View
The "Truth in Naming Laws," Law
Here is an idea _ one law for one purpose named so that the title describes the contents of the law.
It is hard to argue for any new federal law in this day when the federal statutes can be measured by the ton.
However, there is one new law that could only be good for our republic. This would be the Truth in Naming Law.
The new law would demand that bills passing from congress only contain legislation reasonably related to the name on the bill.
For instance, the Defense Spending Bill, could only contain legislation authorizing spending for Defense.
It is a novel concept that has never caught on in Washington.
So instead, we end up with laws intended to authorize another year of federal paychecks and tucked into the middle there are "amendments" calling for truckloads of pork barrel spending.
Currently each bill walking its way through Congress seems to be viewed by most congressmen as a convenient vehicle to throw their own pet spending project on.
The Truth in Naming Law would outlaw such behavior.
No longer could the Turnip Seed Research Funding Initiative be tacked onto the back of some legitimate sounding bill.
To get it passed, it would have to be named the Turnip Seed Research Funding Initiative.
And the same goes for every bill that passes to the president's desk.
Perhaps there would be more bills for the president to sign into law. But, more possibly, many of these bills would die for lack of support long before reaching the president's desk.
Digging up support for a bill sending a cool million to your brother-in-law's school for left handed artists might be a little tougher than packing into the sausage roll of a major defense spending bill in exchange for your support of the overall bill.
Like most laws there is a necessary exception, and this simply to spare us an expletive soaked network news each night.
For most bills passed funding artists supported by the National Endowment of the Arts, bleeps can be used to describe the particular artistic expression being supported.
Tumbleweed
A true Christmas story
By TUMBLEWEED SMITH
She walked with a limp.

The tired old lady had three offspring, two daughters and a son. The son had not been home for twenty years. He was a cab driver in a large city.

Her three children had fought each other for most of their lives.

While they were growing up, the older daughter and the son ganged up on the younger girl. They locked her in closets, told her she was adopted and would seldom let her hang out with them.

One day the older daughter was talking to her mother and asked her what she wanted for Christmas.

"I'd just love to have my three children here in my house for Christmas dinner and not be fussing," the mother replied.

One day the son, while driving his cab, saw a woman walking with a limp, crossing the street in front of his cab.

She had trouble getting up on the curb, so he got out and helped her.

He stood beside his cab and watched her walk slowly and surely painfully down the sidewalk.

His eyes followed her for a long while, long enough for traffic to back up behind him. Some irate drivers let him know what they thought about him just standing there in the middle of the street. Several horns honked.

He watched her until she disappeared. He remembers seeing her, then not seeing her. She just vanished. Faded out of sight. He got back in his cab and drove straight to his mother's house, 200 miles away.

It was Christmas Eve.

He got home to find his two sisters there along with his mother, who was ailing. The meal was a success. The three children hugged each other, talked about the past, laughed with their mother and had a good time.

There was no fussing. The son gave his mother his telephone number. After the dinner, the three returned to their homes. The next day the mother died. One of the sisters found the brother's telephone number and he was able to get home to help his sisters bury their mother.

The son said he thought the woman who limped across the street in front of his cab was an angel.

The three are no longer estranged. They call each other frequently and talk in loving terms about their mother and growing up together. They joke about some of the childhood pranks.

And the brother remembers that angel.


<!==========end copy==================>
---
---
Pecos Enterprise
York M. "Smokey" Briggs, Publisher
Division of Buckner News Alliance, Inc.
324 S. Cedar St., Pecos, TX 79772
Phone 915-445-5475, FAX 915-445-4321
e-mail news@pecos.net
Associated Press text, photo, graphic, audio and/or video material shall not be published, broadcast, rewritten for broadcast or publication or redistributed directly or indirectly in any medium.
We support Newspapers in Education
Copyright 2002 by Pecos Enterprise
---