|
Daily Newspaper and Travel Guide
for Pecos Country of West Texas
Opinion
Tuesday, November 26, 2002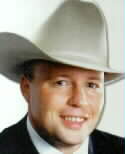 Sage
Views
By Smokey Briggs
<!=====paste copy here==========================>
SWMBO and the
magic moving notes
Well, we did it.
Moving day, or really moving week, is over.
Chickens no longer roost on the corner of Jackson and Texas and the frame of my 1946 Chevy does not grace the carport.
And I really owe some folks.
There are some perceived disadvantages to living in a small town. I hear about them from friends and acquaintances that live elsewhere.
Well, let me tell you, there are some real benefits to living in a town like Pecos.
Where else could you find a half dozen people foolish enough to pick up all your stuff, load it on trailers, and haul it to your new abode.
And for several days, it looked like someone had died judging from the food that was being dropped by the house _ not to mention a delicious dinner that was actually catered at our new home for our crew by some of our new neighbors.
All for the grand payment of a "thank you."
Well, that was all they expected. The guys actually picking up the stuff made out a little better.
I happen to have married a pretty classy dame.
Not many people can make helping you move fun.
She-Who-Must-Be-Obeyed actually managed to take a hellish task and put a little fun into it with a kind of West Texas-Meets-Martha-Stewart twist.
I laughed at the idea at first.
What she did was make little cutesy notes promising such-n-such prize to the finder for his efforts. Prizes ranged from new issues of popular hunting magazines to six-packs (alcoholic or non). Most sought after where the coupons good for one of her homemade pies _ finder's choice of flavor.
I never saw so many men work so hard or so fast.
You would have thought there was gold hidden in the couch cushions.
Now, we have some relatively heavy stuff.
I like to load my own ammunition. Lead is a popular material for making bullets. I own some. Some is in the form of factory made bullets. Some is in big heavy chunks. Some looks a lot like old wheel weights that have not yet been melted down and re-cast.
Lead is heavy.
Ask more former friends, and I emphasize the former aspect of our relationship.
They are still friends with my wife, however.
They like her.
There were cutesy little Martha Stewartish notes taped to her heavy junk.
SWMBO does not consider anything to be of quality unless it is heavy. Oak, marble and iron are what she considers quality furniture making materials.
Saturday morning, the fun began. Trailers arrived. Gloves were donned. Dollies unloaded and back-braces tugged tight.
It did not take long before the first note was found.
"What's this," Mook Number One asks innocently.
"Oh, that's just a coupon for a free pie. I'll make it for you when you want it. What kind would you like?" SWMBO asked just as innocently, as though there were no ulterior motive to her offer.
"How about chocolate?" Mook Number One has had a slice of SWMBO's chocolate pie. It is good, as my waistline will attest.
"Sure," she said. "There are other prizes taped to some of the other items."
"Any more pies?" Mook Number Two asked.
"A few," SWMBO said sweetly.
Let the loading begin.
I almost got run over several times. (The coupons were no good to me I found out to my dismay when I presented one for a free six-pack to the boss).
I've never seen movers like these. Into the trailer the three-ton dresser went.
"Heave!"
"Careful," four semi-rednecks hollered in unison as they set it down as though carting eggs. (They had discovered that there were bonus coupons for undamaged goods).
Unstrap the dolly.
Wham, back into the house with a rush to start lifting (and searching) the next piece of furniture.
"Six pack!" "New flash light!" "I got a pie!!!"
In and out of the house my poor friends went, burdened by heavy stuff, brandishing their little coupons as sweat streaked their smiling faces on a cool November morning.
By Sunday evening the hard part was done.
And I was not laughing.
Little Ms. Martha Stewart Jr. had prevailed.
But, just for the record, ya'll better come collect those pies before they cool.
Friendship only goes so far.
EDITOR'S NOTE: Smokey Briggs is the editor and publisher of the Pecos Enterprise whose column appears on Tuesdays. He can be e-mailed at: smokey@pecos.net
Our View
Carter should still be the head coach
Pecos head football coach Fred Carter is out of a job after being pressured into offering his resignation after just one season.
Carter should still be the head coach unless the school board has a better reason than one losing season for its dissatisfaction.
When Carter was hired some questioned whether he was better qualified than the other applicants.
Those kinds of questions are normal. Human beings are not tally sheets and there can be more, or less, to a person than the ink on a resume.
After considering all the angles the school board picked Carter as their dance partner.
After making that choice the board ought to dance with him longer than one season.
It was a very dismal season.
But, anyone who really follows Pecos football expected a lousy season this year, no matter what the so-called experts predicted.
When Pecos moved down to Class 3A it went from a district where football was an afterthought to a district that plays football with a capital "F."
Paul Bryant would have had a tough season in Pecos this year.
In lieu of a better explanation, Pecos has to assume that Carter was fired for the football teams' poor performance.
After only one season that is not a good enough reason.
Your View
Team effort needed for a winning season
To the Editor:
Only God can perform miracles. Man cannot perform miracles; it takes time for a man to accomplish things. I could not believe that there were citizens in Pecos who thought that Coach Carter should have been able to come to Pecos and work a miracle in just one season.
It takes time to build a team and the students who play on the team must be as dedicated to the team as the coach. This year Coach Carter came in without much time to work with and Pecos did not even give him a year to get settled and plan a strategy for his team. Shame on us.
With players drinking, partying and getting charged with MIP it makes a coach's job even more difficult. Without dedication and commitment from the kids you get what we got—a losing season.
Where were the parents when their kids were out partying? Where was the player's dedication to the team? How can the coach be held responsible for this? I am sure parents were not pleased with their children for getting MIP's, but these parents need to stand up and say, my child was not committed to the team and this lack of dedication contributed to the way the season turned out. The players should not allow the community to blame the coaching staff for what happened, have character young men and let the community know why you were not successful, don't let the coaches take the blame for everything.
Coach Carter and his staff cannot go out on the field and play for these young men. The young men must work on their skills and be dedicated, focused and committed to the purpose and the goal of winning football games.
If parents cannot control their children's behavior, what makes these same parents think that their children will go out on the field and do exactly what the coach tells them to do? The players have to have pride in themselves, in out community and they need to be held accountable for their behavior and take ownership in their team.
I know that there are some kids who were dedicated and who did give their best effort; I sympathize with the team and with Coach Carter and his coaching staff.
Until all the players associated with the team decide to give it 110% it doesn't matter who the coach is, we will not be able to win.
I heard someone say Coach Carter never really got excited. One of the world's most famous coaches, Tom Landry was not a very emotional person, but he got the job done. Who are we to dictate how a person should handle their emotions?
I hope that the School Board will evaluate the situation and do the right thing. An apology is owed to Coach Williams our Athletic Director, and to Coach Carter and his coaching staff for the lack of patience that some of our community members have shown. We need to start over next year with the SAME coaching staff, a team that is focused, committed and dedicated to winning and we will have a successful year.
By the way there are other sports that have done quite well under Coach Williams leadership such as power lifting, swimming, cross country, golf and tennis to name a few.
The coaches can't do the job by himself; the youth have to do their part also; it takes a TEAM effort.
ELLA SUE JOHNSON
Recent column blames Williams for recent loss season
Dear Editor:
This letter is in reference to the article in Friday's Pecos Enterprise concerning the coaching staff of Pecos High School. Matt Burkholder addressed the Board about our recent losing season, seemingly putting all the blame on Athletic Director "Bubba" Williams.

Matt, where were you during all those losing seasons under Athletic Director/Head coach Daylon Whitehurst? Matt stated that the people wanted to know what the Board is going to do about Coach Carter and Coach Williams. Who elected you speaker of the people? You are not speaking on behalf of all the people. I know what "Bubba" brings to the table. I still remember the enthusiasm "Bubba" had during the games and his present coaching skills as he had 23 years ago when "we" played for him or have you forgotten? Maybe the people you are speaking for need to get involved and help solve some of the problems that lead to a losing season. Coaches and teachers can only do so much but as parents also need to teach, and train our children at home. Before Jr. High and High School comes volunteering and trying to help develop our children at a young age through organizational teams such as Little League, soccer, basketball, programs, etc. Enthusiasm, respect and pride are taught at an early age not only by coaches in high school, but by parents that want their children to become proud Eagles.

If you don't see any of this in our prayer's maybe we need to pay closer attention to how we try and develop our young athletes. Coach Whitehurst was given years to produce a winning season, yet coach Felix Urias and Coach Carter were given a maximum of 1 ½ years to turn our program around, do you think this is fair?

Maybe, we should concentrate on why our coaches are not staying in Pecos long enough time to turn a program around!

To coach Williams, congratulations on your new assignment, may you find the strength in the Lord to help you with your new challenges! Keeping in mind Philippians 4:13 which states, "I can to all things though the Lord Jesus Christ who strengthens me."

LEE SERRANO

<!==========end copy==================>
---
---
Pecos Enterprise
York M. "Smokey" Briggs, Publisher
Division of Buckner News Alliance, Inc.
324 S. Cedar St., Pecos, TX 79772
Phone 915-445-5475, FAX 915-445-4321
e-mail news@pecos.net
Associated Press text, photo, graphic, audio and/or video material shall not be published, broadcast, rewritten for broadcast or publication or redistributed directly or indirectly in any medium.
We support Newspapers in Education
Copyright 2002 by Pecos Enterprise
---