|
Daily Newspaper and Travel Guide
for Pecos Country of West Texas
Opinion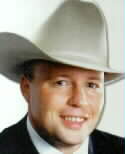 Sage
Views
By Smokey Briggs
<!=====paste copy here==========================>
Tuesday, November 12, 2002
Lawyers -- the root
of all evil
Are lawyers the root of all evil?
Or, at least the root of most economic evils that bedevil out society?
According to some they are.
The insurance industry says so.
Many conservatives make the same complaint.
Of course, we are not talking about your run-of-the-mill divorce or criminal lawyer (no pun intended).
We are talking about the lowest form of lawyer life _ the plaintiff's attorney, A.K.A. the ambulance chaser.
The guy you go to if you do not have a $5,000 dollar retainer in your pocket after you have been in a car wreck, or are not completely satisfied that your doctor amputated the good leg.
The same guy that crooks go to when they really did not have a wreck, or the floor at the Mega Mart was not really covered with motor oil when they did the swan dive onto the tiles.
During the previous campaign season, the Republicans have beaten the evil lawyer drum quite a bit. Calls for caps on jury awards were especially loud and that drum beat echoed well with the populace.
For once, I am going to side with the lawyers.
Yeah, I know, I is one. But, I've been straight for a number of years.
At the same time, my general philosophy toward life is mildly conservative.
I do not like paying through the nose for insurance.
And, from what I hear, plaintiffs' attorneys are the reason I pay so dearly. I have read or heard that many times in the past months.
"The number of malpractice and personal injury lawsuits is growing exponentially," says Jane Doe, vice president of the Official League of Moms Against Insurance Debt (Ol' MAID's) as a talking-head nods sagely in reply, not speaking because he does not know how to speak without a teleprompter.
Of course, I am supposed to draw the conclusion that a rising number of personal injury claims indicates that evil lawyers are essentially making up claims to pad their ill-gotten bank accounts.
It is an easy conclusion to draw.
There is one other possible conclusion however _ that evil practitioners of things such as medicine and driving cars are actually committing more negligent acts.
If that is the case, then insurance companies need to charge higher premiums, or screen their customers a little more closely.
The best answer is not limiting the compensation a person can receive when he has been hurt.
The favorite "cap" figure seems to be about $250,000.
That seems like a lot of money.
Until you walk through the doors of a hospital and start paying the cashier.
How far will that "cool quarter of a million bucks" go when you are caring for an invalid relative put in that condition by another person's negligence?
Not that far.
Is there a good answer?
I do not know.
Capping damages is certainly is not the answer.
That leaves three options: people can quit damaging each other through their own gross negligence, insurance companies can start screening their insured clients better, or juries can start doing a better job of sifting through the evidence.
All three would be a nice start.
EDITOR'S NOTE: Smokey Briggs is the editor and publisher of the Pecos Enterprise whose column appears on Tuesdays. He can be e-mailed at: smokey@pecos.net
Critic's Corner
Lattner history is cotton tale
When Travis Lattner laid down his hoe in 1994, he wrote finis to 210 years of cotton production by the Lattner family. Now he has written a family history that paints a clear picture of those centuries.

His great-great grandfather, John Vollentine Luttringer (later changed to Lettener, then Lattner) came from Germany in the late 1750s to settle in South Carolina, and received a grant of 200 acres of land in 1780. He was likely one of several farmers who contributed to the first shipment of cotton from the Port of Charleston, S.C. for Liverpool, England in 1784.

Lattner includes a short history of cotton, which was cultivated and used in the Tehuacan Valley of Mexico 7,000 years ago and appeared in India about the same time. Herodotus described the cotton "trees" in India, whose fruit "is a wool exceeding in beauty and goodness that of sheep."

Cabeza De Vaca found cotton plants in Texas and Louisiana in 1536, Lattner said. In 1793, Eli Whitney invented the cotton gin, which made it possible to grow large crops for sale. A picture shows Whitney's first gin to be a box with a handle to turn the inner works. The sale of such a gin for $22.25 is listed in an 1854 estate sale of his grandfather, John Vollentine Lattner II. In that same sale, a female slave brought $1,002.

Joseph Travis Lattner came next in the family lineage, and he begat Samuel Ramsey Lattner. Sam moved to Thornton, Texas in 1887 and took a job at the Watson cotton gin. He later married Martha Watson, and they named their first child William Travis.

William Travis Lattner left a diary that reveals quite a bit of detail about life in Thornton, Texas in the early 1900s, and his son has lifted numerous quotes from him in this beautifully bound journal of a family's journey.

You'll have to buy the book to get the colorful details and to learn how Travis Lattner ended up in Pecos married to Bobbie Chesney.

West of the Pecos Museum has The Lattner Story: Farmers, Doctors, Soldiers in its gift shop for $22.50. It is well worth the price.

—Peggy McCracken

<!==========end copy==================>
---
---
Pecos Enterprise
York M. "Smokey" Briggs, Publisher
Division of Buckner News Alliance, Inc.
324 S. Cedar St., Pecos, TX 79772
Phone 915-445-5475, FAX 915-445-4321
e-mail news@pecos.net
Associated Press text, photo, graphic, audio and/or video material shall not be published, broadcast, rewritten for broadcast or publication or redistributed directly or indirectly in any medium.
We support Newspapers in Education
Copyright 2002 by Pecos Enterprise
---