|
Daily Newspaper and Travel Guide
for Pecos Country of West Texas
Opinion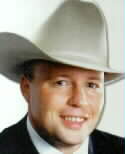 Sage
Views
By Smokey Briggs
<!=====paste copy here==========================>
Tuesday, November 5, 2002
Barry Bond's lost and I'm glad
Well, Gene Autry's team won the pennant.
While I am not much of a sports fan, I have followed the Angels since I was quite young _ about the time I learned that Gene Autry owned the club. When I was seven years old Gene Autry came on in black and white every Saturday morning at 6:30 a.m.
I was usually there to see character and determination win out over evil and avarice.
Seeing his team win was nice even if Gene was watching from way up high.
However, what I really enjoyed was the way the Angels won, and whom they beat.
From what I have seen of the 2002 California Angels, they represent most of what I think team sports are all about: character, loyalty, teamwork, leadership, determination.
Gene would approve.
No marquee names (at least not yet) dot their lineup. The Angels do not have a team salary that is supposed to be able to win a World Series.
But man, they play hard.
And they don't quit.
And, it didn't look like they blamed each other when the chips were down. That is the mark of a team.
They won as a team and lost as a team. Either way, that makes them winners in my book.
There is a true leader on that team somewhere _ maybe several.
Or maybe Gene's ghost haunts the clubhouse and sprinkles a little self-sacrifice dust in the locker room.
These are traits that the San Francisco Giants did not appear to have. The Giants have talent. If talent were the measure of winners, they would be the champs.
But they did not and I'm smiling.
Even more so because Barry Bonds plays for the Giants.
That is a mean-spirited thing to say and Gene probably would not approve.
Sorry Gene.
From what I have seen and read, Bonds is on the opposite end of the spectrum from the Angels.
He seems to be the epitome of what I do not like about college and professional sports, and our society in general. A society that is dazzled by raw talent and too stupid to understand that talent will fail you in the ultimate contest of life.
Watching the interaction between Bonds and the rest of the Giants gave me the impression that there were two distinct organizations on the field for the Giants.
There was the Giants ball club, and then there was Barry Bonds who was doing everyone a favor by showing up.
Facing elimination in game six of the World Series and down by five runs in the seventh inning, I want to play on a team _ not with a bunch of prima donnas.
Quite frankly, I would rather lose that game with a team than win with the Barry Bonds of the world.
Either way I would be a winner.
Kind of like Gene.
Editor's note: I like words. On occasion I find that I am using a word but do not know the origins of the word. Prima donna is one such word. (Two words actually that have no meaning in English used separately). I looked it up last night to make sure I spelled it correctly. I've known for a while that prima donna meant a, "conceited, temperamental or vain person." What I did not know is that originally, prima donna simply means, "first lady" in the original Italian, and was coined to describe the principal women singer in an opera. The "vain, temperamental" definition apparently evolved from the personalities of the first ladies of the opera.
Smokey Briggs is the editor and publisher of the Pecos Enterprise whose column appears on Tuesdays. He can be e-mailed at: smokey@pecos.net
Our View
Educated votes are a far better tribute to our veterans
Voting polls close at 7:00 p.m. today. If you have not voted, you should be ashamed. You should also get up off the couch and head down to the polls.
Many good men have died to protect the way of life that allows each of us to have a say in our government. Many more have dedicated their lives and careers to protecting these freedoms.
Next week we will celebrate Veterans' Day. Flags will fly. Words will be written and read. Hopefully, our veterans will hear, "Thank you."
It is a nice tribute.
But, an educated vote cast in today's election will speak far louder than any tribute next week. As will your absence from the voting booth.
Your View
Condition of local cemetery upsets reader
To the Editor:
Pecos Citizens should be outraged over the condition of the Fairview Cemetery. The condition is horrible, and just continues to get worse. Many headstones were vandalized years ago—and continue to be vandalized—and nothing has been done to replace stones that were moved. No one will stand up and be accountable for who is responsible for the upkeep of the cemetery.

I was told by the funeral home that it would cost $50 per plot to have them cleaned up. Precinct workers or city workers should perform this upkeep—that is part of what tax money should be used for.

Many of my family members are buried in this cemetery, and I can't even go there to visit family members' graves and feel at peace.

Someone needs to standup and take responsibility for this cemetery. Police need to patrol the area to prevent any further vandalism.

I ask that anyone who objects to the condition of the Fairview Cemetery, please call Pecos city officials. If enough of us speak up, our voices can be heard and our deceased family members can have the respect they deserve.

GLORIA HARDY ELLISON
Fort Stockton

<!==========end copy==================>
---
---
Pecos Enterprise
York M. "Smokey" Briggs, Publisher
Division of Buckner News Alliance, Inc.
324 S. Cedar St., Pecos, TX 79772
Phone 915-445-5475, FAX 915-445-4321
e-mail news@pecos.net
Associated Press text, photo, graphic, audio and/or video material shall not be published, broadcast, rewritten for broadcast or publication or redistributed directly or indirectly in any medium.
We support Newspapers in Education
Copyright 2002 by Pecos Enterprise
---