|
Daily Newspaper and Travel Guide
for Pecos Country of West Texas
Opinion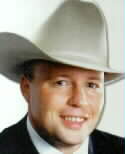 Sage
Views
By Smokey Briggs
<!=====paste copy here==========================>
Tuesday, September 17, 2002
Patriots and hypocrites
Last Wednesday's nationwide, public and planned display of patriotism did not do much for me. Actually, it left a bad taste in my mouth.
It started several days before when the talking heads, pundits and politicians began to fill the media with advice on how and when I should show my appropriate patriotism.
Little of this struck me as sincere. I would bet my eye teeth that 98 percent of those crying patriot the loudest have never had a patriotic thought or done a patriotic act in their life.
Patriotism for them is a popular sentiment to be dusted off in hours of convenience so long as it provides for good ratings or a decent photo-op, and does not interfere with their lives.
I have seen a few such patriotic displays in my 37 short years. It has been my experience that many of the attendees drop their patriotism at the curb when they get into their cars.
Unfortunately, patriotism is more than a nice sentiment.
True patriotism hurts a little bit. It is inconvenient.
It is a way of life, not a day in a life.
It is also invaluable to those who know it, and from what I have seen, a contemptible weakness to those who do not.
On Wednesday patriotism was convenient. Six months from now it may not be. This coming election day, it may not be.
In November, how many fair weather patriots will walk into the voting booth and vote for their own interests rather than their country's?
I have seen some patriotism.
I have seen it in the faces of young men in boot camp who joined their nation's military because they felt the call, not because it was the only job they could find.
I have seen it on the faces of old men who bought a drink for a young Marine or sailor in an airport bar.
I have seen it in employers who were proud to have reservists in their employee despite the fact that they would be gone two weeks a year to train and could be called into service at any moment.
I have seen it on the faces of people walking out of voting booths.
I have seen it on the faces of wives, children, fathers and mothers as they said goodbye to their loved one who was answering the call to duty.
I have seen it at some public gatherings too, at Memorial Day ceremonies where the popularity of the event has waned compared to a three day weekend at the lake.
I have seen it on a daily basis as people I know strive to keep themselves informed about their world so that they can make educated decisions about matters of national importance.
Mostly, though, I have seen it in the attitudes of the people I have met. Either their love of country coursed through the daily decisions of their lives, or it did not.
Last Wednesday, we expressed a lot of nice sentiments as a nation. Patriots mixed with hypocrites around flagpoles all around America.
I hope the patriots converted a few of the hypocrites.
Time will tell.
EDITOR'S NOTE: Smokey Briggs is the editor and publisher of the Pecos Enterprise whose column appears on Tuesdays. He can be e-mailed at: smokey@pecos.net
Our View
America is about freedom, not fairness
Not too long ago the Fort Worth Worth Star-Telegram printed an editorial backing a national law that would prohibit private employers from considering a worker's sexual orientation when deciding to hire or fire.

In support of its position the paper printed, "Every American citizen has the right to the same treatment _ in housing, in employment and in access to public accommodations."

Most of that statement is ignorant blather.

American citizens have the right to be free, not the right to be treated fairly by each and every fellow citizen.

Yes, every citizen should be treated equally by the government. It is their government after all.

But by every private citizen?

No.

Freedom means being free to be a jerk as well as a prince.

Freedom means allowing hate as well as love.

Laws like this one mock freedom in the name of fairness.

It is a poor trade that marks one more step toward the mob rule of a pure democracy and one more step away from the protections of a constitutional democracy.

<!==========end copy==================>
---
---
Pecos Enterprise
York M. "Smokey" Briggs, Publisher
Division of Buckner News Alliance, Inc.
324 S. Cedar St., Pecos, TX 79772
Phone 915-445-5475, FAX 915-445-4321
e-mail news@pecos.net
Associated Press text, photo, graphic, audio and/or video material shall not be published, broadcast, rewritten for broadcast or publication or redistributed directly or indirectly in any medium.
We support Newspapers in Education
Copyright 2002 by Pecos Enterprise
---