|
Daily Newspaper and Travel Guide
for Pecos Country of West Texas
Opinion
Tuesday, August 20, 2002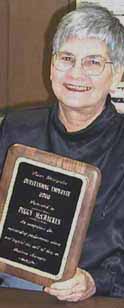 Squarely Pegged
By Peggy McCracken
<!=====paste copy here==========================>
A visit to Flomot brought
back lots of memories
Flomot has about dried up and blown away. Literally and figuratively. One family lives in the town that once buzzed with industry and commerce.
When my brother, two sisters and I made the trek back for the triennial homecoming in the Flomot gym and school cafeteria/turned community center, we found only a few familiar faces. The list of exes who died since the last gathering was almost as long as the guest list.
It was worth the trip, though, just to get to dance in the rain.
I had prayed for rain for Pecos, and we got it (as usual) during the rodeo. As I drove toward Flomot in a heavy rain, I considered praying that it not rain during the homecoming. But how can you pray that it doesn't rain in farming country where folks depend on dry-land cotton, maize and peanuts for their livelihood? No, I decided, we could always move our visiting and dancing inside the gym if the floods came.
We didn't have to move inside, but the sprinkle started with the dance music and kept us pleasantly cool all night. That is until about 11. We didn't even make it until midnight this time around. Clogged arteries and the like shorten the evenings somewhat.
Before the dancing started, Charles Tanner and I walked across the road to the concrete tank that used to serve the steam-powered gin. It also served as a baptismal tank for the Baptist and Church of Christ congregations. Charles remembers that he and I were baptized the same night. He even remembers that I wore brown shorts. But I think he got me mixed up with someone else, because I didn't even own a pair of shorts and wouldn't have dared wear them to a church function anyway. We did make our professions of faith at the same time in the little Baptist church, but Mama thought I might want to wait awhile to be baptized. Not liking the idea of climbing into that cold water on a chilly night, I agreed. It was five years and a marriage later that I took the plunge in the Quitaque church's baptistry (indoors).
That gin held lots of memories for me. Daddy often let us ride on top of a loaded cotton trailer to the gin, and we explored as much as we were allowed inside and outside the gin. Sometimes they were short handed, and Daddy ran the suction that pulled our cotton bolls into the cleaners and saws. Although the gin still operates, it doesn't use steam, and the tank is an abandoned shell.
I was sad to note that the gym looks kind of abandoned, too. The once glossy hardwood floor has been ruined in places, due to a leaky roof. That gym provided us many hours of sheer enjoyment, tossing a basketball, hitting a volleyball or watching local folks on the stage in some talent show or drama. It is showing its age like the rest of us.
Marcella Lovett said that she and David drove through Turkey and Matador on their 30-year anniversary "honeymoon" trip. Had they just known, they could have turned right about halfway between the two towns and discovered Flomot. There is a café at the old gin now, where they could have enjoyed a good country meal.
And who knows? They might have run into a rain shower.
"Until the cities be ruined and without inhabitant, until the houses are left deserted, and the fields ruined and ravaged, until the Lord has sent everyone away and the land is utterly forsaken." Isaiah 6:12, NIV
EDITOR'S NOTE: Peggy McCracken is Enterprise business manager and webmaster. Contact her at peg2@pecos.net
Your View
Student disgusted with Bonilla's behavior
Dear Editor:
I am a college student from a middle-income family that looks for financial aid and any type of scholarship I can find to make ends meet. Even though I struggle with part-time jobs and with my studies, I've always tried to squeeze in some community service as well. I enjoy spending time at nursing homes and one-day hope to become an Occupational Therapist where I can make a difference in the live of our elderly.
Well, imagine my surprise as I came across a federal House Resolution that if passed, would have granted me—and other 17 years olds—with $4,725 a year for up to two years in education awards in return for work in community service programs! My excitement quickly turned to disgust, however, in finding out that my own congressman, Henry Bonilla, voted against this measure (Roll Call 379, 1993). Why? There are hundreds of qualified students like me living in the border that need just a little extra help in reaching career goals and what better way than to be rewarded with educational grants for helping in the community. I don't volunteer because I expect to receive something in return, but I am a realist in that I need all the help I can get to finish school.
Mr. Bonilla won't get my vote this November and I will work to see that his opponent, Henry Cuellar does. With the work Henry Cuellar did in authoring and passing the TEXAS Grant scholarship while a member of the Texas Legislature, he has a proven record of doing all he can to see that working students get all the help they can. Thank you Henry Cuellar. You have my vote.
Sincerely,
SERGIO RAMOS
Local citizen wants City to clean up Pecos
Dear Editor:
I am always hearing about keeping Pecos clean, but I wonder why the Town of Pecos City does not try keeping Pecos clean.
We built a new jail, which is great, but has anyone seen the outside of the jail? There is no grass, but plenty of weeds. Everyone that drives by on Interstate 20 can see how ugly it looks.
I cannot believe that we are paying so much money for the jail, and the city will not take care of the landscaping.
Sincerely,
VICKY DEISHLER
Female officers at prison should not be stereotyped
Dear Editor:
I would like to comment on a letter written by a person who has no idea what goes on in a prison setting with a female correctional officer. First of all, not all female officers are what you so call, "abominable behavior". I have a mother that is employed with the Reeves County Detention Center and she has been with them for over 10 years, I am proud of her for what she has accomplished.

But at the same time I am not going to just sit here and read that someone is slandering her and all of the women of RCDC. I have worked with female officers that take their job very professionally. You cannot impose something of that nature to women in corrections just because of a few that make a mistake in their life.

I have a lot of respect for the female officer that has worked out there for years. These women need praise, and a pat on the back for withstanding the hardship of being a women in corrections, not negativity from people who because of what they hear build a stereotype and impose it on all female officers.

CESAR C. ZERMENO
Correctional Officer

<!==========end copy==================>
---
---
Pecos Enterprise
York M. "Smokey" Briggs, Publisher
Division of Buckner News Alliance, Inc.
324 S. Cedar St., Pecos, TX 79772
Phone 915-445-5475, FAX 915-445-4321
e-mail news@pecos.net
Associated Press text, photo, graphic, audio and/or video material shall not be published, broadcast, rewritten for broadcast or publication or redistributed directly or indirectly in any medium.
We support Newspapers in Education
Copyright 2002 by Pecos Enterprise
---