|
Daily Newspaper and Travel Guide
for Pecos Country of West Texas
Opinion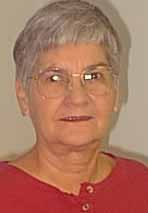 Squarely
Pegged
By Peggy McCracken
<!=====paste copy here==========================>
Tuesday, November 20, 2001
Good things come in
unexpected places, times
Trouble comes in threes, I'm told. I'm waiting for the third shoe to drop.

First, my brother's e-mail reported his 18-year-old grandson was shot and killed by a classmate. While I was still debating whether to emplane for Dallas Love Field to attend the Saturday funeral, my sister reported her husband had two to three months to live, due to a brain tumor. So I looked up plane schedules for Albuquerque.

But wait!, as the commercials beckon. There's more. Shoe Number 2 fell too quickly. Radiation is shrinking the tumor, and Harry will probably outlive me.

That gives me the first Thanksgiving prayer. But wait, there's more!!! (Don't you just love those come-ons that promise something free if you pay an inflated price for the primary item?)

God's Army is marching forward in a mighty way.

God's Army?, you ask. What is that?

That's a group of soldiers in grades 1-8 who meet each Tuesday to practice marching military style, pledge allegiance to the American flag, Christian flag and the Bible, memorize scriptures, sing and eat. Yes, we eat. Remember, an army marches on its stomach.

Giving thanks for the nationwide (even worldwide) return to God following the Sept. 11 attacks led me to consider how we could encourage our school students to live their Christian faith in the classroom, on the playground and among their friends and enemies.

Events of the past few years that have increasingly crowded God out of our schools have me all bent out of shape. How can we teach our kids the truth when we can't even tell them about the source of truth? Would classmates be shooting each other if they lived the truth as taught in God's word?

Mulling the marching theme and needing a uniform, I felt led to Eph. 10-18, which describes the "whole armor of God." Yes! The helmet of salvation, the sword of the spirit, the breastplate of righteousness, the belt of truth, the shoes of the preparation of the Gospel of peace, and the shield of faith. Soldiers could earn each piece of the armor by memorizing scripture, and we would march while dressed in the armor.

So one thing led to another, and the next thing you know I am recruiting drill sergeants from among my fellow Baptists to staff God's Army. We bought baseball caps with the American flag and an eagle on the crown, with GOD'S ARMY stamped underneath. That's the helmet of salvation.

A T-shirt with the logo GOD'S ARMY (with a cross as one leg and the crossbar on the A) is the breastplate. Of course, the Bible is the sword. And we are considering a red sash for the belt, blue bandanna for the shield and a beaded ankle bracelet for the shoes.

We consulted our young recruits before choosing the "armor," so we'd get something they consider cool. I was not prepared for the reaction to the cap, though. Everyone wants one. I think the adults are even more captivated by them than the kids are. I put mine on and marched around the office, barking orders as if I were a five-star general. (Nobody jumped to obey).

That's two thank-yous. If trouble comes in threes, shouldn't joys as well? So where is No. 3?

Rain. As I write this, gentle rain has fallen on and off for two days. Only God can make a tree, and only God can make it rain. So thank you God for the rain.

"O give thanks unto the Lord, for He is good. For His mercy endures forever." Psalms

Editor's Note: Peggy McCracken is Enterprise business manager and webmaster. Contact her at peg2@pecos.net.
Our View
Aviation Safety Bill is pork pie for the gutless
Our new Aviation Safety Bill, signed into law yesterday by President Bush is junk _ junk that leaves America with a huge new bureaucracy and lowers real airline security while creating the illusion that passengers are safer.

First, the box cutters used on September 11 probably did not pass through the boarding gate. Federal investigators found box cutters on several planes that were grounded on September 11. The facts surrounding these razors indicate that they were placed there by associates of the terrorist on the planes, not carried on board by the terrorist carrying out the final step of the operation.

That makes sense. Why bother arousing suspicion at the gate with any type of weapon when you can simply have it waiting on you when you board? Even before September 11 walking through the gate with an edged weapon was not easy.

With the new moronic rules outlawing pen knives and nail clippers, this scenario is even more likely.

Nothing in this new bill will prevent this from happening again.

Second, what in our collective experience with government employees makes us think that such employees will be anymore effective than private employees?

Do you use the Postal Service or FedEx when you really have to have it there overnight?

FedEx.

Why?

Because FedEx is accountable to its customers. Hence, FedEx fires lazy and incompetent employees. The government promotes them to supervisory positions.

What we will now have is 30,000 new piglets rooting their way into the federal trough. Piglets that cannot be fired and cannot be held accountable. That is a recipe for pork-barrel pie, not enhanced airline security.

Appreciative voters should thank a gutless Republican House and President who could not find the intestinal fortitude to say no to this Democrat pork pie.

Long term, America is going to have a bad case of indigestion. Hopefully it will not be fatal.
Your View
Board member irked by attitude at chamber
Dear Editor:
I have been a member of the Pecos Chamber of Commerce, even before our theatre opened, because we care about Pecos, and feel one of the greatest responsibilities of resident business owners is to promote their town and work for it's improvement.

As a member of the "Chamber", I visited with numerous business people, both to solicit their membership and for public relations. Time and time again, I was told that no one from the chamber had ever visited them, shown any interest in them or been of any help. Most of them were not impressed with the accomplishments of the chamber, and often referred to rude and insulting treatment when visiting the chamber office, or talking with them on the phone, trying to get information or assistance. I was told over and over that people in Pecos and in other communities considered this chamber as a joke.

I told these people, "if you are not part of the solution, you are part of the problem." I even convinced some of them to join, and help resolve their complaints.

When I was asked to be on the board of directors, I was very pleased. I received a new board member packet, which included a copy of the by-laws. I read the by-laws and could see that these were not being followed, and in fact, were being blatantly broken, and changed at will. The Pecos Chamber of Commerce had not been run as a business in many years.

This was very troubling to me, and I found that many of the board members did not even have copies of the by-laws, and had never read them. The attitude seems to have been, "Don't rock the boat."

As a union member and officer for many years, I learned that an organization is only as good as its leadership. Since as a board member, I am considered part of the leadership, I could not sit idly by and watch the people of Pecos be short changed.

I did my research, and then pointed out some of the problems of accountability that were being ignored, and suggested possible solutions. I won't presume that may suggestions were the only possibilities, but is seemed that no one had the courage to stand up and agree that these things were not right, or come up with acceptable ideas.

In a few issues, as the audit, there was a weak attempt to correct the problem that an audit, which in the by-laws, is required to be conducted annually, has not occurred. The audit was conducted, but was not complete, as it did not cover all the accounts. So, what does that prove, except that it was just an attempt to again mislead the community, and give the people a false sense of security that the chamber is being run as a responsible business.

Another point is, which set of by-laws is legal. I have been issued a new board ember packet for the year 2000, and then another for the year 2001. In both were included copies of by-laws. When it was time to nominate new candidates for the board, there was a discrepancy in the number of members to be replaced, and the number of members, according to the by-laws, who were to be on the board. At the next meeting, board members were give a new set of by-laws, which were altered to reflect a new number of board members to be elected.

According to the new by-laws, the chamber is to have thirty board members. At any given meeting, it is surprising to have attendance of even half of these, reflecting the lack of responsibility shown.

Also, according to the by-laws, if a board of directors member misses three board meetings, he or she is automatically removed from the board. There are some members, who to my knowledge, have never attended a board meeting, and do not have excused absences.

Now, I'll be the first to admit that tact is not my strong suit, but I do know right from wrong, and what has been allowed to be accepted practice at the chamber is wrong.

I find that numerous people agree with me on the issues when we are discussing them face-to-face. But at a board meeting, most of these same people sit there, saying and doing nothing.

I can not longer be a part of this. It is not honest, moral or of any help to our community. I cannot be affiliated with a group that will not follow its own rules/by-laws.

This letter is to tender my resignation from the Pecos Chamber of Commerce Board of Directors and the PecosChamber of Commerce.

Sincerely,
RICHARD A. CREASY
More people should've attended the meeting
Dear Editor:
I attended the meeting about the closing of Anchor West. It was a meeting to discuss what could be done to offset the loss of the 700 jobs, and included several people who expressed opinions about what needed to be done, but conspicuous by there absence, were a representative of the Chamber of Commerce, the City Manager and Mayor, the representative of the Pecos Economic Development Company, any representative of the office of State Representative Pete Gallego, or Senator Frank Madla.

It would seem to me that if we are all in this together, we should get input from as many people as possible who are in a position to be of help.

Why don't we include ALL those with a stake in helping us try to solve the problem?

BOB DEAN
No gun policy dates back many years
Dear Editor:
In the wake of the outrageous terrorist attacks on the World Trade Center and the Pentagon, I feel compelled to ask a very simple question, the meaning and portent of which, in retrospect, is outrageous in itself. How many guns did the flight crew members on the hijacked airliners have on their persons to uphold their awesome responsibility to protect the lives of their passengers? The answer: None. I'm told that this no-gun policy dates back many years creating a condition whereby our airlines have been deliberately reduced to sitting ducks for terrorists to destroy, at will, using only pocket knives and razor blades, etc., which have been promptly outlawed on airlines, of course, by our asinine government authorities who disarmed the pilots and crew members long ago. The only time skyjacking subsided was when they put the sky marshals on the airlines years ago and then took them off when the skyjacking ceased. How dumb can the authorities get? Obviously the skyjacking ceased because terrorists don't want to deal with people with guns.

The solution to terrorism, or violent crime in general, is obviously to arm the potential victims, instead of depending on criminally negligent or subversive government agents or agencies who deliberately disarm our airline crews and deliver us up to be sacrificed by agents from dead-end rat-hole cultures who would love to sucker us into a no-win world war controlled by the communists, cut-throats and cannibals running the United Nations.

Lets contact the John Birch Society at 800-JBS-USA-1 or visit www.jbs.org for information, and then our congressman to get us out of the United Nations, and also to support the H.R.-2896 bill by congressman Ron Paul of Texas allowing pilots, co-pilots, and navigators to carry guns. We must act now.

Sincerely,
ED NEMECHEK
Wake up call to officials to fix problem
Dear Editor:
We have an onion ring factory in Pecos, and an onion farm 10 miles down the road. What a gold mine. We should be so rich, but we are not. Anchor West can make onion rings in Nebraska and truck them to Texas cheaper than we can make them here. That is pathetic and we should be ashamed of ourselves.

This is a wake up call to our city and county governments to get the cost of living in Pecos in line with the cost of living in Nebraska. And to keep the quality at least equal to that in Nebraska.

We can attract manufacturers, but unless we solve that basic problem we are wasting our time. They will also just leave. The State of Texas can help to reduce the cost of doing business in Texas but the problem is ours. We must provide the leadership to get it done.

We have always looked to our own community as a reference to tackle problems but those days are over. We must now consider the cost of living in Nebraska or Idaho when we recommend solutions to local problems.

Thanks,
CHARLES EISLER <!==========end copy==================>
---
---
Pecos Enterprise
York M. "Smokey" Briggs, Publisher
Division of Buckner News Alliance, Inc.
324 S. Cedar St., Pecos, TX 79772
Phone 915-445-5475, FAX 915-445-4321
e-mail news@pecos.net
Associated Press text, photo, graphic, audio and/or video material shall not be published, broadcast, rewritten for broadcast or publication or redistributed directly or indirectly in any medium.
We support Newspapers in Education
Copyright 2001 by Pecos Enterprise
---