|
Daily Newspaper and Travel Guide
for Pecos Country of West Texas
Opinion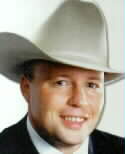 Sage
Views
By Smokey Briggs
<!=====paste copy here==========================>
Tuesday, November 13, 2001
Survivor? Not hardly.
Well, I finally saw an episode from one of these "survivor" shows.

I only have one thing to say - what a bunch or wimps! (Okay, anybody that knows me knows I probably have more than one thing to say).

So this is the plot of a "real life" television show called "Survivor?" A bunch of people with conflicting personalities pitted against one another competing for food and water and other precious resources in a hostile environment?

In my family we call that "Family Vacation" and the cost for failure are far worse than getting thrown off the island. Anybody on a Briggs family camp out is probably armed.

Of course, the show would not be as interesting if anybody in the cast had the common sense never given to horror movie characters.

"Don't open the door Gretchen," you think from your seat in the theatre.

Of course she opens the door and the villain is there.

Horror movies would be short if I wrote the script.

Opening scene: Crazy guy with a knife starts breaking in the front door. Terrified mom grabs shotgun. Front door disintegrates. No more crazy guy.

The rest of the movie is about the romance between the dweeby girl who works for the coroner's office and the cop investigating the scene.

Unfortunately, the entire cast of Survivor would open the door and gaze stupidly at the knife-wielding maniac.

Seriously, if I were castaway with this bunch of morons I would vote them all off the island with a sharp stick.

Really, these people are too dumb to be allowed to keep sucking up valuable oxygen. Herding goats is beyond their mental capabilities. Honestly, I saw that part.

Then they got some chickens.

"Should we eat the chickens or wait for them to lay eggs," Dilbert asks as he holds a fine rooster.

I do not think Dilbert is going to make it. And none of these clowns would make it if placed in a real test of survival skills.

Like that great American tradition, "Holiday Survivor." Nineteen in-laws, parents, uncles, aunts, kids, cousins, sisters, brothers and sundry boy and girl friends locked in the same house for three days in the dead of winter.

First man out without incurring the wrath of the mother-in-law wins. Points are given for creative excuses to go to the Quick Stop to get out of the house and for making time with your good looking cousin.

Then there is Beach Trip Survivor. Load up the kids and dogs and mom in the family sled along with a Coleman stove and a fishing pole and jaunt down to the beach. Add three or four friends from different stages in yours and your spouse's life and the goofy people they married, all their kids, their dogs, and throw in a few in-laws.

Add 100+ heat, no toilette facilities, third degree sunburn and sand in every possible crack and crevice of your body.

Beach Trip Survivor is similar to an old-fashioned Texas Barbed Wire Cage Match _ Blood will flow.

Or you could just load up mom, the three-year-old and both dogs for a little weekend camping trip into the Big Bend.

In July.

Make sure mom is five months pregnant.

Don't run the A/C because you are playing with the four-wheel drive and do not want to over stress the engine.

Camp in the Basin.

I did that.

I am a survivor.

The cast members of Survivor are just weenies.

EDITOR'S NOTE: Smokey Briggs is the editor and publisher of the Pecos Enterprise whose column appears on Tuesdays. He can be e-mailed at: smokey@pecos.net
Our View
Anchor is closing. Now what?
McCain foods announced that it will close the Anchor plant here in Pecos yesterday. About 700 people found out that they will not have jobs soon and Pecos just lost its largest employer.

That is quite a blow to a town that was not an economic powerhouse to begin with.

The general mood in town yesterday seemed, quite understandably, to be one of despair.

Things do look bad for Pecos. There is no doubt about it.

But, this may not be the last nail in the coffin that many will predict in the coming days.

Pecos still has a few things going for it.

The first is the prison. So far, it has proved to be an economic boon to the area and plans are under way to add another 1,000 beds. Hopefully the addition will prove a sound business decision and create 200 or so jobs in the area.

Hopefully, the Air Force bomber training scoring sites will also come online and provide a double handful of good-paying jobs to the area.

The dairy industry is also growing in the area, along with the supporting agricultural businesses. Diary production may be the wild card in Pecos' future.

But, most of what Pecos has going for it is potential. Pecos has a few things going for it that most areas cannot boast - lots of cheap land and 363 days a year of sunshine. Arizona was built on that formula.

Pecos can profit from it if we market it right.

Pecos is also uniquely situated to benefit from increasing trade with Mexico. The results of NAFTA, good and bad, are just beginning to be felt. Between I-20 and railroad Pecos has better transportation options than many mid-sized towns.

The possibilities are there.

The equation for success has two parts: the first is recruiting business and industry and the second is being the kind of town a business would be willing to relocate to.

The second part of the equation is the most important variable. If Pecos can accomplish this, then we will be able to attract new businesses. If we do not, all the economic development in the world will not work.
Your View
Drug free rally was a positive event in Pecos
Dear Editor:
On behalf of the Pecos Police Department and myself, I want to publicly express our gratitude to the Pecos-Barstow-Toyah Independent School District counselors regarding the recent Patsy Torres show for Red Ribbon Week. Over the past years, these men and women have always worked hard to send a message to our young people about the consequences of drugs. This year they have outdone themselves. Ms. Torres covered a variety of topics through her music, which included drugs, alcohol, gangs, suicide, teen pregnancy and education. These topics could not have been presented to a more important audience than our children. They are the future of this community, state and nation.

Mr. David Lucero, manger for Ms. Torres, personally adviced us that this is the most support for a drug rally that he has ever witnessed. I considered that to be an extremely nice compliment for the people of Pecos.

Again, thank you counselors for your work with our children in this area. You brought a very positive event to Pecos.

Very truly yours,
CLAY D. McKINNEY
Chief of Police
Pecos Police Department
Woman complains Pecos needs to be cleaned up
Dear Editor:
City Fathers of Pecos,

There's no place like home!

I always believed that statement to be true; but in the last few years it has proven to be a false statement.

I was born and raised in Pecos; my mother & her family have lived there for over 70 years. I came up North to finish my education and I had planned to move back to Pecos. Before that happened I met and married my husband; so I live up here now.

I do come back for a family reunion every other year. Each time I return it gets harder and harder to face my hometown I was so proud to say I was from. If you tore all the vacant buildings down; Pecos would not be much bigger than Barstow. The town's people have to go to Monahans or Odessa-Midland for entertainment.

I have family that is buried in the cemetery on Eddy Street which would not be taken care of if not for the living family members. I have seen many small towns; Kermit for example that take good care of their cemeteries.

The Fourth of July used to be a great and fun place in Pecos. People came from all over. Pecos boasts the world's first rodeo. That has even changed!

And where are all the friendly people? You walk down the street and no hello or nothing! The clerks that work at the stores are rude. They don't even acknowledge you when you go in. No smile! No Texas hospitality!

Before you get to Pecos; the sign boasts 22 restaurants, where are they?

Neighborhoods are junky; houses have trash, old appliances and such out there or on the porches.

And last, but not least, I mentioned my family having a reunion every other year. They have to go to Barstow to the community center. It is nice and air conditioned, has a kitchen, two restrooms, a park & swimming pool for the kids. And we pay $20 to $25 a day for that. Nice!! And to top it off! You drive about 10 miles to go to a family reunion when we were all mostly born in Pecos.

It gets a little sadder each time I come home.

The only thing Pecos has going for it anymore is that I still have family that lives there and the cantaloupes and onions.

I don't know if this letter means anything or will do anything to wake ya'll up; but I just had to voice my opinion.

Sincerely,
BEVERLY STEPHENSON FRAZIER
Critic's Corner
Cat in the hat in Latin
Cattus Petasatus Cat in the Hat in Latin.

Dr. Seuss intrigues us all with his rhyming silliness. Now Latin lovers can read it in the language of their hearts, thanks to a translation by Guenevera and Terentio Tunberg.

They didn't teach Latin at Flomot, so I will have to take the Tunbergs' word for it that their version resembles the original Cat in the Hat. In fact, it's been so long since I read the original, I don't remember how it goes.

Imber totum diem fluit

Urceatim semper pluit.

Taedet intus nos manere:

Numquam potest sol splendere…

Even I can tell the Latin rhymes. And the "vocabulary" section explains what each word means. So anyone with a yen to pick up some Latin expertise may want to check the nearest bookstore for a copy. Or go to the publisher's website at yttp://www.bolchazy.com.

ISBN 086516472-X, Published by Bolchazy-Carducci, Wauconda, Il.

- Peggy McCracken <!==========end copy==================>
---
---
Pecos Enterprise
York M. "Smokey" Briggs, Publisher
Division of Buckner News Alliance, Inc.
324 S. Cedar St., Pecos, TX 79772
Phone 915-445-5475, FAX 915-445-4321
e-mail newsdesk@nwol.net
Associated Press text, photo, graphic, audio and/or video material shall not be published, broadcast, rewritten for broadcast or publication or redistributed directly or indirectly in any medium.
We support Newspapers in Education
Copyright 2001 by Pecos Enterprise
---