|
Daily Newspaper and Travel Guide
for Pecos Country of West Texas
Opinion
Tuesday, October 23, 2001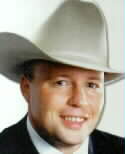 Sage
Views
By Smokey Briggs
<!=====paste copy here==========================>
Smokey's rules of Halloween
I really enjoy Halloween. I have good memories of trick-or-treating as a kid.
I like playing host to little goblins and ghouls busy scaring themselves and each other while all the while hoping that your house is not inhabited by an adult who thinks an apple or a granola bar or a little box or rasins is a good trick-or-treat snack.
It's a fun night for the kids and for the most part it's harmless.
However, there is a rulebook out there on halloween ettiquette, and some folks need to read it.
For instance, it is against the rules to trick-or-treat without a costume. Don't show up at Smokey's Hillbilly House of Horrors without a costume and expect goodies. No costume shows a serious lack of effort and does not deserve even so much as a gumball.
It is also against the rules to yell "trick-or-treat" only to have me answer the door and then have to look up to see your face. Costume or not, if you are taller than me, you are too old to trick-or-treat. (Yeah, I know, with my legs that means some ten-year-olds will miss out. Tough.)
Also, anything that resembles health food is not approprite trick-or-treat fare. This includes any type of fruit and anything that says, "nature's goodness" on the label.
One very important rule to remember is that Dads have sampling rights, or should I say duties, on all trick-or-treat goodies. This is for your own good kids. Now cough up the loot.
Did I mention the rule about being too old to trick-or-treat? This really ticks me off. Kids with real beards and no costumes ringing the door bell and then staring at you with that, "Give me some candy or I'll key your car," look.
I used to give such customers a hard time before enticing them off my porch with, "Nice costume, now get off my porch before I set the dogs on you," or something equally subtle.
Then I would get the, "Don't do that or they'll key the car lecture," from she-who-must-be-obeyed and who is also known as she-who-has-a-car-you-would-notice-a-key-mark-on.
She makes a big point about that. I do not see the big deal. Paint is kind of optional with me.
Anyway, with old age I have become more subtle. I think I've mellowed. In the process I have come up with some less confrontational methods of voicing my displeasure with impolite trick-or-treaters.
My favorite method these days is the "carbohydratre supplement snack."
A couple of years ago I picked up a half-dozen 35-pound tins of "carbohydrate supplement" packed before I was born. This stuff came out of a fall out shelter and was sold at auction _ garaunteed to have another 15 years of shelf life.
Carbohydrate supplement is also known as hard candy. Maybe these green and red balls were good in 1964. If they were, then thirty five years in storage has not helped whatever flavor it did have nor its consistency.
These days it tastes and feels like you rolled a steel ball bearing in axle grease and then coated it in sachrin.
It might keep you alive but I doubt you could eat enough to get fat on it.
So, this year, I'm going to pop the top on a can of carbohydrate supplement and keep it by the door as well.
Bearded trick-or-treaters who drive themselves around trick-or-treating get a handfull history this year.
Smokey's Rules of Halloween Number 27 _ "trick or treat" works both ways, so play nice.
EDITOR'S NOTE: Smokey Briggs is the editor and publisher of the Pecos Enterprise whose column appears on Tuesdays. He can be e-mailed at: smokey@pecos.net
Our View
We don't need to teach "patriotism," just history
"Wave of patriotism in schools stirs debate," the headline reads.
How, you ask, can a wave of patriotism be a bad thing? What is there to debate?
Well, during the last 50 years we have gradually phased anything resembling patriotism out of public education, with patriotism being anything that portrays American history as anything but the near evil doings of rich, white, men.
Topics patriotic have been branded as simple brainwashing demanding a Pavlovian response to the flag.
As have most teaching methods that support the teaching of facts. Instead, educators have championed "teaching kids to think."
History, social studies, literature _ all have been subjected to a trend that favors teaching "how to think" over the teaching of facts and what others before us have thought.
The entire concept puts the cart before the horse.
Before we learn "to think" we must know something. That something is factual knowledge. This is the knowledge that gives context to our thoughts.
Without this frame of reference, thoughts occur in a vacuum and we are left to recreate the wheel again and again. This is a recipe for a totalitarian state, not a free democracy based on federalism.
If we simply taught all of the facts of American history, students will emerge as patriots _ educated patriots. You cannot study the whole of American history without coming away with the knowledge that America has been, and is, incredibly good.
So teach our kids history _ all of it _ the good, and the bad.
Don't teach them to think. Do not teach them only the bad. Teach them the facts that give their thoughts reference. If they are human, they can accomplish the thinking part without your help.
We do not need to teach patriotism. We just need to teach the facts. Patriotism is the natural result.
Your View
Pecos High School Band issues
Dear Editor:
I wanted to take time to thank the Eagle Band members for their help this first ten weeks of school. Getting used to a new director is very hard on the students and I appreciate their hard work. I was very proud of them Saturday.
That being said there were things that made it very hard on the students who did perform in Odessa. The hardest part of my job now is to try to raise the moral of the Eagle band.
Over 32% of the band became academically ineligible after the first six weeks. Some of these were happy with their lack of success in their classes because it meant they didn't have to go to football games with the band or after school practices. It never occurred to me that we would lose this many student to grades and it meant those still eligible had to learn a new show three weeks before contest.
Not once did we have a Monday night rehearsal with 100% attendance. There were band students who even skipped Marching Contest itself.
I am going to encourage these students to drop band and I want the community to know now that I have no animosity towards any of the band members. However, if you are not willing to come to class on time, come to rehearsals, or even come to the games you really do not need to be involved in band.
Another issue is that the band has had very low ratings in concert season for many years. The spring is the time where we can really focus on leaming to play well. Low ratings in concert season demonstrates that learning is not taking place and this has to show up eventually in the high school band member's individual playing abilities.
This puts me out on a limb because I must show progress in the bands performances this spring or it will demonstrate that I am not getting the job done either.
Quality instruction has been lacking in the band program for several years. I want the community to know that I am very happy with the staff the school has provided me. Mr. Goff and Mr. Bostwick are very capable assistants and I am VERY happy with their work. This means that if my student's performance doesn't improve I am the only one responsible.
I take my responsibility to my students very seriously. Many of these kids have tried very hard for me. I had to watch their disappointment and tears Saturday when they heard their rating. I am very proud of them because they gave me their best.
It is my responsibility also to show them that their hard work will pay off with better performances in the future. It is very hard for me to give up on a student. However, my overriding concern has to be for the majority not the individual.
I am a teacher not just to teach music but also to be a role model to the students. I take this very seriously and I would not and will not carry any bad feelings towards any of these students. I must and I believe the community demands that I do what is necessary to make the Eagle band a source of pride to the band members involved. This means that students who skip games, pep rallies, contests, are constantly tardy to class, and are uncooperative are going to be asked not to be in band. Some are going to see this as being mean spirited to these kids when no meanness is involved.
All that I need to make the Eagle band successful is students who want to learn what I can teach them. I will not let anything stand in the Aay of my responsibility to the students who want this also.
Sincerely,
MERLE E. LENFEST
Director of Bands
Pecos Barstow Toyah ISD
Reader finds cartoon ugly and insulting
Dear Editor:
I have never found most political cartoons to be very funny or for the most very thought provoking. But the one that ran in the Enterprise on Tuesday, October 16 was, in my opinion, tasteless, ugly, and insulting to many Americans. For the month after September 11th, my son, a Senior Border Patrol Agent, was standing security at Logan Airport in Boston. Since the Border Patrol was sent back to their home stations, the National Guard from across the country was handling security at our major airports. They are sons and daughters, mothers and fathers, who are away fromt ehri families, doing their duty to make this country safe for all of us. I think a little respect would go a long way to say, "thank you."

BESSIE OSBORN

<!==========end copy==================>
---
---
Pecos Enterprise
York M. "Smokey" Briggs, Publisher
Division of Buckner News Alliance, Inc.
324 S. Cedar St., Pecos, TX 79772
Phone 915-445-5475, FAX 915-445-4321
e-mail newsdesk@nwol.net
Associated Press text, photo, graphic, audio and/or video material shall not be published, broadcast, rewritten for broadcast or publication or redistributed directly or indirectly in any medium.
We support Newspapers in Education
Copyright 2001 by Pecos Enterprise
---