|
Daily Newspaper and Travel Guide
for Pecos Country of West Texas
Opinion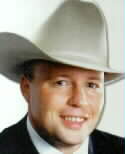 Sage
Views
By Smokey Briggs
<!=====paste copy here==========================>
Tuesday, October 9, 2001
From the Hip
Well, it did not take long for "Hanoi Jane" Fonda to run her true colors up the flagpole. The rubble was still smoldering in New York when she announced that, "It would be a mistake for America to retaliate militarily."
What is it about being an actor best known for your cleavage that makes you an expert on war, strategy, politics, or anything else for that matter, other than who has the softest casting couch?
When Fonda visited the North Vietnamese while they were killing American boys, she was a traitor. Her latest statements aren't traitorous, but they amply illustrate the liberal-feminist foolishness that permeates Hollywood and so much of our national thinking.
It is this kind of backwards thinking that has allowed terrorism to spread as a viable means of applying political pressure.
***
I almost fell over last week when I read an editorial in the El Paso Times advocating a return to the draft.
DeWayne Wickam, the author, covers politics and social issues for Gannett News Service.
After arguing with liberals for years that only a draft insured America of a sound military it was nice to see the same words published in a metropolitan newspaper and written by a guy that writes for one of the big boys.
Wickam made the point that the current volunteer military leaves the burden of defense on the backs of Southerners, blacks and the sons of the blue collar world in general.
True enough.
He left out the inherent danger of having a military composed of "them" rather than "us."
He left out the danger of having a country run by politicians who have never shouldered a pack and rifle.
He left out the fact that a military composed of a cross-section of America is a far better force than one made up only of patriots, career soldiers, and those who cannot find another job.
***
"Those who would give up essential liberty to purchase a little temporary safety deserve neither liberty nor safety."
—Benjamin Franklin, 1759
Our View
Current terrorist legislation is foolish - there is a better way
How do we fight terrorism on our own shores without gutting the very freedom we are trying to protect?
The solution is fairly simple outside the borders of the United States. It is called war. There are very few rules and you break those.
But what about inside the United States?
Here we find ourselves between mythology's Scylla and Charybdis _ between a West Texas rock and a hard place.
Since the beginnings of this great nation we have built legal walls that impede law enforcement but help guarantee that we do not degenerate into a police state.
U. S. Attorney General John Ashcroft and many others are supporting laws that gut these Constitutional protections that prevent indefinite detention without charges being filed, wholesale wire tapping, and a host of similar protections.
If all law enforcement officers could be trusted to always do the right thing, to always know who the bad guys were and to act appropriately, you would not need such protections. Law enforcement would not need rules.
But law enforcement officers are human beings subject to all of the emotions and faults that their fellow humans beings harbor _ greed, jealously, stupidity, hatred, blind ambition, prejudice…
The problem with most of this proposed legislation is that it hinges on the classification of the suspect as a terrorist. It is not hard to foresee terrorist becoming a very loosely defined word for investigation purposes.
At what point does a suspected drug dealer become a terrorist? A suspected mobster? A suspected money-laundering ring? With many of these measures we will have the fox guarding the Constitutional hen house. That is stupid.
Such "gloves off" law enforcement is an affront to the very liberties we are trying to protect.
Rather than drawing the line with an arbitrary classification of "terrorist" a better approach would be to relax rules regarding investigation of non-citizens.
The terrorist threat we are confronted with generally involves non-U.S. citizens.
Withdrawing some Constitutional protections from non-citizens suspected of terrorism is not an affront to the Constitution, and it does not leave our country in danger of succumbing to the false security of the police state.
Your View
Don't vote Slim for President
Dear Editor:
In the past year or so I've developed a great respect for Slim, his thinking has always closely paralleled mine. That was until I read his last comments on being president and getting rid of the world's terrorist. Seems to me that Slim may have a little Hitler in him!
Slim you're a nit wit if you want to be president. The president doesn't have enough power; he must do what is politically correct not what is morally correct. This is a prerequisite to keeping his job! How about "dictator" then he could get the job done.
I wonder if Slim would want to set fire to the whole village if his kids or grandkids were in that village, I think not!
Don't we have the technology, the power and the intelligence to ferret out all the terrorist bastards in this world without killing innocent people? There is no doubt that the American Democracy is the best form of government yet devised but let us not continue to be complacent. This great country was built on the concept of protecting the innocent. The fact that we don't always adhere to that concept just gives us something to strive for. There is still a lot of room for improvement!
Please don't vote Slim for president. Vote Jim for dictator.
JIM BLANCHARD
Air travel column flies true
Dear Editor:
Smokey's recently published Sage Views concerning air travel security, I believe, covers a lot of ground and appeals to most of us whose prime concern for most of our lifetimes, was national security. Please lead on.
JAMES SAURAGE
Ex's disappointed in homecoming activities
Dear Editor:
We wish to thank you in advance for letting us air our opinions and comments in your newspaper column.

This is an open letter to the Pecos High School student council and sponsor and who ever else is responsible for the pep rally and the function put on for that event, primarily HOMECOMING.

We travel to Pecos from Lubbock, Tx. and Visita Ca. every year for this particular event, as this is our home, and Pecos High is our school. We take pride in coming back and being a part of the activities. Imagine the total shock and disappointment we felt at being treated like second class citizens.

First and foremost, there was nothing planned for us X's, like who came the furthest, oldest, ect., the tea was just thrown together with no thought to detail, no one was around to show any interest in the X students.

The bonfire was a farce, in the past we supported the MIGHTY, MIGHTY PECOS EAGLES, not the mighty, mighty seniors, juniors, etc… As for the pep rally, again it was a shouting match to see who would get the spirit stick, while all that is a show of support, a little less of it would have been better. Just think how we felt at being ignored, remember one day you too will be coming back to good old Pecos for homecoming. How will you feel if you are treated this way?

The sponsor should have kept abreast of all that was transpiring, that is her or his function. Hopefully next year you will give us a bit of recognition. After all it is good for the soul.

To end this letter, we wish to express our heartfelt pride in the Pecos Eagles for their win. That off-set the hurt we had to endure.

One last parting comment, remember tomorrow is closer than you think.

Yours truly,
PAULINE MARMOLEJO
TOMMIE VASQUEZ
ETHEL MILLER
JANIE N. RODRIGUEZ
MARY J. GARCIA

<!==========end copy==================>
---
---
Pecos Enterprise
York M. "Smokey" Briggs, Publisher
Division of Buckner News Alliance, Inc.
324 S. Cedar St., Pecos, TX 79772
Phone 915-445-5475, FAX 915-445-4321
e-mail newsdesk@nwol.net
Associated Press text, photo, graphic, audio and/or video material shall not be published, broadcast, rewritten for broadcast or publication or redistributed directly or indirectly in any medium.
We support Newspapers in Education
Copyright 2001 by Pecos Enterprise
---