|
Daily Newspaper and Travel Guide
for Pecos Country of West Texas
Opinion
Tuesday, September 25, 2001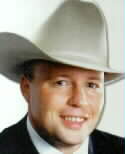 Sage
Views
By Smokey Briggs
<!=====paste copy here==========================>
A good hunt
Editor's note: I wrote today's column on September 10. I pulled it to run something pertaining to the September 11 terrorist attack. Today's column seemed too light-hearted, too ordinary. Two weeks later, as I reflect back on that attack and its effect on us all, I am not so sure I made the right decision. I am not sure that I wrote anything more pertinent to what we were and are going through than what I wrote the day before the attack. September 11 forced many of us to find and focus on those things that truly matter in life. As I re-read today's column I realized that I may have found that focus a day early.
Ruby went dove hunting for the first time this weekend. It was not her first hunting trip. She spent more than a few cold hours near a stock tank looking for feral hogs this winter, but we came up empty that time.
Ruby is four and she is my daughter. She stated several times in the weeks leading up to dove season that she wanted to go. That request began last dove season. I explained that she was too young to shoot any kind of gun.
"I know Daddy, but I can say, `Look Daddy, there's a dove,' and you can shoot it," she answered.
It was hard to argue with that.
Her beautiful mother and I agreed that she was emotionally ready for such a trip, and so she went.
We have not raised Ruby with "Bambi" as her only reference to the world. Ruby knows were meat comes from.
I think that any person who eats meat should have to kill an animal and process it at least once in their life.
You should have to be the person that lets the life out of a living creature. You should know that something died so that you could live. There would be fewer gluttons in the world if this were the case.
It was a pleasant hunt. The weather was good. There were plenty of birds.
Safety was an even greater concern than usual. Ruby was outfitted with junior-sized earmuffs and a little chair.
She behaved beautifully, as I expected. She took her role as "dove spotter" seriously and "Look Daddy, there's a dove," rang in my ears again and again.
Unfortunately, between double checking and triple checking to make sure she was where she was supposed to be, and that she had her ear muffs on, and the fact that Daddy is a poor wing-shot, not too many doves fell.
"That's okay, Daddy. You'll get the next one," I heard more than once.
When one did fall, Ruby proved to be a number one "dove-getter," provided it fell in the open where I could make sure no rattlesnakes were hiding. She also made a hand at picking up spent shells and cleaning the birds we did kill.
At the end of the day, I can't say it was the most successful hunt I've ever had — if you just count birds. We got four.
On the other hand, I had spent four wonderful hours with one of my daughters in the middle of God's great outdoors.
We watched turtles in a stock tank and saw pig tracks in the mud. We witnessed a magnificent sunset.
We talked about life and death — about how God created the world so that some things ate other things and that I did not know why it was that way, but it was.
We talked about the importance of eating what you killed and never killing a creature without a good reason.
We talked about firearms and safety.
When you get down to it, I guess it was a pretty good hunt. Maybe the best I've ever had.
EDITOR'S NOTE: Smokey Briggs is the editor and publisher of the Pecos Enterprise whose column appears on Tuesdays. He can be e-mailed at: smokey@pecos.net
Our View
Is this worth a war?
"War is an ugly thing, but not the ugliest thing. The decayed and degraded state of moral and patriotic feeling which thinks nothing is worth war, is worse. A man who has nothing which he cares more about than he does his own personal safety is a miserable creature who has no chance to being free, unless made and kept so by the exertions of better men than himself."
John Stuart Mill
John Stuart Mill was an English economist and philosopher who was born in 1806. During his life he was considered a radical for his views on topics such as compulsory education, and equality for women.
The above quotation seems particularly appropriate today as the beginnings of a doubtful whine have begun to visit the screens of our televisions sets.
Over the weekend it was not hard to find those questioning whether "war" was the correct approach to terrorism after the September 11 attacks. The questioning sentiments were carefully couched _ calculated so that they could not be directly attacked as unpatriotic or absolutely gutless _ but the sentiments were there.
"If we attack these people aren't we playing into their hands? Won't we just make them madder? Shouldn't we search for a non-violent solution? Should we order more Americans to their deaths to avenge September 11? Is it worth it?"
If we as a country take any of these questions seriously then it is time to call off our great experiment in democracy and send for our new king. We as a people will have declared ourselves unfit to rule.
The only way we can play into our enemies' hands is by responding half-heartedly _ killing some but only wounding this beast.
Make them madder? Wasn't the degree of their hatred demonstrated plainly enough on September 11? How much madder can people be?
A non-violent solution? Pacification of aggressors has never ended aggression in the all the history of man. Not once.
Why should more Americans die? Is it worth it?
You can almost hear the Clintonians whispering in the wings _ whispering to the American people that no one has to die. That Bush is a warmonger. That there is an easy, bloodless solution that will leave us safe to enjoy our hamburgers and television shows. That terrorism can be appeased and bargained with. It is a lie, but like so many lies, it is more comfortable than the truth. It is easy. It the calling card of American liberalism to ignore reality and grasp violently for the easy answer that requires no physical or moral courage.
And it is a siren's call of false hope with only disaster at the end of the song.
The truth is that more Americans are going to die no matter what we do. It is our duty to make sure that our countrymen, civilian and soldier, do not die in vain. This war saw 6,000 casualties two weeks ago. We will see more. The only question is whether those of us who are going to die will be whimpering for mercy or inflicting justice at the time of our death.
Your View
Local employees show appreciation
Dear Editor:
The whole country has been affected by the tragedies in New York, Washington, D.C. and Pennsylvania. We've all witnessed extraordinary courage as firefighters, EMTs, Police Officers and other rescue workers have risked their lives to save the lives of others, often at the cost of their own.
We also know in our hearts, that if the same thing had happened in our own community, the local firefighters, EMTs, and Police Officers would have done the same for us.
Every night, our children, our friends and our families go to sleep under your watchful eye as you respond, rescue, save and protect everything we hold dear and sacred.
Please accept our heartful appreciation for all you do, as well as our deepest sympathies for your fallen colleagues and their families.
Thank you. And God Bless you always.
Your friends at Wal Mart,
OLGA L. GUEBARA, Manager
AND ALL ASSOCIATES
Wal Mart Store #0898
High school reunion was a success
Dear Editor:
The Pecos High Reunion went great, everyone had a lot of fun, 250 people showed up and we are going to have another one in two years and hope that many more can attend. The classes of 1950 through 1970 were there. There was a special award give to Coach Matthews, he attended the get together Saturday night. Five of us are going to help Michael and Glynda get another one together and we need e-mail addresses of everyone. Michael and Glynda did a great job and it was very special to all of us.
BETTYE HARRIS POWELL
Class of 1952
Critic's Corner
Country Woman Christmas 2001 book available
Painted Holiday Delights are too pretty to eat, but just looking at the photograph makes my mouth water. They are included among scores of Christmas goodies, decorations, craft ideas and family traditions pictured and described in the hardback book, "Country Woman Christmas 2001."
Appetizers, breakfast treats, Christmas breads, cookies, candies, special-occasion desserts, brunch, Christmas dinner and gifts from the kitchen crowd the recipe section. Original crafts include ways to trim the tree, deck the halls and make unique holiday gifts.
You will find designs for an appliqued tree skirt, an evergreen sweatshirt, nifty knit stocking, whimsical tea cozy and clever felt Nativity. Creative country women who gave us these ideas are profiled in the book, which highlights their hobbies or businesses and tells through story and poem how kindness, joy and spirituality bind families, friends and communities during the season.
I'm not the least big crafty, and I can hardly even boil water in the microwave. But I enjoy reading about how others do it. Just thinking of painting red, yellow and green candles, wreaths, snowflakes and other Christmasy scenes on 200 cookies covered with white icing gives me the willies, but an artist probably would enjoy taking brush in hand and dipping into food color "paint."
Here's how: Combine 2 cups flour, half cup sugar, half cup powdered sugar, 2 teaspoons ground cinnamon, three-fourths tsp. baking powder, fourth cup salt. Cut in half cup cold butter until mixture resembles course crumbs. Combine one egg and fourth cup orange juice; stir into crumb mixture just until moistened. Shape into a ball; cover and chill for 1-2 hours or until easy to handle.
Roll out dough on a floured surface to one-eighth inch thickness, cut with 2-inch round cookie cutter. Place one inch apart on ungreased backing sheets, bake 375 degrees for 8-10 minutes, cool.
For filling, combine 8 ounces cream cheese, softened, 3 tb. powdered sugar, 3 tb. strawberry preserves. Spread on half the cookies. Top with remaining cookies.
For glaze, combine 1 cup powdered sugar, fourth tsp. vanilla extract, 1-2 tb. milk to achieve desired consistency. Spread over tops of cookies; dry.
Using a small new paintbrush and food coloring, paint holiday designs on cookie tops. Store in refrigerator. Yield: about 2 dozen.
Sounds easy, doesn't it? That would be a good rainy-day project for Mom and kids. On second thought, maybe we'd better not wait for rain, or Christmas might catch us empty handed.
Country Woman Christmas 2001 is available for $21.99 plus $3.95 shipping from: Country Store, Ste. 4620, PO Box 990, Greendale WI 53129. Specify item number 31100. Credit card holders may telephone 1-800-558-1013 to order.
EDITOR'S NOTE: Peggy McCracken is Enterprise business manager and webmaster. Contact her at peg2@pecos.net. <!==========end copy==================>
---
---
Pecos Enterprise
York M. "Smokey" Briggs, Publisher
Division of Buckner News Alliance, Inc.
324 S. Cedar St., Pecos, TX 79772
Phone 915-445-5475, FAX 915-445-4321
e-mail newsdesk@nwol.net
Associated Press text, photo, graphic, audio and/or video material shall not be published, broadcast, rewritten for broadcast or publication or redistributed directly or indirectly in any medium.
We support Newspapers in Education
Copyright 2001 by Pecos Enterprise
---