|
Daily Newspaper and Travel Guide
for Pecos Country of West Texas
Opinion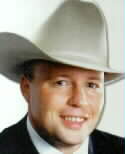 Sage
Views
By Smokey Briggs
<!=====paste copy here==========================>
Tuesday, September 4, 2001
Of mortal men and swing sets
All men are equal on swing set day. Cabinetmaker and architect, plumber and banker, Green Beret and bartender. The swing set does not care about money in the bank, prestige of occupation, or station in life. Flex your muscles and sneer at it, and it will only laugh at your foolishness.

All men tremble equally on this day.

If you have a child _ you have either faced the swing set, or you will. Good luck comrade.

I faced the beast on Saturday. Young Ruby turned four on Friday. After three hours at a place I am sure is a window into the third level of Hell, is named after a rat, and is filled with young demons and electronic games capable of demolishing a week's pay in a matter of hours, it was off to swing set land. My gut churned as a reminder of the bad pizza I had swilled in the Third Plane of Hell as I tied a huge box onto the family sled.

Saturday morning, the games began.

It came in one huge, ungainly box about eight feet long.

"Daddy, are you going to set up my swing set," my darling cherub of a four-year-old asked with love and admiration in her eyes.

"You bet darling," is the only response worthy of a man called Dad. With a manly grunt I hoisted the box onto back only feel something pop down low near my spine. I grunted again.

"Go in the house and help your Mom with your sister," I commanded my cherub, not wanting her to see her dad reduced to pulling and tugging. As soon as I heard the door close I dropped the box like it was on fire and hurriedly dragged it into the backyard.

First blood went to the swing set. A nasty, irritating slice across the pad of my pointer finger caused by a barb on a poorly finished pole. It was not my last wound.

"Some assembly required," read the box.

The box should have read, "Manufacturing process cut short to save money."

"Tools required: slotted screwdriver, phillips screwdriver, pliers," it said.

No sweat, right?

Now here is Dad's list of recommended additional tools born of painful experience: cordless drill, hacksaw, drill press, pipe bender, anvil, welder, cutting torch, standard mechanic's tool set, metric mechanic's tool set, come-a-long, plastic manufacturing plant, complete hardware store, multiple twelve packs of unsweetened malt beverage _ that about covers it.

I began unpacking the beast. The box looked like cardboard but was actually made of a space-age material used only by NASA and swing set box manufacturers. We should build tanks out of it.

An hour later bloody fingerprints covered the box, but its guts lay before me, stacked in neat piles of poles, shorter poles, thinner poles, bent poles, and a separate stack of plastic stuff. In my hands I held a huge sack of bolts and stuff that was labeled, "hardware." It weighed about twenty pounds.

Thank goodness they labeled it. I would not have figured that one out.

I cut open the bag and out poured 500,000 bits-o-stuff. Plastic things, metal things, screws, bolts, nuts, and every flavor of washer. I had expected maybe a couple of different bags. Bags with labels like, swings, slide, and "arm breaking device propelled by two young humanoids."

My expectations were not met. All I got was the huge bag-o-bits and a piece of paper that said, "hardware included may not match hardware in directions."

Huh?

"Daddy, can I play with the box while you put my swing set together?" Ruby asked.

"Of course dear," I said absentmindedly, as my mind wrestled with the wording of what I can only loosely call "the directions."

To the best I can tell, the instruction manual was first written in Chinese. It was then translated in Greek by an Eskimo who once knew a Greek guy. Later, it was translated to English with a computer program designed to translate Greek to French.

The diagrams included would be shamed by any Neanderthal cave painting.

"Daddy, when do you think I can swing on my swing set?"

"Soon dear, Daddy has to go to the hardware store."

Four hours later I had inserted 121 "pipe A's" into 122 "pipe B's" only to discover that I had the wrong pipe A and/or B. Not one single piece of swing set was labeled. Not one.

Butů an A-frame stood on the field of battle and severe dehydration had set in. Most of my bodily fluids were splattered across the yard either as blood or sweat. A lonely swing dangled from the A-frame.

The rest would have to wait till Sunday. The Lord would give me strength on His day to battle such an incarnation from the Pit, I was sure.

But I was victorious on this day. The swing dangled from its chains as proof of my Dadly abilities.

"Ruby, I've got your swing set up enough that you can swing," I said proudly, every bit the weary but victorious warrior as I collapsed into a lawn chair with my back to the beast and wished for a cold beverage.

"Daddy, watch me," came a gleeful shout from behind me.

I turned, ready to reap my fatherly reward and watch my offspring play on her new toy. But she was nowhere to be seen.

"Where did she go?" I thought as I stared at the so-still swing.

A smiling head poked out of the NASA-made box.

"Watch Daddy, I'll do it again," the head said as it ducked back into the box.

I slumped down into my chair. The swing set had won this round, I realized. But tomorrow would be another day.

And no evil swing set can beat a man called "Dad."

EDITOR'S NOTE: Smokey Briggs is the editor and publisher of the Pecos Enterprise whose column appears on Tuesdays. He can be e-mailed at: smokey@pecos.net
Our View
Purple Pecos is a good start
Pecos was showing a lot of purple last week in response to the cheerleaders' challenge to Paint Pecos Purple before the first high school football game.

The response was heartening. Not because football or school athletics are all that important, but because a lot of folks and businesses got involved.

A lot of work went into most of the displays and a person would have been hard pressed to find a business that did not do something.

By Thursday, there was an air of excitement in Pecos _ an air of optimism and a community spirit that often seems in short supply here.

This is the kind of environment where good things can happen.

Maybe nothing will. But we can be certain that nothing will happen without it.

If we can do it for a football game, maybe we can do it for our future as well.
Your View
Gift shop plans closing due to high taxes
To The Editor:
First of all, I would like to thank the several loyal local customers we've had since opening our little shop in Pecos.

We've also been very happy to give all the tourists a place to browse and shop for gifts. After visiting the West of the Pecos Museum, many came here to see the "Art Gallery" and buy gifts for friends and family.

As a matter of fact, most all our customers were tourists from all over the country. We made lots of new friends, and enjoyed visiting with all these people. Most of the three years we've been open, we didn't sell enough to pay the monthly utilities, but we enjoyed having our little shop open.

We are unable to stay open now, due to an unreasonable high appraisal on the building this year. Nothing has changed, nothing added on, or even repainted, but for a reason unknown to us, the contents are now worth thousands, even though the appraiser has never been inside to see what we have. How can they determine what the contents are, or what they are worth, if they never come inside? This is a three room building, the one room, which is almost half of the building, is the only one we have anything in, yet they measure the outside of the building, to appraise the contents? I don't understand how this town can get more businesses open here, when the appraisal office seems to penalize the ones struggling to stay open-to pay for the ones that have had to close, and the ones who won't pay their taxes. This makes no sense to me at all! Again, thanks to everyone that did support us.

A partner of: Pecos Art Gallery & Gift Shop 1001 West 3rd St. <!==========end copy==================>
---
---
Pecos Enterprise
York M. "Smokey" Briggs, Publisher
Division of Buckner News Alliance, Inc.
324 S. Cedar St., Pecos, TX 79772
Phone 915-445-5475, FAX 915-445-4321
e-mail news@pecos.net
Associated Press text, photo, graphic, audio and/or video material shall not be published, broadcast, rewritten for broadcast or publication or redistributed directly or indirectly in any medium.
We support Newspapers in Education
Copyright 2001 by Pecos Enterprise
---