|
Daily Newspaper and Travel Guide
for Pecos Country of West Texas
Opinion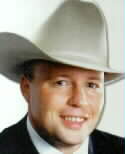 Sage
Views
By Smokey Briggs
<!=====paste copy here==========================>
Tuesday, August 7, 2001
Slim and the flag burners
I saw Slim the other day.
He was saddling a three-year-old pony that wasn't real sure about the whole saddle and bridle deal. I stood quite until he got the cinch snugged up and stepped away to light a cigarette and let the pony settle down.
"What'cha doing Smoke?" he asked through a puff of smoke.
"Not writing next week's column mostly," I said.
"What are you going to write about?"
"Flag burning, I think," I said, knowing I was opening up a can of worms. I had not planned on bouncing ideas off of Slim. I was pretty sure any such conversation would be short and not very sweet.
"You going to talk about the House voting to amend the Constitution to make burning Old Glory illegal?"
"Yeah."
"You know," he said with a kind of sad look on his face, "It is a shame that we even have to discuss something like that. Some things ought to be sacred. Not because the law demands it, but simply in the name of common decency."
"Yep," I agreed.
"Well, you are the lawyer, what is the legal angle?"
"Well, the House voted to amend the Constitution to make flag burning illegal. There are still a bunch of hoops to jump through and it would have to be ratified by the states. But what the House did was legal," I said.
"And the beginning of the end of free speech according to the television guys," Slim said.
"No. I don't think so. You do not have to be all that smart to read the First Amendment and figure out that what the authors were protecting was the written and spoken word_ not everything in the world that some how communicates. It does not say anything about acts that communicate without words."
"The Supreme Court opened a whole can of worms when it interpreted the First Amendment to protect what it calls communicative acts. Every action communicates something. Now we are left with the Court deciding what is a communicative act and what is not, rather than having a black and white standard that makes sense," I said. "We would have done better to amend the Constitution back then to include "communicative acts" rather than putting words in the Constitution that just are not there. What we did is bad precedent even if we like the result," I said.
"Well, I figure burning the flag as a way of expressing yourself ought to be legal. Just as long as my response to it is judged a constitutionally protected method of communication too," Slim said with a thin smile.
I had to smile too. I could imagine Slim's communicative response.
"So, do you think this amendment is a good idea?" he asked.
"No," I said and waited for the deluge of cursing I felt was sure to come.
"Me either," Slim said quietly.
"Really?"
"No. It is a stupid idea. If you have to pass a law to make burning the flag illegal, what's the point? You can't legislate good manners, or common decency. We can demand it as a people, but passing another law won't do a bit of good."
"Was there a time when Americans did that — demanded decent behavior of each other?" I asked.
"Yep. I'm old enough to remember that. And there were penalties for being a jerk," he said as he stubbed out the cigarette on a fence post. "Especially for something like burning the flag."
"We didn't need any silly law for something like this. We just handled it," Slim said.
"I think that makes you a club-toting cretin unfit to live in truly civilized society," I said with a smile.
"I can live with that," Slim said.
I guess I can too.
EDITOR'S NOTE: Smokey Briggs is the editor and publisher of the Pecos Enterprise whose column appears on Tuesdays. He can be e-mailed at: smokey@pecos.net
Our View
Bombs need to fall on Vieques
The United States Navy owns two-thirds, or about 66 percent, of the island of Vieques off the coast of Puerto Rico. It uses less than three percent of the entire island as a live fire bombing range where live ordinance is used during military exercises.
For several decades people have been protesting the use of the island for such practice. The regular complaints have been environmental damage and safety of the islands civilian inhabitants. Neither argument holds any water.
Until recently, nobody paid much attention.
That was before President Bush walked into the Whitehouse and began courting a solid Hispanic voting block.
In 1999 two bombs missed the target and killed a Puerto Rican civilian guard working at the live-fire range.
The Navy stopped using live munitions after that.
Now President Bush, in response to more protests, has agreed to end the use of any portion of the island as a training ground.
This looks like a political decision made without thought as to what is right or wrong, or what is best for America's national security.
It looks like a decision calculated to ingratiate President Bush with Hispanics as a group, and Puerto Ricans specifically — the Hispanic group he has the lowest ratings with.
The problem is that the Navy still needs to train, and it needs to train with live ordinance. Training with dummy ammunition is not the same as training with the real thing.
That goes double for aircrews and pilots handling 500-pound bombs. You cannot simulate that.
So now our military preparedness will take another hit in the name of political expediency.
President Bush would do better to simply do the right thing and worry about the political consequences later.
His father failed on that count and it cost him the support of his core voters in the 1992 presidential election — and his credibility.
Read our lips Mr. President, some of us care more about doing the right thing than we do about winning a political battle.
Your View
Is there a cover up at City Hall
Dear Editor:
On July 30, 2001, 1 read an article In the Pecos Enterprise about three subjects that were arrested at a local Allsup's store. The story said that the three subjects were in a white 1989 Chevrolet pickup.
However the report declined to say who the owner of the white Chevrolet pickup was. Could it be that they failed to mention who the owner of the pickup was is because the pickup belonged to the Town of Pecos City.
I noticed that the report did not mention any charges filed against anyone for unauthorized use of a motor vehicle, so it appears that the use of the vehicle was authorized.
My question is, who authorized these three subjects that do not work for the City of Pecos to use a city vehicle at four thirty on a Sunday morning? Is it just a coincidence that one of the subjects arrested was the Fire Chief's son and the vehicle that they were in was a city pickup assigned to the fire department.
I am an ex fireman from the Pecos Volunteer Fire Department. When I was in the fire department I was not even allowed to let one of my kids even ride on a fire truck due to insurance reasons. Now we are loaning city vehicles to intoxicated kids.
My next question is, who would have been liable for any damage if these intoxicated subjects would have been involved in an accident? My guess would be that the tax payers of the City of Pecos would have covered that bill. My final question is, are the city officials planning on taking any action on this incident or just sweeping it under the rug and forget that it ever happened?
Concerned Citizen,
KEITH BERTELSON
Young man experiences Texas hospitality in Pecos
Dear Editor:
I am writing to let you know about a truly Texas hospitality experience that my young son, Jason, had in Pecos on Wed., July 18, while he was making the long drive from our home in Northern Virginia to San Diego, California. As a mother, of course, I worry from the time he leaves Virginia until the time he arrives safely in San Diego.

Jason had been driving most of the day, in 105 degree heat, when his Ford Bronco just seized up and shut down while driving on 1-20 through Pecos. He walked to a gas station on 1-20, 1 believe. The gas station employees right away were so kind and helpful to him, even helping him make arrangements for towing his truck to their station. Then, they looked at the truck and said "we don't want you to have to spend any more money than you have to," and said it was best for him to see a mechanic friend of theirs just down the street. By now, it was closing time at the auto repair shop, but the employees there stayed open late to help my son. Not only did the auto repair shop stay open late to help him, but the mechanic looked at the truck and said, "all you've got is a bad gas filter and it's only going to cost you $30"! In this day-and-age we live in where other people seem so ready to jump at the chance to take advantage of another person, all these wonderful souls who befriended my son in Pecos showed him nothing but honesty, kindness and the true spirit of "yes, we are our brother's keeper." (Since we live in the Washington, DC suburbs, our experiences here have been far different!)

As a mother, I am so grateful to all these wonderful men of Pecos and just had to write to let you know what fine citizens you have in your town - but I'm sure you already know that!

Since my son is still driving cross-country to San Diego, I haven't been able to find out from him yet the names of the gas station, the auto repair shop and the fine men who helped him, but once I do, I will let you know and I will also write them myself to thank them. They should truly be commended for their good deeds! It really strengthens my faith to see that there truly are "angels among us," and these men sure were angels to my son.

God Bless,
SUSAN M. CARLSON

<!==========end copy==================>
---
---
Pecos Enterprise
York M. "Smokey" Briggs, Publisher
Division of Buckner News Alliance, Inc.
324 S. Cedar St., Pecos, TX 79772
Phone 915-445-5475, FAX 915-445-4321
e-mail news@pecos.net
Associated Press text, photo, graphic, audio and/or video material shall not be published, broadcast, rewritten for broadcast or publication or redistributed directly or indirectly in any medium.
We support Newspapers in Education
Copyright 2000 by Pecos Enterprise
---